The Ahrefs Backlink Checker is the strongest backlink tool, having an extensive link index that can hold large amounts of data. The Ahrefs Backlink Checker has around 400 billion pages that have been crawled. The figures extend to 3 trillion external backlinks, and 23 trillion internal links crawled. You can use Ahrefs Backlink Checker's tools to analyze your site's link profile. From the overview page to specific hubs, you can learn about the greatest pages for link growth. 
How to Use Ahrefs Backlink Checker?
Visit the Ahrefs Backlinks Checker Site Explorer to search for relevant backlinks.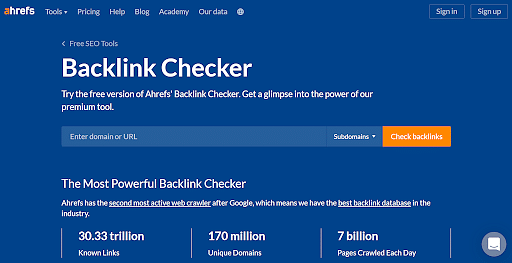 Ahrefs Backlink Checker
For example, https://mycompetitor/blog/ahref or https://mycompetitor.com can be copied and pasted into the box provided.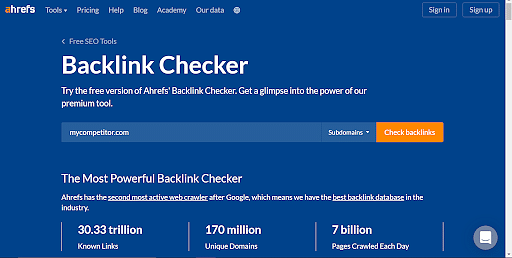 Adding URL to Ahrefs Backlink Checker
For web pages, select the precise URL method from the drop-down. For websites, select the *.domain/* mode from the drop-down.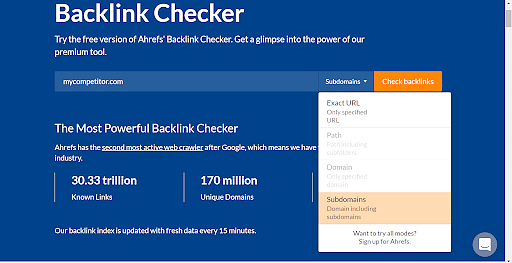 Selecting the extension
On the left-hand menu, go to the report on backlinks.
As a result, you'll be presented with a wealth of information, including:
The page from which the link originates.
The text or words that, when clicked, lead to the target page are known as anchor text.
Search engine traffic to the connecting page indicates the amount of traffic.
The first seen link.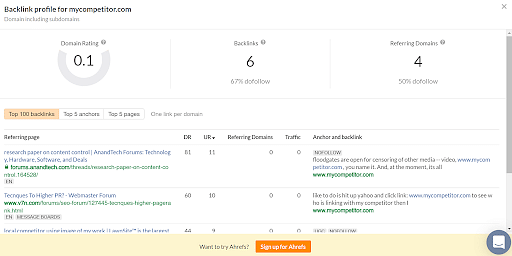 Backlink profile in Ahrefs
The Ahrefs Backlink Checker database comprises 212 billion pages, making it the largest backlink database. The data is retrieved from the internet and refreshed every 15–30 minutes. 4.1 million pages are crawled every minute. The Ahrefs Backlink Checker crawler is faster than Bing, Yahoo, and Yandex. Using the Backlinks Report Site Explorer, you may see what other websites link to a specific web page or website in question. The backlinks of the competitors will be visible when you visit their websites.
Features of Ahrefs Backlink Checker
Site Explorer
Enter a URL into Site Explorer to see what other sites link to a given page or site. A dashboard with data on the metrics, backlinks, and organic traffic of that site will also be provided. In the lower portion of the page, you'll discover important info, such as:
URLs pointing to your web page
Referring to domains that have either been added or removed
Lost and gained backlinks
Country Top-Level Domains in the environment
Words and terms that serve as a point of reference
Backlink Profile
The feature known as Backlink Profile is used to receive a detailed look at any URL's backlink profile. To go even deeper, you can make use of advanced filters.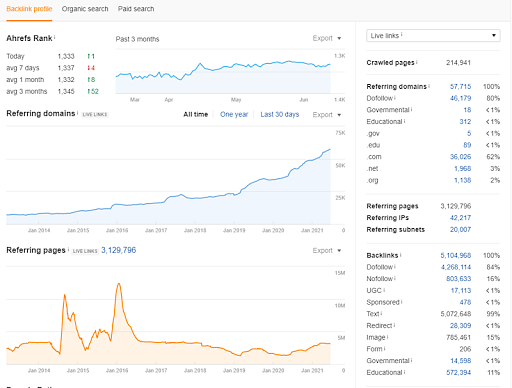 Ahrefs Backlink Profile
Sort and filter by:
Language
type of link (NoFollow, DoFollow, Redirect)
Instances (blogs, wikis, comment systems)
The Rank of a Website (DR)
Review of the Website (UR)
Using domain names as a point of reference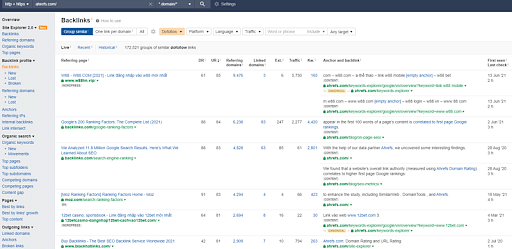 Backlink Report 
Do-follow should be selected as the link type if a site has many backlinks. Thousands of pointless no-follow links can be passed around this way.
New Backlinks
The New Backlinks function provides you with a list of new backlinks for you and your competitor's sites. The web crawlers at Ahrefs Backlink Checker are lightning quick, so you'll find many fresh links every day. A calendar view appears at the top of the report. Each day's backlinks are displayed here.

New Backlinks Analysis 
Broken Backlinks
Using this feature, identify broken links on the competitor's website. More crucially, you are given a chance to add their unique links instead of the broken ones.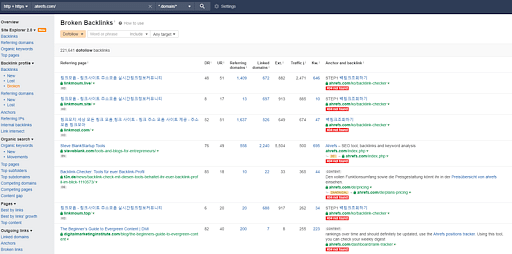 Broken Backlink Analysis 
Referring Domains
A list of domains that have one or more than one backlink to the target site or URL is included in this report. These features will show you all of the domains that are connected to yours, as well as important SEO data.
The Rank of a Website (DR)
Backlink Rank Checker by Ahrefs (AR)
Referring to domains
Domains that are interconnected 
Estimates of organic web traffic
Links to the intended destination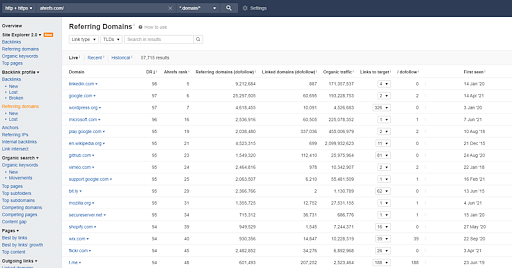 Referring Domain Analysis
Link Intersect
Ahrefs Backlink Checker's Link Intersect tool is one of the most underutilized. Your competitors' websites that aren't yet connected to yours can all be found using this tool.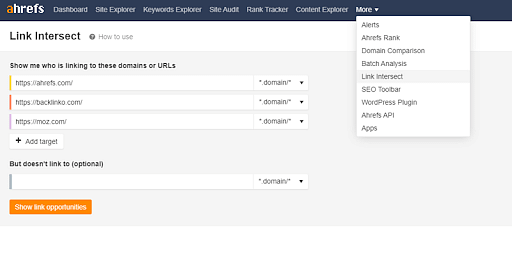 Link Intersect Page
Up to ten competitors can enter into this function, which will provide you with a list of all the possible backlinks your competitors have accumulated. You may get much information from the Ahrefs Backlink Checker, including anchor text, the URL of a backlink, and the status of a follower.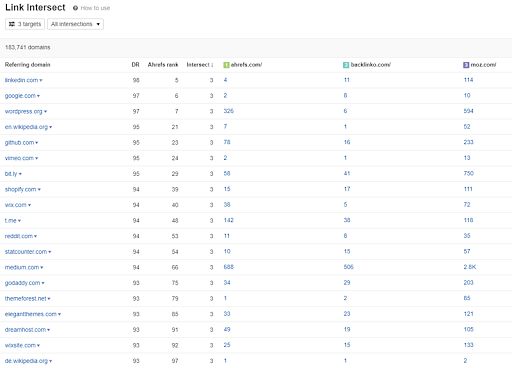 Link Intersect Report 
Best by Links
Using the 'Best by Link' feature, you can see which pages are most frequently linked to the target webpage or website. For instance, one can determine which web pages on their competitors' websites have gotten the most backlinks. It's possible that if the post is so popular, they'll do a follow-up on it.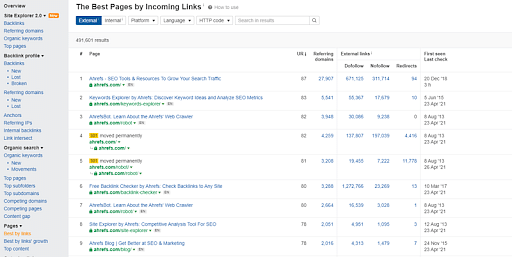 Best Performing Pages with Links 
Best by Link Growth
When looking at a domain's recent link growth, you can see which pages have received the most attention over the last one, seven, and thirty days. A page receives a large number of links quickly. For example, when journalists seek sources, they naturally use keywords like source and journalist to attract links.
In other words, it's a result of the site's making a significant effort to promote that particular piece of information. Ranking for a popular search term is expected to grow in importance as more and more people use it.

Link Suggestions
Linked Domains
The linked domains feature shows SEO analytics for all outward linked domains, as well as other helpful SEO indicators mentioned below:
The rank of a website (DR)
Backlink rank checker by Ahrefs (AR)
Total and referring domains 
The total number of linked domains
Estimates of organic web traffic
How many total and followed backlinks does the target have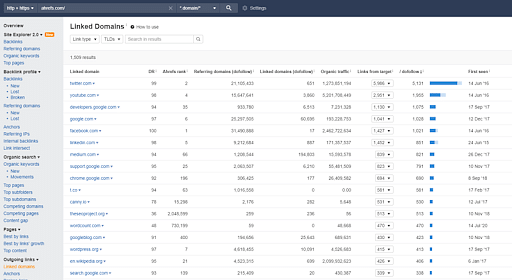 Linkin Domains
Broken Links
It lists all the pages on a target page or URL that have broken outbound links in the report. This feature helps you find, and later on, fix external links that don't work. Fixing broken links improves your experience and is a worthwhile investment.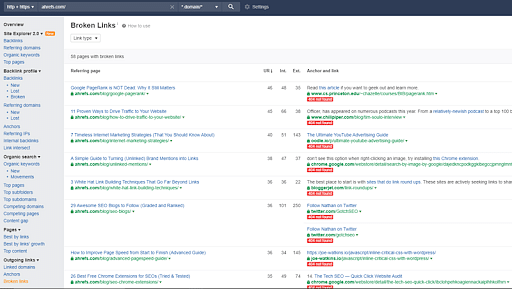 Broken Links
Alerts
This report keeps track of any mentions of your brand and the competitors. Ahrefs Backlink Checker will alert you to any new mentions of their brand on the web-based on the specified search terms and period. You will automatically be alerted to any new mentions of their brand on the internet. 
Content Explorer
Although this feature was originally designed to help users find content, it is now utilized to find backlinks. Using any phrase or keyword is a good place to begin; you will be taken to the relevant pages. For link building, utilize this tool to locate broken pages.

Content Suggestions 
FAQs
1. Using Ahrefs' Backlink Checker, how do you get backlinks from other sites?
Utilize a free backlink analyzer like Ahrefs Backlink Checker to find out how many backlinks a website has. It's as simple as clicking check backlinks after typing in a domain name or URL. You'll be able to check the total number of incoming links and referrer domains (websites that link to your site).
2. What is the application of the Ahrefs Backlink Checker?
One of the primary functions of Ahrefs's Backlink Checker is to examine a website's link profile and keyword rankings. Additionally, you can utilize the Ahrefs Backlink Checker for Google, YouTube, and Amazon keyword analysis.
3. What are the costs associated with utilizing Ahrefs Backlink Checker?
People may use some of the Ahrefs Backlink Checker tools for free to improve their website's SEO. SEO health may be monitored with this tool. Tests for more than one hundred different SEO concerns are available through the webmaster tool. Most of the features require a premium account.
4. Can Ahrefs Backlink Checker be considered decent for PPC?
Even though Ahrefs Backlink Checker is largely recognized as an SEO tool, it also features extensive PPC capabilities. The Ahrefs Backlink Checker is a powerful PPC tool that allows you to analyze your competitors' advertising. The tools help discover keywords competitors are paying for and monitor their traffic source.
Are you a professional who is aspiring to be a Digital Marketing Specialist? Check out the Digital Marketing Specialist certification course now.
We hope you found all the essentials for using the Ahrefs backlink checker. There are several other tools and concepts that you must know to become a millennial digital marketer. How can you gain these skills? Straight away, head towards Simplilearn and get started with any course that suits you!  
One of our most popular courses is the Post Graduate Digital Marketing Program in partnership with Purdue University and co-created with Facebook. You will get a chance to learn top digital marketing tools through Masterclasses featuring experts from Facebook and Purdue, and Harvard Business Publishing case studies.