You probably already know how important social media marketing is today. According to We Are Social, there are more than 3.7 billion active internet users and 2.8 million global social media users — meaning expansive digital marketing options. But how can you make your digital media campaigns as efficient and effective as possible?
For starters, familiarize yourself with the apps, tools, and other resources below. Then consider becoming a Digital Marketing Certified Associate. 
Digital Marketing Tools You Should Consider
Email Marketing
1. MailChimp
Overview
MailChimp is a web-based email marketing service. In addition to sending marketing emails like newsletters, you can create targeted campaigns and automated messages. It offers templates that can be customized as well as a number of options for sending emails.
Features
Customizable forms and templates
A/B testing
Social media plug-ins
Automation workflows
Multiple campaigns
Real-time reports
Tutorials
Pricing
The basic plan is free and includes up to 2,000 subscribers and up to 12,000 emails per month. Other plans are available for $10 to $199 per month.
2. HubSpot Sales
Overview
Focused on the sales process as a whole, HubSpot Sales allows you to create and share email templates. Every lead's contact info, email leads, and clicks get logged automatically.
Features
Automated emails, including follow-up emails
Works with Gmail, G Suite, and Outlook or Office 365 for Windows
Email tracking, including open, click and reply data
Customizable templates
Pricing
Subscriptions are $200 to $2,400 month, billed annually.
Social Media Management
3. Buffer
Overview
Buffer makes managing your social media easy. Nicknames like "The Siri of Social Media" and "Social Media Assistant" have been applied to Buffer. It allows you to optimize your posts on Facebook, LinkedIn, App.net, and Twitter, by scheduling them in advance; Buffer posts them at the best time based on time zone.
Features
The free trial period for paid plans
Detailed analytics
Multiple social networks
High security with two-step login
Posts the same message to all platforms or customizes for each
Pricing
Two plans are available for individuals: Individual, which is free, and Awesome, which is $10 per month. Three plans are available for teams and agencies: Small, which is $99 per month; Medium, $199 per month; and Large, $399 per month.
4. Sprout Social
Overview
Sprout Social provides solutions for social media management, marketing, analytics and customer service. It's integrated with Facebook, LinkedIn, Twitter, Google+ and more. You'll get excellent statistics across all of your interlinked social networking sites. Sprout Social has become an incredible force in the social media world in a short time.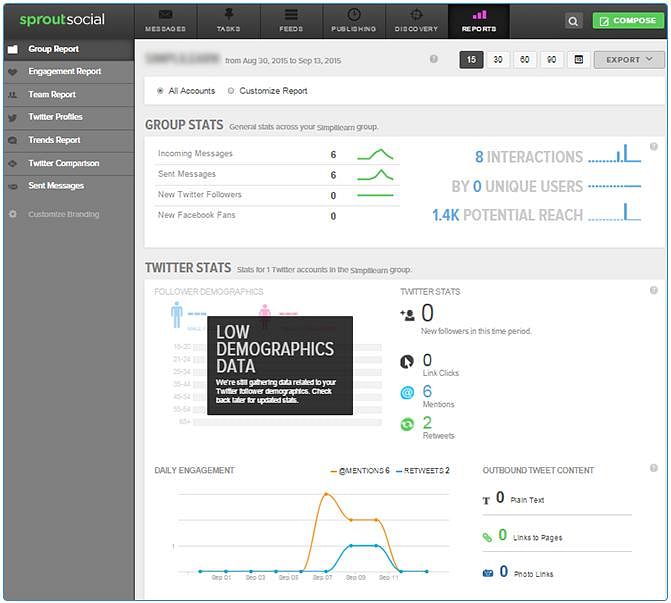 Features
Social media dashboard
Link performance analysis
Can view Twitter follower demographics and contact details
Discover customers by interest or by location
Monitor competitor activity
Customer relationship management tools
Integrated analytics
Free trial
Pricing
Offers three plans: Premium, $99 per month; Corporate, $149 per month, and Enterprise, $249 per month.
5. Wyng (formerly Offerpop)
Overview
Wyng lets you configure and personalize digital, mobile, and social campaigns. It also lets you view and manage user-generated content and much more.
Features
Integrate with other enterprise platforms, such as Experian and Sprout Social
Build custom configurations using open-source technology
Auto-response in real-time
Customizable templates
Preview rendering for mobile, tablet and desktop devices
Real-time reports
Pricing
Contact Wyng to get a breakdown of plans and prices.
6. Nanigans
Overview
Nanigans offers "profit-driven advertising automation" designed for in-house advertisers. Founded in 2010, the company helps marketers achieve social and mobile performance marketing goals using workflow automation, predictive optimization, and more.
Features
Official partner of Facebook, Instagram, and Twitter
Industry-leading advertising automation software
100-plus reporting attributes
Cross-channel ROI (return on investment) automation
Pricing
Nanigans is one of the most expensive advertising tools on the market, but it's also one of the best. Contact the company for a demo and pricing.
7. Facebook's Power Editor
Overview
A powerful tool designed for bigger Facebook advertisers, Power Editor lets you create, edit and publish multiple ads at once. Facebook's Ad Manager is for beginners; Power Editor is a more advanced and effective way of managing ads.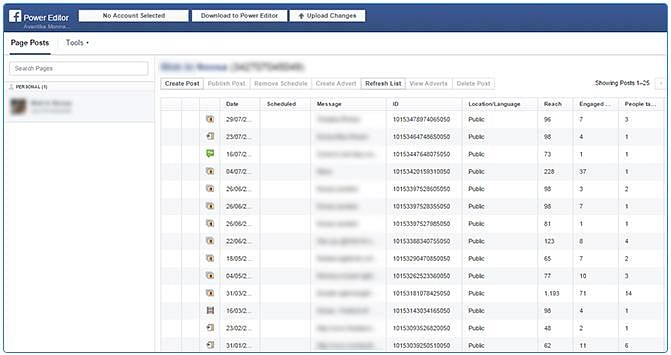 Features
Manage many ads simultaneously
Import ads using Excel
Find what you want quickly using search filters
Works with Chrome, Firefox, Internet Explorer, and Edge
Pricing
Varies based on the campaign.
Interested to know more about social media marketing strategies? Check out the Advanced Social Media Marketing Course. Enroll now
Analytics
8. Google Analytics
Overview
Google Analytics is a comprehensive freemium web analytics service available to anyone with a Google account. It helps you understand your site users and figure out which digital campaigns are working and which aren't.
Features
Custom reports
Cross-device data
Segmentation for analysis of subsets
Built to work with Google's other media and publisher products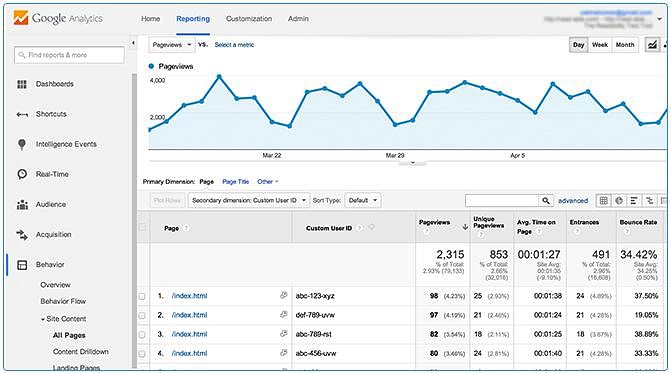 Pricing
The standard version of Google Analytics is free. The premium version is $150,000 per year.
9. Kissmetrics
Overview
A web-based solution, Kissmetrics helps in analyzing, recognizing, understanding, and enhancing the metrics that drive online business. The biggest difference between it and Google Analytics is that user behavior is more accessible on a multisession basis.
Features
Real-time tracking
A/B testing
Funnel and cohort reports
Design editor
Behavior campaigns and behavioral comparisons
Software integration
Revenue reports
Pricing
Subscription plans start at $500 per month. You can request a demo.
Task and File Management
10. Trello
Overview
All marketers can benefit from Trello, which is a software developed for managing projects. It has cards that are like sticky notes that you can arrange on aboard. An individual card has deadlines, checklists, images, colored labels, attachments, and notes from any others sharing the board with you. There is no limit to the number of boards you can have.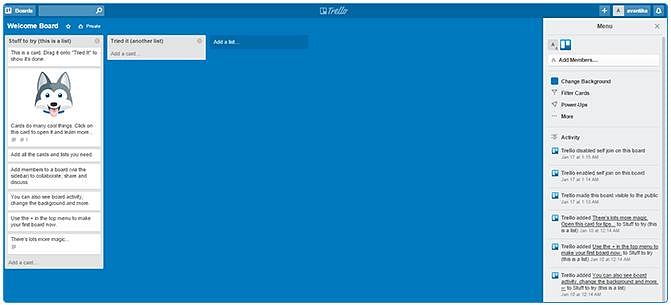 Features
Collaborate with others in real-time

For companies of all sizes

Integrate apps into the workflow

Offers email notifications and an activity log

Attach photos and drawings
Pricing
In addition to a free basic version, there's a Business Class option for $9.99 per month when paid annually, and an Enterprise option for $20.83 or less.
11. Dropbox
Overview
Dropbox is a tool for sharing, saving, and syncing files. Files saved on Dropbox can be accessed from anywhere around the world, including on mobile devices, and can be shared with people who don't have a Dropbox account.
Most e-mail services limit the size of attachments, meaning large files generally can't be sent over e-mail. Photos, videos, Word documents, presentations, and spreadsheets can all be backed up and shared using Dropbox.
Features
File storage and sharing
Accessible from any device
Preview ability
Automatic updates
Simple link sharing via email, chat or text message
Online backup and file recovery
Offline access
Pricing
The basic version is free; the upgraded option costs $9.99 per month when billed monthly or $99 billed annually.
12. Evernote
Overview
Evernote didn't take long to carve out a niche for itself in the world of digital marketing. The application is designed for note-taking and archiving. You can also put together web articles and save images, and share everything with your team. The app is available on a range of devices. Once you make a note, you can access it from anywhere.
Features
Web clipping support
Edit rich text and sketches
For mobile and desktop devices
Store notes, web clips, files, and images
Record audio
Share notes and collaborate on files
Pricing
The basic plan with up to 60 MB of new uploads per month is free. The Plus plan, with 1 GB of uploads per month, is $34.99 per year; the Premium plan gets you 10 GB and costs $69.99 per year.
SEO
13. Raven
Overview
Reports are what tell you if a campaign is working and if targets are being met —report generation and presentation take up a considerable amount of a marketer's time. Raven is an SEO toolkit that makes creating marketing reports easier. It also helps you research, monitor, and manage your social media, content, pay-per-click (PPC), and search engine optimization (SEO) campaigns.


Features
Automated marketing reports
More than 20 data connectors, including Google Analytics and Facebook Ads
Site auditor tool automatically crawls sites to gather data
Create unlimited campaigns
Very user-friendly
Free trial
Pricing
Contact Raven to find out about pricing.
14. Visual Website Optimizer
Overview
Visual Website Optimizer lets you create various versions of your website and landing pages to see which would generate maximum sales. You can request a demo.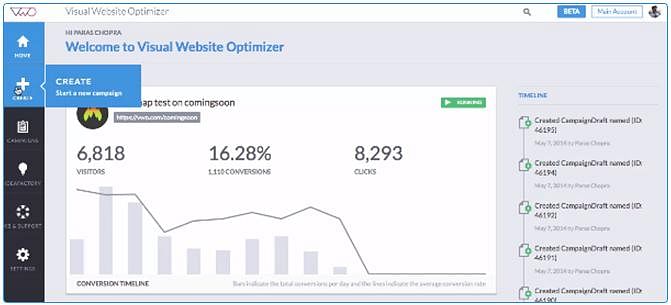 Features
A/B testing
Split URL and usability testing
Behavioral and geographical targeting
Revenue tracking
Plug-ins and integration
Real-time reports
Pricing
Three plans: Startup, $49 per month billed annually (or $59 per month billed monthly); Business, $129 per month billed annually (or $155 per month billed monthly); and Enterprise, $999 per month billed annually.
15. Moz
Overview
Moz began as an SEO consulting company in 2004. It offers Moz Pro and Moz Local to help you improve search rankings to get more views and customers. Moz Pro is "the SEO toolset that's got it all: keyword research, link building, site audits, and page optimization," according to the website, while Moz Local helps with SEO-integrated business listings.
Moz Pro Features
Industry-leading SEO metrics
Many ranking tools
Site audit tool identifies errors
User-friendly analytics
Free trial


Pricing
Four plans, from $79 to $479 per month, both paid annually.
16. SEMrush
Overview
SEMrush helps you maximize your efforts in the areas of SEO, PPC, social media, content, and public relations. It offers info on things like best-performing posts, performance versus the competition, and strategy analysis, and trending topics.

Features
Analytics cover organic, advertising and keyword research and more
Data visualizations for fast competitive analysis
Site audit
Brand monitoring
Position tracking
Pricing
Three monthly plans (lower prices for annual billing): Pro, $99.95 per month; Guru, $199.95 per month; and Business, $399.95 per month.
Master many facets of SEO including keyword research, technical SEO, link building, analytics, with the SEO Training Course.
Content Marketing
17. BuzzSumo
Overview
When you're creating your marketing strategy, you'll need to look for what is trending on sites and what is clicking with your audience. BuzzSumo is a tool that ranks content shared on social media sites based on the number of hits it gets. You can easily find who the most influential content curators or aggregators are within any niche.

BuzzSumo also gathers statistics on the industry's influencers along with their associated websites. When used wisely and paired with some of the other tools on this list, the possibilities are endless.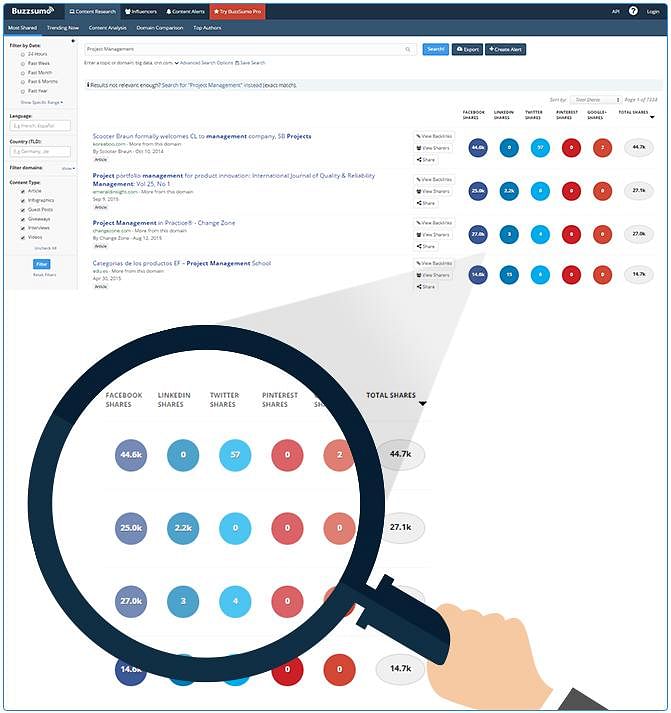 Features
Content insights, alerts, curation, discovery, and analysis
Influencer amplification available
Competitor analysis and comparisons
Social backlinks and advertising filters
Open API
Pricing
Three plans (prices are for monthly billing): Pro, $79 per month; Agency, $239 per month; and Enterprise, $559 per month.
18. Kapost
Overview
Content marketing is big. And Kapost is a tool that combines world-class software and expert service to help you deliver content that gets results. It's designed to help you manage the whole content marketing process, from planning to ideation to production and finally to distribution and analytics.
Features
More than 60 out-of-the-box integrations
Open API
Plenty of support through consulting services and more
Customizable content dashboard and workflow
Cross-channel content performance metrics
Automated email notifications
Can manage videos, blog posts, e-books, white papers, presentations, emails, landing pages, and webinars
Pricing
A subscription starts at $3,500 per month.
Master various aspects of planning and executing content marketing strategies to create impressive content with the Advanced Content Marketing Certification Course.
Visual Marketing (Images and Videos)
19. Piktochart
Overview
Piktochart helps you create professional-looking infographics even if you have no design experience. The tool provides over 100 templates that you can customize or just fill out.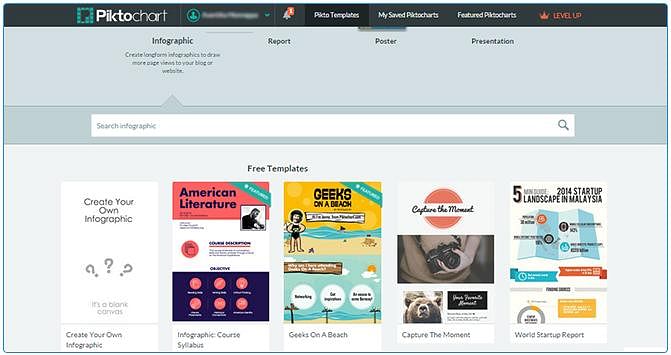 Features
More than 600 professionally designed templates
Very user-friendly interface
Library of more than 4,000 images to use
Import data from Excel or Google spreadsheet or Survey Monkey
Pricing
The basic plan is free. There are two upgraded versions: Lite, $15 per month; and Pro, $29 per month.
20. Vimeo
Overview
The highly popular Vimeo site is a platform that lets you view, upload, and share videos. It has mostly original content instead of TV shows and movies.
Features
Can embed your own logo into the video (Pro version)
No ads before the video, unlike YouTube
Supportive community
Fewer videos than YouTube, so less competition for viewers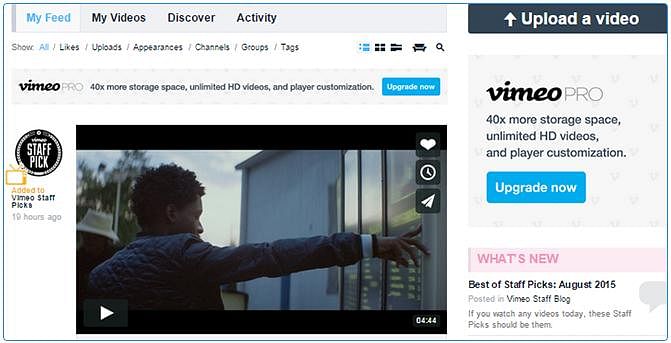 Pricing
The basic plan is free; upgraded plans range from $5 to $50 per month.
21. Unbounce
Overview
Unbounce helps you build, publish, and test landing pages. The site provides an easy-to-use editor to create high-conversion landing pages.
Features
Landing page and overlay templates
Real-time stats
A/B testing
Lead generation tools
Multiuser and client management
Integrations
Text replacement automatically changes selected keywords to match those used in search queries
Free trial
Pricing
Three plans (based on annual billing): Essential, $79 per month; Premium, $159 per month; and Enterprise, $399-plus per month.
22. GoToMeeting
Overview
Meetings and calls with clients are a given, but you don't have to be there in person. Video-conferencing software GoToMeeting lets you have meetings online, making it easy and cost-effective to collaborate with colleagues and interact with customers.
Features
Access to instant meetings with a single click
One-time scheduled and recurring meetings
Seamless audio
Recording option
Integrated scheduling with Microsoft Outlook
Use on Mac, PC, iPad, iPhone or Android
Free trial
Pricing
Three plans (based on annual billing): Starter, $19 per month; Pro, $29 per month; and Plus, $49 per month.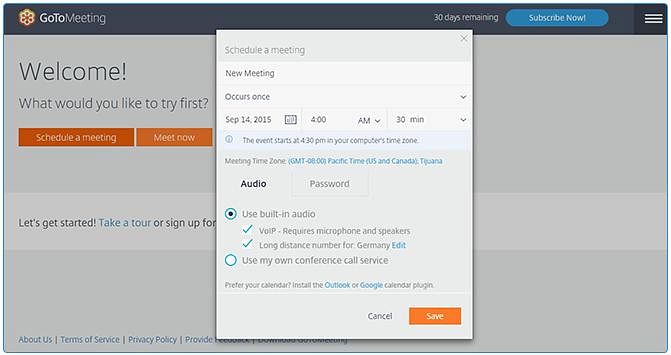 Automation Software
23. Pardot
Overview
Pardot is a web-based marketing software that helps you streamline lead management and create and track online campaigns. It offers modules for building and managing elements like forms and landing pages.
Features
Customizable templates
Email testing with automated CAN-SPAM compliance
Lead scoring, grading, and management
Tracking and analytics
Top-notch customer support
Real-time sales alerts
Pricing
Three plans: Standard, $1,000 per month; Pro, $2,000 per month; and Ultimate, $3,000 per month.
24. Marketo
Overview
Marketo bills itself as a "world leader in marketing automation for companies of any size." It's a pioneer in innovation and offers a range of products; it also lets you tap into the insight of expert marketers through its Marketing Nation.
Features
Easily build and scale automated marketing campaigns
Explains search marketing, landing pages, web personalization, more
Integrations
Analytics
A/B testing
Ad targeting and mobile engagement
Pricing
Varies based on the bundle chosen.