How can you outrank your competitors quickly? The answer is simple: create good SEO content and promote it the right way. But SEO content creation isn't that simple. Planning your content requires keyword research, checking out competitors' ranking keywords, analyzing the difficulty of ranking on the first page of Google search, prioritizing keywords, link building, and more. You can make all that possible within minutes with Moz SEO Tools. 
What Is Moz?
Moz is an all-in-one SEO software suite that helps you improve your search engine visibility by providing fresh insights and empowering you to stay competitive. Moz offers 55+ SEO tools for all businesses and individuals to improve search rankings, drive traffic, and get customers. 
Why Is Moz Useful for SEO?
SEO is a powerful digital marketing strategy, and Moz Tools grant you the power to optimize your website by measuring, evaluating, and monitoring the onsite and off-site aspects. It helps businesses track various aspects of SEO campaigns. Thus, facilitating their growth by luring valuable traffic. 
Key Features: Moz Pro vs Moz Local
Depending on your end goals, you can choose from the two options: Moz Pro and Moz Local. The following table enumerates the key features of the two:
Moz Pro
Intuitive Suggestions
Access to Proven metrics
Accurate Volume Estimates
Competitor Rank Tracking
List import/export
Global Rank Tracking
Local Rankings
Search Visibility Score
Mobile Rankings
Universal and Enhanced Search Rankings
SERP Analysis
Link Profile Analysis
Link Opportunities
Competitive Link Metrics
Spam Analysis
Fresh Links
Page Optimization
Page Optimization Checklist
Automated and custom report
Historical Reporting
Competitive Reporting
Crawl Diagnostics
Issue Prioritization
New Issue Alerts
Instant Site Recrawl
Speed Crawl
Issue Ignore
Branded Reports
Report Export
In-Depth SERP Reporting
Moz Local
On-page recommendations
Weekly crawl and rank tracking
Competitive analysis
Open site explorer
Continual improvements
Moz toolbar
Keyword difficulty
Beta access to the news tools
Pro training webinars
Online marketing guides
Q&A forum
Pro Q&A forum
Discounted Moz seminars
What Can You Do in Moz?
Some top options for Moz users are as follows:
Link Explorer to navigate links for effective link building.
Keyword Explorer to conduct keyword research.
Free Competitive Research to check competitive analysis.
MozBar to examine and analyze page metrics of any site you visit in your Google Chrome browser.
My Online Presence to check out how your location appears on local search engines and directories.
MozCast to track day to day weather changes.
Free Domain Analysis to see SEO metrics such as top pages, ranking keywords, and more.
Free SEO Tools From Moz
Here are some free SEO tools that Moz has to offer. Learn how to use each of these tools and maximize your website's growth. 
Moz SEO Tool for Keyword Research
If you are hunting for websites that are ranking for the same search terms as yours or the top keywords for your topics, Moz SEO's keywords research tool with Moz Pro is your one-stop solution. It allows you to seamlessly create, add, and manage keyword lists in one place. The tool categorizes, prioritizes, and compares keywords. Keywords are incredibly valuable for SEO, but only if we use them right. 
Access:
Using the Keyword Research Tool:
1. To research for a keyword, enter a search term into the keyword explorer bar. You can also search by root domain, subdomain or page. You can check the target country in the search bar.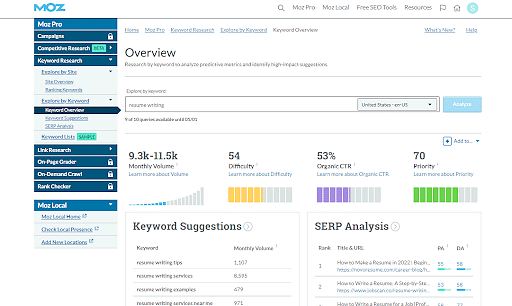 Moz Homepage
2. Clicking on the analyze button will display monthly volume, the difficulty on the first page of Google search results, organic click-through rate, and Priority. Priority is a special Moz feature that amalgamates all other scores and helps you determine which keywords to use first.
3. You can also see the top-ranking pages for the keyword. 
4. On the left-hand side of the page, you can click on keyword suggestions to broaden your range of keywords and choose specifically. 

Keyword Suggestion in Moz
5. The tool allows you to choose from keywords:
Including a mix of sources (default)
Including query terms
Excluding query terms
Based on closely related topics
Based on broadly related topics
Questions
6. You can alter the volume range as per your requirements.
7. Select the keywords and click on the "Add to keyword list" option. You can set up a keyword list for as many keywords as possible.
8. Open the recently created keyword list under the "Keyword lists option".
9. The list will have the keywords you selected and prioritize them to make things easier for you. You can navigate the list to choose low difficulty rates and high organic click-through rates. 
10. Once you choose the words, you can also export the list as CSV to Excel or Google Drive.
Moz SEO for Link Research
This tool works wonders for those who plan to create a web page by offering insights into their competitor's website. It allows you to compare link profiles and scan other relevant link information.
1. Visit the official website page, access the Link Explorer, and enter the URL into the search bar. 
2. You will be able to check out the website's domain authority, ranking keywords, linking domains, and inbound links. 

Link Explorer in Moz
3. It also displays the recent links that a website has lost or gained. Thus, you get a chance to work on the links and try to get them back.
4. You can download the information as a PDF or a spreadsheet to analyze it further or share it with stakeholders.
MozBar Free Chrome Extension
The MozBar chrome extension can be your choice to outrank competitors in the search engines. 
MozBar calculates the authority of websites in the search engines on a scale of 0 - 100. MozBar displays link metrics for domains and pages as you search. It provides the domain authority, page authority, and the number of backlinks for sites. You can also delve into various page elements and scan search results from other engines, countries, regions, or cities. MozBar allows access to run unlimited page optimization reports with a Moz Pro subscription.
You can install it for free on Google Chrome.
Steps to Enable MozBar in Chrome
1. Visit the SEO toolbar page on MozBar.
2. Click on the "Download MozBar for free" button. 
3. Next, click on the "Add to Chrome" button on the Chrome web store page.
4. Once installed, log in to your Moz account or create an account with an email and password. 

Moz for Chrome
5. The MozBar 'M' icon will appear on the toolbar at your browser's top right-hand side corner. The icon turns blue when you enable it. 
6. Enable third-party cookies for moz.com via your browser settings.
Link Metrics
MozBar allows you access to Domain and Page Authority scores on the search page. It also helps you view the inbound link number and quantity of linking root domains each page has. 

Moz Extension on Chrome
When you visit a page, you will see some important data towards the top. E.g. This page in the image below has an authority of 44, but the entire domain authority is 91. 

Page Overview on Moz
You can click on the link analysis option and check the site's details via the Link Explorer tool.
Customize MozBar Metrics 
You can customize the metrics you see in the MozBar tool as follows:
Go to the MozBar settings option– the gear icon  on the top right. 
Clicking on the icon, you can access various options for customizing MozBar, such as themes (dark or light), toggle on and off metrics, and the account you have currently logged in as.

MozBar Settings
Moving the MozBar
This Moz tool follows your instructions. If you wish to move it to the bottom of the page instead of the top, you can move the MozBar as follows: 
Click the bars on the top right, and the MozBar will automatically move to the bottom.
Clicking the bar again will send the MozBar back to the top of the page.

The Bars Icon for Moving MozBar
Create Search Profiles
Once you have MozBar active on your search engine, creating profiles allows custom searches by country, region, or city.

Add New Profile Option 
Type a search into Google. Suppose we search for homemade cat costumes. 
To view UK Google non-personalized results, you can click the "Add a New Profile" option from the profile dropdown menu on the top.
Once you click the "Add a New Profile" option, you will have to select the search engine and the location, refine the locale further (if you wish to), and then click "Create Profile." 
You can also decide whether or not you would like to view personalized results by checking the box as shown in the example below. 

Adding a New Profile 
Now when you refresh your search, you will find SERP results for the location you entered. Also, because you have created a profile, you will be able to select it for your search from the dropdown whenever you want.
Page Analysis
The Moz magnifying glass icon on the left-hand side allows you to go through a web page's On-Page Elements, link metrics, markup, HTTP status for this page, and general attributes.

Moz Page Analysis Option
Highlight Links
Right next to the Moz magnifying glass option, you will find a pencil icon. It helps find and highlight keywords on a page as well as distinguish links by their type. They fall into the following four categories:
Followed
No-Followed
External
Internal

The Highlight Option in Moz 
Page Optimization
Move right from the pencil icon, and you will find the KW page icon that helps you with Page Optimization details for any keyword on any page. 
This option works wonders because all you have to do is simply enter a keyword that you would like to optimize a page for, click enter, and it displays all of your Page Optimization factors. Moreover, you will also find actionable suggestions. 

KW page icon
Optimization Factors
The Summary section on the top will provide you with the Optimization Factors for the page. Clicking on the See all Optimization Factors will allow you to delve into the details. 
On-Page Content Suggestions
The tool takes the top-ranking results for the keyword you wish to optimize for and extracts the most popular topics. It then sets them in the order of their relevance. You can click the See all On-Page Content Suggestions option to view more suggestions and top-ranking URLs for them.

Page Optimization Summary, Factors, and Suggestions
DA Mode and Expanding MozBar
DA or Domain Authority mode enables you to see the DA of every website you visit without using the standard or the fully expanded MozBar in your browser.

DA Mode Active
You can activate DA mode by clicking the blue M icon. Your click will turn the icon into a DA number. Clicking the icon again will turn off MozBar, and it will turn gray. To re-enable the MozBar extension, you will have to re-click the icon.

Enabling DA mode
To completely turn off the MozBar extension,  you can enable /disable it from the Manage Extensions in Google Chrome toggle on-off option.

Enabling and Disabling MozBar Chrome Extension
Understanding MozBar Terminology
Domain Authority (DA): It tells on a scale of 1-100 how well a domain is likely to rank in Google based on link metrics machine learning algorithm. 
Page Authority (PA): It tells on a scale of  1-100 how well a page is likely to rank in Google based on link metrics machine learning algorithm. 
Backlinks or Inbound Links: The link to your website added by another website on their page.
Spam Score: The percentage of sites with features that have been penalized or banned by Google. 
Linking Domains: It is also called Total Linking Root Domains. It represents the number of unique root domains that link to a target. Links coming from the same website are counted as one.
Followed Links: Links that do not incorporate the nofollow tag. They are crawled and indexed by Google bots or other search engines.
Nofollow Links: Links with the nofollow tag instructing crawlers not to crawl and index the particular page or link. 
External Link: Links from the sites to the site you are researching. 
Total Links: It is the sum of total external followed links and total external nofollow links. 
Conclusively,  these are a few Moz SEO tools. There is a lot that the platform has to offer for seamless search engine optimization, elevating your rank on Google and being your assistance in pursuing your business goals. 
FAQs
1. Is Moz domain authority accurate?
Moz Domain Authority is an accurate reflection of Google's algorithm. It is a significantly ideal tool for assessing a website's quality of the inbound links. While a score between 40 and 50 is rated as average, one between 50 and 60 is good, and above 60 represents excellent domain authority.
2. What is Keyword Priority in Moz?
The Keyword Explorer tool in Moz has a "Priority" option, an assemblage of the other metrics, including search volume, CTR, and difficulty. So, a keyword with a high priority score has a higher CTR and volume and lower competition scores.
3. What are some Moz best practices?
Some Moz SEO best practices are:
Creating human-readable URLs extends a better idea and attracts users to click on them
Checking your website's analytics setup
Improving page and domain authority
Ensuring that a website is mobile-friendly.
Master many facets of SEO including keyword research, technical SEO, link building, analytics, with the Search Engine Optimization training course.
Conclusion
Moz is definitely a great SEO tool that can help you grow your website traffic. Do you know there are several other tools like Moz that can multiply your growth if you learn how to use them optimally?  
Our exclusive SEO Certificate course can give you insights into the digital marketing challenges and best solutions to tackle them. You will learn combining data, analytics, content marketing, HTML, technical SEO and many other useful topics. This SEO course will make you an effective marketing strategist.
Another popular option for SEO and Digital Marketing enthusiasts is our Professional Certificate in Digital Marketing. Become a field expert with the help of the professional certificate, offered by IMT Ghaziabad in collaboration with Simplilearn. You will become an expert in domains like SEO, Social Media, PPC, Web Analytics, and Marketing Analytics.