As automation and other knock down effects of digital transformation continue to produce a sense of business uncertainty, Learning and Development(L&D) is starting to rapidly gain prominence. Employees must pick up new skills quickly, and deliver on the outlined agenda almost in real time through skill acquisition and retraining. 
Providing training and even certification opportunities to bring your staff up to speed is an ideal solution—but it often gets pushback from upper management. CFOs demand real ROI before making such an investment. Many business leaders view training as "time away from work," and believe the same time could be utilized to get more real, tangible work done. 
If you're in a similar scenario where executives are hesitant to launch a team training program, here are a few effective ways to handle objections and make compelling arguments about the time and money needed for learning new skills and technologies. 
1. Keep Pace With Change
Today, business technologies are changing at a staggering pace. Most of today's influential business technologies, like Cloud Computing and Big Data Analytics, didn't exist until a few years ago. When you are discussing training needs for your team with executives, discuss how many of these technologies are so new that colleges can't adequately prepare their own students before graduation. Describe how new capabilities in tools like Salesforce, ITIL, and Microsoft Azure are essential for teams and can help your company stay competitive and reduce the risk of errors.
2. Save Costs With Team Training
Recruiting new talent is a time-consuming process that robs your organization of productivity and significant hard and hidden costs. Highlight to management that, by comparison, certification-level training requires a typical investment of just $700 to $1,100 per employee and can usually be completed in about 90 days. It's also worth pointing out that some training vendors' annual licensing agreements are transferable with your company, making the effective investment per employee even lower.



Source: Center for American Progress
3. Improve Employee Productivity and Profitability: Studies show that when employees feel engaged, creativity and productivity flourish.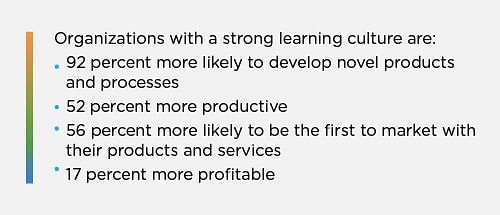 Source: Bersin
A similar study by the American Society for Training and Development proves that companies who applied an average of $1,575 per employee on learning achieved 24 percent higher growth in gross profit and a 218 percent increase in revenue from each employee, compared to those who spent less on employee training and development.
4. Improve Employee Morale and Retention: Learning and career development opportunities are increasingly important to develop and maintain employee satisfaction.



Source: SHRM
One thing that will really solidify your argument is if you're able to provide examples of companies that offer learning and development opportunities and have lower turnover like Sears. In Sears department stores, where managers offer learning and development opportunities to their employees, turnover is 40 to 50 percent lower than locations where managers do not.
5. Attract New Talent: In addition to improving the retention of existing employees, describe how organizations that offer learning and development programs are more competitive when it comes to recruiting.
6. Win More RFPs and Federal Contracts: Help your executives understand how a corporate training program and certified employees onboard can help your company distinguish itself as an expert business  when competing for requests for proposals (RFPs), especially for federal contractors.


7. Enable Knowledge-sharing and Team-building: The training gained by just one employee can benefit additional employees, through knowledge transfer (sharing learned skills) and improved procedures.
Help your CXO's understand with relevant examples how a strategic "train the trainer" approach can enable certified individuals to impart new skills across entire departments for the price of one learner. Another benefit worth pointing out is that trained or certificated employees have a major advantage when interviewing and vetting candidates for new positions in their department. Involving multiple employees or complete departments in the training process makes an outstanding team-building exercise. You can also talk about how employees benefit by sharing the learning experience, by collaborating with each other on practical applied tasks, by motivating each other with peer support and even through competitiveness, with progress posted on leaderboards.
When requesting anything from executives, be prepared to answer the question, "What's in it for us?". Remember to avoid using L&D jargon when having a conversation with management, and talk about the true impact on key business metrics like sales, revenue, and client satisfaction that will help your company gain a competitive edge and stay ahead of your competitors. 
Read our whitepaper to learn more tips and advice for selling senior executives on the advantages of investing in training.