TOGAF® is a developmental method used by enterprises to plan and design their IT architecture. The first version of TOGAF® was started in 1995 and was based on the Technical Architecture Framework designed by the Department of Defense (DoD).
TOGAF, is intended to serve as a standard for developing and implementing very large computer systems. TOGAF is used by 80% of Global 50 companies today.
TOGAF® is used to help organizations design an IT infrastructure that is adapted to meet their requirements. This is where trained TOGAF® professionals come in; they communicate with various department heads and help design and implement an IT strategy quickly and effectively.  
Why Use TOGAF®?
TOGAF® takes a high-level approach to the framework that an enterprise uses to plan, design, implement, and manage its Enterprise Architecture. Enterprise architecture is broken down into four distinct domains (data, technology, application, and business) and heavily relies on existing, standardized products and technologies.
Organizations implementing or planning to implement enterprise-wide technical infrastructure to support mission-critical business applications using open systems building blogs benefit from using TOGAF®. Those who design and implement architectures using TOGAF® principles enjoy design and procurement specifications that help facilitate open systems implementation while reducing risk. TOGAF® 9 qualification also benefit those who are interested in working on IoT projects.
What Do TOGAF® Certified Professionals Do?
As a TOGAF® certified professional, you'll act as a "simplifier" who can demystify complex technical processes. Developers and technical leads get certified in TOGAF® to help master the principles of Enterprise Architecture and ensure their career path to architect and senior architect positions.
Enterprise Architects, or EAs, develop the organization's long-term IT strategy—one that supports the overall business strategy. They create the technology and applications roadmap to direct and steer the organization—based on TOGAF® standards for technology infrastructure. EAs are responsible for ensuring that all aspects of the technological flow are defined and that IT and IT-enabled processes run smoothly from start to finish.
As generally work on transformational programs across various portfolios, managing a number of different meetings and projects, which may include:
Architecture Strategy: all the aspects of IT architecture strategy, including determining the current state, transition, and desired path for the strategy.
Architecture Review Boards: a periodic meeting of stakeholders who discuss and approve changes to the current architecture.
Portfolio Management: as it pertains to the health and status of the IT infrastructure.
Governance Committees: stakeholder committee that makes decisions on standards, policies, and protocols, particularly about security and requirements.
Technology Lifecycles: determines how changes and versioning will be implemented for the variety of technologies used by the organization.
In short, TOGAF® certified professionals ensure there is alignment between an organization's ideals and goals and aspects of information technology. Often considered strategic management roles, TOGAF® certified professionals are sought out primarily by the largest organizations. Additionally, those who are interested in working on IoT projects can also benefit from TOGAF® training and certification.
Moving forward, let us see why is TOGAF is essential?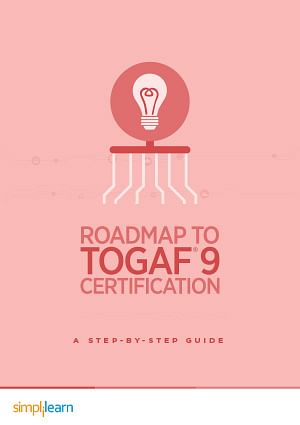 Download our eBook Roadmap to the TOGAF® Certification here
Benefits of TOGAF®
Now, let us understand why TOGAF is important, we've put together a list of twelve reasons you should get a this certification:
High demand for enterprise architects

As IT technology and architecture become even more tightly integrated into an organization's success, savvy companies are using TOGAF® to plan how their business's enterprise architecture is managed on both a short- and long-term basis.

Understand a common language

TOGAF® certified professionals share common knowledge and expertise that can help these individuals better identify business needs.

Staged approach

This enterprise architecture exam has two levels—Foundation and Certified. This approach allows professionals to learn the basics and build on that knowledge as they become experts.

TOGAF® is a budget-friendly certification

The cost can be as low as $320. That's just for the foundation exam alone; you can also sign up to take both exams for $495. Even if you add in the costs of training courses, getting trained in TOGAF® is a clear investment for your future.

Boost your salary and your career

PayScale indicates that average salaries for TOGAF® certified professionals start at more than $80,000.

Explore New Opportunities with a this certification -

Large enterprises trust credentials. The simple reason for this standardization. By getting certified, you show industries that you have been trained and tested by an industry-recognized board and are well-versed in concepts that are pertinent to the field. Thanks to this trust, getting certified in TOGAF® opens doors for you that may otherwise not be possible. Large enterprises like banks, hospitals, and other industries will trust your skills and look at you to solve their enterprise management problems.

Speak a Language Common to all Professionals in Your Field -

Working as a TOGAF® professional requires a great deal of communication. You plan and implement an IT environment for your organization, which requires you to interact with other professionals. As a certified professional, you learn to speak the language common to all professionals in your field. This makes collaboration easy and getting everybody on board with your ideas possible.

Meet Your Company's Needs Better

Most organizations seek ways to do the most with the least amount of time and effort. This principle is the focus of TOGAF®. A TOGAF® credential trains you on how to perform tasks with efficiency. This training could reduce your company's costs and increase its profit margins.

Work on Your Managerial Skills

This credential mixes the technical with the management aspects of IT and as a result, is a great stepping stone for aspiring managers. TOGAF® professionals often design IT infrastructure keeping a bird-eye view on things, which means that they have to consider and weigh different perspectives when implementing a project. This experience makes them a shoo-in for a management role when they apply.

Validate Your Skills

TOGAF® is a recognized credential. As enterprise architecture goes, there are few other credentialss that have the same hold that TOGAF® has on industries. A TOGAF® upskilling is a mark of trust. Companies trust your skills and knowledge when it has been validated by a TOGAF®.

Networking Opportunities

As is the case with all credentials, getting certified in TOGAF® means that you can meet other professionals in the same field. You can develop contacts, understand new trends in the industry, and share ideas that could improve TOGAF® principles.

No Prerequisites for the TOGAF® Credential

Unlike others, TOGAF® does not have any requirements for taking the credential. As a result, professionals who seek to start a career in the field of IT architecture will find it easy to do so after getting certified.
Moving forward, let us look at the this certification details 
TOGAF® 9 Exam and Credential Details
There are no prerequisites to take the TOGAF® 9.1 Level 1 (Foundation) course. Anyone can take it.
The TOGAF® 9.1 Level 2 exam requires you to first complete the Level 1 course before you start this.
In case you fail your exam, you can retake it after 30 days. However, you are allowed only 3 attempts every year.
The TOGAF® 9 qualification for individuals has no renewal.
TOGAF® Certification Training
Transform your career in 6 months, enroll in our TOGAF® 9 Combined Level 1 and Level 2 Training Course. This course provides a high-engagement learning experience with real-world applications and is designed for individuals who want to start a new, more fulfilling career.
That was all about this credential, in case of doubts leave a comment. Also, check out these Simplilearn Coupons and get the best deals for the courses you like!
Hope you liked the article "What is TOGAF", leave a comment in case of any doubts.
FAQs
Q1. What is TOGAF®?
TOGAF is a methodology with a set of tools is used for enterprise architecture.
Q2. Is Simplilearn's course accredited?
Simplilearn's TOGAF training will help you master the structure, terminology and concepts of TOGAF 9 - the global framework for enterprise IT architecture. This certification training course will demonstrate to employers your level of professionalism in architecture principles and processes.
Q3. Where can I book the exams?
You can apply for the TOGAF exam on  Pearson VUE's website. 
Q4. Are there any prerequisites for TOGAF® training courses?
There is no prerequisite to take the TOGAF exam level 1. Once you clear the first level, you will be eligible to take the level 2 exam. If you fail either of these exams, you can reappear in 30 days. 
Q5. What books can help me study TOGAF®?
Togaf 9 Foundation Study Guide: Preparation for TOGAF 9 Part 1 Examination (TOGAF Series), The TOGAF Standard, 10th Edition, TOGAF 9 Certified Study Guide and The TOGAF (R) Standard, Version 9.2 - A Pocket Guide are the best books for TOGAF preparation.