Team Performance - Agile Leadership Practices: PMI ACP
This is 'Team Performance - Agile Leadership Practices: PMI ACP' tutorial of the PMI-ACP Certification course offered by Simplilearn. In this part, we will learn about Stages of Team Forming in Agile, Agile Leadership and Agile Coaching in detail.
Objectives
After completing this lesson, you will be able to:
Describe the team formation stages
Explain high-performance and empowered teams
Recognize Agile leadership and its best practices
Identify the tools for 'Doing Agile'
Describe and use coaching and mentoring within teams
Describe the importance of Agile Emotional Intelligence
Team Formation Stages
The Bruce Tuckman team formation model details the stages that every team goes through, before becoming a high performing team. These stages of team forming are:
Forming
Storming
Norming
Performing
In the Forming stage, the teams come together for a common purpose. At this stage, there is absolutely no conflict between the team members.
In the Storming stage, the team members express their opinions that could lead to disagreements. However, this stage is essential to foster the team's growth.
In the Norming stage, disagreements are settled to pursue a common goal. Some people on the team give up their ideas in favor of a better solution.
In the Performing stage, the team is motivated and works well together resulting in a High–Performance Team or HPT.
The model elaborates that these stages are necessary for the team to grow, face challenges, tackle problems, find solutions on their own, plan work, and deliver results.
Now that we have understood Forming, Storming, Norming and Performing stages; let's understand the process of building a High-Performance Team.
Building High - Performance Teams
A High-Performance Team or HPT can be defined as a "small group of people with complementary skills, who are committed to a common purpose, performance goals, and approach for which, they hold themselves mutually accountable." HPT is important for organizational development. It refers to teams, business, and virtual groups that are focused on their goals and achieve superior business results.
The key characteristics of high-performance teams are listed here:
People with the right skills and motivation
Committed and effectively empowered team
Trust established
Outperform all other teams and exceed expectations
Maintain a sustainable pace of work to deliver high-quality software
Consistent and predictable velocity
Possess both technical proficiency and business knowledge
Possess good communication skills
Note that, while every team member cannot be a multi-skilled specialist, the collective skills of the team should be sufficient to deliver the required functionality.
HPT - Generalizing Specialist
A key feature of an HPT is the presence of a generalizing specialist. Generalizing specialists not only have expertise in their domain, but also a wide exposure to the business areas and technical domains in which they work. Although the need for a pure specialist may be felt at different times during a project, Agile recommends resources to be generalists rather than pure specialists.
This means taking up different roles like designer, developer, and tester, as needed by the project. It leads to the flexibility that can be leveraged to move members and formation of high performing cross-functional teams. Note that, with generalizing specialists in the team, the team size can be optimized to 7±2, excluding ScrumMaster or the Product Owner. It reduces the communication gap between teams.
Attributes of High - Performance Agile Teams
High-performance Agile teams will have the following attributes:
Participative leadership
Effective decision-making
Open and clear communication
Valued diversity
Mutual trust
Managing conflict
Clear goals
Well defined roles and responsibilities
Coordinated relationships
Positive atmosphere
Building Empowered Teams
Empowered teams make their own decisions and adeptly manage complexity. Agile emphasizes on having a motivated and empowered or self-managed team, who takes complete ownership of the project's outcome. Empowerment means responsibility and ownership; working independently towards common objectives; understanding the 'Why' to enable decision making; weighing the impact of decisions on all stakeholders, and making more trade-offs.
Empowerment is not throwing out the rulebook, bypassing everyone who says 'No'; doing the fun parts of someone else's job, and freedom to unilaterally make decisions that impact others.
Setting and Managing Expectations
ScrumMaster plays a key role in setting and managing expectations of a High-Performance Team.
A ScrumMaster is responsible for:
Defining the ground rules in the early phase of the project lifecycle
Ensuring stakeholder expectations are understood by the team
Communicating the project vision with the team.
In other words, the ScrumMaster's task is to ensure the team:
understands how their objectives align with the overall project goals
works as a coherent unit
is committed to the project vision.
The ground rules set by the ScrumMaster include:
Set Start and End times of Scrum ceremonies
Stay focused on the topic and minimize deviations
No disruptions during meetings (cell phones, other unrelated work)
Allow all team members, especially the junior or quieter ones, to have their say
The team should be receptive to all the views of team members before making final decisions
Daily Stand - Up Meeting
Daily stand-up meetings are quick and focused sessions used to share progress on the sprint or iteration. Team members normally attend the meeting near their workspace, standing up to keep the meetings focused and short. Each member makes a verbal commitment to the rest of the team on the task they will complete.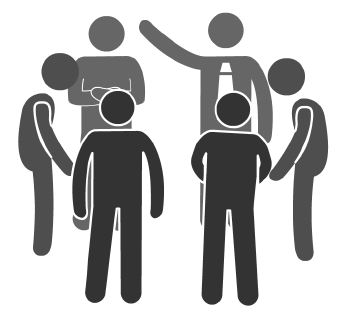 Scrum specifies that the meeting should be Timeboxed to 15 minutes. It involves only the 'committed' team members, with each participant answering the three questions:
What did you do yesterday?
What will you do today?
What's in your way?
Introduction to Agile Leadership
In this segment, let us learn more about Agile Leadership.
According to the Forbes Magazine, "Leadership is a process of social influence, which maximizes the efforts of others, towards the achievement of a goal." The illustration below shows how the discipline of Agile leadership overlaps with other disciplines. Leadership is being thought of here as "doing the right thing". The discipline of Agile leadership encompasses other disciplines like Leadership theory, traditional project management, and Agile methods.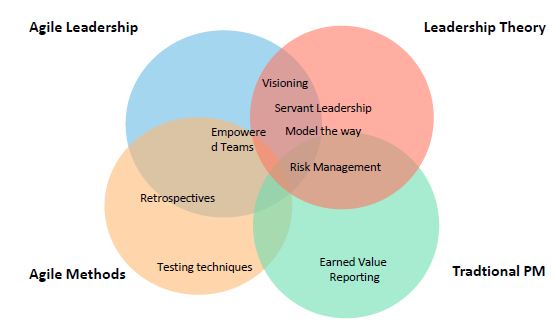 The illustration also indicates some of the well-known traits of leadership that include servant leadership, empowerment, and risk management. It is recommended to take a thorough look at the image and understand the different facets of leadership. Agile leadership encompasses other disciplines, such as:
Servant Leadership
Modeling the way
Empowering the team
Visioning
Risk Management
Note that the Agile leadership is essential to guide the team through the Team Formation stages.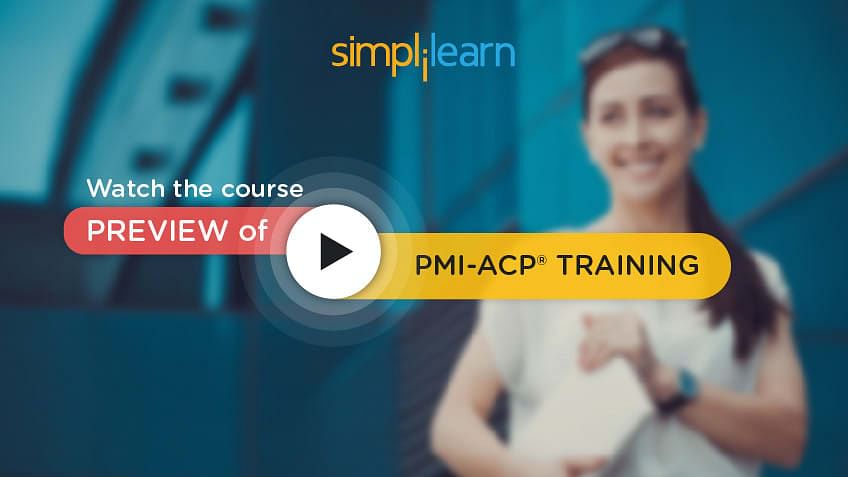 Leadership Best Practices
The best practices followed by a successful Agile leader are as follows:
Model desired behavior: A leader should follow the four most highly valued characteristics of a leader: Honesty, forward-looking, competency, and inspiring.
Create and communicate a vision: A Leader should define the clear goal or a vision for the future in accordance with the organizational goals.
Enable others to act: A leader should foster collaboration by building trust and strengthen others by sharing power.
Challenge the status quo: A leader should search for innovative ways to change, grow, and improve by experimenting and taking risks.
Involve the right people and encourage them: A leader should recognize the contributions of the team and appreciate individual excellence.
Adaptive Leadership
Adaptive leadership is a practical leadership framework that helps individuals and organizations adapt and thrive in challenging environments. 'Inspect' and 'Adapt' are the two common themes in Agile project management. Agile leadership can accelerate and sustain organizational agility. Adaptive leadership has the following two aspects:
Doing Agile drives the organization towards gaining agility not just in project management, but also at strategic and business levels.
Being Agile requires leaders to be adaptive; inclusive, exploring, and adopt a facilitative leadership style.
Adaptive Leadership - 'Doing Agile' Tools
Agile leaders should use the following execution levers to achieve the business goals of responsiveness, agility, profitability, market share, and customer satisfaction.
Quality: It is managing technical debt which, if not addressed correctly, leads to high cost and risk.
Doing Less: The project teams should do the simplest thing possible that delights the customer.
Engage or Inspire: Agile leadership should encourage and promote the concept of self-organizing teams that have autonomy, mastery, and purpose.
Speed-to-Value: The three components of the Agile triangle, such as quality, value, and constraints, need to be managed properly to realize business value.
Management vs. Leadership
An Agile leader has to embrace the Agile principles of being flexible and adaptable, and also motivate others to follow it. Management and leadership are often believed to be synonymous with each other, but they are not.
The differences between the focus of management and that of leadership are as follows:
Management focuses on tasks or things, (Pause a bit) leadership focuses on people
Management focuses on control, (Pause a bit) leadership focuses on empowerment
Management focuses on efficiency, (Pause a bit) leadership focuses on effectiveness
Management focuses on doing things right, (Pause a bit) leadership focuses on doing the right things
Management focuses on speed, (Pause a bit) leadership focuses on direction
Management focuses on practices, (Pause a bit) leadership focuses on principles.
Coaching and Mentoring Within Teams
In the context of Agile, guiding a team involves a dual approach to Coaching and Mentoring. Each aspect has its own focus and skill set to nurture the team and deliver results.
A coach helps the team members to accomplish specific tasks and goals. Coaching is about aligning the individual's goals with the organization's goals and helping the person to reach the next level.
A mentor shares the Agile experiences and ideas to guide the team members to grow and develop.
Agile Coaching
Agile coaching can be done by an internal or external coach. The coach has to:
Maintain a balanced perspective while working with different teams. Each team progresses at a different pace and may face constraints and impediments that require help to overcome.
Stay true to the team members' values.
Understand the social and psychological aspects, as well as the complexity of the team.
Use an approach that makes sense to people, and address the problems faced by the team.
Develop methods for designing non-intrusive interventions for changing team dynamics
Learn what is really needed to get people to work as a team.
Coaching at Levels
The focus of coaching changes at different points in a sprint or iteration:
At the beginning of the sprint, the focus is on the team
In the middle of the sprint, the focus is on the individual
Towards the end of the sprint and at the time of release, the focus shifts again to the team.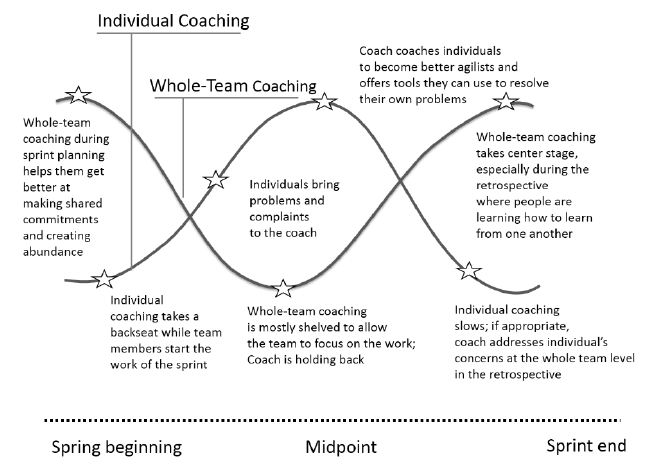 Skills of an Agile Coach
The three primary skills that an Agile coach must possess are the ability to work with people, facilitate change, and use systems thinking.
Ability to work with people includes:
Listening to the team and stakeholders
Giving feedback
Asking clarifying questions
Building trust and rapport with the team
Ability to facilitate change includes:
Enlisting support from the team and other stakeholders
Reaching agreement about the changes needed
Implementing the changes
Learning from failure to drive change in the right direction
Ability to use systems thinking includes:
Being able to see the "big picture"
Identifying the levers for change such as, what can really help in bringing about the change
Communicating danger signals
Agile Emotional Intelligence
Emotional Intelligence or EI, often measured as an EI Quotient or EQ, is a measure that describes the ability of people to identify, assess, and manage their own emotions, the emotions of others, and that of groups.
Agile Emotional Intelligence is a soft skill that every project manager should possess while handling projects in an unpredictable environment. It can be applied to promote collaboration among Agile teams and enable Agile project leaders to be flexible while adapting to customers changing requirements.
EI and Scrum Master Agile Project Managers
EI is an important skill for Scrum Masters or Agile project managers for various reasons. They must:
Build relationships and understand how to get the best from others in a matrix environment. It helps managers to collaborate with resources who do not directly report to him
Motivate staff, build teams from disparate sources, and manage conflict
Understand and manage the impact of a technical solution on a user population
Provide leadership after analyzing the situation and assessing the impact of any decision
Deliver results by understanding and effectively managing their own and their team's emotions.
EI Skills Assessment Framework
The EI Skills Assessment or EISA Framework is based on Reuven Bar-On's Emotional Quotient Inventory (EQ-i) model. It identifies five factors for understanding EI-based behavior, as illustrated in the image. These factors are Perceiving, Managing, Decision Making, Achieving, and Influencing.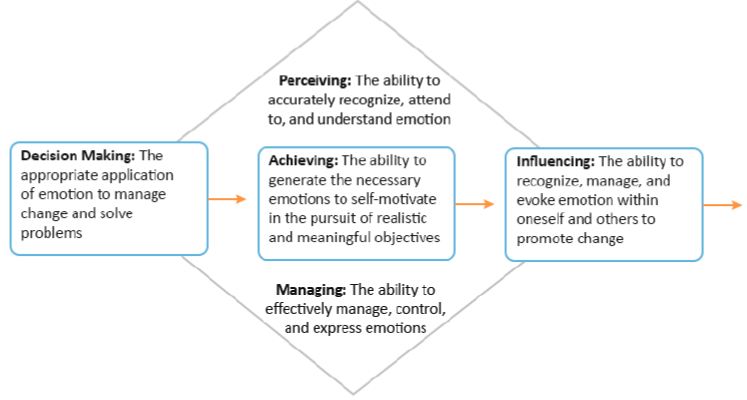 Perceiving is the ability to accurately recognize, acknowledge, attend to, and understand the emotions, belonging to self and others.
Managing is the ability to effectively manage, control, and express emotions.
Decision Making is the ability to apply emotions appropriately to manage change and solve problems.
Achieving is the ability to generate the necessary emotions to self-motivate in the pursuit of realistic and meaningful objectives.
Influencing is the ability to recognize, manage, and evoke emotion within oneself and others to promote change.
Benefits of EQ
The benefits of an improved EQ to Agile project managers are manifold, which include,
Improved leadership
Effective handling and resolution of disputes
Effective development of teamwork
Improved negotiations
Cost-effective decision-making
Higher quality of problem-solving and decision-making.
Summary
Let us summarize the topics covered in this lesson:
Every newly formed team goes through the team formation stages of Forming, Storming, Norming, and Performing.
High-Performance Team (HPT) refers to teams, organizations, or virtual groups that are highly focused on their goals and achieve superior business results.
Agile emphasizes having a motivated and empowered team, who will take complete ownership of the team's success.
Adaptive leadership is a practical framework that helps individuals and organizations adapt and thrive in challenging environments.
In Agile, team coaching happens at the beginning and end of a sprint or iteration while individual coaching is done in the middle.
Agile EI is a soft skill enabling project managers to apply negotiation techniques and promote collaboration in an Agile team.
The EISA framework identifies five areas for understanding EI-based behaviors: Perceiving, Managing, Decision-Making, Achieving, and Influencing.
Conclusion
This concludes 'Team Performance - Agile Leadership Practices: PMI ACP tutorial.' The next part of the domain is 'Team Performance - Agile Team Formation: PMI ACP.'
Find our PMI-ACP® Certification Online Classroom training classes in top cities: