PMBOK® Guide – Sixth Edition was released in September 2017, and PMP® certification exam format was revised on 26 March 2018, according to PMI. 
The exam is not about the PMBOKⓇ Guide, but the guide does influence the exam a lot. Here's what to expect, and what you could see as impacts to the exam as a result of the updated 6th edition.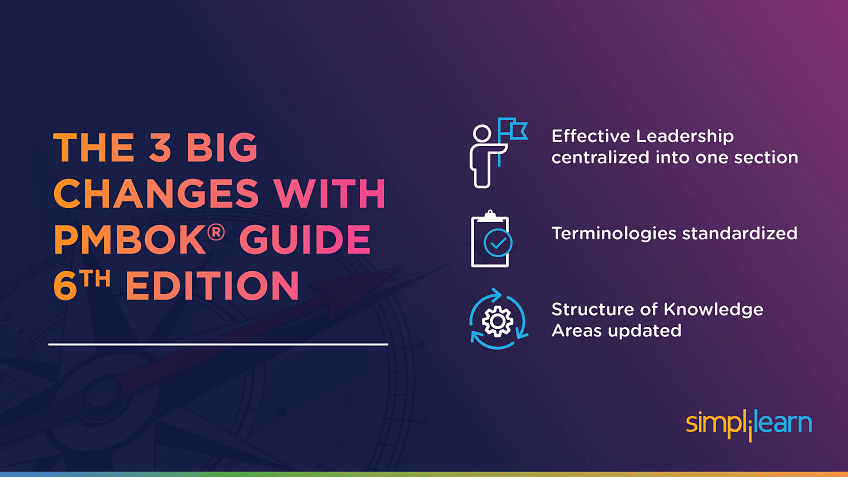 Centralization of Effective Leadership
A chapter has been added that talks about what Project Management Leadership means, and PMI's expectations of a project management leader. The new edition also reviews competencies and skills that project management professionals must possess. This makes sense, considering that we've seen the Exam Content Outline introduce this throughout the last few years, and it was a logical step to bring it into the guide.
Effective leadership is mentioned in the 5th edition but is now being consolidated into one section. Consider this as a continuation of PMI's message—a call to action that Project Management has three components that aspiring professionals need to continually develop: technical project management, business acumen, and leadership.
Terminology Changes
The 5th edition of the PMBOK® Guide made significant progress in standardizing phrases, terms, and definitions. This was needed to achieve alignment with the ISO standard 21500. This, also, was a bigger change than one would consider—the PMI Lexicon of terms and Exam Content Outline were aligned to match the same terminology. This was a big step. Once this was achieved, students and project managers could see a term in one area, knowing it would mean the same in every other use.
This new edition continues towards terminology consistency, with these primary updates:
Human Resource Management will become Resource Management. This means you don't merely manage teams, but also bulldozers, shovels, cases of nuts and bolts, and bottled water.

Time Management will become Schedule Management. This makes sense; we don't manage time, but we manage and control our schedule.
It's interesting how PMI discusses these changes; they state, "Areas have been renamed to more accurately reflect which elements can be managed… and which cannot…"
Do you wish to become a seasoned project manager? Gain the right skills with project management certification program and excel in your career, starting today!
Knowledge Area Changes
The structure of the Knowledge Areas will be updated, with the following details:
Key Concepts will be organized. You can look to a specific section to review the core message of the knowledge area.

Trends and Emerging Practices have been added. Current learnings and business behavior are now seen to be a component that you can integrate and are expected to consider. The guide is not something static, but something that we can modify based on needs inside and outside the project. It is moved closer to a dynamic set of tools supported by thoughtful analysis as well as best practice.

Tailoring Considerations are now a component of each Knowledge Area. Again, having each section discuss how to modify it based on constraints, consideration, organizational preference, and business need is exciting. Having guidance in modifying the PMBOK® Guide will assist in understanding that this is a component of control, required if you are to manage actively.

Considerations for Agile/Adaptive Environments are included. Agile is currently mentioned as a methodology in Project Life Cycle discussions. In the 6th edition, each Knowledge Area will provide considerations for integrating agile methods based on its skillset and processes.
All these updates support increased not only clarity but also provide a focus on how this material can be best applied. This is the core of the PMP Certification; it tests not only one's knowledge but how well the applicant can apply what they know as a best practice in ambiguous, often confusing situations.
This bodes well for the profession of project management, and it bodes well for us, too. The guide gives us not only what we need to do today to make projects and business better, but what we need to think about and prepare for the future. Project management and our careers within it are a continuing story, not a stairway that ends with a closed door.
PMP® and PMI® are registered trademarks of the Project Management Institute, Inc.