It's interesting to watch the stream of cloud computing articles that cross my desk. Five years ago, they all focused on how enterprises worried about cloud security and would, as a result, choose to build private clouds. In fact, most enterprises made their peace with cloud security and began adopting cloud computing.
Two years ago, given the ongoing adoption, the trade press turned to hybrid cloud and multi-cloud, positing that enterprises would opt for spreading application workloads across multiple computing environments. This prediction has pretty much played out as described, although the details are much messier than the press portrays.
Last year, the conversation turned to digital transformation—the need for companies to change the way they do business. Today's consumers prefer online interaction and companies need to deliver rich digital offerings to engage them.
So, where does that leave us today? Two recent studies depict a completely understandable state of affairs: One management consulting firm, McKinsey, published a survey that describes how companies are putting pressure on IT organizations to deliver digital goods. Another one, Talkin' Cloud, published a piece discussing how IT organizations are feeling overwhelmed with the options they have to sort through to build solutions.
The good news? McKinsey identified a path forward for IT organizations to sort through their options, confirm priorities and prepare for digital transformation. And, that path runs directly through staff skills and education. It must be said, however, that the path will be bumpy and will challenge IT organizations as never before.
Give a boost to your professional career with our Cloud Computing Training Program. Learn the key architectural principles and develop the skills needed to become a cloud expert. Start learning now!
Turning to the McKinsey piece first, it is absolutely fascinating. McKinsey is not a technology consulting firm; its constituency is the business side of the house. McKinsey surveyed 700+ senior executives and published the results in a piece titled, IT's Future Value Proposition.
The survey turned up some very interesting perspectives. As shown in Figure 1, senior executives believe that today's IT organizations focus on business process enablement and operational stability and management. These terms are McKinsey-speak for the traditional role of IT: internally-oriented applications that automate business processes and improve the internal workings of business units.
However, five years from now, these same executives believe that the value of those traditional activities will drop dramatically—from 45 percent to 27 percent  (business process enablement) and 39 percent to just seven percent (operational stability and management).
Find Our Cloud Computing Training in Top Cities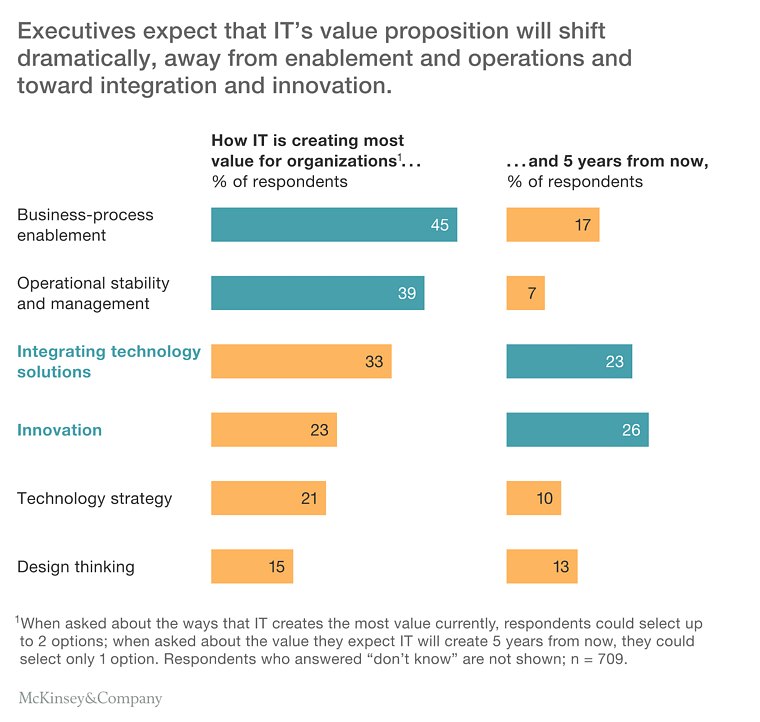 Also, they're not sure whether or not IT is ready to take on the way it needs to deliver value in five years: innovation and integrating technology solutions, which are the foundation of digital transformation. As Figure 2 shows, across all the categories of activity associated with digital transformation, barely a third believe that IT is up to snuff.
Consequently, those executives draw a logical conclusion: IT can be replaced by an external substitute (see Figure 3). A full 75 percent of the survey's respondents believe that an external party can do a better job than the existing IT organization.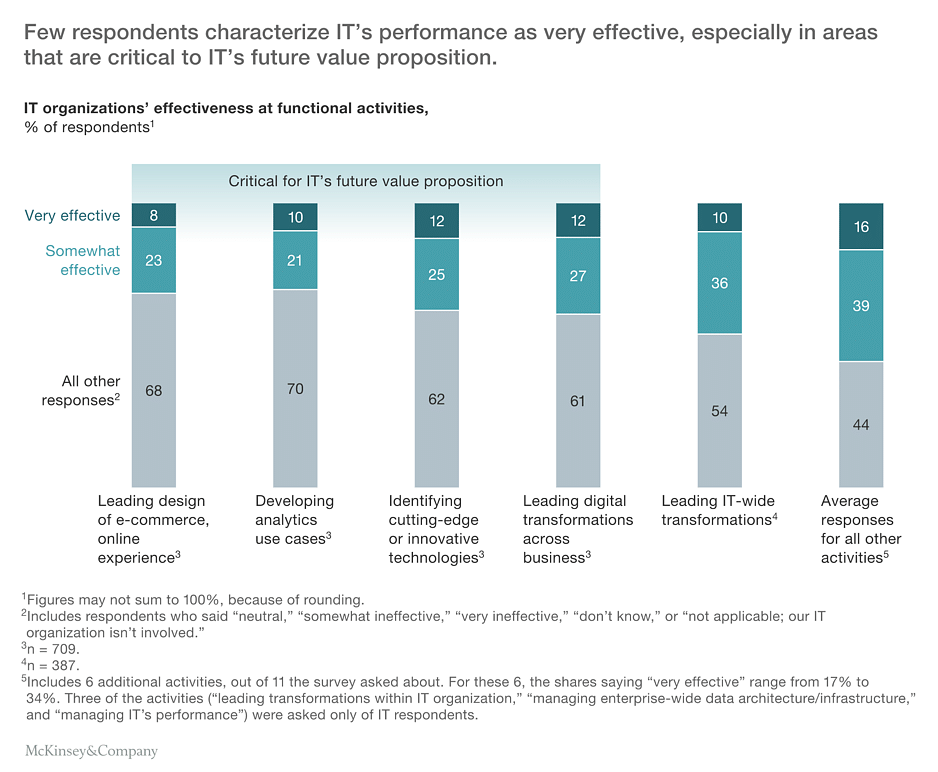 IT is struggling to respond to the demands of digital transformation. There is so much change and innovation, especially in the cloud space, that IT organizations are overwhelmed just trying to keep up.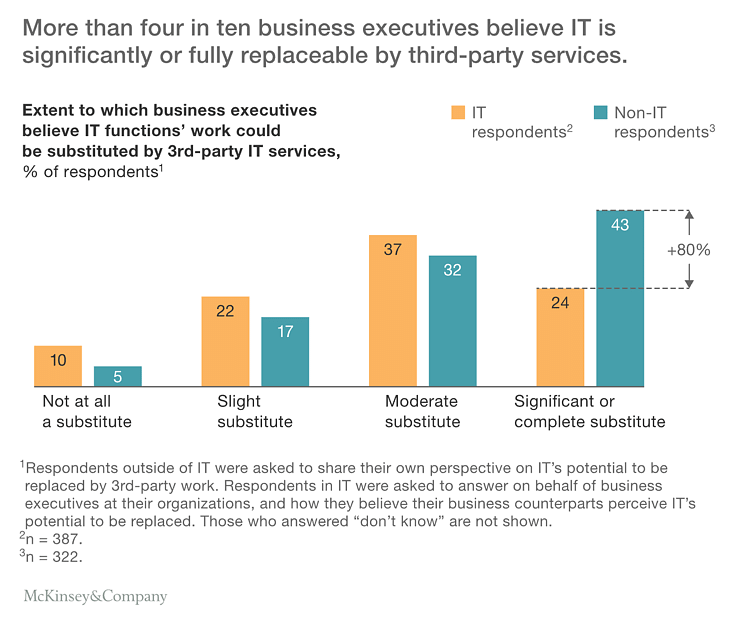 This is a key message of the Commvault survey that is the basis of the Talkin' Cloud article. Things are going so fast that "eighty-one percent of IT leaders report to be either extremely concerned or very concerned about missing out on cloud advancements."
This situation is only going to grow worse over time because the cloud providers are picking up the pace of their innovation. Here is a chart (see Figure 4) that shows the service improvements from AWS over the past few years: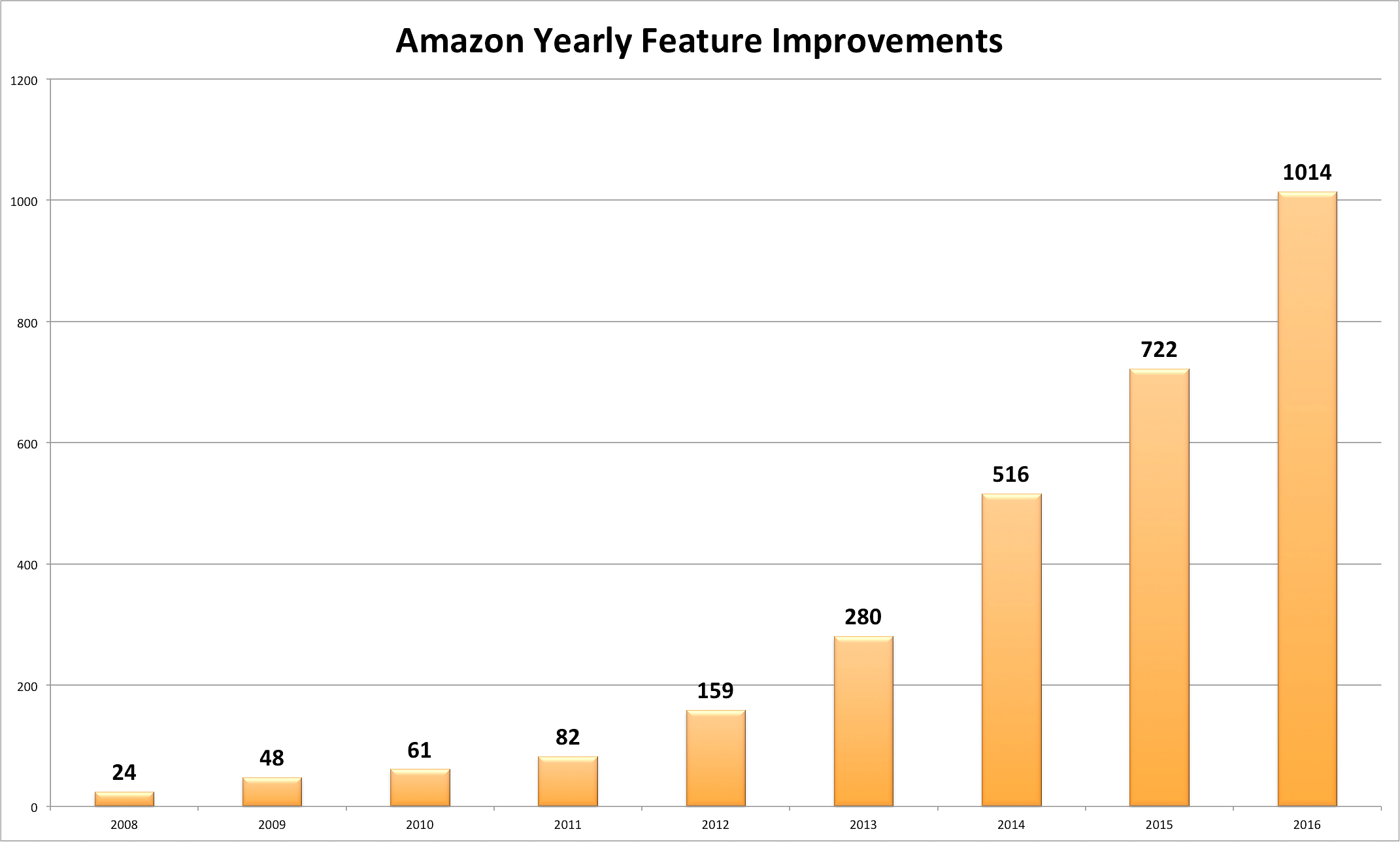 So what should the IT organization do? They're stuck between an irresistible force (cloud computing innovation) and an immovable object (the CEO's belief that they're doing a terrible job and someone else could do better)?
Well, first of all, they should recognize this longing for an external IT savior for what it is: a fantasy. I've worked in companies where the CEO decided he was tired of the way things were getting done and began using external IT providers. A year later, once promised projects came in much later than scheduled and way more expensive than predicted, they decided that the internal technology organization wasn't so bad, after all.
The fact is, IT is hard, and digital transformation is making it more so.
Fortunately, in amidst the bleak picture of IT's future, McKinsey offers guidance on how to improve things:
CIOs need to establish themselves as genuine business leaders and partners. They need to rewrite their job descriptions to focus on looking outward rather than inward.
The root causes of IT's ineffectiveness must be addressed. According to IT respondents, the most significant problems are a lack of clear priorities for the IT function, weakness in IT's operating model and talent issues. In fact, talent has actually grown as a root cause; respondents are twice as likely to cite talent issues now than as they were in 2015. 
This means that IT organizations need to address things at the highest and lowest levels. At the highest level, they need to form collaborative working arrangements with business partners to mutually develop digital offerings. And at the lowest level, IT organizations need to gear up the skills required to support digital offerings. 
Cloud computing is a foundation capability in this area and education in this area is critical. All of the partnering talks in the world won't help if the IT side of the partnership doesn't have the skills to instantiate the vision.
For IT, it's the best of times and it's the worst of times. Its capabilities are needed as never before, but its abilities are viewed with suspicion. Smart IT leaders will get in front of the demand from business units for help with digital transformation and help co-create solutions with business partners.