Advertising is the easiest way to acquire new customers for your business—and get them to make additional purchases, which is known as customer retention. Unlike other marketing tactics, online advertising allows you to effectively measure your marketing strategies and conversion rates.
What's customer retention?
According to rjmetrics.com, only 32% of customers actually order for a second time over the course of the first year. In other words, most new customers drop off after the first sale. In fact, according to Our Social Times, 70% of companies say it's cheaper to retain a customer than to acquire.
Watch this video on introduction to digital marketing:
Here are a couple of reasons why retaining your existing customers is important for your business.
It increases ROI: As we just mentioned, customer retention is much cheaper than customer acquisition; focusing on retaining customers will increase ROI.
Loyalty and lifetime value: Customer retention increases loyalty as well as increases lifetime value of customers. If online retailers retain 10% of their existing customers, they will end up making 2x the revenue.
Interested to know more about setting up PPC ad campaigns? Then check out the Advanced PPC Training Course. Enroll now.
Using advertising to retain your existing customers
Let's see how you can use advertising to retain your existing customers so that you can increase ROI as well as lifetime value of customers.
1. Launch strategy- Build brand awareness among existing customers
Launching new products can be a challenging job—each time you launch a product, you need to focus on many things like acquiring new customers, marketing your products, and many more.
If your existing customers haven't visited your website for a while and they haven't subscribed to your newsletter, they are not likely to be aware of your new launch. A great first step is to reach out to your existing customers and tell them about your new product to help bring in more business.
Pro tip: Use remarketing, which helps you to display ads with your existing and potential customers who have visited your website or used your mobile app. You can display your ads referring to your new launch on websites that are part of Google Display Network (GDN) or on Google as they search with queries that are related to your product.
2. Provide seasonal offers
Depending on your business you may find traffic hikes in certain holiday periods. According to statista.com, retail e-commerce sales figures are exponentially growing each year in the US during the holiday shopping season. So, holiday periods are one of the best ways to effectively implement your remarketing strategies.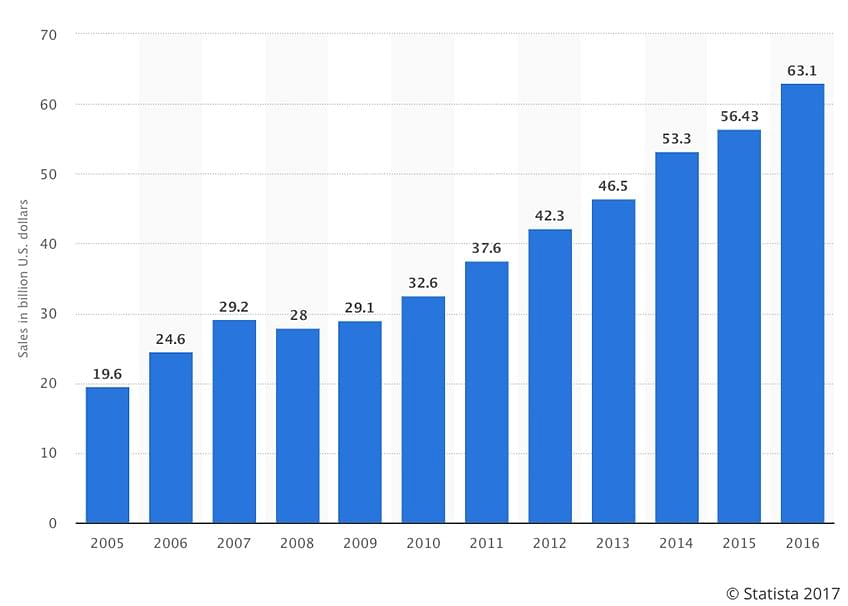 Pro Tip: Create ads tailored around holiday seasons: Creating a remarketing list of users who viewed your site during holiday periods will help you to create ad inventory tailored around user preferences. In addition, you can use that list to send those targeted customers reminders the following year.
3. Entice your customers to return to your website with customized offers
Paying customers are bread and butter for your business. However, the reality is that not every user of your product is going to be a paying user. Even if they became your customer, some of them might cancel their subscriptions or only make a single purchase. In such cases, you can entice customers to return to your website by providing exclusive discounts or coupons. Such tactics are meant to encourage users to return to website. For example, a web hosting company might provide a 75% discount to a customer who is cancelling their hosting account. 
Pro Tip: Use Facebook Custom Audiences: Facebook Custom Audiences ads let you to upload lists of customer email addresses or phone numbers, and allow you to display ad specifically for such users. By this way you can display customized offers to the users who haven't returned to your website for a while.
4. Cross sell related products
If you've ever purchased a product from a juggernaut retail websites like Amazon.com, you might have noticed this already:  if you've browsed for or purchased a product, you'll start seeing ads on various websites in the Google Display Network that promotes products that are related to the ones you've viewed or purchased.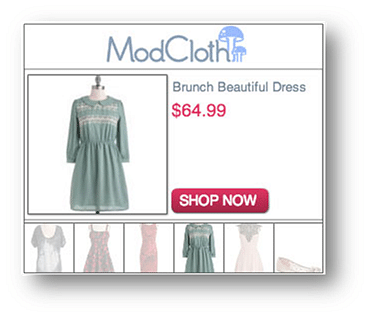 This strategy is called cross selling. Cross selling can also be implemented by remarketing using Google AdWords.
Pro Tip: Segment your prospects for cross selling: Create a remarketing list of people who have already purchased your products. Once a user purchased a product, target them for next 180 days because those recent buyers still have you at the top of their minds.
5. Reduce shopping cart abandonment
Retargeting users who have already visited your website can be a great idea to sell more products. Though it may work well in some scenarios, the reality is that it won't work for every business model. In fact, it is not a good idea to show ads that promote similar products to customers who recently bought it from you. 
Chances are, those types of strategies might decrease the click-through rate (CTR), and quality score, which will eventually increase the cost per click (CPC) rate. However, you can still use the potential of remarketing by targeting the users who have added products to their cart but haven't completed the sale.
Pro Tip: Create customized ads: The main reasons of shopping cart abandonments are either price issues or customers were not ready to purchase. Creating customized ads that address these issues will help you increase those sales.
6. Dynamic remarketing using product listing ads
Dynamic remarketing is one of the most recent features in Google AdWords.
It takes remarketing a step further. It allows you to create customized ads dynamically that connect with your customer by reminding them of items they've previously seen or bought.
For example, a customer who browsed a specific category on your website might see an ad that displays the exact products that were viewed as well as a host of related products.
Below is an example of a dynamic ad.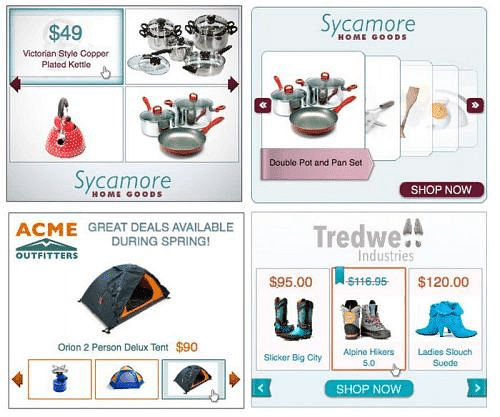 Image source: cpcstrategy.com
Pro Tip: Traditional remarketing vs. dynamic remarketing: In traditional remarketing, AdWords picks one of your remarketing lists and displays ads to users based on the ad groups that you created manually, whereas in dynamic remarketing, AdWords displays the most relevant products from your Merchant Center feed based on the exact products your users already saw on your website.
7. Increase average order value
How do you generate more revenue from your online business? For most of us, the answer is by increasing both the traffic and conversion rate. The equation is, more the number of visitors you convert to customers, higher the revenue you generate.
However, if your ultimate goal is to boost your revenue, you should focus on one more metric apart from the conversion rate metric especially if your business is an eCommerce store. Average order value (AOV) is that important metric. The best thing about focusing on the AOV metric is that it let you improve the profitability of your PPC ad.
Here is how to calculate AOV:
AOV=Total revenue/no. of orders
Pro Tip: Create strategies to increase average order value: Instead of promoting a single product, try advertising bulk products to your existing customers. For example, paperstone.co.uk found an increase in average order value by 18.94% by selling products in bulk.
8. Build a fan base on Facebook
As you may know, Google AdWords is the best platform for driving immediate sales. Unlike Google AdWords, Facebook is best known for its ability to increase brand awareness and lead generation. In addition, it is also one of best tools when it comes to customer retention and customer loyalty.
Forrester Research has found that Facebook fans of Best Buy are twice more likely to purchase or recommend one of its products than its non-fans. They also found that the average Facebook fan spent $368 at Best Buy in the year before the survey, and the average non-fan spent $150.

Pro Tip: Define your target market: Before advertising on Facebook to grow your fan base, make sure you define your target market properly. Not all 1.2 billion Facebook users are going to be your potential customers. In Facebook, you can fine tune your customers by location, gender, age, likes and interests, relationship status, workplace, education, and more.
9. Use Facebook dynamic ads
With Facebook dynamic ads, you can automatically promote your products and services to people who have expressed interest in your website, in your app, or other internet location. You'll upload a product catalog and set up a campaign; your ads will automatically be served to those with related interests to find the right people for each product. Your campaign can run as long as you like, and always keeps pricing and availability up to date.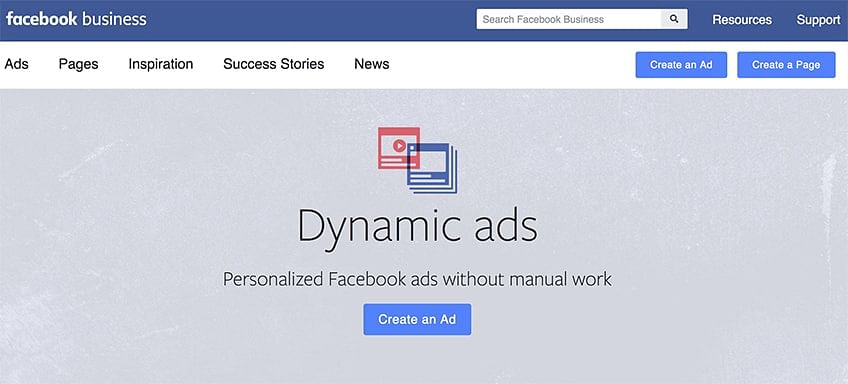 Pro Tip: Take advantage of Facebook's Custom Audience features. It helps you target ads by finding people who are already aware of your business on Facebook—and can be created by using your existing customer lists, Facebook or website engagement, or even app traffic.
10. Build engaged customers using promoted posts
Your business's Facebook page is the voice of your business on Facebook. By creating your Facebook page, you can connect with your fans and existing customers, as well as people who are interested in your content. In addition, the more engaged your customers are, the more loyal to your brand they become.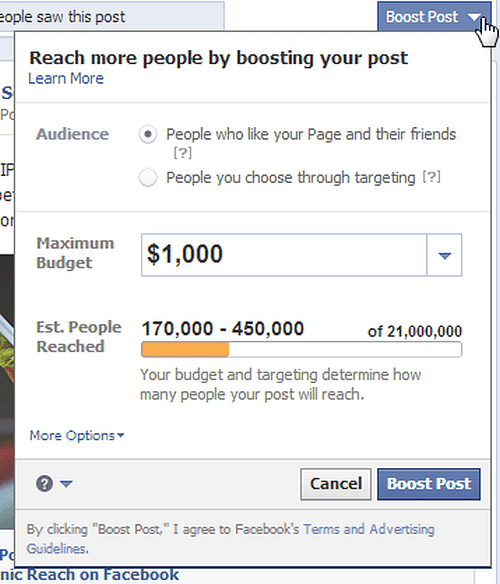 Pro Tip: Use promoted posts: Boosting posts is an easy way to reach your audience and their friends. It is one of the best ways to spread the word about your new launches and events to your loyal fan base. Unlike traditional Facebook advertising, it is easy to get spotted as it appears in the news feed.
Conclusion
The majority of your first-time customers are in the process of filling their immediate needs, and are not necessarily interested in being loyal to your brand for long term—at least, not in that moment. However, if you carefully nurture your leads, you can make your customers more engaged with your brand, and thereby increase the lifetime value of your customers.
If you're interested in learning more about paid advertisements along with other digital marketing techniques, consider looking at our Digital Marketing Training Course.