Driving a Digital Culture and Mindset - Digital Transformation
This is a Digital Culture and Mindset tutorial offered by Simplilearn. The tutorial is part of the Digital Transformation course and will help understand the benefits of having a digital mindset and the importance of adopting it in our business.
Objective
At the end of this lesson, you will be able to:
Discuss what constitutes a digital mindset
Describe how you can drive a digital culture within your organization
Explain how to instill customer centricity through design thinking
Describe how to foster innovation, collaboration, and agility across the ecosystem to deliver value to your customers
What is a Digital Mindset?
A mindset is an individual's fixed set of attitudes or opinions on a given topic. Digital mindset involves aligning the mindset to transform digitally. This change of mindset is a vital step in initiating the implementation process of Digital Transformation as businesses and individuals are being flooded with new products, platforms, and technologies every minute.
Adapting to digital change requires changing the mindset of the stakeholders. The mindset change occurs from the top of the hierarchy. The leadership team should enable the people to accept the change.
The transformation in any organization requires being driven by change agents, called leaders. Leaders recognize the organization's purpose as well as the potential of available technologies.
Role of Leaders in Digital Transformation
Leadership is born through dramatic periods of change. This calls for the leaders to have the appropriate mindset, to begin with. They must create a team that is ready to adopt the digital transformation framework to meet the changing needs of their organization.
Any organization can create a logical and pragmatic approach to drive success in this period of radical change by following the principles of the digital transformation framework.
Let's now look at an example indicating the successful transformation story of one such organization.
Audi wins Digital Transformation Award
Audi received the Digital Transformation Award in Berlin. Mattias Ulbrich, Head of IT and Organization, accepted the prize in the Corporate Culture category.
The jury, composed of politicians, academicians, and businesspeople, praised the holistic strategy that promoted the digital cultural transformation in the entire company. Audi placed priority on a solution from one mold with cross connections and then fully integrated that solution
Audi employees at locations in Europe, Asia, and America communicate in various languages and across many time zones. "At Audi, we have created a digital platform through which all our employees all over the world can be connected. We will only be flexible and innovative as an organization when we share our knowledge," stated Ulbrich. Modern forms of communication are crucial in order to work efficiently and competitively in the era of digital transformation.
Leaders are change agents and have a certain role to play. Their role is further divided into two subsets:
Internal: Internal agents must recognize the technological needs of the organization and encourage teams to implement and adapt to the internal requirements. They must educate and inspire team members to evolve as change agents in the future.
External: While internal change agents take care of ongoing small digital updates, larger digital transformations require interaction with external change agents who are not part of the organization. These agents represent a community that has expertise with different technologies and can analyze the need in the organization.
Let's look at one example.
Success stories of digital transformation - Lego Enters Movies and Games
One of the success stories of digital transformation is that of LEGO. LEGO had gone bankrupt in 2004. After a steady decline of almost a decade, the company initiated restructuring and digital transformation and improved its revenue with new sources such as movies, mobile games, and applications.
You have learned the role of a leader in bringing about a digital culture in an organization. Let's now look at few of the areas in which the change should occur.
Driving a Digital Culture in an Organization
The leadership role calls for a change in mindset in the following areas:
Risk-taking approach
Cross-functional collaboration
Flat hierarchy
Agile Dynamic work culture
Adoption of new technology
Data-driven process
Encouragement of new ideas and Innovation
Let us go through these in detail.
Risk-taking approach
Digital disruption has made it important for companies to rethink their operations and the way they serve customers. To stay ahead in the competition, companies need to ensure that:
Leaders are comfortable taking calculated risks to drive growth and achieve bolder targets
Leaders adopt a risk-taking approach that empowers them to break self-imposed limits and uncover unforeseen opportunities
This helps companies boost their self-confidence and be bolder in their aspirations and goals.
Cross-functional Collaboration
Today, the speed of market change requires rapid adaptation of products and services.
Companies need to break down silos and boost cross-functional collaboration. The speed at which the market changes requires companies to combine their internal capabilities to address complex and specialized customer needs.
This will ensure integrated value proposition, leading to first-time-right delivery, and boost customer satisfaction.
Flat Hierarchy
Digital adoption calls for change in the hierarchical structures of the organization that were meant for times when the environment wasn't as fragile and demanding as it is today.
Having a flat hierarchy is important as people from different backgrounds move from project to project in a fluid and agile way.
For example, Visa's marketing organization is a case in point. Global Payments has evolved with the entry of players such as Apple, Google, and Bitcoin. Visa needed to match the speed of the industry. It did so by shifting from a vertical departmental structure to a horizontal and project-based approach.
"We had to make the organization flatter and more fluid," said Lara Balazs, senior vice president and head of North American marketing.
Agile and Dynamic Work Culture
Evolving to compete in an increasingly digital world involves aligning goals of the organizations to meet the demands of the digital environment. It involves investing in digital opportunities for employees, streamlining organizational structures for agility, and applying the right technology.
Organizations need to create an environment that ensures agility in the company's business operations, people, culture, and structure and aligns it with organizational long-term digital goals.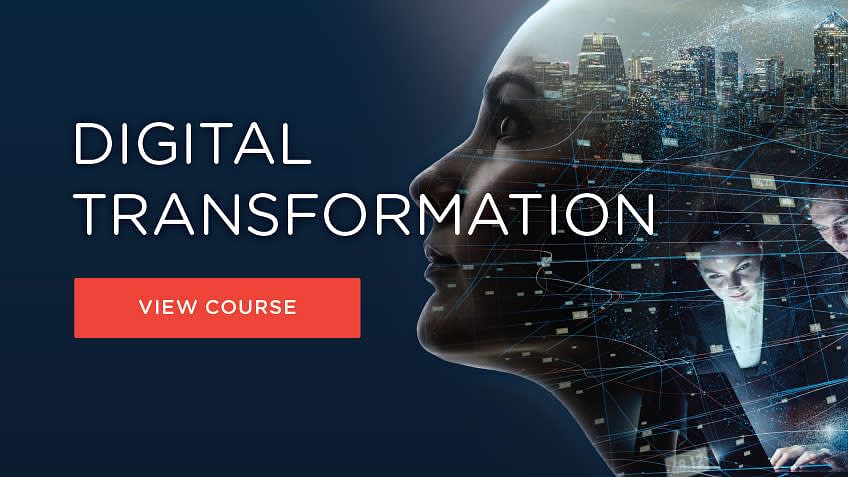 Adoption of New Technology
Every organization has its unique digital strategy; therefore, selection of the right tools and technology for the next 3–5 years is important while factoring the scope of digital.
Organizations today are investing in solutions and platforms that support both front offices (employee invoked) and back office (taken from a queue or on schedule) operations.
This can be achieved by putting together a team of consultants who have a logical mindset, programming experience, and an interest in solving business challenges.
Data-Driven Process
Data traffic is increasing at an exponential rate and so are the opportunities. Business cases are being created for data-driven innovation processes. Companies are responding to the change in the consumer behavior pattern. Data capabilities are vital to ensure that there is room for technology and people.
Continued advances in analytic capabilities allow companies to draw insights from massive, previously untapped sources, leading to new service possibilities.
Encourage New Ideas and Innovation
Organizations are finding more innovative and collaborative ways of working to ensure that they remain focused on their customers over and above their internal processes. Innovation is seen as one of the winning approaches in the Digital Era.
The resources spent on Research and development of a product are justified when they result in service innovation to match business needs, personalize customer experience, and simplify and digitize the way services are delivered. This is regarded as the key to innovation.
The next step is to implement these changes to bring about transformation.
Digital Implementation
To successfully adopt a digital transformation, an organization must have a holistic mindset toward technological progress. The transformation must be aligned with organizational purpose, embraced across the organization, and deeply integrated into the daily activities of all team members.
This Digital Implementation and change in mindset can be categorized into four areas:
Data Architecture
Technology and Processes
Organization
Marketing
Data Architecture
Data architecture plays a very important role in the creation of strategies from increasingly large and complex data volumes.
It refers to a set of rules and policies that govern and define the type of data collected and stored and managed within an organization to govern its database.
However, data architecture is seen as a top challenge for digitizing business as most companies focus on getting the best technology without analyzing the need. This leads to redundant and inconsistent data storage. It brings in overlapping functionality and lack of sustainability in the process.
To effectively create an end-to-end data architecture, an organization must adopt an IT-supported digitization to:
Analyze current and future business requirements
Sketch a flexible data management architecture
Create a roadmap for implementation based on business usage
This approach is based on a continuous delivery model. IT teams that specialize in cross-functional management, automated systems, optimized processes help to release and iterate a software quickly and efficiently.
IT-based digitization involves creating a two-phase environment that decouples legacy system to support two functions:
Critical functions that run at a slower pace
Customer-facing interactions that run at a fast pace
Technology and Processes
Digital implementation involves the process of integrating new technologies like Chatbots, Machine learning, and Big data to meet the changing needs of customers.
Marketing Automation process is thereby adopted; this ensures optimum utilization of resources. Marketing Automation is a software that automates the marketing process of an organization.
It ensures that marketing tasks are prioritized and executed in a more streamlined and efficient way.
Organization
Digital implementation in an organization is about analyzing and reexamining ways of doing business and being cautious of the new opportunities and threats in the emerging market
Digital in an organization is about:

Creating value at the new frontiers of the business world
Creating value in the process of overall buyer's journey that executes a vision of customer experiences
Building foundational capabilities in the form of technology to support the entire structure
Marketing
The marketing approach of digital implementation involves integrating digital technologies into the marketing of products and services, mainly on the Internet.
Digital integration with marketing enables organizations to provide personalized services to its customers across the marketing funnel stages, that is:
Awareness
Interest
Consideration
Intent
Evaluation
Purchase
In the process of digital transformation, it's crucial to understand the actual human needs behind a product or service to create great experiences. The approach is often called "design thinking."
Let's understand more about the Design Thinking process in the next segment.
Introduction to Design Thinking
Let us understand in detail about Design Thinking below.
What is Design Thinking?
Design thinking is a system that uses the designer's sensibility and methods to match people's needs with what is technologically feasible and what a viable business can convert into consumer value and market opportunity" -- Tim Brown, IDEO
Need for Design Thinking
Design Thinking steps out of the traditional boxes with visual thinking, creativity, and innovation in order to find new solutions to the same old issues.
It focuses on the end user: Design Thinking is an approach to solving problems that put end users at the center of the process. The goal is to develop useful products and solutions that fit the needs of the user, not the other way around. The process is inherently human-centered, getting close enough to the users to see where their frustrations lie and how we can make their lives and experiences better and more fulfilling.
It leverages collective expertise: By building multidisciplinary teams and bringing many voices to the table, we break out of our respective fields and boxes to leverage our collective wisdom, experience, and expertise.
It employs empathy: Design Thinking foundation is based on empathy. Usually referred as "discovery" or "understanding," empathy means defining and identifying with the needs and challenges of the people (or users of a product), the experience, or the system.
It focuses on testing: The philosophy of "design, test, and iterate" is central to the process. It allows you to have those completely unexpected breakthroughs by creating several rapid prototypes and encouraging fast feedback from actual users and customers before spending too much time, effort, or money on any one idea.
It creates value while solving real problems: Design Thinking is not about being creative and innovative; it's specifically directed at creating value and solving problems. It is about a using combination of traditional and new ways and using design principles to solve problems, from small to large, in almost any industry.
Design Thinking: Process
The design thinking process has a series of steps that draw out users' needs along the lines of conversion and eventually provide the solution.
This process has a user-centricity that helps the innovator to gain a greater clarity and to generate viable, feasible, and desirable ideas.
Design Thinking: Stages
According to Design school, the five stages of Design Thinking, are as follows:
Empathizing with the users: This involves consulting experts to analyze the areas of concern, engaging with people to understand their experiences, and indulging in the physical environment to analyze the issues.
Defining the needs and problems of users and giving insights: This stage involves analyzing the observations and defining the problem clearly. The Define stage helps the team to gather ideas and establish features.
Ideating is based on challenging assumptions and exploring ideas to find an innovative solution
Prototype to start creating solutions: Once the solutions are finalized, the team creates prototypes that are shared across teams to identify any flaws. The solutions are implemented, investigated, improved upon, and re-examined on the basis of user experience.
Test solutions: This is the final stage and an iterative process that indicates the flaws from a user's perspective. Even during this phase, alterations, and refinements are made in order to rule out problem solutions and derive as deep an understanding of the product and its users as possible.
Design Thinking: Practice
Design thinking is most relevant when designing and developing new solutions. It is applicable to the new product development (NPD) stage. It is a creative problem-solving approach focused on continuous innovation, iteration, and improvement around customer needs.
A customer-centric approach is followed by direction, design, and development stages.
After this, validation of the process in the form of analysis is undertaken.
Design thinking is therefore regarded as a non-linear, iterative approach that focuses on user needs, articulating frameworks, and formulating a strategy. It encourages a "fast-acting learning" cycle.
A Framework for Design Thinking
With the presence of Digital Culture in an organisation, understanding the design thinking framework is equally important. Let's have a quick look at it.
Find new opportunities
Choose a strategic topic
Gather data
Evaluate the unmet needs
Reinvent new opportunities
Look for patterns and insights
Evaluate assumptions
Frame point of view
Define the scope of work
Incubate
Incubate your idea with all required needs
Keep on evaluating ideas to improve them
Ideate/illuminate
Experiment with your ideas
Explore new possibilities
Envision the future needs
Take measures to make your idea visible
Iterate and Scale
Evaluate
Learn
Create
Innovate
Deliver
Test the prototype
Approve
Launch
Testing
Evaluate from user's point of view
Refine and learn from an end user
Improve the Idea
Now, let us consider an example to understand how companies are using design thinking.
How SAP uses Design Thinking to Tackle Challenges?
SAP, a German Software provider, uses design thinking as a way to tackle complex challenges and make its software more intuitive and easier to use.
SAP, through its educational platforms such as 'massive open online courses' (MOOCs), made a deep, ongoing commitment to reinforce design thinking. It trained thousands of design thinking coaches to enable customers to equally engage in experience design and went on to create co-creation centers in different locations around the world.
Hence, design thinking is an important aspect of digital transformation.
Now, let's summarize what you have learned.
Key Takeaways
Now that we have covered all the major points, let's have a quick review of what you have learnt so far in this tutorial of building a Digital Culture and Mindset in an organization.
Any organization can create a logical and pragmatic approach to drive success in this period of radical change by following the principles of the digital transformation framework.
Leaders or change agents must work in two areas: internal and external.
The leadership role calls for a change in mindset in the following areas: risk-taking approach, cross-functional collaboration, flat hierarchy, agile and dynamic work culture, adoption of new technology, data-driven process, encouragement of new ideas and innovation.
Digital Implementation and change in mindset can be categorized into four areas: data architecture, technology & processes, organization, and marketing.
Design thinking is a system that uses the designer's sensibility and methods to match people's needs with what is technologically feasible and what a viable business can convert into consumer value and market opportunity.
Conclusion
With this, we come to an end about the Digital mindset tutorial. In the next chapter, we will discuss 'Business Analytics and Big Data.'