Everyone acquainted with learning theory is familiar with Dr. Edgar Dale's "Cone of Experience", alternatively known as the "Cone of Learning" or the "Learning Pyramid". Devised in the 1940s, this model illustrates the premise that how much understanding a person retains depends on which senses are involved in the learning process. Like all great paradigms, it makes perfect sense on the surface. Nevertheless, in recent years, this pyramid has drawn considerable fire from educators and learning and development experts, calling it one of the greatest teaching myths ever. Now eLearning and other EdTech may be hastening its demise.
The learning cone concept actually predates Dale himself, and somewhere along the line, someone unknown added percentages to the pyramid—suspiciously round percentages, too. Repeated in thousands of iterations, the ubiquitous learning cone diagram states that people remember 10 percent of what they read, 20 percent of what they hear, 30 percent of what they see, 50 percent of what they see and hear, 70 percent of what they say and write, and 90 percent of what they say and do (such as while performing a task or teaching others).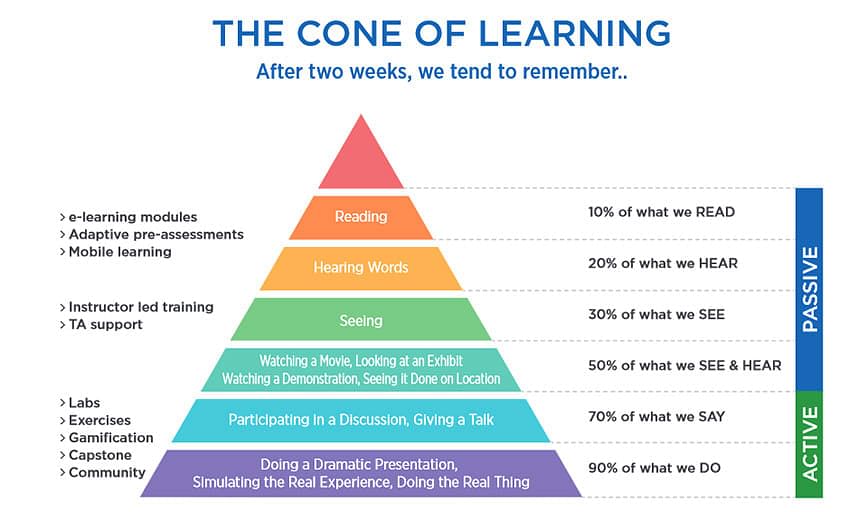 Does the Medium Really Matter?
Ironically, even in his seminal work, Audiovisual Methods in Teaching (published in 1946, where his "Cone of Experience" first appeared) Dale never mentions or even hints at any percentages related to how learners retain information presented in various media formats. Experts say that the percentages seem to have creeped into the diagram in the 1970s, erroneously attributed to Dale.

After reviewing exhaustive studies on the learning cone, EdTech influencer Will Thalheimer shared the conclusion that there is no scientific data (or any other data) that supports the claim that retention improves with experiential levels lower on the pyramid. "People do not necessarily remember more of what they hear than what they read. They do not necessarily remember more of what they see and hear than what they see," asserts Thalheimer. "The numbers are nonsense and the order of potency is incorrect".
Where Does eLearning Step In?
1940s movies and television aside, Dale of course had no exposure to the modern methods of knowledge transfer available to learners in the digital age. Now, online learning blurs the lines between these experiential levels. Both instructors and learners have the ability to switch modalities to match what best suits the subject matter—and the learner—in the moment.
Even on their own, educational videos offer some advantages over live human instruction. As Lubos Janoska, eLearning project analyst and instructional designer, observes, "Not only do learning videos edit out the irrelevant stuff from the live edition of the show, they can add zoom and slow motion to parts we should concentrate on, which we can rewind and replay as many times as it takes."
When properly designed and delivered, online courses utilize the dynamic advantages of videos and combine them with the personal attention of live instructor-led content modes to reinforce each other. This is often referred to as blended learning.
How Multimodal Learning Builds a Better Platform
Although past and current studies fail to find that one level of the cone of experience is necessarily better than the others, research on multimodal learning has shown that the experiences are interrelated and should be mixed. According to Brenda Corpuz in Educational Technology, this achieves a balance between concrete and abstract experiences that caters to the needs of each learner.
Professors Roxana Moreno and Richard Mayer found that the best learning results came from employing multiple modes of reading, lecturing and audiovisual representations. Furthermore, they recommend that these combined delivery methods are most effective when they follow these five lesson design principles:
Guided Activity: involving interaction and assistance from a live instructor
Reflection: asking learners to reflect on the correct answers
Feedback: providing learners with both explanatory and corrective feedback (positive and negative)
Pacing: allowing learners to control the pace of their own materials
Pre-training: assessing learners' prior knowledge and assumptions about the relevant subject matter
Explaining their research, author Dillon Vita-Finzi says, "Moreno and Mayer's findings showed that auditory, visual, and tactile experiences all played into helping memory better retain information, and that interactive environments using these five principles further produced the best retention rates."
eLearning holds the unequivocal power to manage not only the simultaneous delivery via all three modes (text, lecture and audiovisual), but also gives learners the ability to control the pace of their learning. An effective eLearning program then supports this content with pre-assessments, feedback and guidance from live online instructors and 24/7 assistants, review and testing for reflection and even practical applied learning projects.
Visualize a Better Model for Training
"When it comes to learning and development, the best training solution supports hybrid interaction", says Denise Pirrotti Hummel, CEO of training company Universal Consensus. "The program should provide the "human" element of interaction, such as threaded discussions, video conferencing, internal corporate social media forums or planned break-out sessions to confirm the usefulness of the knowledge and the effective application to the workplace."
As technology improves, only eLearning will be able to incorporate and distribute future advancements that add even more dynamic, engaging and immersive varieties of learning media, including online gamification, augmented reality overlays, virtual reality environments and more.
Dillon Vita-Finzi sums up research by Cisco Technologies into the neuroscience behind retention, which supported previous studies on multiple modalities in learning. "The percentages related to the cone of learning were a simplistic attempt to explain very complex phenomenon," Cisco's research concluded. "The reality is that the most effective designs for learning adapt to include a variety of media, combinations of modalities, levels of interactivity, learner characteristics, and pedagogy based on a complex set of circumstances."
The time has come to break through the barriers of an unproven but overused paradigm. To learn how a blended learning program that uses multiple modalities can improve your corporate learning and development, particularly for technology training or upskilling employees, please read Simplilearn's white paper: Why Blended Learning Is the Fastest Way to Close Digital Skill Gaps. For more information about Simplilearn's online training courses, visit Simplilearn.