Cognitive psychology has shown that the mind best understands facts when they are woven into a conceptual fabric, such as a narrative, mental map, or intuitive theory. Disconnected facts in mind are like unlinked pages on the Web: They might as well not exist. ~ Steven Pinker
Information graphics, or infographics, are visual representations of information, data, or knowledge intended to present complex information quickly and clearly. They are designed manually, and revisions to them can take time. Infographics are useful for sharing information because they can improve cognition (understanding and perception) by utilizing eye-catching design elements and concise language to enhance the human visual system's ability to see patterns and trends.
Infographics tell a data story and stimulate conversation around that story because their design packages content into visually appealing, consumable chunks. Infographics allow you to reach a larger audience by sharing them on a website, including them in a newsletter, or posting them on social media platforms.
Why Quality Professionals Should Use Infographics
As a quality professional, what activity do you spend the vast majority of your day on?
The answer is communicating, of course. Every Quality professional is part of a Project team that spends 90% of their time communicating with stakeholders do to make sure your ideas and thoughts stand apart. And to achieve this, packaging the ideas and concepts properly is crucially crucial, so nothing gets lost in translation.
One way or another, quality professionals communicate and deal in information -  
Encouraging or explaining results
Clarifying data analysis
Establishing yourself as a thought leader
Educating the Stakeholders
For a Quality professional, the following factors play a key role in determining project success-
Brevity – The package of communication should help the stakeholders quickly understand the Problem Statement
Decision – Faster awareness helps in quicker decision making, which in turn leads to project success.
Engagement – Data Visualization helps in telling a story, stories inspire actions, and help draw interest across the project team, which helps in the team's buy-in, problem-solving, brainstorming, etc. All of these are the key characteristics of infographics.
Quality Professionals understand what the data means, and hence they should be able to help unpack the meaningful data story (amid a large amount of data) and be part of the audience mapping to make sure the design will have the appropriate level of technical depth for the target audience.
Seasoned quality professionals display information and communicate using infographics and charts like the box plot, histogram, line graph, bar graph and more, which are in the crude form which can be converted into a huge self-branding factor by giving a facelift by using icons, symbols, colors and choosing the right infographic template.
Examples
1. Infographic Project Charter – Business Case
A Project Charter is a document that authorizes the Project Manager to go ahead and use the organization's resources for the project, and unless we get an approval on the project charter, the project cannot move further.
You are a Six Sigma Blackbelt for a Multinational Manufacturing Company called XYZ Pvt Ltd. Though you joined the organization just 3 months previously, you have evaluated the end-to-end value chain of the business and identified key problem areas, mainly the customer drop off rate which has gone up to 50% in the last few months.
With great difficulty, you managed to gather accurate data around the same, and you want to kick start a process improvement project as soon as possible, to do which you need to create a Project Chart and get the approval of 12 stakeholders who are spread across locations and departments. You also got to know that the stakeholders are very busy, and their response rate to emails is inferior. Getting all the stakeholders on the same page is nigh impossible due to the unavailability of slots, time-zone differences, and the fact that the approvers have a bleak understanding of the processes outside their department. The only option you are left with is to publish an engaging project charter that will grab their attention.
Steps – Create COPIS
Customer – They are the approvers of my project charter.


Output – Engaging Project Charter that will help the approvers to understand the immediate need to kick start the project.

Information to be shared – Business Case, Problem,  Scope, Approver's list, and Milestones
Emotion to be delivered – Fear
Color – Colors that are part of the company's logo
Theme -  Visualized Article 

Input –

Business Case
-When was the company started?
-What is the product that this plant manufactures?
-How much does this plant contribute to the Organizations overall revenue?
-How many more manufacturing facilities do we have?
-How many operators does this plant have?
Problem Statement
-The operator's efficiency has gone down to 80% from 95%.
-Reduction in efficiency has caused a delay in the On-time delivery, and there is an escalation from every customer.
-In the last 3 months, 50% of our customers have moved to a new supplier.
Project Goal
-Increase the customer satisfaction score from 0 to 75% in 3 months.
-Increase customer retention by 50%  in 3 months.
Scope
-Reduce the cycle time.
-Recalibrate the equipment to avoid any defects and rework.
-Retrain the Operators.
Milestone
-Complete the project in 3 months.
Source
-The information has been gathered from the Operators, Customer survey, and Companies website.

Design – On the selected template plan the order in which you would expect the reader to scroll through the content to have maximum engagement. What would be best is for a project charter to begin with a title like any other presentation, then follow it up with the business case. If the receiver already knows about the business he will move to the next section which is the problem statement; if not, the business case will give him a brief overview of the company and the business and will engage them. Once the problem is understood, then come to the scope that talks about what areas we plan to touch upon to solve the problem and then the goal statement with the milestone. By now, they would have a clear understanding of the story, and this would be the right time to introduce the approvers.
Now we have the order in which the information has to flow, and it is time to start putting the points under each section with as minimum words as possible and map an Infographic vector against each point.
Work on alignments and colors.
You can also include any further information like constraints, high-level risks, assumptions, etc. - if you feel they are relevant.
Publish the infographic to all relevant stakeholders and monitor its engagement and effectiveness.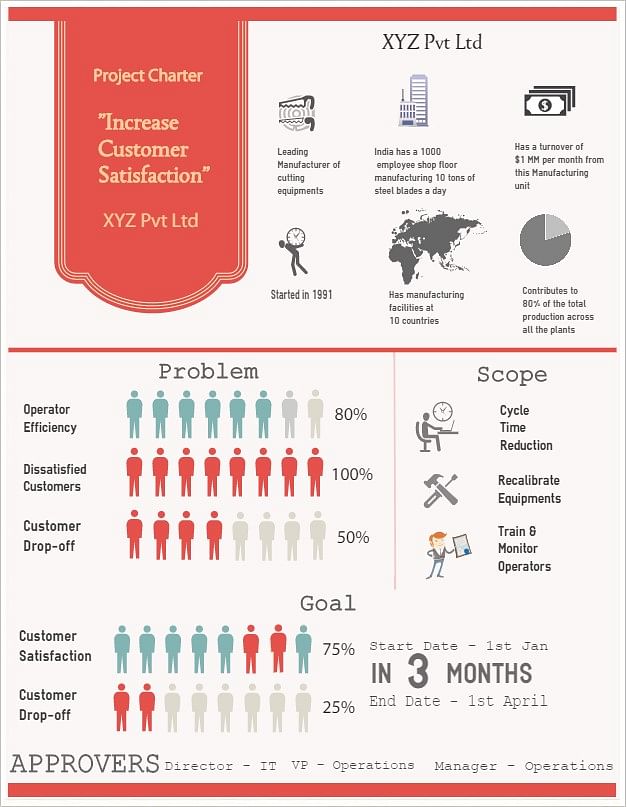 2. Infographic Wedding Card
Let me ask you a question? What do you look for in a presentation? Be it a weekly performance report or a dashboard that is presented to the customer or just a new idea that is pitched to the leadership team; there is a certain basic, the common set of requirements every presentation must satisfy. The answer may vary depending on what information we intend to provide, but what sticks in user's minds "how engaging was the presentation!"
One of the most boring presentations I have come across is a wedding card – the bride and the groom would choose a card from many creative ones, but they all end up looking the same. Every time I get a card, I look at the details of the venue, the date, and time and nothing more, and I also know where they are located, on the card. But a wedding card means a lot to the bride and groom, which was something I realized on my wedding, and that was when I got my first taste of Infographics.
In 2013, I was getting married to a Japanese national, and we planned to create a wedding card to be given out to my friends and family using infographics. Before designing the card I built a simple Quality Function Deployment to understand what would engage my audience and came up with the customer requirements through brainstorming and I designed the card in a way that provides the following information:
Who is the girl
Where did we meet
How did I convince her parents
How did she convince my parents
Wedding tradition
What to expect at the wedding
What we plan to do in future
I also wanted to add some charts and humor to the card.
The goal was to see a genuine smile on the reader's face, which we managed to pull off, and when I posted it on social media, I was blown away by the comments, of which 90% declared it to be the most creative card they had ever seen, with it receiving the highest number of likes and maximum engagement on Facebook of all my updates.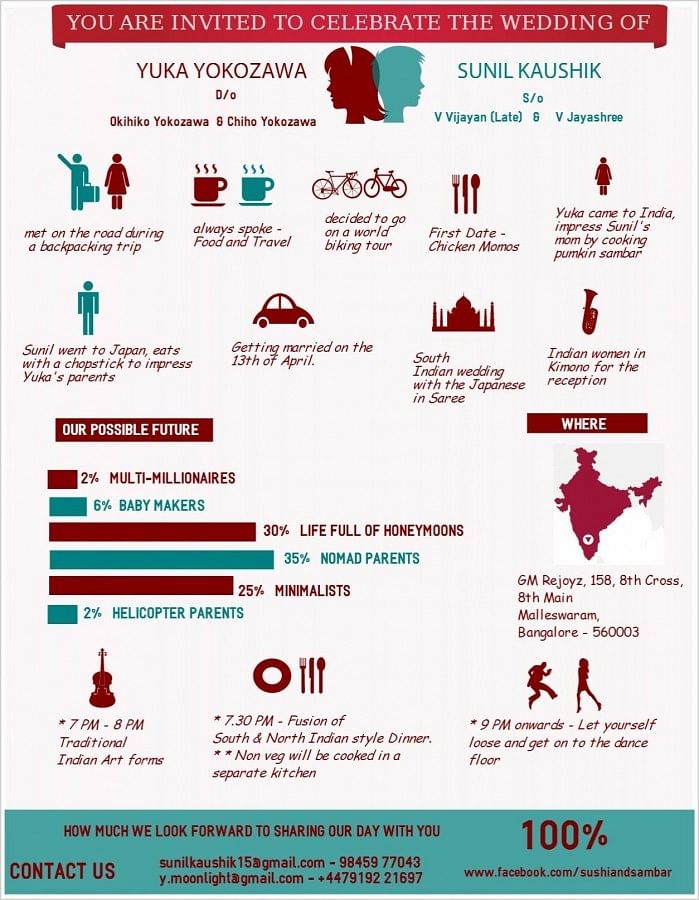 Conclusion
According to Google books use of visualized information has increased by 400% in literature since 1990, 142% in newspapers between 1985 and 1994, and 9900% on the internet since 2007. This is because the human brain is visually wired—almost 50% of your brain is involved in visual processing, 70% of all your sensory receptors are in your eyes, and it takes you only 150 milliseconds to process a symbol and another 100 milliseconds to ascribe a meaning to it.
So where do infographics fit in? According to an article, we now receive 5 times as much information as we did in 1986 and consume 100,500 words outside of work on an average day, infographics help counter information overload. They're more engaging—researchers found that colorful visuals increase a person's willingness to read something by 80%. They're more accessible—people following directions with text and illustrations understand 323% better than people following directions without examples.
They're more persuasive—in a study, 67% of the audience was persuaded by a verbal presentation accompanied by visuals, whereas an oral presentation persuaded only 50% of the audience without visuals. And they're memorable—people remember 10% of what they hear, 20% of what they read, but 80% of what they see and do.
Pro-Tip: With Professional training in Design and Multimedia, you can now launch a lucrative career in design. Learn how to leverage the power of visual communication, craft breathtaking designs to help organizations tell their story, and do your bit to power the knowledge revolution!