More than 200,000 U.S. service members return to civilian life each year and confront a massive adjustment as they're faced with challenges around health coverage and figuring out how their skills will translate into a new career.
Nearly two-thirds of those 200,000 transitioning veterans say that the difficulty of transitioning is partially due to the feeling that they speak a different language than the potential employers looking to hire. They know that they have the leadership skills and discipline to succeed, but applying it to a civilian role that will provide job satisfaction takes work.
The U.S. Chamber of Commerce Foundation recognized this challenge and founded Hiring Our Heroes (HOH), a nationwide initiative to help veterans, transitioning service members, and military spouses find meaningful employment opportunities. The organization hosts approximately 18 career fairs and expos annually around the country at no cost to veterans and spouses, where top brands from every industry come together to seek strong candidates.
On August 16, San Francisco's AT&T Park hosted nearly 200 veterans and their spouses for a day of networking and education. The event kicked off with a best practices workshop focusing on workplace flexibility and how to create a flexible workplace environment, followed by an interactive IT panel discussion with representatives from Facebook, LinkedIn, Simplilearn, San Francisco Giants, and HOH.
During the panel, an employer asked for advice on the best ways to make a veteran feel at home in a new work environment.
"Give them something to own," urged Simplilearn's Military Programs Manager Logan Halliwell, explaining that most veterans are used to having enormous responsibilities and often find success in project ownership.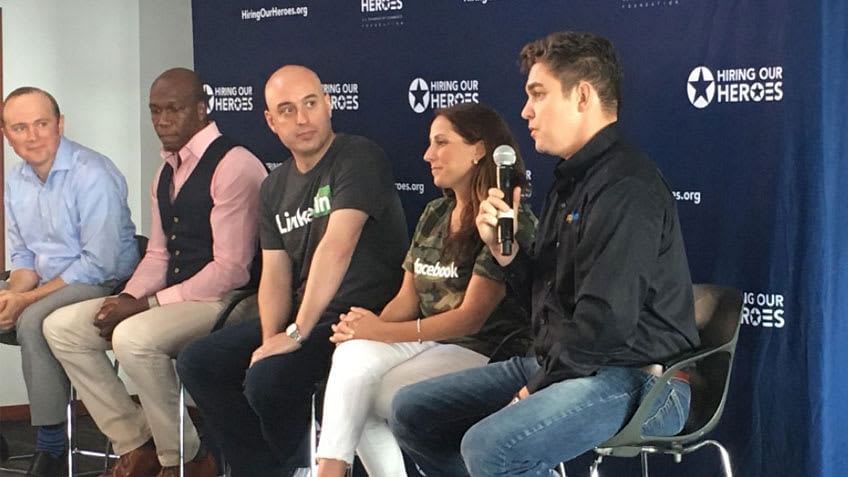 Left to right:Jake Kemnec, Program Coordinator, NPower.org; Wayne Robinson, Founder and CEO, VETS in STEM; Cory Boatwright, Military Recruiter, LinkedIn; Felipe Buzaid, Veterans Program Manager, Facebook; Logan Halliwell, Military Program Manager, Simplilearn at HOH IT panel. (Simplilearn image)
No Limits
Following the question from an attendee, 'What industries are hiring vets?' HOH moderator Chuck Hodges responded, "What industry do you want to work in is the question." It was an eye-opening concept for many in attendance. There are opportunities in every industry, and the career fair floor relayed the same message.
A survey conducted by Prudential Financial and IAVA found that 80 percent of respondents said they were looking for "the right job," not just any job, and while law enforcement and security jobs may be a natural transition for many, lots of service members are looking to get involved in IT, entrepreneurship, and management positions in various fields.
Businesses at the HOH career fair ranged from law enforcement and security to hospitality, tech and beyond. Companies included Boston Scientific, Ecolab, Facebook, FBI, Genetech, Hilton Worldwide, IBM, Live Nation, Southwest Airlines, Starbucks, Marriott International, Kaiser, United States Postal Service, and myriad police departments among dozens of other big brands.
Veterans came prepared with resumes-in-hand, many of which had just completed a revamp thanks to ResumeEngine.org, who hosted a resume workshop prior to the fair's start.
More than a Career Fair
In addition to a long list of eager employers, LinkedIn was there to offer advice on creating polished LinkedIn profiles and tips on how to effectively use the social channel for job hunting.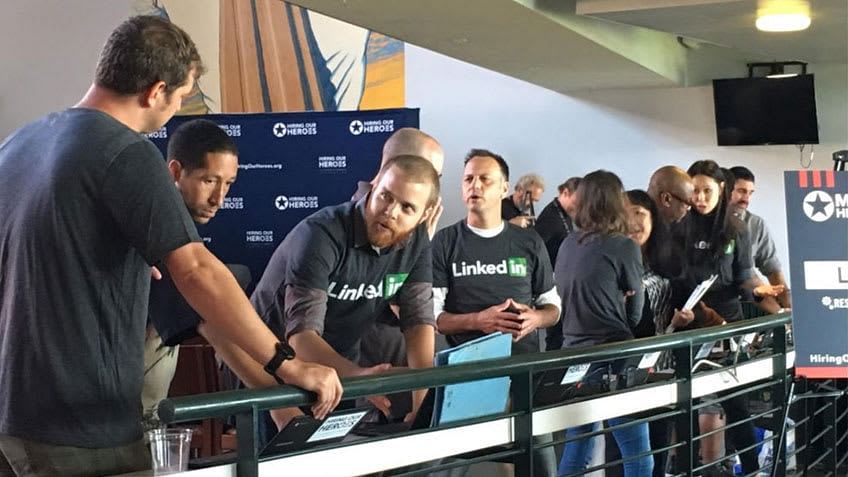 LinkedIn team provides guidance to veterans on LinkedIn profile essentials (Simplilearn image)
Simplilearn, the strategic training provider for HOH Corporate Fellowship, was in attendance to educate attendees on the many certifications that make today's resumes stand out from the crowd. Based on the careers many veterans are looking to break into, project management, quality management, cyber security and digital marketing certifications are a worthwhile first step into a permanent new career. Simplilearn offered all onsite veterans and active duty service members a free online course of their choice, as well as a 50 percent discount to military spouses.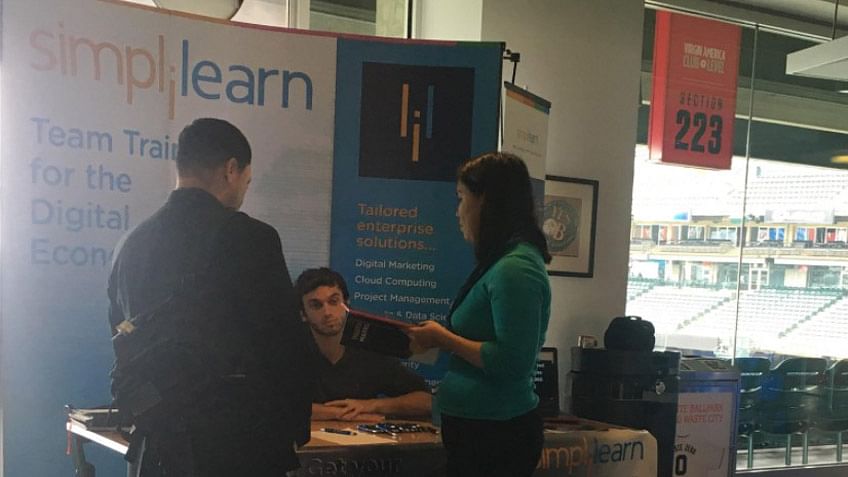 Veteran talks with Simplilearn's Christina Lee about available courses (Simplilearn image)
The fellowship is a 12 week internship program for active duty service members and spouses. All participating fellows receive a scholarship from Simplilearn.
In a survey conducted by military-transition.org, 48 percent of participating service members claimed that the transition was more difficult than expected, many citing they quickly found themselves facing money issues they had never encountered before, with little support from peers as to where to start on the job front.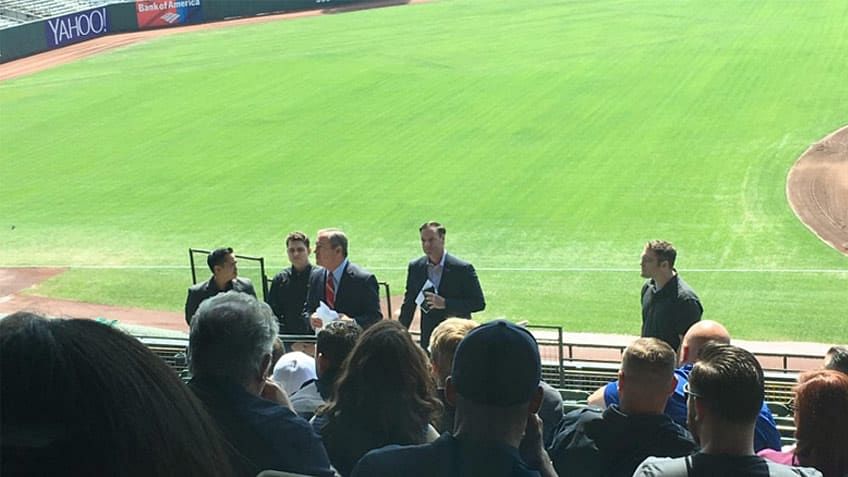 HOH moderator Chuck Hodges kicks off the opening ceremony at AT&T Park. (Simplilearn image)
"Veteran hiring events like this HOH Expo provide direct communication between well-vetted veteran candidates and employers looking to hire them," says Halliwell. "The added panel discussions, for both employers and job seekers, provide valuable insight and engagement for all involved in the transition process to meaningful employment."
With nearly half of the 200,000 veterans returning home each year feeling ill-prepared to rejoin the workforce, a supportive community is a must—and that includes the employers themselves understanding the needs of veterans in order to accommodate them during their transitions as best as possible.
Interested in attending an HOH Career Fair? Click here for a list of upcoming Hiring Our Heroes events.