A globally recognized certification with roots in the United Kingdom, the PRINCE2® (Projects In Controlled Environments) project management certification validates your working knowledge of the principles, best practices, and processes involved in effective project management.
PRINCE2® is a structured project management method based on experience drawn from thousands of projects and from the contributions of countless project sponsors, managers, teams, academics, trainers, and consultants.
Today, there is a variety of project management and Program Management certifications available, and PRINCE2® Foundation and Practitioner examinations remain two of the most recognized and sought-after. 
As the result of an exciting new update (AXELOS announced that the newest PRINCE2® 2017 guidance and exam are projected to be in full effect by the end of the year—the first update since 2009) we've reached out to our own Project Management Product Innovation Manager, Parth Gautam, to delve further into the exam, the update, and his own professional experiences in the field.
One on One with Parth Gautam
Q1: Can you give us an idea of what your core responsibilities are as a product manager with Simplilearn? What does your day to day look like? 
A1: As a product manager, my broad responsibilities include envisioning a product that delivers a great learning experience for the learner and ensuring the end product is in line with this vision. 
In a nutshell, my core responsibility is to create a world-class product that can be scaled across all the target personas. That being said, my responsibilities also include creating a product that scales up the revenue for the entire category and which is in-demand across different industry domains.
I regard myself as an internal subject matter expert so that I can fill gaps wherever required and manage risks easily because of my in-depth understanding of the product. 
I take responsibility for the launch of any new product and ensure that all the product commencement tools are available during the delivery. My job is to not only work with different teams to ensure that a new product is successfully launched but to make sure that it gets a great reception from the audience as well. 
My daily responsibilities include coordinating with the delivery, learning management, tech, support, customer success, business, and finance teams to ensure a seamless experience for the learner. 
Influencers are another key part of this journey, I work with them to onboard and acquaint them with new projects, and keep them engaged. 
I need to keep up with and study the industry, job, and tech trends and also keep a tab on competitor progress, which helps me launch new product lines and estimate their revenue potential. Based on this information, I prioritize products and tasks, and in this process, finalize the product roadmap.
Q2: How did you build your expertise in project management? 
A2: I have over 3 years of project management experience in varied domains like e-learning, learning management solutions, gaming solutions and more. I am a Marketing and Communication Graduate from Lancaster University and hold a Leadership Module from Copenhagen Business School. I was VP of Events and Democracy at my college and this was my first foray into a people management role. 
I was tasked with organizing various events and I realized that I had a knack for such a role. The thrill of ownership propelled me to take up project management roles, once I started my professional journey.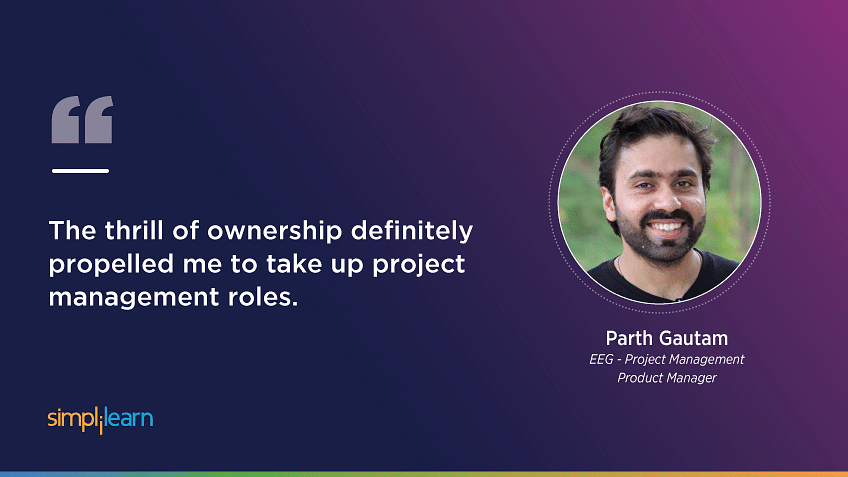 Q3: What advice would you give to someone considering a career in project management?
A3: The essence of project management is working well with people. The secret lies in understanding the fact that all individuals have different takeaways from the project. Grasping this difference and approaching projects and tasks while respecting this difference is what a project manager needs to excel at. He should also be excellent at coordination and multi-tasking so that everyone involved in the project can rely on him for direction.
Careers in Project Management 
Q4: What are some of the key qualities a project manager should bring to their team? How does the PRINCE2® certification strengthen or add to those qualities?
A4: PRINCE2® focuses on six key capabilities which include:
Support business outcomes
Enable business change
Manage risk in line with business leads
Optimize customer experience
Demonstrate value for money
Continuously improve
These are completely in line with a project manager's responsibilities and guide him along in his journey, which starts with understanding business requirements and ensuring those requirements are met.  Project managers are also required to absorb change and buffer risk within the projects. Parallel to keeping up with business requirements, the project manager also needs to ensure seamless customer experience and justify the money being spent on a project. Above all, the project manager needs to proactively work towards a better product/project. This is achieved by continuously looking for gaps and fixing them on the go.

There are certain key principles for PRINCE2® that set a strong foundation for project execution. These principles pave the path to define project objectives for work stages. This brings forth a plan that is easy to follow, track and measure, and measurability eases the process of tracking a project and further improving it.
Q5: Is there a 'typical' career path for a project manager? 
A5: For many people, their first introduction to the world of project management is as part of a project team delivering work for a major project and working to some standard approach. They act a team member who would be used to highlight key milestones and deadlines, reporting progress, assessing risk, dealing with change requests so he can gradually move on to being the one forming the plans, managing the change and defining the schedules. With the right training and support, this is an easy transition. If you have a degree or professional project management certification, it helps you to move straight into something more substantial than a supporting role.
Q6: Is there an ideal project management certification I should be considering? 
A6: PRINCE2® certification is a good place to start your learning journey.  It doesn't mandate any eligibility criteria, hence it's a good step for someone looking to foray into project management. Alternatively, you can first build a basic understanding of project management with CAPM® certification and then further move on to PMP® certification once you fulfill the eligibility criteria. 
Take a look at this video to compare PRINCE2®, PMP®, and CAPM® certifications.
Q7: How do Simplilearn's training and its instructors break down the more complex project management concepts for learners?
A7: The courses are divided into relevant, digestible topics that are more interactive than books but aim to provide the same training. End-of-chapter quizzes help learners completely grasp a topic before they move to a new one, and trainers use real-life examples to explain the concepts and this increases understandability as well as the recall.
Q8: How is Simplilearn's methodology different from other resources that offer project management training? 
A8: Our experienced instructors deliver PRINCE2® training via online classroom training—enabling you to learn anywhere—and all sessions are recorded so you don't miss a single class. Plus quizzes, simulation exams, and real-world industry examples and case studies have students as prepared as possible before the exam day. Simplilearn's PRINCE2® training program proudly boasts a 98.6% pass rate. The courses offer utmost flexibility; learners can opt for either a self-paced course or a Live Virtual Course (LVC). In a self-paced course, the learner can go over the course material multiple times and at her own pace. LVCs offer a Flexi-Pass wherein learners can attend as many classes as they want over a period of 180 days. The course can be accessed from anywhere and on the go, which gives learners the flexibility of taking the course at your comfort.
The course also provides mock tests to check learners' preparation on the subject which will help prepare in specific areas. The trainers are well experienced and are always ready to resolve queries raised by learners.
The New PRINCE2®
Q9: If I already have a PMP® certification, what are the benefits of the PRINCE2® certification? 
A9: It is definitely worth adding a PRINCE2® certification to your existing credentials, though you are PMP® certified. While PMP® focuses on skills, tools and techniques—that is, how things should be done— PRINCE2® focuses on the organization and project processes—that is, when, where and by whom things should be done. Both certifications are a cohesive and winning combination.
It's advisable that you gain both of these certifications as it helps in the overall development of your project management skills, and will also set your resume apart.
Q10: What are some of the key differentiators in the upcoming changes to the PRINCE2® certification program? Will these changes make the PRINCE2® training course more difficult?
A10: The goal of the 2017 update is to accurately reflect project management best practices. In this update, further emphasis is placed on tailoring to organizations and project environments. This is seen in how PRINCE2® guides users through its 'themes':
Tailoring PRINCE2® will be made much more accessible.
Tailoring will be framed as a clear link between PRINCE2®'s themes and principles.
Users will receive clear practical tips on how to successfully adapt PRINCE2® in away. that maximizes the chances of project success.
Yes, both the Foundation and Practitioner exams will be slightly harder. However, they will both be much more efficient, with fewer questions. There will also be a smaller focus, if any, on non-essential parts of the PRINCE2® methodology.
Q11: When will the new PRINCE2® certification be available? If I already have a PRINCE2® certification, will I need to recertify when the new program goes live?
A11: The new PRINCE2® certification is available as of July 2017. There will be no impact on the validity of your five-year practitioner certificate if you have received it before the update, however it is strongly recommended that you are well-versed with the PRINCE2® 2017 update as well.