In the dynamic industry IT (Information Technology), Citrix Certifications significantly increase the professional credibility of the holder, thus allowing for various remarkable opportunities, especially in the field of data and technological innovation. Besides being recognized as some of the most valuable and important credentials, Citrix technical certifications demonstrate great skill and experience, especially in delivering effective and competitive solutions. Citrix Certifications have become the trademark for effectiveness, competitiveness, and marketability among various firms and a strong background for a successful career among the aspiring and existing IT professionals.
Enroll in our Exin Cloud Computing Certification course today and develop a strong foundation in Cloud Computing.
There are various Citrix certification tracks including; Citrix Certified Administrator (CCA), Citrix Certified Enterprise Administrator (CCEA), and Citrix Certified Integration Architect (CCIA) among others.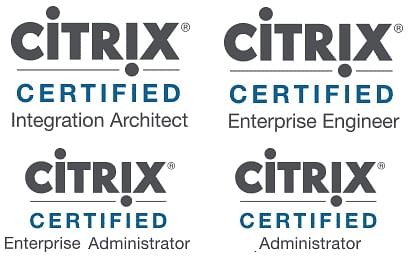 Citrix Certified Administrator (CCA): This certification embodies product proficiency to the Citrix platform and other methods of specialized certifications. It assures resellers, business enterprise partners individual consultants and administrators that you are capable of handling your job. 
Citrix Certified Integration Architect (CCIA): The main emphasis of this program is to examine, design, make, and try various Citrix systems and technologies. This certification ensures that you can incur fewer expenses and hasten implementation with higher achievement rates. 
Citrix Certified Enterprise Administrator (CCEA): this is recognized as one of the most specialized and technical Citrix certifications that magnifies your knowledge primarily by dwelling on the skills that are necessary for using and setting up the Meta Frame Access Suite for various Citrix products. 
Although each certification requires a different level of experience and training, all Citrix certifications attract a vast number of benefits for both the employing organization and the certified IT professionals. 
What Is the True Value of Citrix Certifications?
1. Possess the Most Current Knowledge and Skills
Citrix certification ensures that you possess the necessary and most current knowledge and skills to do your job efficiently. Citrix programs train individuals to deliver efficient solutions in the citric application and delivery platform. Besides expanding the horizon of your skills and knowledge, possessing these respected and well-recognized credentials enhances your competitive edge and marketability. This is vital because Citrix certified individuals have the first preference from organizations during recruitment.
2. High-paying Opportunities
Citrix certification programs are some of the highest-paying certifications in the industry of Information Technology. Besides having an average salary of around $80,000-$95,000, Citrix certifications also improve the chances of getting good job opportunities. Moreover, Citrix represents quality virtualization and networking products, and the certification is proof that the professional has mastered the skills, and they deserve quality pay.
3. Valuable Credentials
Companies can use such credentials to retain the top performers in the firm. This is primarily because certified professionals have complete technical know-how about tasks that need to be performed in the company. On the other hand, such professionals can handle various projects directly. Therefore, most organizations prefer professionals who have Citrix certifications because it includes the training costs to the company. Citrix certifications are accepted and valid all over the world. Therefore, besides getting opportunities from any part of the world, prospective candidates can verify from all parts of the world.
4. Broad Job Variety
Earning the Citrix certification means that you have all the practical skills and technical know-how to launch a successful career in the broad industry of Information Technology, no matter whom you are working for or where you go. The training is also an excellent guide for working on various platforms for Cloud Computing, networking, virtualization, and so forth.
Moreover, Citrix certifications allow people to focus and specialize in a specific field. Some of these fields include becoming an independent consultant or working under Citrix as an administrator, Citrix Reseller, as a business affiliate in Citrix, or as an administrator for Citrix systems. Although the certification allows you to work for an internationally acclaimed business, it is vital to understand that professionals are not limited to Citrix.
5. Demonstrate the Level of Competence
The certification is an assurance to resellers, administrators, individual consultants, and business enterprise partners that you have mastered all the skills necessary to do the job. It embodies the service or product proficiency concerning the internationally acclaimed Citrix Platform. By showing the best performance, Citrix certified professionals get incentives and benefits from the company as a form of motivation and recognition.
6. The Base for Higher Certification Achievement
Besides providing ample training in Citrix products that can be easily turned into a good and high-paying job, Citrix Certification offers an excellent base for building a bigger career in the IT industry. For instance, CCA, which is an entry-level certification, opens the doors to other Citrix Certification tracks. After securing the Citrix Certified Administrator Certification, you can transition the certificate into getting other certifications such as the Citrix Certified Enterprise Engineer (CCEE), Citrix Certified Advanced Administrator Certification (CCAA), and Citrix Certified Integration Architect (CCIA). Besides giving you a better employment opportunity, these certifications can easily stack along with the Certified Citrix Administrator Certification for higher salaries and increased know-how.
The certifications and programs offered by Citrix help fill the skill gap between the advancement of the Citrix technology and need for IT professionals who are capable of keeping up with the growing IT demands.
7. Earn Recognition in the Industry
Citrix certification helps you earn respect and recognition as an expert in your field of specialization and also shine in your carrier. Multinational companies prefer hiring top performers to motivate their clients and build long term relationships that are based on quality services and products. Moreover, the company gains a competitive advantage by merely leveraging employees who are certified and trained.
Companies across the world use Citrix products to improve the efficiency of an organization's IT services and the quality of their products and services. Citrix is becoming increasingly popular for its commitment to the quality of their products. This is why organizations are in dire need of professionals who are capable of implementing, troubleshooting, and installing Citrix products. Therefore, there is a high demand for individuals who are certified by Citrix to deal with any problems involving Citrix products. As a result, there are very many job opportunities that have opened up for Citrix-trained professionals, and investing in Citrix certifications will help IT professionals and organizations alsike realize their goals.