Attracting new customers and generating leads are critical steps in the success of your marketing funnel. Without these initial accomplishments, a digital marketer won't have any leads to nurture or convert to sales. It all starts with top of funnel marketing tactics, which help you establish trust and thought leadership with potential customers.
First, let's define what it means to be at the very beginning of the funnel. Then, let's look at individual tactics for top of funnel marketing activities and campaigns.
What Is Top of Funnel Marketing? 
Top of funnel marketing is the process of marketing to a wide audience to capture as many leads as possible. Since audiences are mainly searching for information at this stage, the primary goals of marketing at the top of the funnel are awareness and lead generation.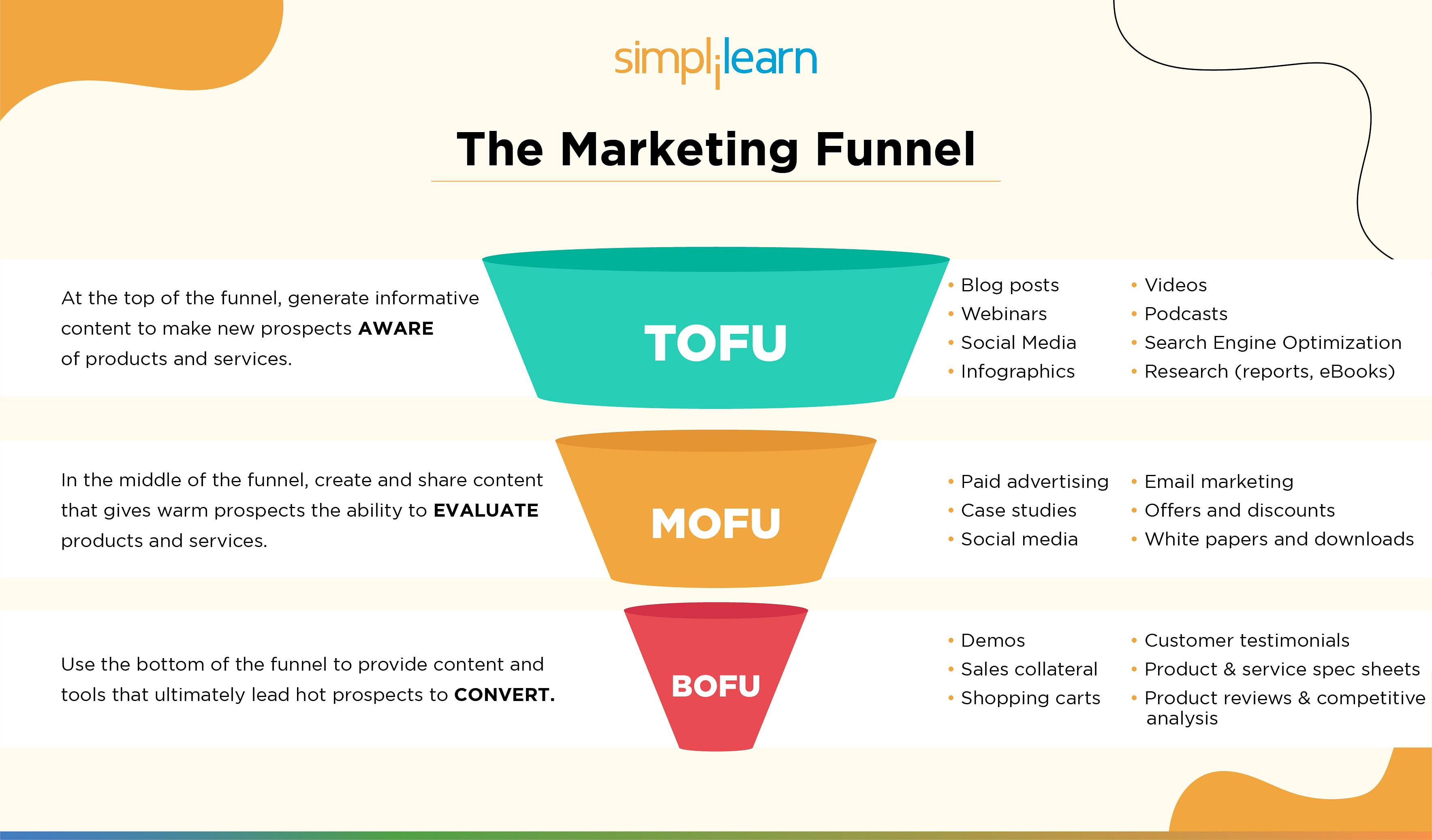 7 Top of Funnel Marketing Tactics to Explore
Blog Posts 
When you want to provide potential customers with information at the beginning of their search journey, blog posts are a straightforward way to deliver it. You can address common questions, provide answers based on your own research, and demonstrate your knowledge of whatever it is that's the main concern, issue, pain point, and so on. Learn how you can make blog posts more effective at moving your readers further through the funnel.
Webinars
Webinars, whether live or on-demand, are excellent tools for lead generation. In exchange for access to the webinar content, your potential customers provide their information. Later, you can use this information to nurture prospects by remarketing or retargeting to that audience. Aside from the benefits to your business, however, webinars are also opportunities to reach your audience with relevant information and education. 
Social Media
Considering the majority of online users discover brands while browsing social media or websites, it makes sense to pursue social media as a top of funnel marketing tactic. You can launch paid social campaigns to drive awareness and generate leads, as well as support these efforts with organic content that's both engaging and informative. 
Search Engine Optimization (SEO)  
When people are looking for information, they naturally start with search engines. This means SEO – optimizing for search engines — is an important tactic for marketing to top of the funnel prospects. In doing so, you'll want to do some research on what your target audience is trying to solve, what questions they're asking, and what content you have (or can develop) to address those initial searches online.
Research
Whether you present it in a report, e-book, or white paper, your original research is a powerful way to capture awareness in the funnel's uppermost region. Not only are you providing detailed and exclusive information to your audience, but you're also demonstrating thought leadership in your prospect's specific area of need or interest. If you want to make this opportunity to generate leads, you can offer the research as gated content in exchange for personal information like an email address.
Videos 
The popularity of online video makes it a no-brainer when it comes to top of funnel marketing tactics. Whether you're hosting your video content on a platform like YouTube or Vimeo, or on your own website, you can educate and inform your audience in a way that's highly engaging. Plus, you can always repurpose your video content to get even more mileage. 
Infographics
Using infographics is a helpful way to show data visually to your prospects while demonstrating your finger is on the pulse of the industry. With infographics, you can present data in a more engaging and digestible format, which makes it easier for your audience to find what they need quickly. At the same time, you're creating awareness around your brand with this tactic.
Learn More About Marketing through the Funnel
Simplilearn's Digital Marketing Specialist Master's Program covers the marketing funnel from top to button. In this 12-month bootcamp, you will gain expertise in all of the discipline of digital marketing, from SEO, social media, content marketing, digital analytics, and much more. Most importantly, you will learn how to generate better quality prospects, drive faster conversions, and generate more revenue — making you an invaluable resource for your organization. If you want to take it a step further, you can also check out our Professional Certificate Program In Digital Marketing.
Must read our next article on Middle of Funnel Marketing.