Founded in 1943, Ikea operates 422 stores in 50+ markets. The favored furniture brand has an impressively wide customer base, with nearly 70% of its stores in Europe. Ikea added 19 stores last year, including its first in India. The Ikea marketing strategy includes some of the most iconic logos, campaigns and companies in recent history.  
Ikea Target Audience 
Ikea serves the unique functional needs of each target audience, with special attention to 16-34-year-old adults. It has solutions for:
Bachelors
Single people not living at home
Newly married couples
Families with the youngest child under six
Older married couples with dependent children
No children families
Labor force
Retired
Students
Professionals 
Thus, it uses the following types of product positioning:
Mono-segment positioning. It appeals to the needs and wants of a single customer segment that is cost-conscious and prefers value for money.
Adaptive positioning. It believes in periodically repositioning products and services to adapt to changes in customer preferences. Its Swedish furniture chain considers the dynamic nature of customer preferences. For instance, its latest products reflect increasing minimalism on the global scale. 
Ikea Marketing Channels
Ikea utilizes the power of the following marketing channels: 
Website 
Mobile Application
WebEngage: Email, SMS, and Whatsapp Marketing
Social Media
Telecalling
Commercials
Print ads
Stores
<
Ikea Marketing Strategy
The Ikea marketing strategy contributes majorly to its success because it's original, imaginative, and distinctive while maintaining a transparent value proposition.
A Creative, Consistent Brand Theme
From the Swedish national colors on its buildings to rich meatballs in its store cafeterias, Ikea's marketing strategy reflects its cultural heritage proudly. It infuses all elements of their identity with a sense of self-assuredness that maintains their identity in the market of stiff competition. 
Emphasizing Affordability and Sustainability 
Understanding that a simple tiered strategy won't encourage repeat business, Ikea extends customization, flexibility, and mix-and-match furniture modules. It effectively combines the elements of affordability and sustainability in its marketing strategy to ensure success.
While the furniture options don't pledge a lifelong guarantee, the products are built to last. Even its reusable shopping bags reflect its commitment to sustainability.
Sponsorship and Influencers 
IKEA-sponsored comedic series Easy to Assemble. Its innovative content marketing was way different from a furniture product demo. Incorporating sponsored digital marketing campaigns and social media influencers have boosted the Ikea marketing strategy.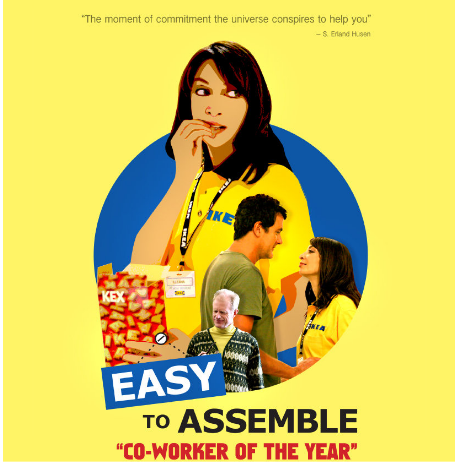 Ikea's Easy to Assemble Series
Exceptional In-store Experience
Ikea brilliantly displays products employing the best lighting systems to generate more sales. It strategically arranges best-matched items in mock rooms to encourage impulse purchases and inspire decor. The company also extends excellent customer service to provide a memorable experience and incite customers to come back for more.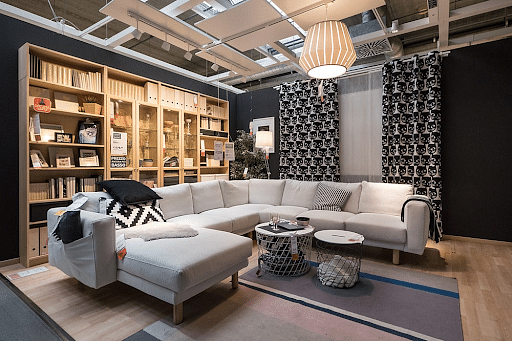 Ikea's Store Decor for Inspiration
Website and Mobile Application Marketing
Ikea ensures an optimal mobile website's speed, button displays and gesture controls on its website and mobile app to retain and attract individuals to the site. It carefully invests in its UI/UX, enquiry-based chatbot, and regular updates on new offers, discounts, and promotions. 
One of the most successful marketing moves includes downloading its 3D modeling app to envision a dream home. It's one of its most successful marketing moves that allows IKEA to upsell its low-demand items by creating a desire in its customers to revamp the room.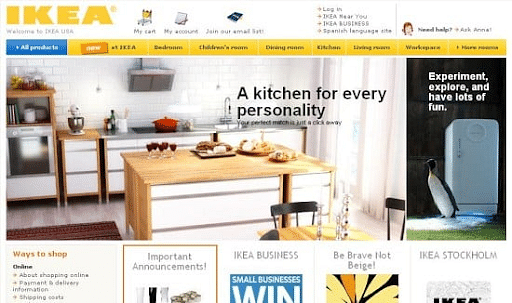 Ikea's Website With Engaging Content
Ikea's SEO (Search Engine Optimization)
Ikea's marketing strategy aims at enhancing the site's visibility for relevant searches to attract the attention of new and existing customers. It includes the right product-specific keywords and Google advertisements to further augment its organic ranking.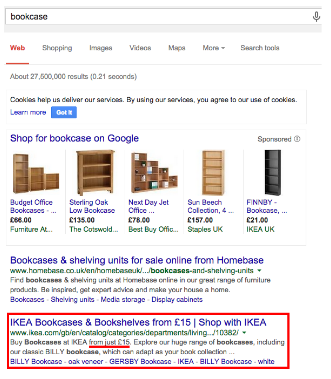 Ikea Ranking for Bookcases on Google's First Page
Ikea's SMM (Social Media Marketing)
Ikea's handles are very active on digital marketing platforms like Facebook, Instagram, Twitter, and Youtube. Their digital presence is impressive, with more than 30 Million likes on Facebook, 1 Million followers on Instagram, 5.3k followers on Twitter, and 41.2k subscribers on YouTube.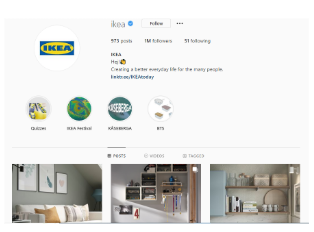 Ikea's Instagram Profile
Its Instagram bio links to its website. The website also has links to its various social media posts. Its 'view shop' and 'call' options for product catalog and direct assistance, respectively, are a testament to a well-crafted Ikea marketing strategy.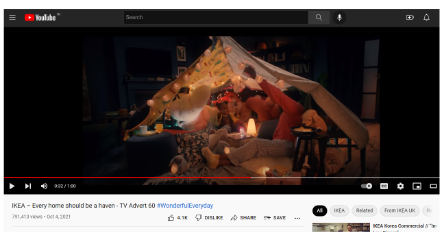 Ikea's Youtube Advertisements 
IKEA also conducts free online workshops that lure lots of enthusiastic customers, resulting in gaining leads.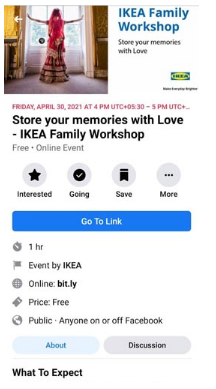 Ikea's Online Workshop Ad
Content Marketing
Ikea relies on its content marketing strategy to create a distinguished presence amongst furniture brands. Its commercials, print ads, social media, and website stands out with attention-grabbing content. It combines innovation and humor to present the brand's core values and inspire people.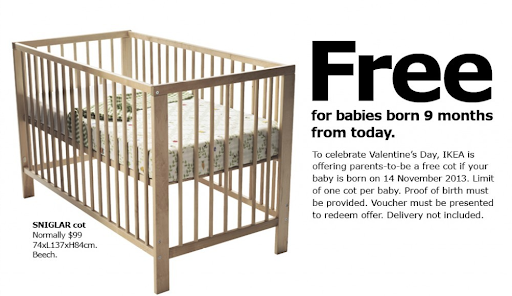 Ikea's Captivating Commercial 
Conclusion
Ikea Marketing Strategy bears testimony to a well-thought and structured marketing venture. Sign-up for our Digital Marketing Specialist and learn more about marketing case studies published by Harvard Business. You will be taught by experts from facebook and Purdue University. Sign-up for the course TODAY!