Over the years, the Citrix XenServer has been labeled as the strongest and fastest virtualization software available in the industry. It's a complete, managed server virtualization platform that has been in the business since 2009. Likewise, more than 50,000 customers have installed the XenServer, and these users could attest that the XenServer is indeed a powerful tool that could run millions of VMs. Aside from that, it has also proved that it could handle any server's workload and it's specifically designed for Windows and Linux virtual servers that aim to deliver an affordable business continuity solution, as well as cost-effective consolidation.
It doesn't matter if you've never virtualized any servers before; you're planning to expand your server virtualization footprint; or you're just going to move server workloads to cloud, rest assured that XenServer would help you do just that. Here are the main advantages of Citrix XenServer.
For IT administrators, deciding on any software to utilize in a data center, should be done promptly. They must be able to install the software and have it running as soon as possible to perform a successful job. The Citrix XenServer is specifically designed for that. It has a virtual machine that runs in as little as ten minutes, and this could be very helpful for most IT administrators. Furthermore, with the XenServer, there's no need to configure a complicated management infrastructure nor come up with a dedicated storage network. Instead, all you have to do is install the XenServer, and you could begin virtualizing your workloads without wasting any time.It Only Takes Ten Minutes
The moment the XenServer has been completely installed, you have the option to convert the server workloads and turn them into virtual machines-- this would be moved into the XenServer environment. Likewise, by setting the physical machines into virtual machines and merging the workloads into physical hosts, this could dramatically reduce the server sprawl, resulting in lesser cooling costs and power. Then, as you use the Citrix XenMotion migration tool, you'll have the privilege of moving the virtual machines across a resource pool, and you don't even have to worry about the loss of service or other negative effects.
Powerful Server Management
The XenServer is cloud-proven virtualization platform that's packed with all the things needed to create and manage any kind of virtual infrastructure. It enables the organization to automate and integrate management processes to change complex IT environments into computing centers.
Here are the additional features that you can enjoy.
XenCenter Management Console
It allows the IT staff to closely monitor, administer, and manage several VMs coming from a centralized management console. Additionally, with the use of XenCenter, the user can start, stop, migrate, create, copy, or make a backup VMs in just a few clicks. Also, the XenServer management architecture should allocate the server management data across the servers located in a resource pool. This would eliminate the occurrence of server management failure.
XenMotion Live Migration
This allows the VMs to be transferred between physical servers with no interruption at all. Thus, the occurrence of downtime could be prevented.
Gain an extensive understanding of cloud computing and become an expert in Azure, AWS, and GCP with our Cloud Computing certification training now!
IntelliCache
This feature could improve the overall performance while reducing the costs of a XenDesktop installation. With the use of local storage as a repository for boot images and temporary data, there's a possibility that the network volume, virtual desktop boot times, traffic, and this could help the user save on the storage costs.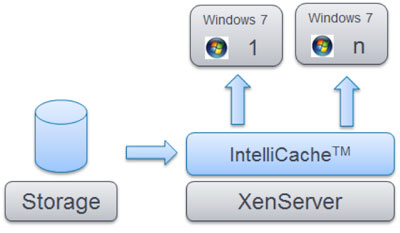 XenConvert
This could be used to convert existing virtual and physical machines with the help of XenServer compatible virtual machines. This would make the transition more practical and useful.

For organizations that need extra management feature, the XenServer premium edition would be beneficial. This edition offers a rich set of automation and management capabilities that would surely help the customers who aspire to create a virtual computing center without even spending much. Here are the other benefits it offers:
VM Protection and Recovery
The IT administrators are allowed to create policies that would automatically gather the regularly scheduled VM snapshots, and these would be organized for archiving. Likewise, this would also ensure that a VM could easily be reverted to a state before the outage.
High Availability
There's no need to worry about server outage, rest assured that the protected VMs would automatically be restarted with the use of another server that only has minimal downtime.
Dynamic Memory
This feature is used to share the unused server memory between VMs, resulting in an improvement in the application performance and a more significant number of VMs.
Workload Balancing
This could eliminate the occurrence of performance bottlenecks because the migrating VMs are dynamically migrated to a new location but within a resource pool.
Distributed Virtual Switching
This could be utilized to create a network fabric, which could handle multi-tenancy. The basis for building both public and private cloud.
Specifically Built for Mission-Critical Workloads
A lot of organizations would agree that moving from a physical IT environment to a new virtual infrastructure could draw a lot of internal opposition that could have an impact on the business. Administrators, managers, and even the end-users would want to have an assurance that their applications would work smoothly and the availability of service levels would be flawless just like in a virtual machine.
A Guaranteed Return on Investment
With the help of XenServer, you'll have the assurance that you could consolidate servers and it could minimize server sprawl while creating private and public clouds at the same time. Aside from that, it also protects the IT infrastructure and an effective way to deliver virtual applications and desktops at a more affordable rate. Also, customers would be able to take advantage of their virtualization investment through the use of XenServer Free edition.
Conclusion
Overall, the Citrix XenServer makes virtualization more convenient, simple, and economical. The use of this server could result in a consolidated infrastructure that could improve the availability, as well as the continuity of applications while helping in the optimization of hardware capacity utilization without the need to sacrifice the performance of critical business services.