No matter what industry you're in, the organization is key to efficiency. Having visibility into who owns the project, if the project is on track to meet its deadline and budget, and where the project's pain points are, makes all the difference in any team.
Project management software helps large and small companies keep track of everything that's going on within the business. These days the options seem infinite, so it's important to understand what your priorities are before you dive into researching your options. If you're shopping around for the best project management software, we've done a bit of the homework for you to help narrow down what you're looking for.
What Is Project Management Software?
Organizations or individuals use a digital platform or tool known as a project management software to plan projects, allocate and monitor project resources, schedule timelines and tasks, assign tasks, and monitor project progress. It is also used to record and use knowledge and ideas and to work with team members to complete projects. Document storage, search, and organizing tools, further aid businesses in maintaining organization.
What Makes a Project Management Software Useful?
Most projects require the fundamental characteristics of project management software to be effective. However, certain software options are better for particular teams or enterprises than others due to additional or special capabilities. Therefore, it's crucial to conduct a study to determine what special characteristics, depending on your team's methodology, type of business, or type of project, might increase the success of your endeavor.
For instance, most project management software includes planning, scheduling, assigning tasks around projects, and reporting on their progress. In addition, most provide views for tracking progress and dependencies, like Kanban or Gantt charts.
Top Project Management Software
1. Asana

Asana allows users to bring more than 100 integrations and apps into its software, allowing teams to have emails, tickets, and other essential files all in one place. Some of the many apps that can be synced with Asana include Google Drive, Dropbox, Trello, MailChimp, Microsoft Office 365, and Gmail.
Pricing
Small teams can take advantage of Asana's free service, which allows up to 15 users and includes basic search, basic dashboards, and unlimited tasks, projects, and conversations. Premium service is $9.99 a month, which offers unlimited team members, unlimited dashboards, advanced search, and other features. Their enterprise plan includes all the features that premium offers, plus additional control and support. Interested users will need to contact Asana directly for a customized quote.
Why Users Love it?
Asana offers an easy interface and makes monitoring team members' tasks easy. Users also love all it's integration abilities.
Critiques About Asana
It can be challenging to configure all notifications and manage your tasks.
2. Basecamp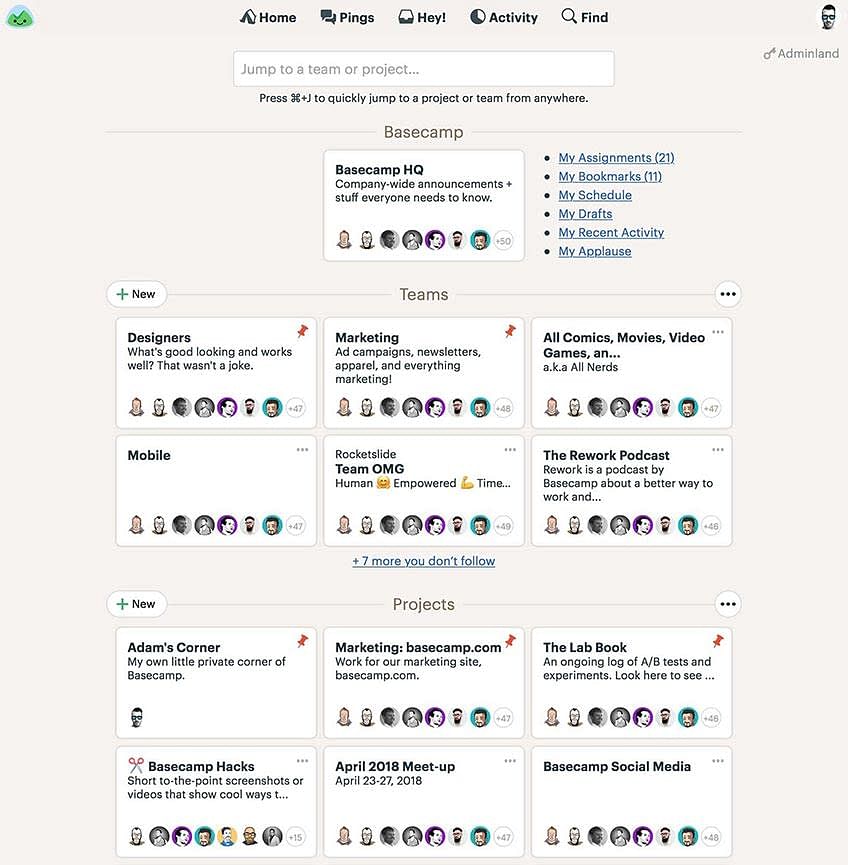 Basecamp allows for company-wide communication on an interface that includes discussion boards, to-do lists, group chat tools, reporting, file storage, email forwarding, and more. Basecamp is not only web-based, but also offers apps for iOS, Android, Mac, and PC.
Pricing
Basecamp's pricing is pretty straightforward and is offered at a flat rate of $99/month. It includes all features, such as real-time chat, to-do lists, file storage, schedules, and more. There are no user or project limits, and free 30-day trials are also offered. Free accounts are available to students and teachers; discounted pricing is also provided for non-profits.
Why Users Love it?
The collaboration features make teamwork seamless. Users can share files, proofs, and information all in one place, and arrange chats for each project.
Critiques About Basecamp
The learning curve tends to be steeper with newer users.
3. ProProfs Project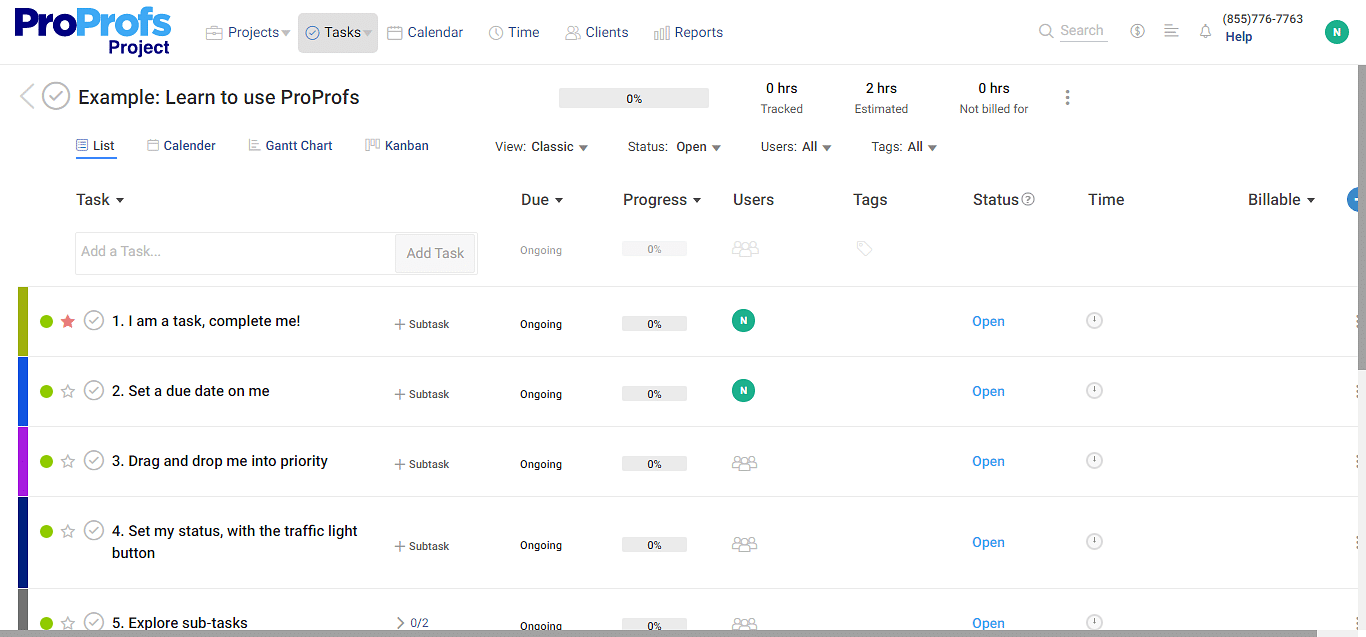 ProProfs Project is a simple project management software that has enabled businesses or individuals to track and manage their tasks and subtasks efficiently. This task management tool can help teams plan a project and deliver it on time. Users also get access to lists, Gantt Chart, Kanban, and calendar view too.
Besides that, the project management software also helps to track who's working on what and how many team members are involved in the completion of a task or project through the single dashboard view. This dashboard enables project managers to identify if they have a resource crunch or not. It even helps to collaborate across different teams through timely notification for comments and file-sharing activities. ProProfs Project doesn't stop there, it even helps to get all your stakeholders on board. It's simple, just add them as users and they can get regular updates on how the project is progressing. Users of the tool can even create billable and non-billable hours invoices that can be sent directly to the client via email in seconds.
Pricing
Get 15 days free trial without giving away bank or credit card information with ProProfs Project. During that free trial, get access to all the premium features. It helps companies decide whether it matches or exceeds their expectations or not. Once the free trial comes to an end, ProProfs Project offers two packages. Essentials package starts at $2/user/month where one can create up to 50 projects and get access to features like tasks and subtasks, calendar view, assignees and due dates, recurring tasks, collaboration, custom fields, milestones, and more. Whereas the second package, the premium package starts at $4/user/month. It is inclusive of all the features available in the essentials package and more such as roles and permissions, task dependencies, invoices, time tracking, timesheets, Kanban board, and more.
Why Users Love it?
It's a feature-rich product that's available at affordable packages that start at $2/user/month.
Critiques About ProProfs Project
It needs to have more integrations in comparison to its competitors.
Want to become competent in core project management areas? Check out our PMP Certification Course preview here.
4. Airtable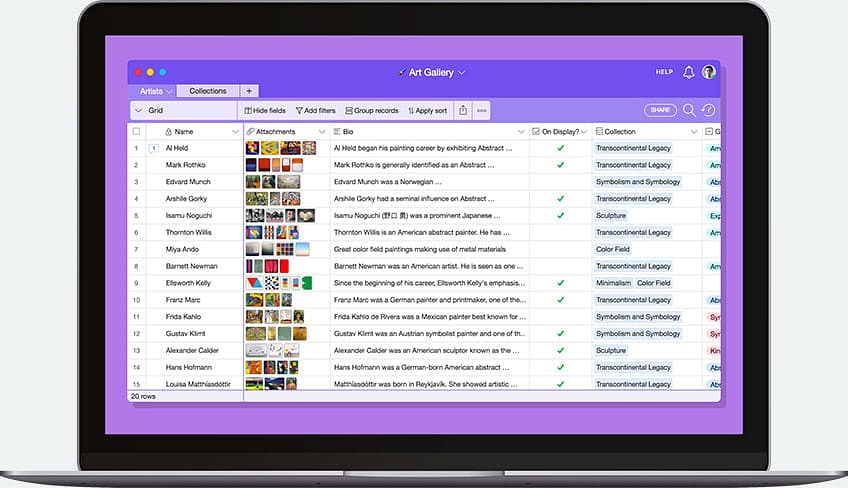 Spreadsheets are a great way to organize information, and Airtable recognizes this, which is why they've created a spreadsheet-meets-database interface. Airtable allows for seamless organization and collaboration with real-time changes that are easy to edit. The program's spreadsheets also offer the option to include media attachments with each entry, making the program a visual way to organize data. The program, which offers both desktop and mobile app options, also allows for integration with other popular apps. The integrations include social media apps, such as Instagram and Facebook, and also allow integrations from other project management apps, such as Asana and Basecamp.
Pricing
Free accounts are available, but they offer limited features. Their Plus plan costs $12 monthly per user, which provides more storage and additional features, such as email support. To unlock more of Airtable's advanced features, such as custom branded forms, businesses can opt for the Pro plan at $24 monthly per user. Access to all that Airtable has to offer is available under the Enterprise plan, and you can contact Airtable directly to receive a custom quote. Users can save 17 percent on all plans by paying annually.
Why Users Love it?
Airtable uses your data to create more insight into your project or team than you thought possible and visualizes it in a way that's more approachable than a database.
Critiques About Airtable
It lacks flexible cross-referencing, merging of records, and multiple synced calendars.
5. Teamwork Projects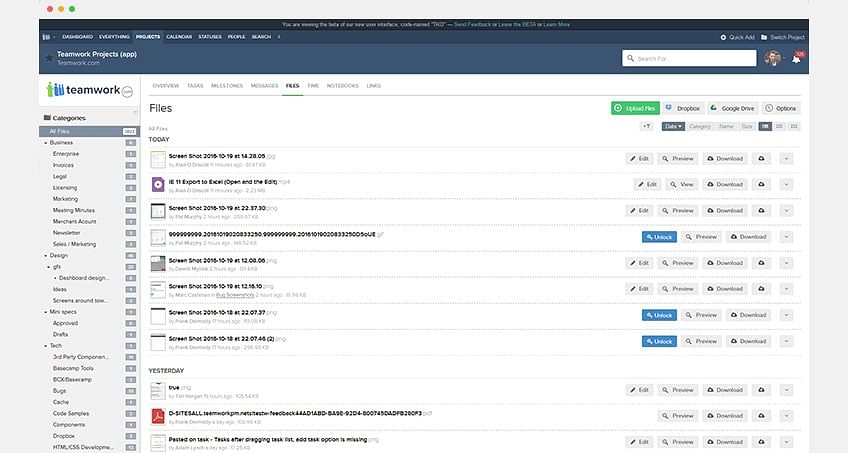 Teamwork Projects offers enough tools for users to take care of every aspect of their projects, from start to finish. Aside from assigning tasks, some of the extras that Teamwork Projects offers include time tracking, task prioritization, multiple assigning options for tasks, real-time messengers and helpdesk, Gantt charts, and data importing that allows you to pick up a project where you left off with it elsewhere.
Pricing
If your team is small and you don't need a lot of space, you can take advantage of Teamwork's "Free Forever" a plan that allows up to five users, two active projects and 100MB of file space. For paid plans, the cheapest available is $9 monthly per user (minimum five users) and allows up to 50 users and 300 projects, plus 100GB of file space. Their premium plan, priced at $15 monthly per user (minimum five users) allows up to 100 users and 600 projects, plus 250GB of file space. Those needing 500GB+ file space, unlimited users and projects and other exclusive features can contact Teamwork directly for a quote on their enterprise plan.
Why Users Love it?
It's feature-rich, including the ability to track hours and time spent on tasks, and the ability to create recurring tasks.
Critiques About Teamwork Projects
Steep learning curve; a lot of the features are hard to pick up on quickly.
Learn more about Teamwork Projects
We also compare these four programs with typical sought-after features in the table below:


Here are a few more project management tools that have gained popularity in recent times:
6. Hive
Hive is a cloud-based project management software that can cater to both big and small teams, offering them a plethora of features, including task management automation, file sharing, tracking project progress, and even chat.
The project management software enables you to create, assign, and classify tasks for all the members of the project team complete with tags, attached project files, and due dates. The software is flexible and lets you organize all the tasks in a Kanban board, calendar, or Gantt chart. It connects with popular cloud storage providers, like Google Drive, Dropbox, Box, and Onedrive for easy and convenient file sharing, accessing, and collaboration among the team members. Hive is available in all the major platforms both on mobile and desktop. 
Pricing
You get Hive in two different packages - Professional package and Enterprise package. $12 per user for a month is what you need to pay for a professional package, and it is suitable for all businesses. It provides you access to unlimited projects and lets you send unlimited messages. Also, you get access to Hive Analytics with the professional package. On the other hand, the enterprise package comes with all the features that you get in the professional package and additional enterprise-grade additions, including custom integrations, account manager, Hive Analytics upgrades, rollout support, on-premise installation, and access to Hive API. For the cost of
Enterprise package, you will have to get in touch with Hive. Also, you get a free trial period of 14 days, which can help you decide if the Project Management Software caters your needs.
Why Users Love it?
Hive has a good design, which is easy to use and has all the tools that you might need in your project management software. Also, Hive allows you to view projects from various layouts while ensuring that you easily organize and manage the tasks.
Critiques About Hive
Not popular enough among the people and the integrations aren't flawless, but it is improving.
Learn more about Hive project management software.
7. Smartsheet
It is a spreadsheet-based project management software, which is very popular among project managers and businesses. However, it is unusual for a project management software since it is designed to cater much more.
Smartsheet can be described as an app that can help you run all the business functions. While it can be used like any spreadsheet application, it can also provide various features that set it apart from Excel. The software lets you share each sheet and row with other team members via email, providing access to all the comments, files, notes, and information that are related to the project. It allows you to store all the documents, like Docs, PDFs, PPTs, and graphics files in Google Drive, DropBox, Box, and OneDrive. Besides, Smartsheet offers a range of integrations with other tools, like Office 365, ServiceNow, Atlassian Jira, Salesforce, and Gsuite. 
Pricing
You can try Smartsheet for free by signing up for a 30-day free trial package. Once that ends, you need to buy a plan that suits your needs. All the plans of Smartsheet come with collaboration features, work views, and mobile apps. You can choose from four different Smartsheet subscription options - Individual plan, Business plan, Enterprise plan, and Premium plan. The individual plan costs $14 per user, per month, and the business plan costs $25 per month, per user. The costs of the Enterprise plan and the Premium plan can only be accessed by contacting Smartsheet.
Why Users Love it?
It works like a spreadsheet, which is easy to use for most of the users. Also, its iOS mobile app is the best project management software application that you can find on mobile. 
Critiques About Smartsheet
It lacks a time tracking feature that might annoy some people. Also, there are some other drawbacks, like limited calendar view and complicated reporting structure.
Learn more about Smartsheet project management software.
8. Clarizen
It is a cloud-based collaborative work management solution or a project management software that is designed to help businesses manage cross-company engagement. This tool helps in connecting the resources, planning activities, and managing workflows. It allows the project managers to define the size and the scope of the projects, and estimate the workforce and resource requirements for any particular project. The best thing about Clarizen is, it brings configurable workflow automation, in-context collaboration tool, and project management in a single platform. Project managers get control of the project management features of the platform, like scope management, risk assessment, dashboard, and reporting. The platform can also be integrated with other online applications, like MS SharePoint, SAP, Google Drive, Salesforce, and Box.
Pricing
You get a 30-day trial version of the platform once you signup for Clarizen. However, once the period ends, you need to pay for the platform based on your needs. There are two packages that you can choose from - Enterprise Edition and Unlimited Edition. For detailed pricing information, you can contact Clarizen.
Why Users Love it?
Clarizen provides an effortless collaborative work management platform that ensures all your project activities, reports, and documents are at a single place. It has a clean interface that makes it easy for project managers to work on it.
Critiques About Clarizen
It doesn't have a reporting tool, and there is a scope of the platform to be integrated with various cloud apps.
Learn more about Clarizen project management software.
9. Quire
It is a modern collaborative online task management application or project management tool that helps the users to capture ideas and helps them to break those ideas into smaller tasks. Quire project management software adopts the branching principle, which allows you to break down your challenges into steps. Also, it lets you prioritize your plan, which helps you focus. Quire is a collaboration-friendly platform that allows the team members to work together, view updates in real-time, and also work in offline mode as well. 
Pricing
Quire is free for users. However, there are possibilities for pricing plans to be released by the second half of 2019. Until then, you can use the project management software and its features for free.
Why Users Love it?
Quire provides a collaborative work environment that makes the processes easy for users. Also, it is free to use, as of now.
Critiques About Quire
No support for calendar view and Gantt charts. Also, when it comes to crossing or filtering information between different projects, it has certain limitations.
Learn more about Quire project management software
10. Zoho Projects
A program for project management called Zoho Projects can handle projects of various shapes, sizes, and degrees of complexity. The app offers elements that resemble social networking sites, such as feeds, forums, and discussions, and is accessible on mobile devices, iOS, Android, and other platforms.
The Gantt chart tools in Zoho Projects allow you to plan milestones and visualize various activities, break huge projects into manageable chunks and actionable tasks, and generate task lists to aid in more thorough planning. You may see your team's project schedule and workload by utilizing Zoho Projects' Gantt charts for resource allocation. You can see who is available, busy, and overloaded from the resource consumption table.
Pricing
Once you join up with Zoho, you can use the site for free for ten days. However, after the trial period, you must pay for the platform according to your requirements. You have a choice between the Free, Premium, and Enterprise options. Contact Zoho Projects for more details on pricing. 
Why Users Love it?
Zoho projects save time, you get space freedom so that you can easily work remotely. It effectively manages complex projects and increases your productivity.
Critiques About Zoho
Excludes ready-made templates
Unusual perspective on resource management.
11. Clickup
ClickUp is a thorough project management tool for setting up and completing all of your team's duties in one location. Users may arrange projects, and manage resources in a single workspace. 
Wikis and documents can be shared, created, and edited using ClickUp's functionality. In addition, users can post comments on papers and assignments, assign notes, and communicate with other team members to enhance communication and teamwork. Custom dashboards and six pre-built report kinds for team reporting are among the reporting tools available.
Pricing
You have a choice between the Free, Unlimited, Business and Business plus options. Contact Clickup for more details on pricing. 
Why Users Love it?
The best thing is shortcuts; clickup gives users fast ways to do tasks. Without leaving the board view, you may easily create a task, remove tags from it, or view its description.
Critiques About Clickup
It can be difficult to maintain organization in a bigger project.
Another issue is that clickup occasionally operates slowly.
12. Monday.com
The award-winning project management software Monday.com is used by organizations across numerous sectors, including Hulu, Coca-Cola, BBC Studios, Adobe, L'Oréal Paris, and Deezer.
Features for resource and project management, communication, time tracking, and reporting are available on Monday.com. Users can attach files to cards, add files to cards, leave comments, mention teammates, and do many other things. Additionally, it has a wonderful project reporting dashboard that can compile data from multiple boards for improved progress monitoring. You can use Monday.com to track deadlines, hours, and bills, even if it doesn't offer the same set of capabilities for project invoicing and accounting as other solutions.
Pricing
You have a choice between the Basic, Standard, Pro and Enterprise options. Contact Monday.com for more details on pricing. 
Why Users Love it?
On Monday.com, you can do everything you'd like to do with spreadsheets, and it's simple to use. Utilize Monday.com to organize, systematize, automate, and save a tone of time.
Critiques About Monday.com
The high learning curve associated with using Monday.com is its only drawback. It is especially challenging for workers whose first language is not English.
13. Teamwork Projects
For the project management power user, Teamwork Projects is a fantastic project management tool. The program has many user-friendly features, including Milestones, Task Management (you can connect task lists to Milestones, for example), Messaging, Time Tracking Tools, File Storage, and more. With the use of teamwork, project teams can visualize their work using a Gantt chart, a marked calendar, and set-up reports. Box.com, Google Drive, and DropBox all offer file management support.
Pricing
You have a choice between the Deliver, Grow and Scale options. Contact Teamwork Projects for more details on pricing. 
Why Users Love it?
Simple and intuitive design
Great customization options
Billing and invoicing included
Free account available
Critiques About Teamwork Projects
No PDF or image markup tools
14. Smartsheet
Project management tools like process automation and task visualization in Gantt, calendar, and card views are available in Smartsheet. The programme provides shared views, detailed histories, activity logs, automated notifications, reminders, and status reports to keep everyone informed. Important changes are also quickly notified to team members, and they are on the same page. The Critical Path feature displays all the tasks that directly affect the project's end date so you can keep track of important deadlines. The reporting features of this programme are strong, and you can easily export editable summary reports to Excel.
Pricing
You have a choice between the Business, Enterprise and Pro options. Contact Smartsheets for more details on pricing. 
Why Users Love it?
Smartsheet is the perfect tool for novices because of its simple interface, which is similar to a spreadsheet, and powerful codeless automation functions.
Now, aspiring experts in a particular industry can develop low-code automation and workflows.
Critiques About Smartsheet
A team may find it challenging to switch to Smartsheet at times.
15. Wrike
Because it enables an unlimited number of users, the multiple award-winning project management tool Wrike is best suited for teams of five or more. The tool's considerable configurability allows users to change processes, dashboards, reports, and request forms.
The user-friendly interface of Wrike allows users to choose how to present their priorities by switching between interactive drag-and-drop Gantt charts, Kanban boards, and regular workload views. Wrike's further aspects are task lists, timetables, subtasks, file sharing, shared workflows, and real-time collaboration. With the help of tools for resource management, performance reporting, and allocation, and other features, users can gain sophisticated insights into their projects.
Pricing
You have a choice between the Free, Professional, Business and Enterprise options. Contact Wrike for more details on pricing. 
Why Users Love it?
It makes a good checklist of things, Very handy. Another feature that is VERY useful is the tags
Critiques About Wrike
 It's a complex web API with many moving parts.
Learn new trends, emerging practices, tailoring considerations, and core competencies required of a Project Management professional with the PMP Certification course.
Conclusion
This is just a small list of the project management software out there. Sometimes, it takes a little trial and error to discover what project management software program best suits your company's needs. What may work for you at one point may no longer serve your business's needs as it expands. No matter what project management software program you settle on, though, it's imperative to have the right project management skills to ensure you're getting the most out of it. Our Project Management certification training program has all the tools necessary to teach you the ins and outs of project management.
Simplilearn would love to know: What project management software does your team currently use? Do you recommend it? Leave a comment below!
Are you looking forward to making a mark in the Project Management field? If yes, enroll in the Project Management Fundamental Program now and get a step closer to your career goal!