Do the names of digital marketing experts like Neil Patel, Seth Godin, Ann Hadley, and Avinash Kaushik ring a bell?
If so, you have the drive and the passion to exceed as a digital marketing specialist.
But you're not sure how. And to add to that, you don't have a degree that can strengthen your position against others who do have it.
So, how do you transform from an unknown person to a voice of authority in the world of digital marketing?
1. Why a digital marketing specialist is most sought-after in 2016
So, what makes a digital marketing specialist's role exciting in the first place?
According to MarketingProfs, there is a growing demand for digital marketing experts because:
Companies need to allocate higher budgets to digital marketing departments to achieve more accurate targeting
There's better clarity about ROI for social media
There is an increasing pressure to shift resources to mobile advertising
Companies need to adopt the latest technologies
Digital marketing – the present and the future
Digital marketing is going to assume greater importance in the near future as it is going to integrate many new technologies that will change the way customers interact with products or services.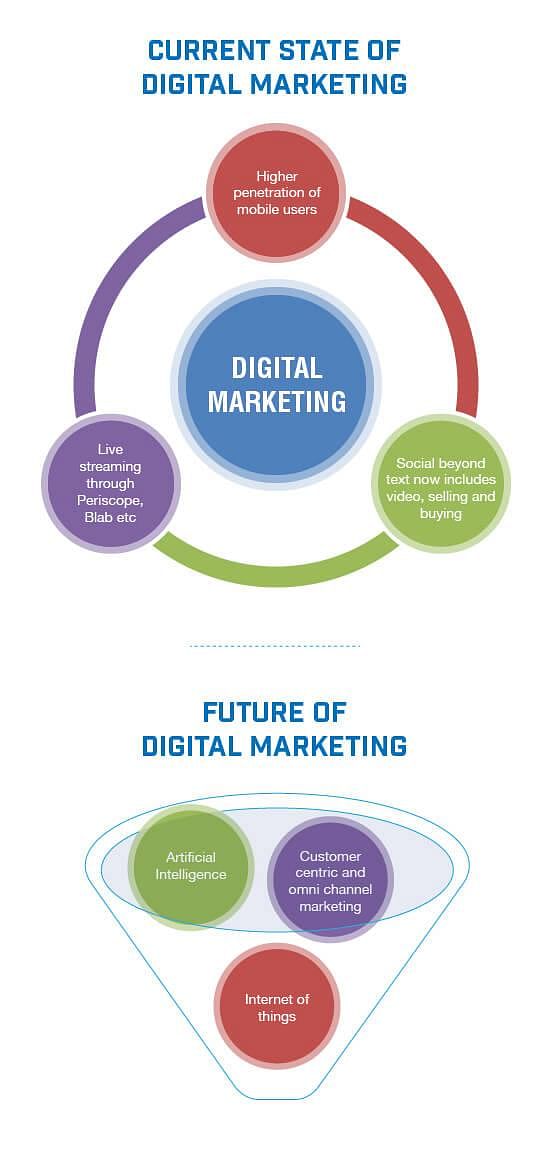 Data-driven functions through artificial intelligence and the internet of things will enable marketing to focus on tailoring their services to each customer's preferences.
Data source: https://econsultancy.com/how-will-digital-marketing-evolve-in-the-next-10-years/
2. Traits and Skills required to become a digital marketing expert
3. Why you don't need to be a college graduate to become a digital marketing expert
Most of what you learn in digital marketing is through learning on the job and not in college. Here's why
Learning digital marketing lingo by interacting with your peers is easier and more fun than learning it from a college textbook. Check out this guide to learn the different digital marketing terms.
There are real life examples and opportunities that often go unnoticed in a standard college learning environment
Textbook information is usually outdated and difficult to relate to in the current context
Your expertise is accumulated through learning, implementing, and reworking
The constantly evolving world of digital marketing needs you to be updated on a daily basis, which can happen when you get involved in it regularly
This can come about in two ways
Learn everything about digital marketing from courses, mentors and peers
Read these case studies and try to see what worked and most important learning from failures
The core structure of the digital marketing team and the individual experiences can collectively impact whether the digital marketing program is planned elaborately or only covers the basic needs outlined by the organization.
It might not be a perfect fit, because there are multiple factors that play a role in the execution of digital marketing. Primarily:
The category or industry and its customers have different needs
The target market differs and hence the message should meet the different language and cultural barriers
Budget constraints can act as main barriers
The core structure of the digital marketing team and the individual experiences can collectively impact how the digital marketing is planned elaborately or only covers the basic needs outlined by the organisation
Access to right tools and technology can work or hamper the execution of digital marketing based on its availability
This will have to be narrowed down into establishing what part of the digital strategy is showing results and those that are potential weak areas that can either be worked upon or replaced.
4. How theoretical and hands-on experience go together for a digital marketing expert
For someone looking to find out how to become a digital marketing specialist, the simple answer is this: it can be learned by anyone willing to go the extra mile and learn new techniques and tools required to automate and schedule marketing campaigns..
Theoretical Knowledge
Outlines the fundamentals
Case studies can be used as an effective tool to understand real life scenarios
Issues and mistakes can be corrected or avoided
Practical Knowledge
Needs an understanding of where and how theoretical knowledge can be applied
Experimentation forms a key part of the execution of the digital marketing strategy
The passion to learn should be assisted by some basic fundamentals that have to be applied in the right context and at the right time.
5. Why theoretical knowledge only works 50% of the time
Theoretical knowledge without practical application will result in these drawbacks for a digital marketing expert:
Lack of knowledge to know which strategy works in a particular situation
Poor assessment skills in understanding critical areas that need to be addressed
Inability to clearly define the current situation and the best approach to come up with a solution
Ambiguity in planning and executing the digital marketing strategy without valuable insights by colleagues and superiors
You will need to have practical knowledge, but preparing yourself with the right course is the first step you need to become a digital marketing expert.
Your Turn
Now that you know how to become a digital marketing specialist without going to college, what steps would you choose to become one?
Let us know in the comment section below!