The world of digital marketing is a noisy one. A century ago, our options for marketing were little: print ads, billboards, and door-to-door salesmen. Today, we have countless ways to market, including all kinds of social media channels, podcasts and videos, experiential marketing, SEO and SEM, email and mobile marketing, SMS and more. In addition, we can track, analyze and act on our marketing in a way marketers one hundred years ago could never even have conceived of. And, all of that adds up to one noisy space, with almost too much to pay attention to. 
That's why it's important to know who the movers and shakers are, so you can focus your attention on them and cut through some of that noise. With all the marketing methods available to us now, we can try to be a jack of all trades but that just implies that we will be the master of none, as the saying goes. We are better off finding the true masters and following their leads, as they break ground ahead of us and make our way easier. 
Digital Marketing Specialist Master's Program
Advance Your Career as a Digital Marketer
EXPLORE COURSE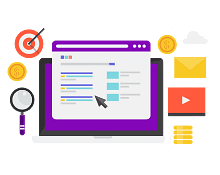 With that in mind, we've pulled together a list of 13 digital marketing influencers for you to follow. Some of these names make everyone's list of favorites and will be familiar to you. Others will probably be less familiar, since those who have the most to offer are not always those in the spotlight. In addition, we've sought out experts across a wide range of topics, since digital marketing is made up of so many pieces. Below you'll find an expert on Twitter, one on Facebook, one on content, and so on. 
1. Matt Bailey
Internet marketing expert and extremely popular speaker, Matt Bailey has worked for some of the biggest names in the world, including Google, Experian, Proctor, and Gamble, Johnson & Johnson, Disney, ESPN, and ABC. For 20 years now, Bailey has taught online marketing at over 1,000 companies, conferences, and workshops. Bailey makes online marketing easier to understand by breaking down complex information and communicating it in an entertaining way. Bailey is the author of Internet Marketing: An Hour a Day, SOS! A CEO's guide to Digital Media, and Teach New Dogs Old Tricks. He teaches Online Marketing Certification for the Direct Marketing Association and is a digital marketing faculty at Simplilearn.
2. Brad Geddes 
If pay-per-click (PPC) is the digital marketing area that interests you most, then you definitely want to follow Brad Geddes. Geddes is a self-confessed PPC geek and the author of Advanced Google AdWords. In addition, he is the founder of AdAlysis.com which provides software for automating AdWords ad testing and actions. Geddes is also the founder of bg Theory, where you can learn all things PPC-related. An official AdWords Seminar Leader, Geddes travels around the world conducting onsite AdWords workshops, in addition to offering online training through Simplilearn. 
3. Jay Baer 
A digital marketing pioneer, Jay Baer is a marketing consultant, speaker and the founder of Convince & Convert, one of the Internet's most respected digital marketing blogs and strategic consulting companies. With a unique focus on customer experience, Baer has consulted for over 700 companies, including Nike, Caterpillar, The United Nations and 35 of the Fortune 500 companies. He is a New York Times best-seller and the author of Hug Your Haters, Youtility and The NOW Revolution. Baer is a very popular speaker at events, where he inspires and motivates digital marketers to convince and convert.
4. Marsha Collier
Marsha Collier is the author of The Ultimate Online Customer Service Guide: How to Connect with Your Customers to Sell More. She has also written over 40 books in the …for Dummies series, including four books on best practices for eBay, as well as books on Twitter, Facebook, and social media for marketing. She is one of the foremost e-commerce experts and educators in the world, in addition to being a  popular speaker.
5. Bryan Eisenberg
A pioneer in online marketing since its early days, Bryan Eisenberg is an internationally recognized authority in digital marketing. He is well known for helping marketers the world over improve conversion rates, churn out persuasive content, and enhance customer experiences. Eisenberg has been recognized by eConsultancy members as one of the top 10 User Experience Gurus and by LinkedIn as a Retail Influencer. Eisenberg is also an IBM Futurist, and he was selected as one of the inaugural iMedia Top 25 Marketers and a Marketing Edge Rising Star Award winner. He is the best-selling author of Call to Action, Be Like Amazon: Even a Lemonade Stand Can Do It and other books. 
6. Rand Fishkin
Rand Fishkin is another online marketing pioneer. As the co-founder of Moz.com, Fishkin has helped pave the way in the world of SEO, and he continues to help newbies and professionals alike to make the most of their SEO efforts. Fishkin stays on top of all things SEO so you don't have to. As a result, his company, Moz.com, is one of the most popular tools and communities for digital marketers, providing a wealth of search marketing resources. 
7. Ann Handley
Ann Handley came to prominence first with her company, ClickZ, then as the driving force behind MarketingProfs, a marketing training company with over 600,000 subscribers. Handley is considered a digital marketing pioneer, and she is an enormously popular speaker. The best-selling author of Everybody Writes and Content Rules, Handley strives to help marketers move beyond the mediocre in everything they do. 
8. Pam Moore
Pam Moore is a self-described "half geek, half marketing, 100% social nut." Moore is one of Forbes' Top 10 Social Media Influencers. She sold her first digital marketing agency after less than two years, and today is the CEO and founder of the Marketing Nutz digital marketing agency. As one of the most in-demand speakers in the world, she delivers inspiring and engaging sessions to audiences sometimes numbering in the thousands. Moore has presented for brands as big as IBM, Adobe, Lowes, Sony, Social Media Marketing World, Hubspot, and the Social Media Strategies Summit. Moore is the host of the popular Social Zoom Factor podcast which earns 100,000 downloads per month.
9. Neil Patel
Neil Patel is definitely one of the most well-known and prolific figures in digital marketing today, and no list of digital marketing influencers would be complete without his name included among the others. Patel is the co-founder of Crazy Egg, Hello Bar, and Kissmetrics. He actively works to help digital marketers. Patel also helps companies like HP, Amazon, NBC, Viacom, and GM improve their digital marketing and grow their revenue.
10. Madalyn Sklar
If Twitter plays a significant role in your digital marketing, then you need to follow Madalyn Sklar. A Twitter marketing expert, Sklar has 23 years of digital marketing experience, with 14 of those years spent in social media marketing. Huffington Post has named Sklar as one of the 50 women entrepreneurs to follow. She hosts the weekly #TwitterSmarter Twitter chat, bringing together hundreds of people in one-hour conversations about Twitter marketing. In just three years, #TwitterSmarter has reached 6 billion impressions. Sklar also hosts the weekly #SocialROI chat, interviews digital marketing experts for her #TwitterSmarter podcast, and co-hosts the weekly Communities That Convert podcast. 
11. Mari Smith
If Facebook is your game, Mari Smith is the name. Smith has been at the forefront of Facebook marketing from the very start. With her distinct blue branding and ever-cheerful smile, she has been helping everyone, from novices to seasoned digital marketers, make the most of Facebook through her books The New Relationship Marketing and Facebook Marketing: An Hour A Day. Often referred to as "the Queen of Facebook," Smith is a Forbes' perennial Top Social Media Power Influencer, and IBM has named her as one of seven women who are shaping digital marketing. When even Facebook asks her for help, you know Smith is the go-to expert on Facebook marketing! 
12. Gary Vaynerchuk 
Gary Vaynerchuk is a marketer, serial entrepreneur and four-time New York Times bestselling author. (And with his new book Crushing It! Published in 2018 that number might soon be five.) He became famous in the marketing world when he grew his family wine business' revenue from $4 million to $60 million. Owner of the digital marketing agency, VaynerMedia, Vaynerchuk regularly blogs, podcasts, tweets, posts and speaks on outside-the-box approaches to digital marketing.  
13. Joanna Wiebe 
You can't have digital marketing without content, which brings us to Joanna Wiebe. Wiebe is the original conversion copywriter and the co-founder of Copy Hackers. Wiebe has consulted with optimized copy for companies like Tesco, Crazy Egg, Buffer, Wistia, Shopify, MadMimi, Intuit, BT, and MetaLab. She is also a popular speaker, teaching conversion copywriting in more than 50 states around the world.
Although you can always find lists of influencers under 30 years of age, the highest paid influencers or movers at the big brands are not always tried-and-true, which is why they didn't make our list. We want to point you to influencers who've proven that they and their methods can stand the test of time, and not burn out as the next big thing bursts onto the scene. Choose from these 13 digital marketing influencers, and you're sure to have insight into the best practices that will guide your business towards better ROI.