Even with all of the technology we rely on every day, phone calls are the preferred contact method for many businesses because the close rate of a phone call is often much higher than email or  SMS. For those businesses, AdWords makes it possible to drive potential customers to use their phones to contact you and track those calls so you can bid on keywords accordingly.
There are two primary ways to generate calls from your AdWords account: call only ads and call extensions.
Call Only Ads
Call only ads can list your website (as in the example below), but only allows the user to load their phone dialer when they click on the ad. With these ad formats, the searcher cannot click to go directly to your website. Call only ads make sense if you only want phone calls, or if your website performs poorly on mobile devices.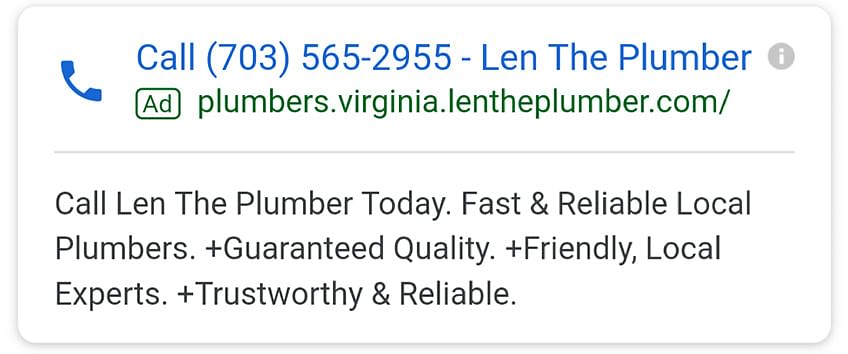 Call Extension
The call extension adds your phone number to your ad so your potential customer has several ways to contact you. As in the ad example below, a user can:
Click on the headline to go to your website
Click on a link to go to a specific webpage
Click the call button to load their phone dialer on a mobile device
When you want to give users choices between interacting with your website or calling you, this is a good option to use.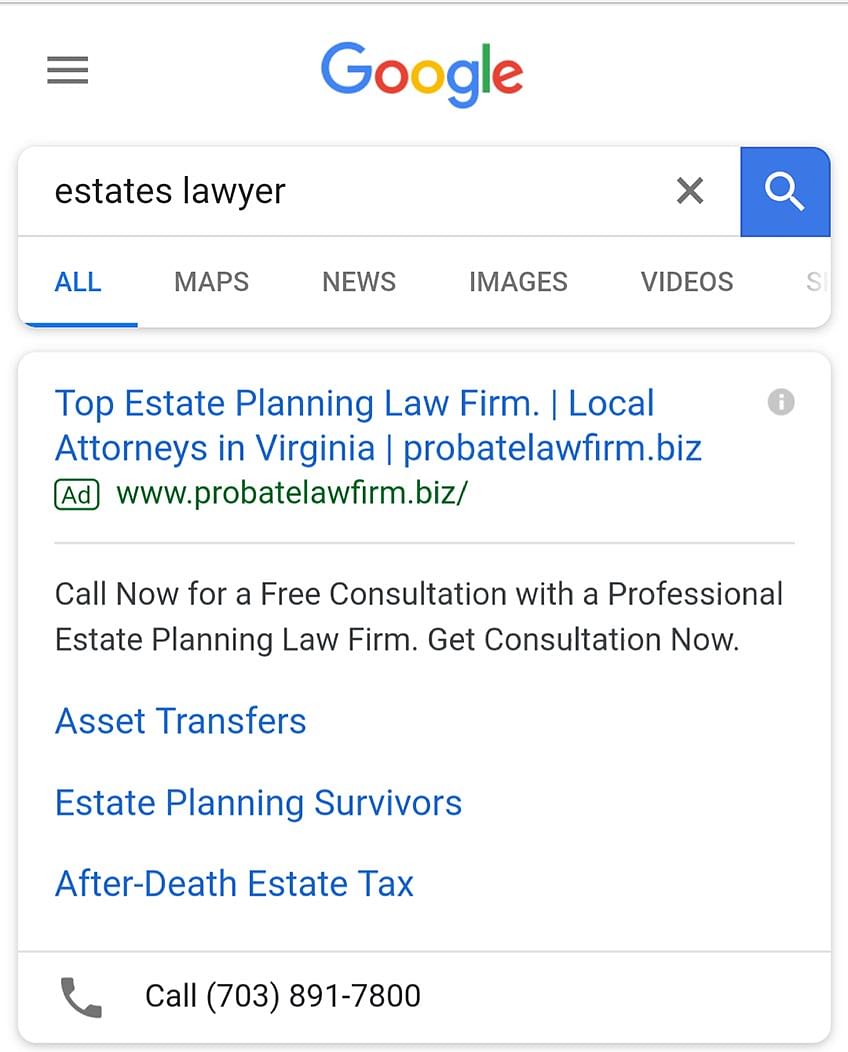 Tracking Phone Calls
In addition to encouraging people to call your business, both of these ad options let you track calls. You set your phone number in the number section of the ad or extension and turn on Call reporting. When you turn on Call reporting, the user calls a Google number that is forwarded to your phone. By default, these conversions are listed as Calls from ads.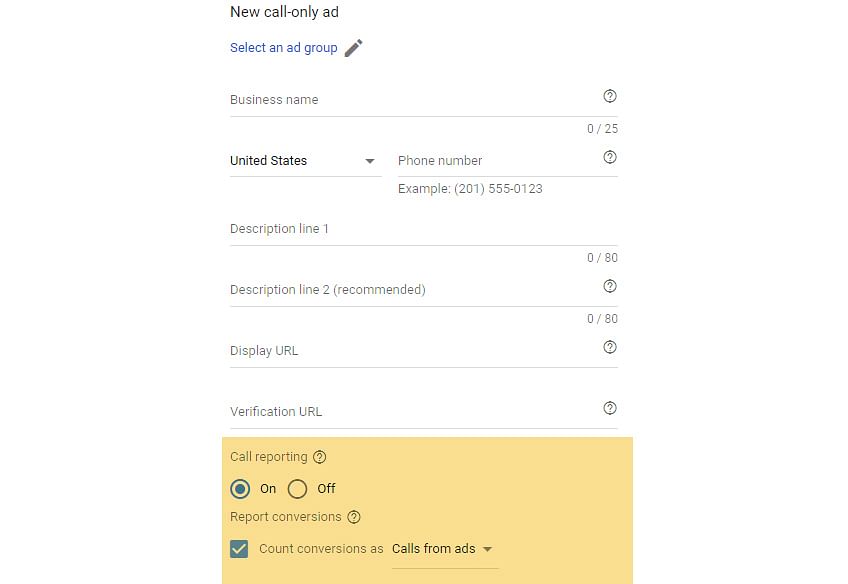 In the conversion tracking section, you can enter the minimum duration of a call (in seconds) before it is counted as a conversion.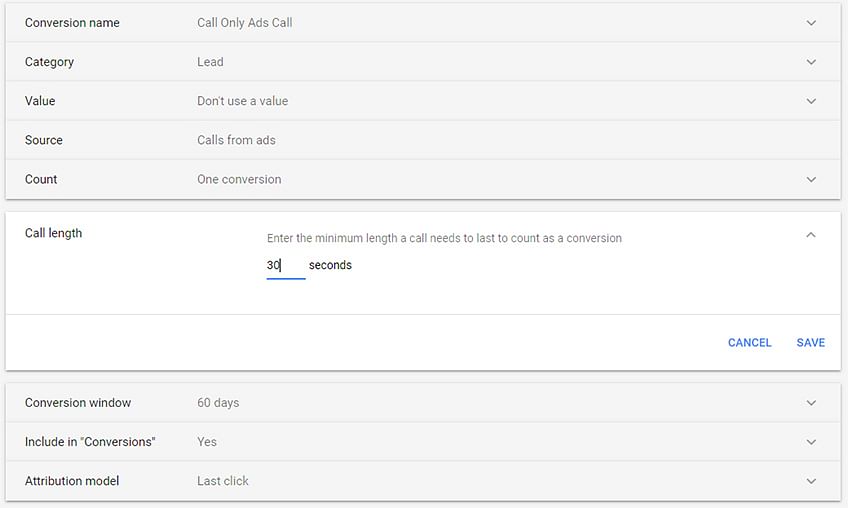 If you want to track calls, but you don't want them counted as conversions, turn off the Call reporting option. Many e-commerce sites let customers call them to get more information, but don't sell over the phone. In that case, they want to give users the option to call, but they don't want the calls to count as conversions because no revenue events occur during those calls.
What Counts as a Click?
With both the call extension and call-only ad, you are charged on a cost-per-click basis. A click may not be a phone call. When a user clicks on your phone number, their phone dialer loads and you are charged for a click. 
With AdWords, we can get detailed metrics about these ads by segmenting our data to see the conversions of the call vs. other information. For instance, if we go to the Call extension and we segment This extension vs. Other, we see that this call extension received 892 clicks and 96 conversions. A conversion, in this case, is 120 seconds, so other calls came from the ad, but only 96 were counted as conversions. 


Using Advanced Bid Adjustments
The ability for someone to call you might not always appear. If you are using Call Only ads, this means the ad might not be displayed. With the call extension, this means the ad can show, but the call extension does not.
To have these options show more often, and to increase the position of your ads when the call extension or call only ads show, you can use advanced bid adjustments to increase your bids when the call ability is displayed, as in the example below.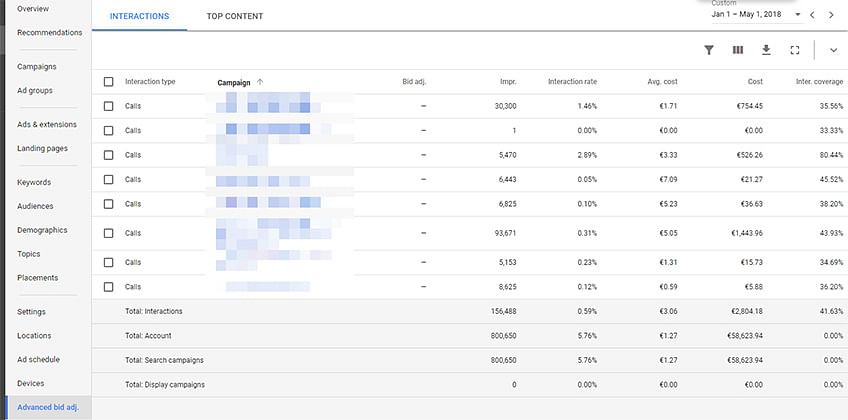 If your target cost per call is below what your actual cost per conversion is for a given campaign, then you generally want to increase your bid adjustment so that you can receive more phone calls.
Call Tracking on Your Website
Your PPC account can generate a lot of qualified traffic to your website. If you use a call tracking number on your website, you can also track calls from your AdWords account.
There are three primary ways to track these calls. The first is to use one of the many call tracking vendors. These vendors generally integrate with Google Analytics, and the call conversion data is sent to Google Analytics. If you make this a goal in Google Analytics, then you can import your data into AdWords as a conversion.
The second way is to use Google's free call tracking script. This script won't track calls from other advertising sources like a 3rd party vendor will, but it is free to use for active AdWords accounts.
The third way is to create your own system. This might be a phone call routing system, a code generated on the site that your sales reps ask for, or something else. You track the GCLID (Google click identifier) along with the phone number and then can use the offline import ability to import these conversions into AdWords.  
Wrap Up
If calls are an important source of leads for your business, then generating calls from your AdWords account is a wise decision for your business. If the calls are important, so is the data. By using the call reporting features, you can push these conversion actions directly into your AdWords account so you can see which ads, keywords and so forth are generating calls. This will help you set bids based on your phone call conversion data.
By using the call abilities, tracking calls, and then bidding based upon that information, you can generate calls for your business from your AdWords account—and get data you can use to increase the number of calls. 
Want to know more? Watch out this introductory video on Google AdWords.