If you find yourself wondering whether Influencer Marketing is just the latest in a string of shiny social media marketing fads, consider the following.  According to a recent study with InsightPool, 70% of teenage YouTube subscribers value YouTube influencers over celebrities when it comes to endorsements and opinions.  On a similar vein, Variety released data showing that while major YouTube influencers may not have the same level of awareness as the most popular TV and film stars, they tend to carry higher levels of influence over those who do know them.
It's a trend we see carrying through to other areas of social media engagement. eMarketer estimates that a quarter of Americans will use ad-blockers this year, a number that jumps to 41% when you look only at millennials. When it comes to YouTube, in particular, 69% of consumers from Generation Z choose to skip ads. Overall, it's becoming more and more difficult to reach consumers via advertising, one of the many reasons marketers are showing an increased interest in influencer marketing.


There's no denying the level of impact on consumers when it comes to the influence of top tier social channel users. A study released by Twitter and Annalect reports that 40% of people have purchased an item online after seeing it used by an influencer on Instagram, Twitter, Vine or YouTube.  Pinterest itself reports 47% of online shoppers have made a purchase based on a viewed pin.
The value and interest in influencer marketing have moved far past the social media spheres, with mainstream publications like Forbes, Entrepreneur, and The New York Times covering the ongoing growth of the method.
Who Are the Influencers? Setting the Stage
If the concept of influencer marketing is still new to you, you'll need to start with a base level understanding of what brands are looking for in a potential influencer. The two key factors most brands seek are individuals with a high volume of engaged followers and individuals who cover topics related to the brand's interests.
While many marketers rank influencers based solely on the number of followers they have, it can be helpful to subdivide influencers further by understanding how follower count and focus balance together to create different value points.
One helpful way to break things down is to view traditional influencers as those who have high volumes of followers and focus on a specific topic or set of topics. Evangelists, on the other hand, can be considered the users who still have a very strong following, but focus more deeply on niche topics.
To see this play out, we could take the time to do some research on popular wedding bloggers and wedding related Pinterest accounts. Sure enough, we would come across a site like Green Wedding Shoes; a site that has massive followers across a wide range of social channels while focusing on self-styled weddings. We would also come across Rustic Wedding Chic, a highly focused site sharing ideas related to rustic, barn-styled weddings that still has strong follower counts across several channels. If a brand was pitching denim and lace wedding products, they might dub Green Wedding Shoes an influencer and Rustic Wedding Chic an evangelist, opening the door to developing different styles of approach for each of them.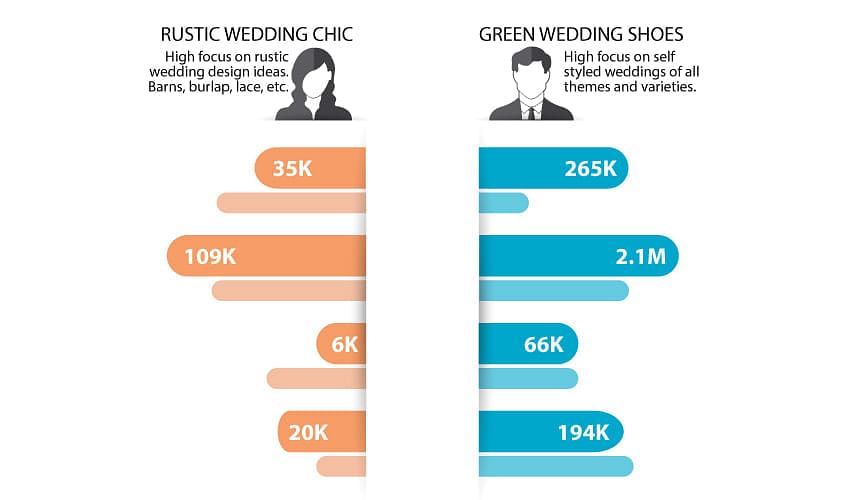 Best Practices for Influencer Outreach and Engagement
While Influencer Marketing has been going on to some degree since the first blogs came online, we've only recently started to see any real discussion of best practices arise. Brands are beginning to understand the value of influencer relations as an ongoing relationship that must be cared for, developed and mutually beneficial. There are plenty of influencer marketing collaborations where the influencer receives direct compensation for their efforts, however, many brands are still effectively working influencer marketing from more of a public relations standpoint than an advertising one.
In addition, there are several best practices outlined for engaging with both influencers and evangelists in the Influencer Marketing 101 infographic included at the bottom of this post, so it's also critical to keep a focus on setting and managing expectations. The marketing world is full of many examples of companies running afoul of public opinion through poorly executed influencer marketing campaigns.
Sometimes, these problems arise because of a tone-deaf approach is taken by the brands themselves. Other times, problems arise because the star powers employed by brands mess things up themselves. Both Naomi Campbell and Scott Disick famously cut and pasted marketing directions into their social posts, embarrassing the brands who had employed them.  Spend some time in influencer marketing circles, and you'll also hear no shortage of stories about influencers who have gone rogue, and the challenges of keeping some personalities on target to a brand's image and messaging.
Starting Your Journey into Influencer Engagement
As with both social media and marketing, it can be a good idea to take your time researching the concept before jumping in with both feet. Start researching potential influencers and cataloging them based on topics covered and audience sizes, but save your outreach efforts for a little later down the road. After you've decided who you might wish to work with, it would be wise to spend a little time engaging with their content as a consumer might. Then you will be ready to reach out to test the waters of building a relationship.
Learn more about the best ways to find, approach and create an ongoing relationship with influencers and evangelists through Simplilearn's Influencer Marketing series, available as part of the Advanced Social Media Marketing Course.