Introduction to Service management Tutorial
This is the introductory lesson of the ITIL Foundation tutorial, which is part of the ITIL® Foundation Certification Training. This tutorial will give you an overview of the course, its prerequisites, and the value it will offer to you.
ITIL Foundation Tutorial Description
ITIL® Foundation is the most widely acknowledged entry-level ITIL certification for IT professionals.
This tutorial will explain ITIL services lifecycle and includes topics such as how lifecycle stages are linked, the processes involved in the lifecycle, and the best practices for enhancing the quality of IT service management to reduce costs and increase productivity.
Let's understand the objectives of this ITIL Foundation tutorial in the next section.
Objectives
By the end of this ITIL Certification training you will:
Gain knowledge about IT Service Management best practices, generic concepts, key principles, and ITIL 2011 process models that are required for the ITIL Foundation exam

Gain a comprehensive understanding of the purpose, objective and scope of service strategy, service design, service transition, service operations, and Continual Service Improvement

Learn to apply ITIL tools, techniques and concepts to improve efficiency and effectiveness in business changes to optimize the customer experience

Understand how to apply lean principles and automate standard tasks to improve the efficiency of ITSM processes

Save costs by centralizing activities and teams using well-defined fit-for-purpose and fit-for-use processes

Align IT services with the needs of your organization
Let us now look at the target audience in the next section of this ITIL Foundation tutorial.
Target Audience
The ITIL Foundation level is for:
IT Managers/Support Teams

IT Architects, Planners, and Consultants

System Administrators/Analysts

Operations Managers

Database Administrators

Service Delivery Professionals

Quality Analysts

Application Management Team/Development Team

Process Owners/Practitioners
Let us now look at the exam prerequisites for ITIL Foundation tutorial in the next section.
Prerequisites
There is no defined eligibility criterion for ITIL Foundation tutorial.
Let us explore the lessons covered in ITIL Foundation Tutorial in the next section.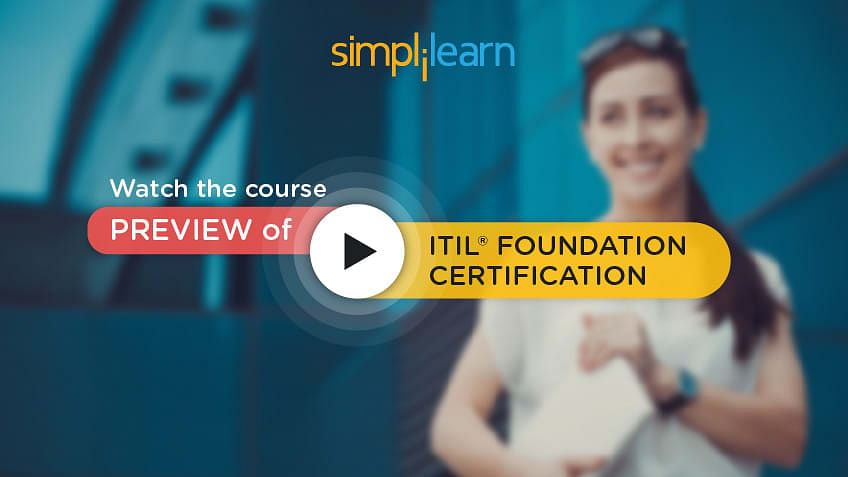 Lessons Covered in this ITIL Foundation Tutorial
There are six lessons covered in this tutorial. Take a look at the lesson names that are listed below.
Lesson No

Chapter Name

What You'll Learn

Lesson 1.1

In this chapter, you'll be able to:

Explain the best practices in IT Service Management

Identify the stakeholders in service management

Describe service management roles and responsibilities

Explain the types of service providers

Lesson 1.2

In this chapter, you'll be able to:

Identify the components or phases of service management lifecycle

Explain the relationship between governance and IT Service Management

Lesson 2.1

In this chapter, you'll be able to:

Describe the purpose, objective, scope, and value of service strategy

Identify the four processes in service strategy

Explain the different types of services provided

Lesson 2.2

In this chapter, you'll be able to:

Lesson 2.3

In this chapter, you'll be able to:

Describe the purpose and objective of the different processes in service strategy

Describe the activities involved in Service Portfolio Management or SPM and financial management for IT services

Identify the responsibilities of the Business Relationship Manager

Lesson 3.1

In this chapter, you'll be able to:

Explain the purpose, objective, scope, and value of service design

List the roles and responsibilities of service design

Lesson 3.2

In this chapter, you'll be able to:

List the 4 P's of service design

Explain the major aspects of service design Identify the components of Service Design Package

Lesson 3.3

In this chapter, you'll be able to:

Describe the eight processes of service design

List the aspects of governance resulting from design coordination

Lesson 4.1

In this chapter, you'll be able to:

Describe the purpose, objective, scope, and value of service transition

Explain Configuration Item or CI and Configuration Management System or CMS

Lesson 4.2

In this chapter, you'll be able to:

Describe the purpose, objective and scope of transition, planning, and support

Explain the purpose, objective and scope of change management

Identify the purpose, objective and scope of Release and Deployment Management or RDM

Explain the purpose, objective and scope of knowledge management

Lesson 5.1

In this chapter, you'll be able to:

Describe the purpose, objective and scope of service operations phase

List the principles of communication

Explain events, alerts, and incidents

Lesson 5.2

In this chapter, you'll be able to:

Explain the purpose, objective, scope, value and basic concepts of the processes of service operations

Lesson 5.3

In this chapter, you'll be able to:

Explain the purpose and objective of the service desk function

Describe the types of service desk functions

Identify the purpose, objective and role of functions such as technical management, application management, and IT operations management

Lesson 6.1

ITIL - Introduction to Continual Service Improvement Tutorial

In this chapter, you'll be able to:

Describe the purpose, objective and scope of CSI

Explain the value of CSI to improve business

Lesson 6.2

In this chapter, you'll be able to:

Describe the key concepts and principles related to CSI

Explain the seven-step improvement process

Explain the model behind continual service improvement
Conclusion
With this, we come to an end about what this ITIL Foundation tutorial includes. In the next chapter, we will discuss the Introduction to Service management Tutorial