With nearly 3.96 billion people across the globe using social media, businesses now have the opportunity to reach half the world's population through paid social media advertising. It's an incredible audience size for any organization — small or large — yet it can't be the only deciding factor for launching a campaign. That's why we've mapped out the various benefits and challenges of using paid social media advertising in this blog. Read through each one, share with your team, and consider whether or not this is a strategy that adds value to your online efforts.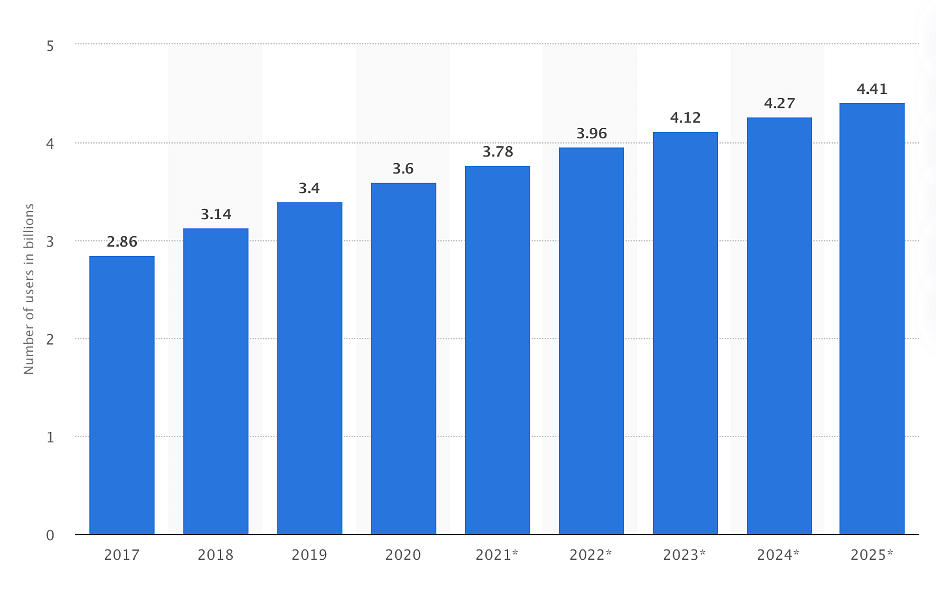 Types of Social Media Ads
In the olden days, the only ways of advertising were billboards and flyers. However, in recent times ads have changed drastically. Here are a few examples of social media advertising - 
1. Story Ads
Story ads are majorly popular on Instagram. It has around a billion active users every day. Instagram takes data from the users' smartphones and shows them the relevant ads. For example, when a user searches for a product to buy on any online shopping platform like Amazon or H&M, it gets instantly notified on Instagram and other social media platforms. 
On Facebook, photos on stories are usually 6 seconds long, whereas video ads are 15 seconds long. Similarly, Instagram ads are almost the same as Facebook ads. Story ads on both platforms are usually displayed in full-screen format.
2. Messenger Ads
Social media advertising not only works on newsfeeds and stories; it also appears on Facebook Messenger. Such ads are usually displayed between conversations. Users are provided with a choice to click on them if they want to buy them or know more information. It will direct them to specific websites to see more products and services.
3. Video Ads
According to research by Wistia in 2016, most users watch the whole video ad if it's under 2 minutes. The longer the video duration, the smaller the percentage of people that watch them. 
It indicates that the current world is fast-moving and so the people have no time to waste, so they prefer shorter videos with as much information as they can provide. These ads are usually common on all social media platforms.
4. Photo Ads
Photo ads are the most common means of advertising. They appear everywhere as they are all over social media. Compared to story and video ads, photo ads work simply. There is no time duration as the users can easily scroll through after looking at them. 
The nature of these photos should be of high quality. It will attract more and more users to view the products. Apart from that, the content delivered on the photos should be simple and crisp so that the users can obtain maximum information in less time. These ads are very much useful for creating brand awareness.
The Benefits of Using Paid Social Media Advertising
In 2020, businesses spent $40 billion on paid social advertising. By 2020, advertisers are expected to spend $56 billion. The reason for the increase — the benefits. While companies experience their own levels of success, there are a few main advantages you can expect when advertising on social platforms.
Increased Reach – Given the massive audience size on social media, there is plenty of opportunity to reach more people than you would with organic content.
Improved Targeting – As one of the major benefits of paid social advertising, targeting helps you narrow in on your specific audience by behaviors, activities, preferences, locations, job titles, and interests. Your ads will display for users who are most aligned to your ideal buyers, instead of a broad audience that may or may not be interested in your content. Additionally, this information can be used for retargeting ads.
Speed to Market – As with any paid advertising, you can quickly get content launched for immediate viewing. As soon as your campaign is live, ads will begin displaying to users on the social platforms you've chosen.
Greater Content Visibility – You don't have to wait for people to come to you. With ads, you can put your content in front of them with the frequency and budget you control.
More Website or In-Person Traffic – Increased traffic to your website is another benefit of paid social advertising, which can help you boost conversions on your website pages. If you have a storefront, then ads can help get more people to your retail location.
Strengthens Online Presence – As social media users see your ads, you can build a presence and awareness for your brand as people continue to see your content on platforms where they spend their time.
Whether you're looking to reach, engage, or sell on social media, paid advertising can be a smart vehicle with many benefits. However, there can also be some challenges associated with this channel, which are equally important to consider.
The Challenges of Paid Social Advertising
Challenges exist with any advertising initiative, and paid social media is no different. Nevertheless, typically the advantages of these ads typically outweigh the disadvantages. Here are a few of the obstacles that businesses may encounter along the way:
Choosing Platforms – When it comes to social advertising, the platform makes all the difference. If you choose a platform where your audience doesn't spend much time, then you're wasting ad dollars and, quite frankly, your time. Be sure you know who your audience is, where they spend time on social media, and what their intent is on those platforms. That way, you can select a platform that should give you the best return.
Creating Realistic Goals – Before you embark on a paid social campaign, you'll want to establish goals that are realistic for your business. Otherwise, you could be setting your campaigns up to disappoint your team and decision makers.
Determining KPIs – It can be challenging to determine the best KPIs (Key Performance Indicators) for your paid social media advertising efforts, but it's an essential step in making the most of your budget. This article lays out some of the basic paid social metrics, like impressions, clicks, and conversions.
Increased Competition – The opportunities of advertising on social media are not lost on other companies. It's a popular way to promote, which means you can expect more competition for ad space on social platforms.
Managing Budget – It's important to stay on top of how your budget is being allocated across platforms, how much you're paying per click, and how frequently your ads are displayed. This can be one of the most time-consuming aspects of paid social, but a PPC specialist can do the job for you.
User Data Tracking – Apple has created a new challenge for advertisers with the recent introduction of its opt-in prompts for apps. These pop-ups will display in each individual app, giving iOS users the opportunity to opt-in to tracking of their activity. This is expected to cause significant barriers to user data and advertising on social media platforms, as more users choose to deny access to their data.
Given these challenges, it's essential for businesses to plan for these considerations in order to have a positive experience with social advertising. It may also benefit the organization to work with an experienced PPC specialist who understands how social advertising works on different platforms, how to measure performance and manage campaigns, and adjust campaigns according to what's working and what's not. 
Interested to know more about social media marketing strategies? Check out the Advanced Social Media Marketing Training. Enroll now.
How to Manage Your Social Media Advertising Campaign? 
Let us have a look at the ways to manage social media advertising campaigns:
1. Manually Running Your Ad Campaigns
The cheapest option to run an ad campaign is to run it manually. It is also the simplest option. One can set up a campaign by simply choosing an advertising platform. Running it manually provides freedom to the one who is testing it. If they don't like it, they can go for the other one. It eliminates the expenses involved in agency fees and ad management tools. However, it takes time and utmost commitment to achieving something bigger. It will not be compatible with everyone. If you are new and on a tight budget and have no other choice to pick from. 
2. Running Ad Campaigns Using Automated Software
There are many tools you would utilize to run your campaign. All these are automated and are highly efficient. They can productively manage your campaigns. One example of an automated ad manager is Adext. It uses Artificial Intelligence to run and manage the whole campaign. Using this, you can focus more on other major things than spending more time and effort on running ad campaigns.
3. Hiring a Managed Service to Run the Campaigns
This option is relatively more expensive compared to the other two. It could fetch you more benefits and is very simple to use. Hiring a professional is much more advantageous and less risky than doing it independently or using automated ones. It is also the most reliable option. 
Steps to Build a Creative Social Media Advertising Strategy
You need to follow a few steps to create an attractive social media advertising strategy. Let us go through them one by one.
1. Know What to Sell
It would help if you determined what and to whom you need to sell. Categorize your products and services based on their values. Try to sell the most valuable and common thing you have in your business. It will help you fetch maximum results. It should be the center of your advertising strategy to attract more people.
2. Research Your Audience
It is not always about the product but also about the reputation and value of the company. So, you should keep in mind that your customer is not just buying your product. Most users look for three major things:
Physical: The product itself
Identity: How it makes the customer feel
Functional: What it does for the customer
Therefore, you need to remember who your target audiences are and what they want from you. You need to read reviews and blog posts to do so.
3. Use an Attractive and Creative Platform
Creativity is one of the most important factors you should consider while creating your website or software. The platform should be user-friendly and well-maintained. If the customers notice any bugs while using your platform, you should have to fix them as soon as possible, or else there is a higher possibility that you will lose them.
Make improvements in every update and always be open to suggestions from people. Therefore, the more attractive and creative your platform is, the more successful and famous it will be. You only have less time to gain your customers' attention, and you should be able to show them how good they are in that short time.
4. Create an Ad Campaign
Creating a digital marketing campaign will help your company attract more users. While doing so, you should define your goals, which should be achievable. In addition, try identifying your target audience and creating customer personas.
Finally, demonstrate the budget that you would spend on the campaigns. All these techniques will help you kickstart your digital marketing campaign.
Learn More About Paid Social Advertising
Simplilearn's Advanced Social Media Certification Training Course covers social media advertising and other disciplines, including advanced social media, content marketing, and web analytics. Select from self-paced learning, online bootcamp, and corporate training options.