Top Project Management Apps & Tools for your Business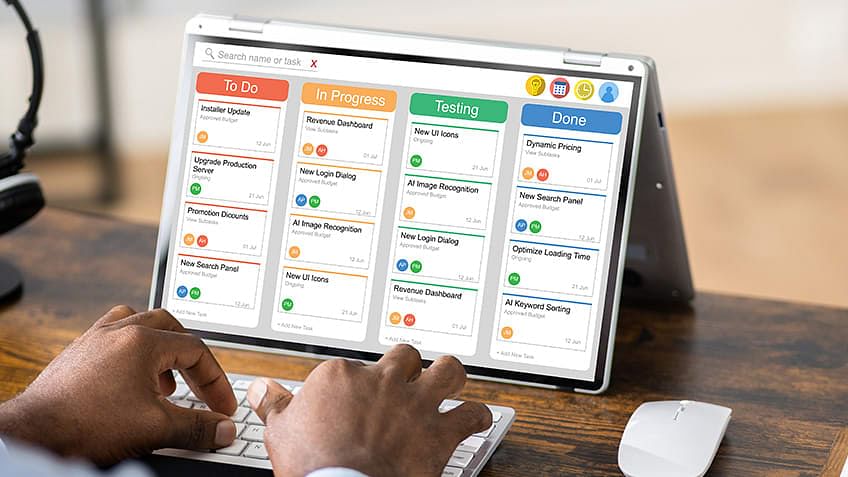 Wondering which Project Management apps are apt for your business? This would, naturally, depend upon your business needs, and would vary from one enterprise to another. There are some applications and tools that are indispensable to any business, however –here's a compilation of the 7 top Project Management tools that can help you work wonders!
 
1.    MS Project
Microsoft Project or MS Project is one of the most popular Project Management apps developed and sold by Microsoft. It is the most sought after desktop tool by Project Managers as it helps in managing tasks and time sheets, and aids in collaborating and identifying issues and risks from virtually anywhere.
MS Project is available in two editions- Standard and Professional. The Professional edition comes with the ability to connect to the Microsoft Project Server, plus has more features like team collaboration, etc.
MS Project generates budgets taking into account assignment work and resource rates. This enables Project Managers to easily analyze progress and antedate resource requirements with elaborate and customizable out-of-the-box reports. It also enables you to define business drivers, measure strategic power of competing ideas, take right funding decisions and view project and resource status across the business.
Find more information about
Microsoft Project certification training
.
2.    Asana
Asana
was co-founded by Duskin Moskovitz (co-founder of Facebook) and Justin Rosenstein (ex-engineer, Facebook) in 2008. It is a web and mobile application primarily invented to enable teamwork without long threads of email. The app is named after the Sanskrit word for a yogic posture.
Asana works by creating tasks and subtasks that can be used for
Project Management
, brainstorming, goal-setting and meeting agendas. Designed like a desktop, Asana has a series of windows you can open, close or switch between. It also has customizable views like due date or project. In Asana, each team gets a workspace that further contains projects and projects contain tasks. Users can add comments, files, tags, conversation in each task. Asana launched Organizations in 2013 which enabled corporates to use Asana at an enterprise level as well. Asana's uniqueness rests in its ability to integrate with a number of applications like
Evernote
,
Dropbox
,
WordPress
, Harvest,
HipChat
, Google Drive and more. 
Pricing: Asana is free for unlimited number of teams with members up to 15 in number. Prices start from $50 to $800 per month depending on the number of project members in a team or the organizations. 
3.    Gantt Chart
Gantt Project or Gantt Chart is often compared with Microsoft Project both in terms of features and complexity. It is a type of bar chart that illustrates project schedule from the start and finish dates of the terminal elements and summary elements of a project.  This management platform helps its users to quickly create a structured schedule for any project while offering task management and milestone implementation at the same time.
The first
Gantt Chart
was devised by Karol Adameicki in 1896. However, it was 15 years after Adameicki that Henry Gantt came up with a revised version of this chart. It is an open source software also allows its users to identify problem areas in the workflow so that companies can set goals for themselves. These charts can also be used to track shifts or tasks, vacations and all other kinds of out of office tasks. 
4.    AceProject
AceProject is a high-level web based project tracking software that allows you to manage your tasks, timesheets, documents and expenses.  It was developed by Canadian company Websystems in 2001 as a free task manager and is distributed both as SaaS and on- premises software. Apart from Project Management, this software helps in portfolio management, expense management, document and HR management. Currently, Aceproject is available in English and French languages.
 
It is a complete project management solution best suited for individuals, teams, and business enterprises. Users can access the project dashboard that gives instant information with color coded graphs and other details. Documents and files can be shared with all its members, and it is completely safe to use AceProject on various mobile applications. Companies like AT&T, Goodyear, Panasonic, IBM and Toyota are already using this application.
 
AceProject comes in flexible cost-plans starting from a 100% free package to $99 a month. It is available under various schemes namely, Basic (free), Standard ($19/month), Advanced ($39/month), Silver ($59/month) and Gold ($99/month).
 
5.    Wrike
Wrike
is another online Project Management collaboration tool that enables its users to monitor projects, deadlines and schedules, prioritize tasks and work together with other multifunctional teams. It is a user-friendly tool where every user can easily navigate and communicate. 
  Wrike was designed by Wrike, Inc., a Project Management application service provider located in California. Wrike is available in English, French, German, Spanish, Italian, Russian, Japanese and Portuguese languages. Wrike is available free for small teams up to 5 users. It also comes under Professional subscription for teams that need project planning and collaboration ranging from $49 to $99 per month. However, pricing for Enterprise version is available upon request and it primarily depends on the size and needs of the enterprise. 
6.    Google Docs
Google Docs is another heavily used tool in Project Management. Google Docs enables its users to make presentations, spread sheets, and text documents while covering almost all the features of MS Office. The best part about this software is that you can share files and edit documents from virtually anywhere provided you have an internet connection. This frees you from sending and receiving mails containing long and heavy attachments. With the advent of Google Docs, USBs have become extinct. With cloud-based software, approximately 58% of the Fortune 500 companies are using Google Docs on a regular basis. Google Apps are available under flexible and annual plans depending upon your specific storage needs.
 
7.    Evernote
This is a note taking app that helps you to share notes within and between teams. A note can be a small piece of formatted text, a photograph, a voice memo, a webpage or a handwritten piece of text. It also keeps an eye on the overall development of the project. With Evernote, you can work from anywhere and stay productive. This is a mobile friendly software, and hence you can use it on the go. Evernote is available under basic (free), plus and premium plans.
Find our PMP® Certification Online Classroom training classes in top cities:
---