In a kind of cloud revenue 'alignment of the stars,' the big three cloud providers—Amazon Web Services (AWS), Azure, and Google, known collectively as AAG—announced their financial data on April 28.
I always pay attention to the financial announcements because they offer real insight to the state of enterprise IT cloud adoption. And the news reinforced the general intuition of the industry: cloud computing is big and getting bigger—and it's probably not going to stop getting bigger for a long time.
AWS is the only one of the big three to break out its pure cloud financials, and its announcement illustrates just how big its business is.
For the quarter, AWS racked up $3.66 billion of revenues, achieved on a 43 percent growth rate year over year. The chart below depicts its quarterly revenues since 2015 along with the quarterly growth rates. As one can easily see, the only negative about AWS's quarter is that its growth decelerated to "only" 43 percent.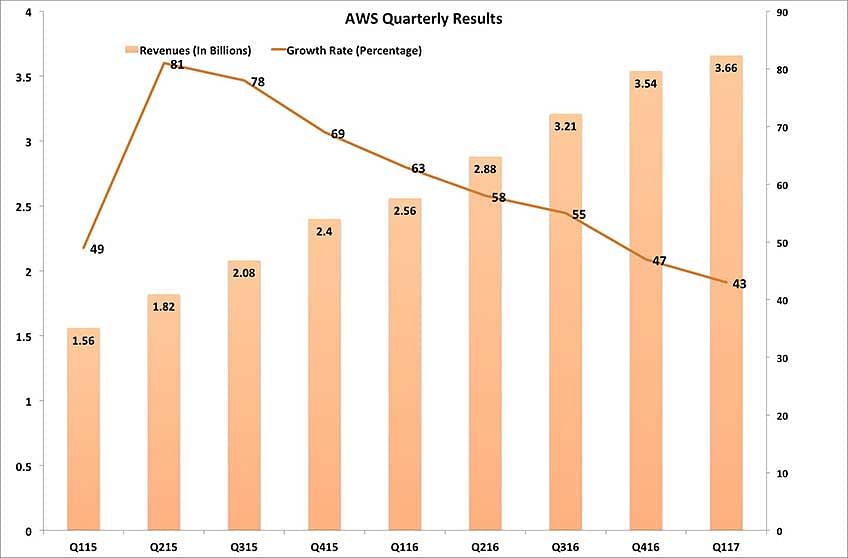 The other AAG members do not break out their cloud numbers, but there are ways to get a sense of the size of their cloud businesses.
Microsoft lumps its Azure number in with a category it calls "Commercial Cloud," which includes Office365, Dynamics365, and "other properties." Microsoft stated that its commercial cloud annual run rate exceeds $15.2 billion.
Because of this revenue lumping approach, it's not clear how Azure itself is doing, but the company did note that Azure grew 93 percent year over year.
Another way to approach the question of pure Azure numbers is to look at analyst estimates. One analyst, JP Morgan, put Azure's 2016 yearly revenues at $2.7 billion, or around $675 million per quarter. Of course, with such torrid growth rates, that would more likely be something like $300 million for Q116 and something like $800 million for Q416. Frankly, this seems a little high to me, but if one accepts the estimate, it implies that Azure could exit 2017 at a $4 billion plus run rate.
Google announced its numbers as well, and like Microsoft, it lumps its cloud numbers into a larger category, which it refers to as "Google other revenues." Said other revenues totalled $2.2 billion for the quarter, a large part of which, according to Google, was its cloud and apps revenue. This category achieved a 33 percent year over year growth rate. It's hard to know just how much of this is actual cloud revenue, so one might put that figure at perhaps $200 million.
So, to sum up the actual and estimated numbers: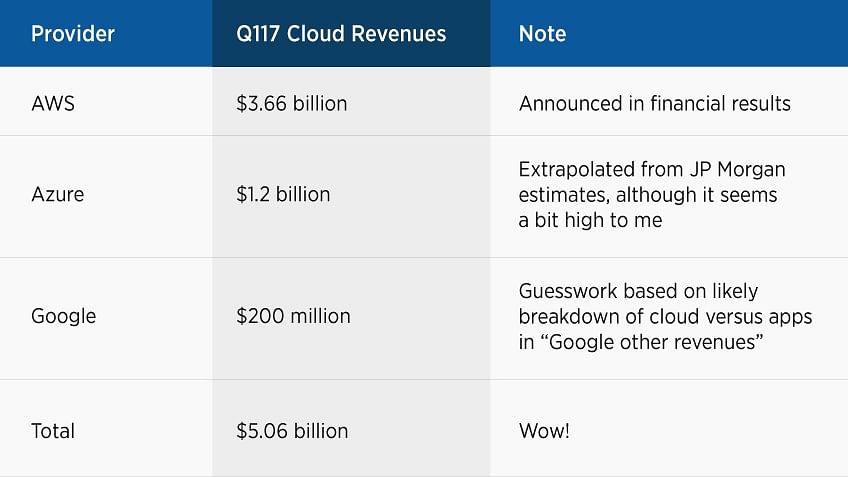 Synergy Research Group published a chart comparing the provider market, as seen below: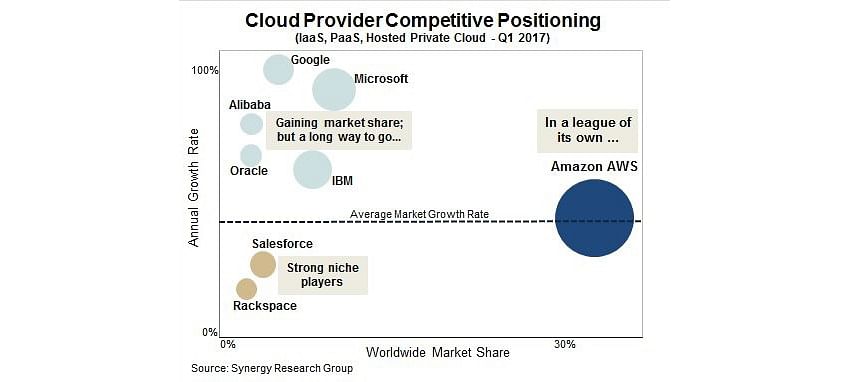 Synergy's estimates, as portrayed in the chart, seem roughly in line with the table above.
The blended growth rate of the cloud providers, adjusted for revenue percentages of the individual providers, is on the order of something like 60 percent. This indicates the big three revenues might achieve something around $23 billion of revenues for 2017, $39 billion for 2018, and $62 billion for 2019.
To get a sense of just how powerful the big three vendors are in terms of the tech industry, one member of a Facebook group I participate in, posted this after Amazon announced its numbers: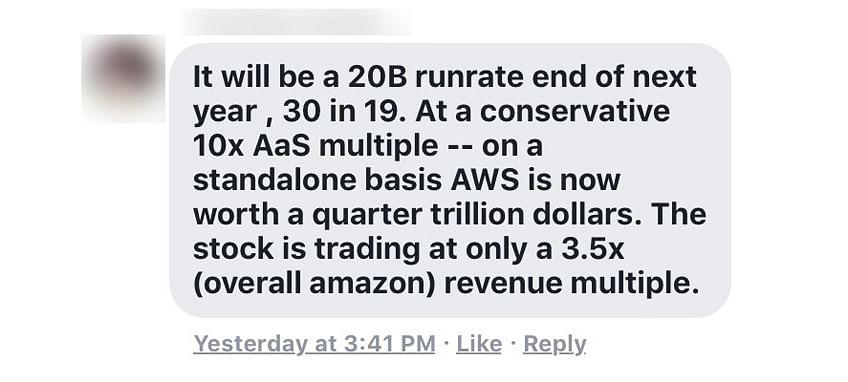 I think his math is a little off, as it puts a current valuation based on what he estimates AWS 2019 revenues will be. On the other hand, his 2018 and 2019 AWS revenue numbers appear to be a bit conservative—I put them at something like $24 billion in 2018 and perhaps $33 billion in 2019. So his $250 billion AWS valuation looks to work out in the end.
Have you always dreamt of designing and deploying dynamically scalable and reliable applications on cloud platforms? Learn everything with this Cloud Computing Post Graduate program, and scale up your career today!
3 Steps IT Organizations Need to Take
The cloud provider revenue figures, growth rate, and valuation estimates make clear that public cloud computing is an unstoppable force in the technology industry.
Every enterprise IT organization must come to accept the long-term shift in infrastructure use. Here are three action steps your IT organization should take in light of the cloud numbers outlined above:
Adopt a cloud-first policy. The blistering growth of the AAG providers illustrates that end users are fleeing internal application deployments in favor of public cloud environments. You should align with this approach and adopt a policy of cloud-first, meaning the default deployment option for applications should be with one of the public providers. Only if some application characteristic precludes this approach should on-premise deployment be considered.
Deliver cloud-native architecture. While many IT organizations gain benefits from transferring traditionally-architected applications to public cloud environments (the so-called "lift-and-shift" approach), that's not the way to get the best outcomes from using the public providers. Designing applications with a cloud-native architecture can increase availability, improve resilience, reduce costs, and most importantly, deliver functionality impossible to achieve in traditional infrastructure environments.
Provide internal skill acquisition. It's unfair to expect staff with traditional skills to deliver cloud-native architectures. It's critical to mirror the external adoption with internal transformation. This implies different application architectures, adoption of agile and DevOps processes, and new approaches to application monitoring and management. Key to implementing these new approaches is skill development, and Simplilearn offers a wide range of courses to help build new skills.
Every quarter's cloud provider financial results makes clearer the reality that IT is undergoing a sea change in infrastructure and applications. Every IT organization must respond to that sea change or risk being inundated by change.