You are probably in a continuous content creation cycle. But the question is, is that content getting to the right audience? Getting ROI on your content requires aggressively pushing it onto the screens of relevant audiences. This is accomplished through content distribution.
There's no return on investment if your content doesn't reach viewers and readers. Today, it's become harder to accomplish this goal, what with the oversaturation of content on clone websites that are similar to one another. Another challenge is the ever increasing difficulty of getting organic traffic, as most social networks now expect brands to 'pay-to-play'.
Content distribution refers to any means used by brands to disseminate content to large and targeted audiences. Content distribution platforms are many and are increasing by the day, but they can be best categorized into three broad categories - Paid media, owned media and earned media.
An in-depth look at owned, paid and earned media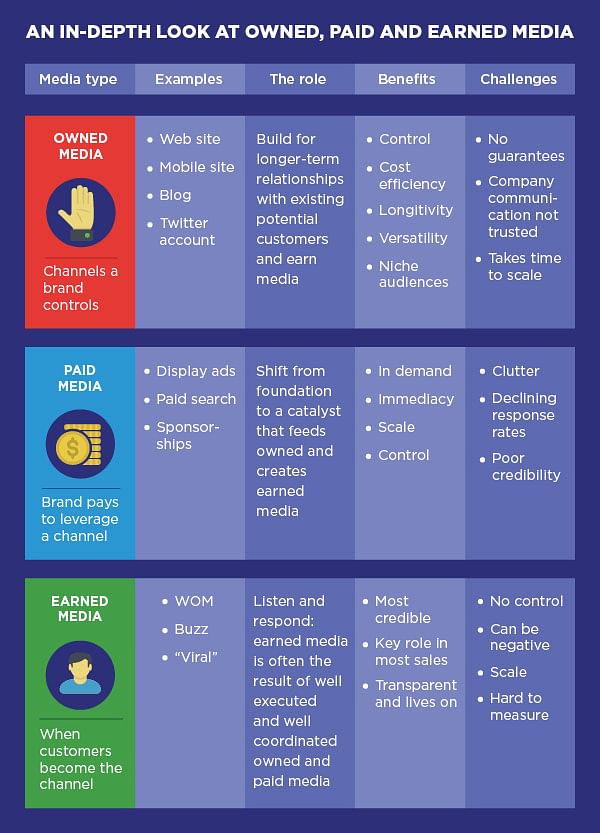 Paid media labelled so because brands have to pay to access and use it to get wider reach for their content. Building a new brand can be difficult, which is where paying for content marketing and distribution comes in as it allows you to create a presence on platforms that people are already using.
To maximize returns on paid media, your ads should always lead back to your owned media. For instance, content that teases at solving a problem will lead to click through rates as audiences have the need to find solutions and answers to their problems.
Paid content distribution should not be your main hub but should instead serve as a means for directing audiences to your owned media. For this to work, your owned content has to be captivating, entertaining, relevant, and add value to your audience. Examples of paid media include social media advertising, pay per click, display ads, and paying influencers for shares and retweets.
Owned media is completely in your control and is not subject to the rules or doings of others. Examples include websites, blogs, and social media channels. Core content should only be published on platforms you own as it's the only way to ensure your content isn't subject to changing rules overnight. There have been cases where paid platforms like Facebook have changed their rules, thus destabilizing many content owners. While paid platforms are important, the single, biggest focus should be on what you can control.
Earned media - If a customer says something great about you on Facebook, that customer becomes part of your distribution channel, and because it's your prior efforts into product, marketing, or customer satisfaction that have led to the recommendation, you have essentially 'earned' that channel. This is very powerful because when other audience members see someone else vouching for you, it gives your content and brand credibility, which immediately causes them to trust your brand.
An important characteristic of earned media is that it improves your organic ranking on search engine pages and has the potential to take content 'viral'. Better ranking on search engines is a key driver for brand success as it places your owned media in a prominent position to be seen, create more engagement, and ultimately elevate your owned media to 'authority' status. Examples of earned media include word-of-mouth, shares, reviews, reposts by yourself or third parties.
Key Takeaways
Brands tend to prefer some content distribution channels to others. While this approach is effective, it pays more to have a strategy that incorporates owned, paid, and earned media.
All three media channels are important but may not apply in equal measure to every brand, and even if they did, resource constraints need to be factored in. To devise a successful content distribution strategy, you have to evaluate how each might be suited to you and then decide where to allocate your resources in a way that makes sense.
Owned media serves as an extension of your brand. As long as you put in work into creation and maintenance of your owned media, it will create more points of interaction.
Earned media will drive engagement, sentiment, and increase traffic. Good SEO and content strategies are the best ways to get earned media.
Interested in learning about paid, owned and earned media in detail? Enroll in digital marketing specialist course.
Content distribution and content marketing are not the same thing, but you need both.
In online marketing, content distribution and content marketing are usually spoken of as though they were the same thing. But the two differ in their objectives and the way in which they target audiences. Where content promotion focuses on sharing information in public spaces without targeting any particular group, content distribution aims to do the opposite. Content distribution is more targeted as it aims to send content to specific people.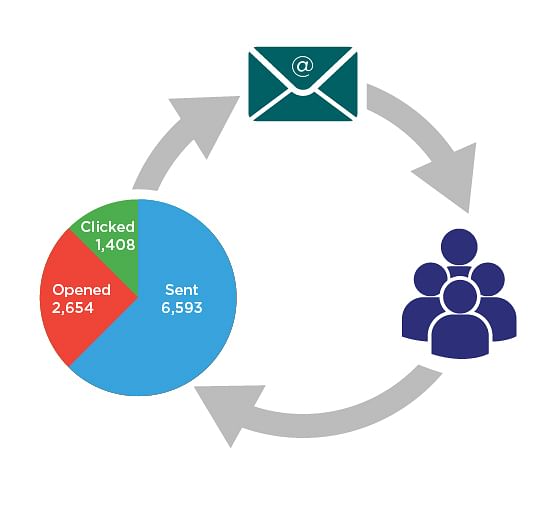 A content distribution approach will entail creating detailed and personalized messages, which are mostly disseminated by email. The combination of paid and owned platforms that you use, as well as how you use them, will determine whether you are promoting content or distributing it. It's also possible for a hybrid relationship to exist between the two. For instance, social media, while great for promotion, can also be used for targeting users with specific content.
In order to increase traffic, get valuable leads, and increase the number of conversions, you have to use both promotional and distribution tactics. By promoting, you maximize exposure of your content, whereas by distributing, you get your content to audiences that need it most.
Audience is a critical element of any successful content distribution strategy.
Without identifying whom to target, where they are located, what kind of content they're interested in, and how to distribute content to them, you will just be throwing your content at anyone and everyone.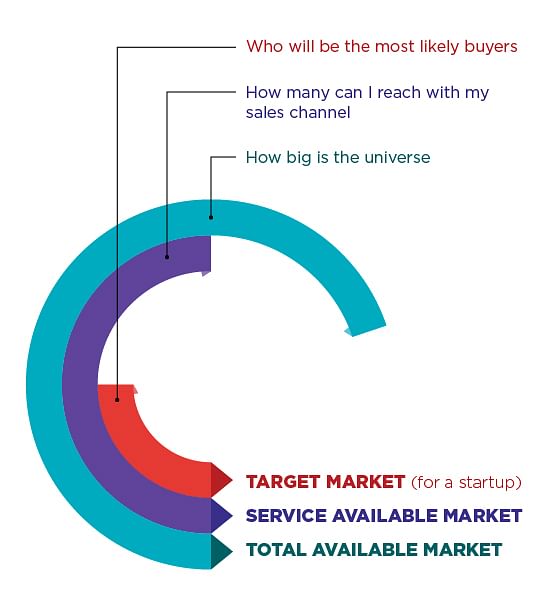 Brands go wrong especially when it comes to using paid media, as they tend to spend a lot of money marketing to wide, broad audiences using generic ad content, which usually misses its intended target. Content that is not targeted will irritate its recipients and lead to negative earned media.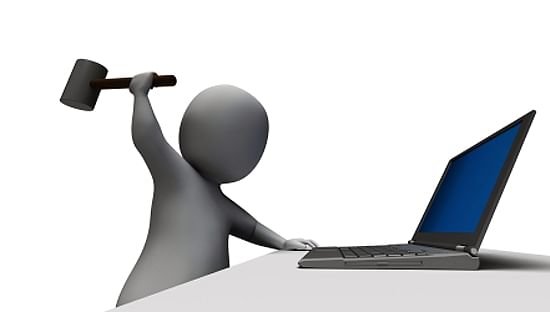 Image by Stuart Miles courtesy of freedigitalphotos.net
Additionally, by not focusing on your audience, you end up wasting resources. A solution to this problem lies in:
Rethinking your approach to find better ways to distribute content within your limited ad budget.
Deep diving into customer data to learn more about your customers, their interests, and their interactions with your brand. From this analysis, you can cluster customers into groups, such as loyal customers, frequent buyers, or uninterested customers.
Understanding your audience in terms of personas. Define their age, level of expertise, ambition, interests and the specific content distribution platforms they are likely to use.
By doing so, you will begin to understand your customer base better and notice unique demographic and behavioral traits that provoke responses to your calls-to-action. For instance, some customers want convenience, others want special offers, while others respond best to high-quality customer service.
Knowing customer purchase triggers will help you target them not only with the right content, but also at the right stage of buying.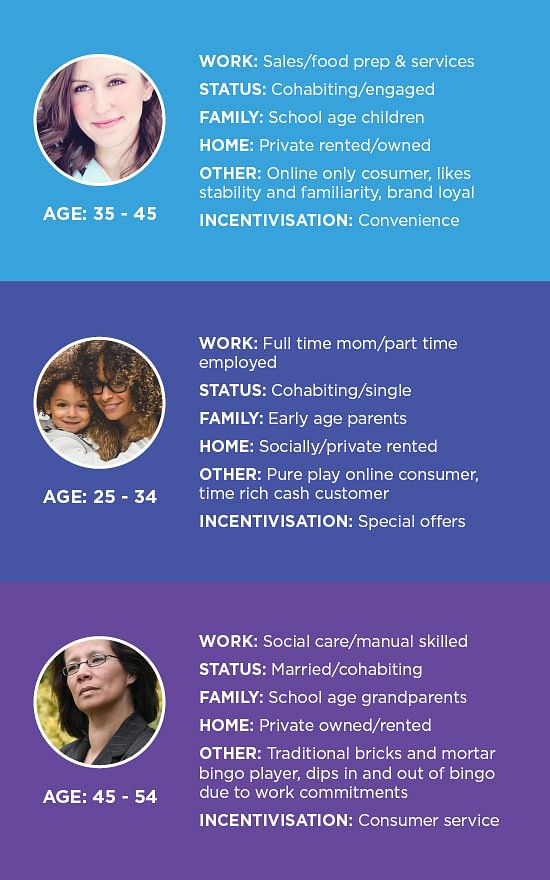 Content distribution methods that are a must for every marketer
Once you are sure you have content that:
Entices prospects
Provides answers to questions,
Attracts the attention of influencers,
Delivers more traffic & a higher ranking for your pages,
Your next concern should be to decide on the best method for getting your content to a wide but relevant audience. As mentioned earlier, though there are many ways of distributing content, the following are the popular content distribution channels with marketers:
Google ranking: Though it takes time to achieve visibility on search engines, it is important to focus your efforts on Google as a channel as people tend to trust websites with a high Google ranking.
Press releases: While press releases will not result in better organic ranking thanks to a 2014 panda update, they are still a very effective method for conveying new, useful, and valuable trade information.
Video: Top of the list of video content distribution is YouTube, which has grown to become the second largest search engine in the world. It is a must-use for 'how-to' content, product demo videos, or when you want to drive greater shareability for your content.
Social media (paid social and organic social): With so many people using social media -up to 65% of US adults according to pew research- it makes sense to use social media for content marketing and distribution. In addition, social media is also a great platform to take your content viral.
Email marketing: Email addresses gathered through customer subscriptions on your website are a gold mine when you want to focus your campaigns on niche subjects. Email allows for one-on-one interaction and creates rapport, which is important for making future sales possible. According to McKinsey & Company, conversion rates for email are three times higher than social media conversions. The trick with using email is that you have to make them stand out enough for a customer to want to open and read them within the first few seconds of seeing them.
Influencer outreach: This involves asking people with influence in your industry to comment on your website or share your content on their social media accounts. This method is effective because the readership views Influencers as authority figures in their respective areas of expertise, and your brand will also be viewed as an authority on the subject by association.
How much budget should you allocate for content distribution?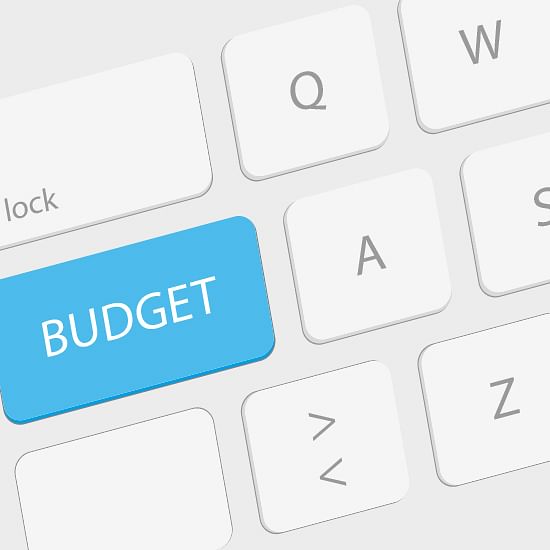 According to an article published by McKinsey&Company, traditional marketers allocate 60% of their budget to paid media and 20% to content marketing. Digital marketers, on the other hand, allocate 30% to paid media and 50% to content. The significantly lesser spend on paid media is because digital marketers are more adept at exploiting the social nature of digital channels, in which customers actively market for brands they are engage with by forwarding content.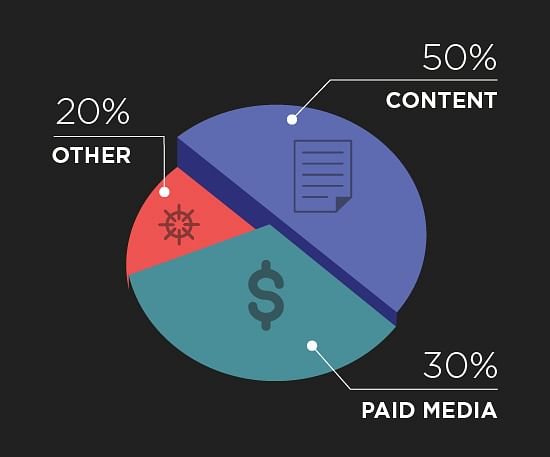 Your marketing objectives (such as brand awareness, demand generation, among others) and audience needs or preference, influence the allocation of budgets for content distribution. Each objective might require you to create different types of content to influence customers at every step of the buying cycle.
For instance, eBooks or blog posts meant to promote brand awareness will have a different cost structure than webinars or video tutorials intended for demand generation. Budgets also vary based on the platforms used for content distribution. For example, if your customers are professionals, you might choose to use LinkedIn over Facebook for paid social media and vice versa if you sell to B2C.
A breakdown for paid media spending
Paid social media: Paid social media adverts fall into two categories:
Promoted posts, where brands pay for increased visibility of posts in people's feeds
Social ads, which are clearly labeled and are displayed in social feeds or in the sidebar.
Taking the two most popular social media platforms for B2C and B2B, Facebook and LinkedIn, respectively, your spending is likely to be as follows:
Facebook: Since Facebook has the largest social media audience, it is recommended that you allocate a portion of your budget for promoting Facebook posts. Your starting budget for Facebook ads can be as low as $100 per month, and you can increase that amount as you continue to meet your objectives.
LinkedIn: Paying for sponsored updates is a worthwhile investment for B2B brands that want to reach professional customers on LinkedIn. There are two pricing models offered by LinkedIn: cost per click (CPC) and cost per 1000 impressions (CPM). If you are looking for higher response to your call-to-action, CPC is a better option. With CPC, since you get what you are paying for, it is more measurable, and hence, more widely used. CPM is more suited when running awareness-led campaigns.
The minimum you can spend daily for LinkedIn advertising is $10, so with a few hundred dollars, you should be able to run an effective campaign.
SEM: 66% of B2B marketers use search engine marketing channels such as Google AdWords to reach target customers early in the shopper journey. Budgets for SEM vary based on the competitiveness of the keywords used for the campaign.
Using content discovery platforms: These networks are increasingly becoming popular as they get people to read content within their usual web-browsing experience without feeling as though they are looking at an ad. Though the cost is significant with tools like Outbrain charging $5000 per month and Taboola $2000 monthly, 45 percent  of B2B marketers find this paid method very worthwhile.
Retargeting: 98% of people who visit a website do not convert on the first visit. Retargeting techniques are meant to get such visitors to engage with your brand once again. Retargeting ad space is sold in one of the following ways:
CPC (cost per clicks), where you pay for every click. You have to define how much you are willing to pay per click -$1, $2, or more- and your ads will be displayed on websites that fit that budget.
CPM (cost per mille or per 1000 impressions). Every time your ads are shown up to 1000 times on the web, you will be charged a certain amount. CPM varies across social, mobile, video and web. On average, CPM for video costs $24.60, while general display is $1.90 and $3.00 for mobile. These are estimates provided by Zenith Optimedia and shared on ad-exchanger. Note that with CPM, you will pay whether or not the impressions convert.
CPA (cost per acquisition). While with CPA you get charged when a sale is completed, the sale might not result directly from your retargeting ad. Cost structure can differ and is based on CPM or CPC and is also influenced by the click-through-rate and conversion rate that you are targeting.  A good example is illustrated here: https://www.clickz.com/static/cpa-calculator.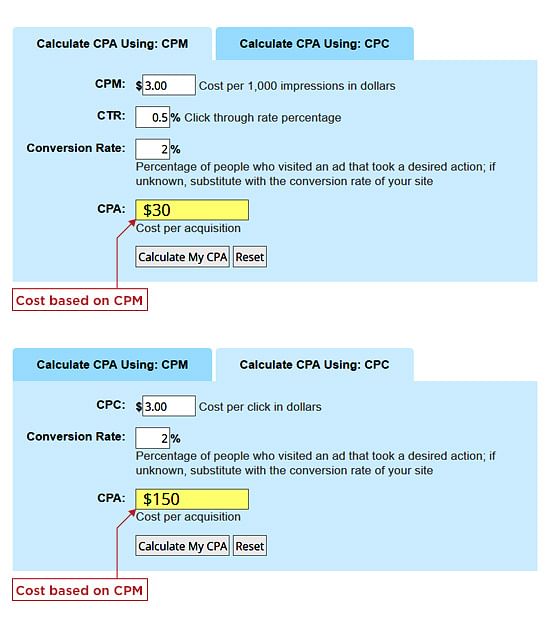 Expertise: It pays to have a team of people who know their way around digital marketing to handle your content distribution strategy. If your company is an established brand, you may decide to hire an SEM agency or hire an in-house team of SEM and social media marketing specialists. Agencies have different cost structures, hence the amount you pay will depend on the agency you hire. Payscale.com estimates that it costs $45,121 annually to hire a SEM specialist. If you don't have budget for full time staff or for an agency, you can hire freelancers at very attractive hourly or fixed rates.
Don't be afraid to try out different types of content and platforms in the initial stages. As you continue to explore new places to distribute your content, your understanding of your content distribution budget will become more scientific.
How does content distribution impact your brand?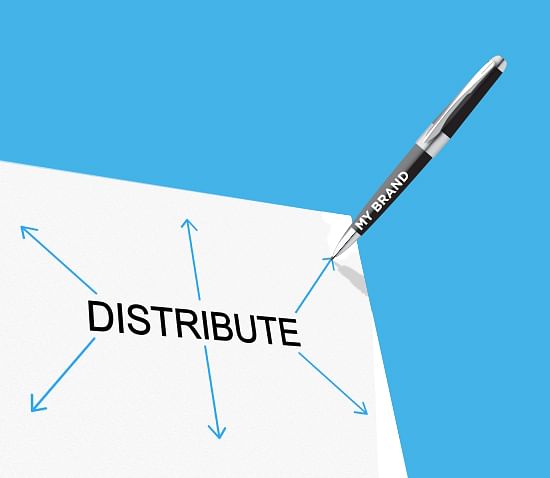 Image by hywards courtesy of freedigitalphotos.net
Understanding the impact of your content distribution strategy means going back to the three main channels, owned, paid, and earned, and seeing which of these you have invested time, energy and financial resources in. The best strategy involves trying a mix of these three types of media in order to maximize spend and results.
An omni-channel approach will promote a holistic understanding of your customers' behavior, your brand's reach, conversion and retention capabilities.
Using paid distribution methods such as display ads, PPC, paid social media and others, will help you drive traffic to owned media and quickly grow your business.
By repurposing your owned media assets such as social media accounts, websites, blogsites, mobile sites, and content, you can drive higher customer engagement and generate earned media.
Most of all, you will build trust, loyalty and brand awareness with earned media, which will help you improve your paid media results.
Video content distribution: You need to do a lot more than uploading your video content on YouTube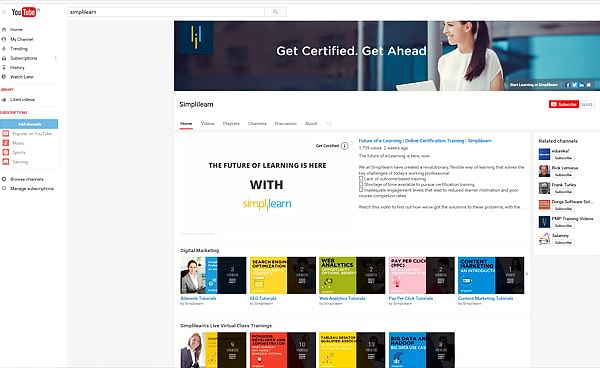 One of the most popular video content distribution networks is YouTube. Like all other distribution avenues, video distribution requires a sound strategy to succeed. Merely uploading a video to YouTube will not get you views. After uploading, you need to drive viewers to your channel, which can be achieved in the following ways:
Embedding videos on your owned media, such as a website. For instance, if your website is about real estate selling and you have made a video about financing for home buyers, embed it in your website.
When sending email, include links to videos and ensure that the link leads directly to the video.
Use social media platforms. Choose the platform to use based on the type of video content you have created. For instance, professional content is best shared on a platform like LinkedIn.
YouTube offers many advertising services, some free and some paid. Explore each of these ads as they will allow you to get your content in front of the right audiences.
Bottom Line:
Brands that intend to remain competitive online cannot do so without a solid content distribution strategy. The key is to experiment (within the limits of your budget), with different content distribution tools until you find an approach that works best for your Content Marketing Strategy. To learn more about content marketing as well as other online marketing techniques, you can check out the Post Graduate Digital Marketing Certification Program in association with Purdue University.