We are in a time where digital media has clearly replaced many traditional forms of marketing that worked in the past. eMarketer reports that digital overtook TV ad spending at the end of 2016. Companies can no longer ignore the need for a digital and social media marketing strategy. Digital marketing has the advantage of being faster, cheaper and more effective than traditional marketing. An email or social media campaign can connect a marketing message to a targeted subset of consumers for the fraction of the cost of a TV ad or print campaign.
One of the main benefits of digital marketing is the ease with which results can be tracked. Response rates for digital campaigns can be monitored in real-time. With the right analytics, companies can measure their customers' responses in fine-grained detail.
These advances in digital marketing have highlighted the need for the appropriate technical skills.
Why it's important to have digital marketing skills
In order for businesses to successfully execute digital marketing strategies they need to recruit, hire and train people with the right skills.
In a world where life has gone digital, marketing has to follow. Digital Marketing is one of the hottest fields in the world today, with tons of high-paying jobs available for skilled candidates.
The ideal candidate is often a hybrid who is strong in a number of areas, no matter what their specialty is. While specific strengths might be in analytics, social media, content creation or demand generation, it helps if everyone on a team has a grasp of the work being done across the company and is able to collaborate. No matter what their specialized skills are, digital marketers should understand how the different areas work together. This means that the strongest members of any marketing team are those with the skills and training across a wide range of digital marketing.
Hiring managers must evaluate the blend soft and hard skills they need in order to build a successful team. Managers need marketing departments where individual contributors think outside the box, with a combination of skills and qualities that allow them to be agile team players.
The pace of change is accelerating. Both individuals and managers need to continually review and assess their digital marketing expertise and quickly address any shortfall to avoid falling behind due to a digital marketing skills gap.
The marketing skills gap
Research conducted by Fractl and Moz (in which they reviewed over 75,000 job listings on Indeed.com) found that marketing skills are in fact in high demand but hiring managers are struggling to find talent. "Many believe this rapid rate of change has caused a marketing skills gap, making it difficult to find candidates with the technical, creative, and business proficiencies needed to succeed in digital marketing," Kelsey Libert wrote in a blog post on the report.  In a study conducted by Bullhorn, 64% of recruiters reported a shortage of skilled candidates for available marketing roles.
A survey by The Economist Intelligence Unit and Marketo highlights the gap between what marketers used to do and what they need to do today. The skills marketing professionals felt the need to develop include digital engagement and technology (39%), strategy and planning (38%), and data analysis (32%).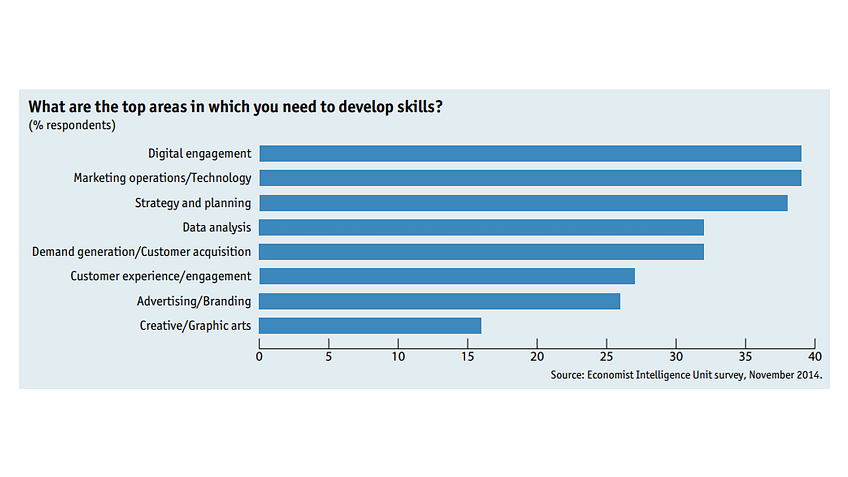 Source: The Economist Intelligence Unit; Marketo
The Economist states that successful marketers need the ability to combine the technical orientation of a project manager and data scientist with the big-picture view of a business strategist.
How to bridge the digital marketing skills gap
For job seekers with a desire to land a digital marketing job, a clear understanding of where they might have a shortfall, and what skills they need to backfill, is an essential first step.
Candidates should decide if they want to acquire 'softer' creative content creation skills, demand generation skills, or 'hard' analytics skills.
Companies require skilled professionals in every area of digital marketing. Digital video requires people with skills in scripting, shooting, and editing videos. Websites and social media platforms need people with SEO, SQL, HTML, CSS and CMS expertise (if you are not familiar with these acronyms check out the course listings!). Data Analysis is considered by many companies to be among the most important skill in digital marketing. eMarketer report that measuring content performance is a top priority for nearly two-thirds of marketers. Competent professionals need to understand the options for the measurement and the analysis of data, even if they are not the specialist running the numbers.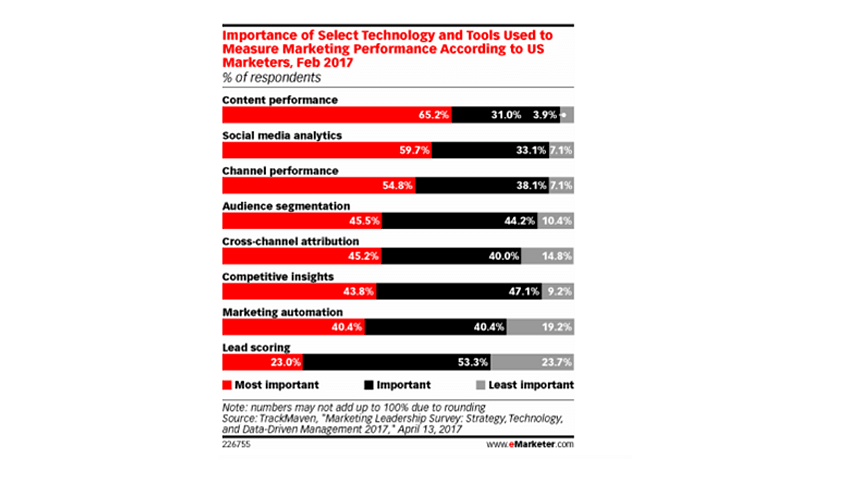 There are a growing number of training opportunities available for employees to acquire the appropriate skills.
While no single training delivery model works best for every learner, a learner centric model must be utilized. We've found that a "blended learning delivery model" coupled with 24x7 access to teaching assistants in combination with project based learning opportunities and quizzes/assessments increases competencies and proficiency.
Designed by expert authors, our Digital Marketing courses combine high-quality training in SEO, Social Media Marketing, and PPC with practical advice to ensure professional success. Also, check out our Post Graduate Digital Marketing Certification Program to learn more about digital marketing.