One important key to success is self-confidence. An important key to self-confidence is preparation.
-
Arthur Ashe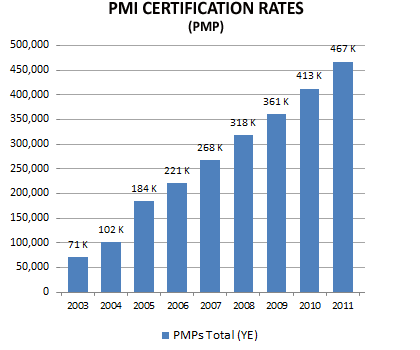 Getting those three magical letters (PMP) on your resume demands ultimate commitment and vast knowledge. Vigorous exam preparation is a mandate regardless of your experience and education. Successful PMP contenders have choses self-study or study groups as well as compound study aids. Let us now examine a few tips to clear PMP certification exam with flying colors.
Refer Latest Version of PMBOK Guide
Use the latest version of the PMBOK guide that is released by PMI (current version 5) to develop a concrete understanding of all the knowledge areas, processes, concepts and formulas.

You must also stay updated and be aware of the project management concepts and changes present in the latest version of PMBOK guide (version 5) over its previous version (PMBOK guide version 4) to make a comprehensive preparation for the exam. Appendix X1 in the PMBOK guide version 5 contains a detailed list of changes made to the PMBOK guide version 4. Some of these changes include increase in the number of knowledge areas from 9 to 10 (new Knowledge Area called Project Stakeholder Management) and an increase in the number of processes from 42 to 47.

PMI has released the 5th Edition of PMBOK Guide early 2013. However, until July 31, 2013 the PMP examination will NOT be based on this new PMBOK Guide. The examination will continue to be based on the 4th Edition of PMBOK Guide, released way back in the year 2008. Starting July 31, 2013 PMI will revise the examination to align with the new PMBOK Guide 5.
Practice Mock Tests
Mock tests can significantly increase your chances of passing the exam. Most mock tests could help you in preparing on a variety of questions that are generally asked. Consider practicing full-length mock tests from various sources, including organizations such as Simplilearn, PMstudy and others. You could also work on Project management practice tests, which contain sets of 10, 20, 50 or 100 questions to enhance your knowledge.

Full-length mock tests let you keep a track of time you take for completing the paper and help you in completing your exam on time.
Refer a Good PMP Prep Book
You should also refer a few of the great resources and PMP prep course materials from authors such as Rita Mulcahy and Andy Crowe. The PMP certification is loaded with difficult question and answers, which test your knowledge and ability to apply them in difficult scenarios. Studying for the exam could take up a significant amount of your time and commitment .Therefore, it is important for you to know what to study and how to study for the exam. This is where a good preparation material comes into the picture.

For instance, one of the challenges that you face while studying for the exam is dealing with inputs, tools and techniques and outputs (ITTOs) of each process. They take up a significant amount of your time while preparing for the exam. However, many preparation materials recommend PMP aspirants to work on the basics (such as why a process is used, what is the process all about and when is the process used) before preparing on the ITTOs . By working on the basics first, you will be able to see the connectivity between the processes and understand the processes better. You need not memorize the ITTOs .This reduces the time required to prepare for these topics.

Devise Effective Strategies to Deal with the Challenges
Most of the aspirants plan to take up the exam within a desired time frame. However, we all have personal and professional challenges that need to be conquered before taking up the exam. You should, therefore, come up with your own suitable plan, which includes proper time management and schedule that could help you in bracing yourself for PMP exam prep.

Be a Part of Study Groups and Discussion Forums
Study groups and discussion forums can significantly help you while preparing for your PMP exam. By being an active participant of study groups and discussion forums, you can help others pass the exam, get your own concerns and queries clarified, know more about several useful resources and thus, significantly reduce the time required to prepare well for the exam.
Don't Procrastinate
One of the biggest roadblocks that candidates face while preparing for the exam is procrastination. Procrastinating and delaying your work could affect your own morale, delay your overall schedule and increase your own stress. If you have planned to prepare a topic on a particular day, work on it despite all the negatives and challenges that you face. This could boost your morale and help you in managing your stress better. Every day before the exam counts a lot and you need to make the most of it.
Stay Motivated and Focused
It is quite important for you to stay focused and motivated while preparing for your exams.

Challenges and negatives that you face every day could drag you down and decrease your morale. However, you can come up with your own suitable strategies to stay motivated and focused. For instance, you could take healthy breaks while studying, such as listening to the music that you love, not spending too much time on a particular topic or initially working on easier topics to boost your morale and stay motivated.

Try and enjoy the process of preparing for the PMP certification exam. This could help you in managing your preparation even better.

Summary
The PMP certification exam is loaded with tough questions, which test your knowledge and ability to apply them in difficult scenarios. Therefore, a significant amount of time, commitment and effort are required to pass the exam. PMP aspirants can consider implementing these tips to prepare well for project management certification.
The PMP certification exam is loaded with tough questions, which test your knowledge and ability to apply them in difficult scenarios.