Before you begin planning your next social media campaign, it can be beneficial to look at the strategies that have worked for other brands in the past year, especially if you find yourself stuck in a creative rut. In this article, we share five outstanding social campaigns from the past year that may help spark your next great idea. These brands have generated an incredible amount of awareness, engagement, and revenue for their business, with some even picking up awards along the way.
1. Testing the Limits of Human Performance While the Whole World Cheers On
Nike is iconic for its marketing campaigns, and they delivered yet again in 2017 with Breaking2. The campaign features three athletes on their quest to complete a marathon in under two hours (which had never been done before), and Nike chronicled every step of the journey. The resulting footage went on to become a National Geographic documentary that has been translated into 31 languages and boasts over 1 million views and counting on YouTube. They also live-streamed the entire race on Facebook and Twitter.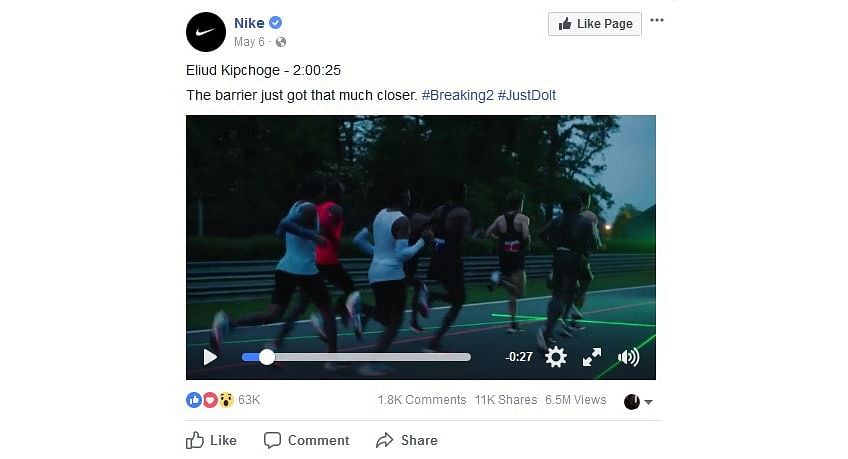 Millions of viewers tuned in from around the world to watch the historic moment (they didn't break the 1:59:59 mark as intended, but one runner did set a new world record). Digiday reports that Nike received over a half-million mentions on Twitter, Facebook, and Instagram during the week surrounding the event, and their #Breaking2 hashtag generated more than 2 trillion impressions!
Lesson: Wrap your campaign around a compelling narrative. Also, when possible, let your audience interact with and participate in the story in real-time.
2. Viral Video Leads to a Sale at 40x Asking Price
In November 2017, filmmaker Max Lanman made a short YouTube video to help sell his girlfriend's 1994 Honda Accord on eBay. The car had more than 141,000 miles on it, and the video took a hilarious approach to highlighting its condition and features.
Lanman's video went viral, and bids on the car reached $150,000 before eBay stepped in to cancel it (out of concern for fraudulent bidding). Carmax eventually bought the Accord for $20,000, extending the offer through a comical video of their own. That is $19,500 above the asking price—all thanks to the buzz generated by Lanman's video.
Lesson: Create shareable content, particularly visually-oriented items like videos and infographics. These can be incredibly helpful in raising brand awareness and interest.
3. Putting Influencers to Work for Your Brand
Adidas found itself trying to better connect with youth football players, but they wanted to go beyond their usual celebrity athlete endorsements to foster more personal interactions around the brand. The company also knew that young players meet and talk through Facebook Messenger, so they created a private Messenger group—Tango Squad—to inject themselves into the conversation. Adidas invited 1,440 team captains from the best youth teams around the world to Tango Squad and developed them into influencers for the brand by giving them exclusive news and gear to promote among their friends. Members also received opportunities to work with professional teams and athletes in ads like this:
Tango Squad quickly became a hit among young football players on social media, and the brand has strengthened its association with the sport as a result. Adidas also now has an entire generation of influencers on its side!
Lesson: Nurture relationships with your brand advocates. Provide them with resources and support to help fuel their passion for your brand and amplify their impact in spreading your message.
4. Appealing to Consumers' Interests
Iceland Foods launched the #PowerofFrozen campaign to dispel the perception of frozen foods as low quality. It won the 2017 Social Buzz Award for best Facebook campaign, but what brought their campaign to our attention was the brand's excellent use of Pinterest.
Iceland sponsored a Pinterest board—in collaboration with well-known foodies—aimed at people interested in food and cooking. It contained 122 pins featuring wholesome, fresh recipes based on frozen ingredients. That board now has more than 128,000 followers!
Iceland also took advantage of the fact that Pinterest is one of the fastest growing social media platforms—having reached 200 million monthly active users in 2017, up 50 million from 2016—yet is only being utilized by a relatively small number of marketers. If you're interested in mastering this unique platform for your company, check out our certification course on Pinterest Marketing.
Lesson: Find out what your customers are interested in—and where they're consuming their content—and use that as a vehicle to have meaningful conversations and relay brand messages.
5. Leveraging the Power of User-Generated Content 
The Open University, a distance-learning university based in the United Kingdom, launched a brand awareness campaign in June 2017 to show that higher education is attainable for anyone, regardless of age or personal circumstance. That's definitely a message we can get behind.
What's unique about this campaign is that The Open University didn't actually create any of its own content for it. Instead, they let their students do the talking.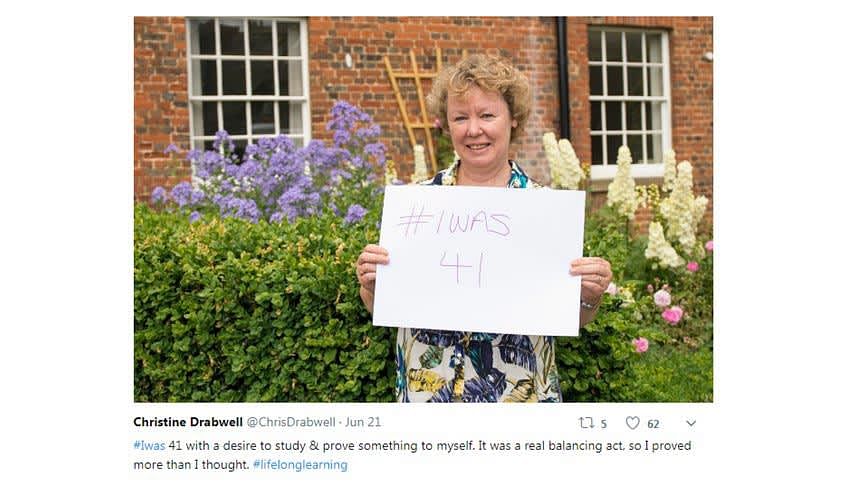 Students and alumni were asked to post a photo of themselves on social media—holding a sign reading "#IWas" and the age at which they enrolled—along with a short caption telling their personal story. The submissions came in droves, and the stories they tell are truly powerful.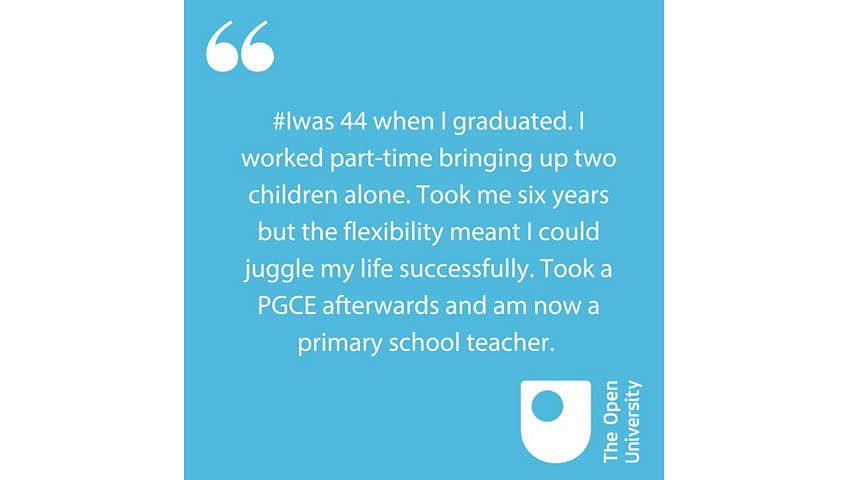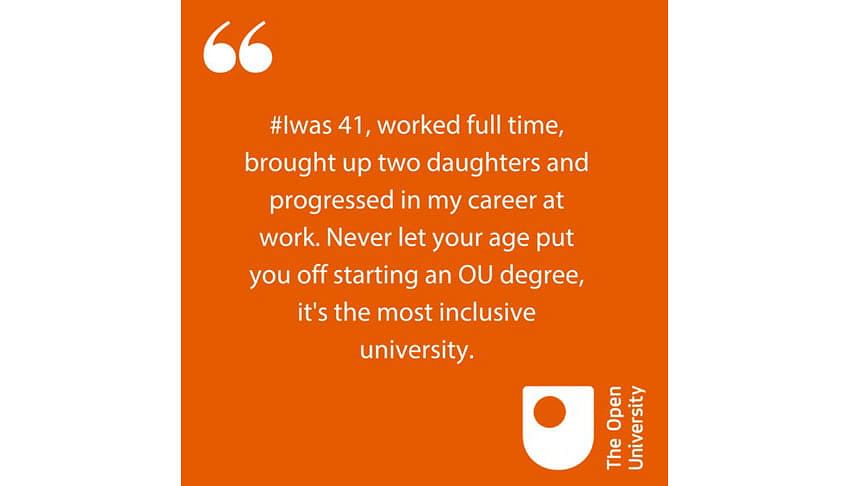 By tapping into its network of nearly 200,000 learners worldwide—and doing so in a fun, informal way—The Open University was able to generate a level of brand awareness that would have otherwise taken an immense amount of time and money. Also, by having stories that are in students' own words, their message likely better resonated with their target demographic.
Lesson: Determine what you want your campaign to say and who your target audience is. Throughout the brainstorming process, always keep these two goals in mind to ensure the campaign will accomplish both.  
Those were among the most creative social media campaigns that we came across in 2017. Are there any that stood out to you from the past year? Share them in the comments section below. 
As these campaigns prove, there is no one formula for success. So, don't feel that you have to mimic exactly what these brands have done. Instead, take what you learned from their examples and use it to inspire campaigns that resonate with your specific audience and your brand's goals. Who knows, if your campaign really makes an impact, we could feature your outstanding social campaign in our 2018 roundup!