Over the past several years, Cisco certifications have become extremely popular. In fact, Cisco certifications are considered some of the most valuable certifications in the IT industry today. When it comes to Cisco certifications, there are many different options. 
In order to further your career and look for better opportunities in your profession, you need appropriate certifications.
It's worth mentioning that the concept of standard Cisco certification was introduced in 1998. It was when Cisco first introduced beginner-level and professional networking certifications. The basic idea behind the certifications was to complement the Cisco Certified Internetwork Expert (CCIE) program. Since then, Cisco has expanded its certifications and currently offer quite a few certifications for professionals of all experience levels.
Cisco Certification Levels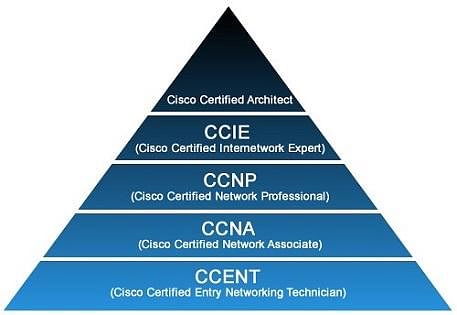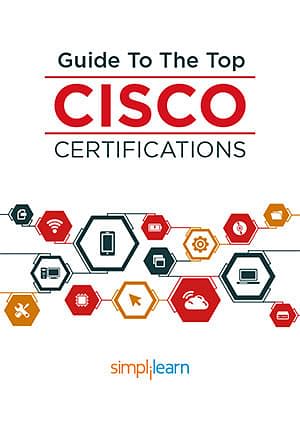 What is CCNA?
The Cisco Certified Network Associate (CCNA) credential has become one of the most highly reputed entry-level networking certifications in the industry. The CCNA certification is geared towards people who have 1 to 2 years of experience in network engineering. The most important benefit of CCNA training is that the CCNA certification is very affordable.
The main objective of this Cisco certification is to provide an associate-level certification for enthusiasts and beginners who already have some experience with networking. Students interested in the CCNA program need to undergo testing and training in the installation, maintaining, and troubleshooting of Cisco's medium networking devices. Students in this program are also tested and trained in the troubleshooting and installation of end-to-end networking.
Related read: 5 Study Tips to Pass the CCNA Certification Exam
The CCNA certification also provides aspirants the opportunity to learn more about the basics and concepts of the Cisco networking environment. Additionally, the certification also provides beginners with considerable knowledge about operating IT equipment without experiencing any problems. Although the material has been specialized to suit a Cisco environment, it is also useful at a fundamental level—those who attain this certification can use their knowledge in many different situations and increase their marketability across various platforms.
CCNA Exam Details
There are no prerequisites for the CCNA certification. You'll have the choice between the following exams:
Option 1
200-120 CCNA Interconnecting Cisco Networking Devices: Accelerated (CCNAX)
Option 2
100-101 ICND1 Interconnecting Cisco Networking Devices Part 1 (ICND1)
200-101 ICND2 Interconnecting Cisco Networking Devices Part 2 (ICND2)
In recent years, Cisco has also introduced a wide range of specialty CCNAs.
Here is a video that takes you through the introduction to CISCO Certified Network Associate (CCNA)
What is CCNP?
CCNP is the Cisco Certified Network Professional certification. This certification is available for IT professionals with at least one year of experience in professional networking. A high school diploma or equivalent is also mandatory.
The CCNP certification is intended for professionals seeking specialized training programs in implementing, maintaining, and planning Cisco's wide range of high-end network solution products. The CCNP certification curriculum consists of many different courses, which cover the basics of IT networking. Some of these include:
Cisco remote access
Cisco advanced routing
Cisco multilayer switching
Converged network optimization
Scalable internet works
Professionals who choose this certification program are trained to troubleshoot, install, and maintain both wide area networks (WAN) and local area networks (LAN) for systems between 100 and 500 nodes. In this certification program, students also gain expertise in a wide range of network features and protocols, including Route Redistribution, Access Lists, Ethernet, and AppleTalk.
During the certification course, the primary focus is preparing professionals for the CCNP examination. A series of practice exams are conducted to test the student's understanding, and knowledge of Cisco's IP switched network and IP routing technologies. These tests also measure the student's ability to troubleshoot, test, and maintain various techniques.
CCNP Exam Details
To take the CCNP certification exam, you are required to have a CCNA certification. The CCNP certification consists of 3 exams, namely:
300-101 ROUTE Implementing Cisco IP Routing (ROUTE)
300-115 SWITCH Implementing Cisco IP Switched Networks (SWITCH)
300-135 TSHOOT Troubleshooting and Maintaining Cisco IP Networks (TSHOOT)
Looking to boost your IT career? The CCNP certification is for you. Check out the course preview now!
What's the Difference Between CCNA and CCNP?
In a nutshell, the difference is that the CCNA certification is the associate-level certification that tests professionals on switching and routing fundamentals. The CCNP is a more advanced certification that requires a deeper level of knowledge and understanding of WANs and LANs, and how they work together.
The CCNP certification is considered the more senior out of these two Cisco certification levels, considering that it delves much more in-depth and broader into the workings of networking and its associated content such as security and wireless options than the CCNA.
CCNA vs. CCNP Career Differences
Since the levels of training between CCNA and CCNP are different, each of these certifications leads to different career paths.
CCNA Career Path
This certification is best suited for individuals looking to gain an entry-level career such as:
Network Support Engineer
Network Technician
Helpdesk Engineer
Service Desk Engineer/Technician
First and Second Line Support
CCNP Career Path
The CCNP certification suits IT professionals who want to go further with their career and can include the following:
Third Line Support
Network Engineer
Network Analyst
IT Team Leader
Systems Engineer
Network Specialist
Conclusion
If you're looking to boost your IT career, Cisco certifications can help get you headed down the right path. Simplilearn offers a catalog variety of IT training, including CCNA and CCNP courses taught by certified professionals.