If you're applying for an Information Technology Infrastructure Library (ITIL®) position, you need to not only expect certain questions during the interview but also to know the best-suited answers to them. That's why we present to you the following collection of the most commonly asked ITIL interview questions answers. We're not saying that an interviewer will ask all of these questions, or that they won't ask questions that are not included here, but the below is a respectable sampling of the most common queries.
However, keep in mind that even though this set of ITIL interview questions is a useful resource, it's no substitute for practical information and relevant knowledge, the sort of things that can tip the scales in favor of you being hired. For more details and getting those necessary skills and knowledge relevant to ITIL foundation training, check out the information at the end of the "interview."
Now, let's jump right into the ITIL interview questions.
Are you looking forward to becoming an ITIL expert? Check out the ITIL Certification Course and get certified.
ITIL Interview Questions
1. Let's Start off Extremely Simple. Explain What Itil is?
ITIL is short for Information Technology Infrastructure Library. It is a set of core volumes that detail a framework of best practices for IT service management, with the emphasis on aligning IT services with the needs of any given business. It's a systematic approach to high-quality IT service delivery, providing a common language that includes clear, specific terms.
2. What's the Difference Between ITIL® V3 and ITIL® 4?
ITIL 4 maintains many of the core elements available in previous versions. The latest changes from ITIL V3 to ITIL 4 help to optimize IT service management in a world that is moving from a CapEx model to OpEx one. It gives businesses the ability to be more flexible, enabling them to adapt to rapidly changing technology while aligning with—and even driving—business requirements and goals. More specifically, it works with Agile, DevOps, and AI.
3. What is the ITIL Service Lifecycle Model?
The processes are:
Service Strategy
Service Design
Service Transition
Service Operation
Continual Service Improvement
4. What's the Difference Between a Change Request and a Service Request?
A change request is a formal proposal to alter a particular product or system, while a service request is formally submitted by a user, and is a request for IT service access, the changing of a standard, or information or advice. Service requests include things like access to the cloud or requiring a new laptop or printer. As a rule, service requests deal with things that have already been approved of by company policy and don't require any extra permission.
5. What Are the Direct Benefits of ITIL?
The benefits of ITIL implementation are:
Builds a stronger alignment between IT and the business.
Improved customer satisfaction and a higher quality of delivery of services.
Reduced costs by implementing improved utilization of resources.
Greater visibility of the business' IT costs and assets.
Better management of business risk and service disruption.
Providing a more stable service environment, better equipped to support constant business change.
6. What is an SLA?
An SLA is a service level agreement, a contract between an external or internal service provider, and the end-user. The SLA defines the level of service expected from the service provider.
7. There Are Three Levels of SLA. Name Them.
The three levels are:
Customer service level agreement:  Exists between the service provider and an external customer.
Internal service level agreement: An agreement between IT and an internal customer (such as another site or department).
Vendor service level agreement: An agreement between you and the vendor.
8. What is the PDSA Cycle, and What Are the Phases?
The PDSA stands for Plan-Do-Check-Act and is a systematic series of steps for gaining valuable learning and knowledge for the continual improvement of a product or process. It is also known as the Deming Wheel, or Deming Cycle. The phase breakdown consists of:
Plan: Identify and analyze the problem
Do: Develop and test a solution to the problem
Check: Measure how effective the developed solution handles the problem, analyze possible ways the solution could be improved
Act: Full implementation of the perfected solution
9. What Are the Three ITIL Models Adopted by an Organization?
The models are:
Microsoft MOF (Microsoft Operations Framework)
Hewlett-Packard (HP ITSM Reference Model)
IBM ( IT Process Model )
10. What's the Difference Between a Process and a Project?
A project has a finite lifespan (hopefully!). A process is continuous and has no deadline.
ITIL® 4 Foundation Certification Training Course
Get certified on the latest ITSM best practices
View Course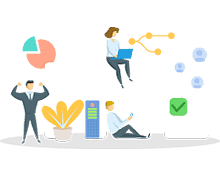 11. What's the Difference Between an Incident, a Problem, and a Known Error?
An incident is an event that's not part of the standard operation. A problem is an as yet unknown cause of a conflict or series of incidents, whereas a known error is a problem that's been successfully diagnosed, and a workaround or permanent alternative has been created. The final result of a known error is an RFC (Request for a change).
12. What's the Difference Between an End-user and a Customer?
An end-user (or end customer) is the direct recipient of the service or uses the product. A customer may or may not be able to choose between different products or suppliers. An example of the latter would be things like court-appointed attorneys, or a monopoly situation such as an Internet or cable provider.
13. What is the Incident Management Process? Can You Provide Examples?
IcM, or Incident Management, is an area of IT Service Management (ITSM) that exists in order to restore normal service operations as soon as possible. Examples of this include a printer that doesn't work, disk usage exceeded, or an entire system that has gone down.
14. What is ISO/IEC 27002?
ISO/IEC 27002:2013 is a code of practice that gives guidelines for organizational information security standards and information security management practices. This code includes the selection, implementation, and management of controls while taking into consideration an organization's information security risk environment. The code recommends information security controls that address information security control objectives that come from risks to the confidentiality, integrity, and availability of information.
15. What is Change Management? Explain the Seven R's of Change Management.
Change management is the process, tools, and techniques used to manage the people side of any change that is implemented in order to achieve the required business outcome. Change management helps individuals adopt and adapt to the changes.
The seven R's are:
Who RAISED the change?
What is the REASON for the change?
What RETURN will the change deliver?
What RISKS are there if we do or do not carry out the change?
What RESOURCES will be required to perform this change?
Who is RESPONSIBLE for this change being performed?
What RELATIONSHIPS are there between this and other changes?
16. List the Different Knowledge Management Systems and What They Do.
The different knowledge management systems associated with ITIL are:
CMIS (Capacity Management Information System) – A Capacity Management Information System, or CMIS, is a collection of information regarding IT infrastructure usage, capacity, and performance. The data is gathered in a consistent manner then stored in either a single or series of databases. 
AMIS (Availability Management Information System) – The AMIS is a virtual repository of all Availability Management data, and is usually stored in multiple physical locations.
KEDB (Known Error Database) –Known Errors are managed by the Problem Management process, with the details of each known error recorded in a Known Error Record, which is in turn stored in the Known Error Database (KEDB).
CMDB (Configuration Management Database) – A configuration management database (CMDB) is a database that holds all of the relevant information about the various components of the information system which are used in an organization's IT services, as well as the relationships between said components. A CMDB provides an organized view of data and a means of examining that data from any perspective desired, with components of the information system referred to as configuration items (CI). A CI can be any conceivable IT component, including but not limited to items such as hardware, software, documentation, and personnel, plus any combination of the above. 
DML (Definitive Media Library) – A Definitive Media Library (DML) is a secure location where the definitive, authorized versions of software package configuration items (CIs) are stored and kept safe. A DML is made up of one or more software libraries or file-storage areas known as repositories.
SKMS (Service Knowledge Management System) – ITIL Knowledge Management exists to gather, analyze, store, and share knowledge and information within an organization. The main purpose of Knowledge Management is to improve efficiency within an organization by decreasing the need to rediscover knowledge.
17. Discuss Common or Workaround Recovery Options.
Recovery options are classified as:
Fast recovery: This is a recovery taking place within 24 hours (hot standby).
Intermediate recovery: The service uses a portable or fixed facility, mirroring load balancing (warm standby). Recovery time is usually within three days.
Gradual recovery: Recovery is set in a matter of days, possibly even weeks, but always more than 24 hours (cold standby).
So What's the Next Step?
I believe these ITIL interview questions must have given you an insight into what kind of questions may be asked to you in an interview. If you are looking to enter the world of ITIL professionals, or just trying to get yourself upskilled to round out your skillset, then Simplilearn has everything you need to meet all of your education goals. 
Simplilearn's ITIL 4 Foundation Certification Training is the most widely acknowledged entry-level ITIL certification for IT professionals. Today's IT departments need qualified experts who can deliver effective IT services, and the demand is increasing. This training will show you the ITIL services lifecycle, how lifecycle stages are linked, processes involved, and best practices for enhancing the quality of IT service management to reduce costs and increase productivity. It's also important to bear in mind that ITIL certified professionals earn 40% more than their non-certified peers.
You will receive 16 hours of instructor-led training, 24 hours of self-paced learning, five industry case studies and seven real-world examples, and over two dozen self-paced and instructor-led PDUs.
If you are already an ITIL V3 Expert, you are eligible to take the ITIL 4 Managing Professional Transition Module Training.  Get certified on the latest ITSM best practices today.