Just a few years into his engineering career, Ramachandran Pillay knew he was facing stagnation. A PMP certification helped him discover his true potential, and gave him the way out he needed to truly shine in his profession.
The Need – How I Realized I Needed A PMP On My Resume
Although I'd worked in the engineering sector throughout my career, I always had an interest in project management, especially since several facets of my role involved delivery of components and systems to tight deadlines. My designation as Senior Project engineer was in some ways too narrow to capture the scope of the role, which entailed a heavy component of Project management.
A few years into my engineering career, I had a discussion with my manager regarding the concerns I had about my professional growth. This is when he recommended taking up a PMP. I did my research, and discovered that of all the 
options available to aspiring Project Managers
, PMP topped the list. 
Opting for a full-blown Project Management degree meant enrolling in a 2-year residential course from an institute or university, but that might still not have covered all the areas required - and there was no time on my hands. In stark contrast, the PMP looked all the more impressive, given its global-recognition for excellence in Project management Domain Knowledge.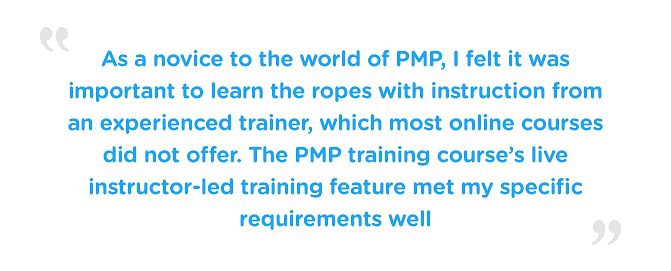 Significantly, it is important to note that PMP is still not a very commonly available qualification for Project Managers in Malaysia. 
Under the circumstances, I felt an instructor-led online 
PMP training course
 would meet my specific requirements beautifully. When looking around, I came across Simplilearn's PMP Certification Training course, which seemed to fit the bill perfectly, and immediately enrolled. 
How Has My PMP Training Helped?
The PMP has helped me gain recognition in my organization with a promotion and an immediate salary hike upon submission of the PMP certificate at work. To me, this has been a major motivator. In addition, I've had occasion to deploy the entire range of tools and techniques that the PMP covers, helping me work out ways and means to implement tasks in line with 
PMI guidelines
 for better results. As a certified PMP, I now have the support of my organization to work in that direction.
Additionally, the PMP certificate has put me in a unique situation, as, given how uncommon PMP holders are in Malaysia, I am the only project manager with a PMP in my business unit. My guess is that the team in Malaysia wouldn't have any more that 3-4 PMP certified project managers. I now look forward to passing on the knowledge to my colleagues and pass on the benefits to the community from my training.
What I Loved About the Course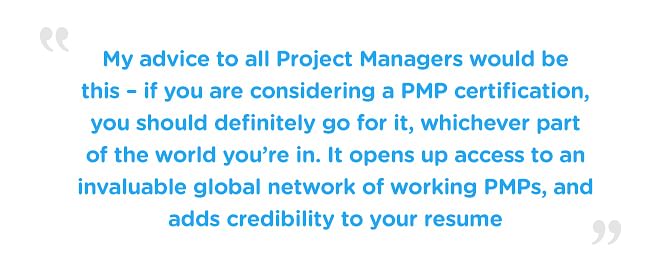 The PMP exam is tough, but Simplilearn's training simplified it for me. I was able to breeze through the exam, thanks to the 5 simulation exams that were a part of my training. A few features that stood out for me were - 
- I had eLearning access enabled soon after purchase, so I could prepare before the classes began.
- I had access to high-quality eLearning videos and a ready-reference downloadable participant handbook that would help ease my way into this new domain.
- The course material was top-notch and brilliantly laid-out. Besides the Instructor lectures, the learning material that came with the course was all I needed to crack the exam.
- I found the trainer to be quite knowledgeable. He drew upon his industry experience to offer useful insights and advice throughout the course.

Interestingly, this training batch was also attended by a fellow Malaysian with a Project Management MBA. Just goes to reiterate the value the course has even for those with a degree in project management!
Advice to My Fellow Aspirants
If you are considering a PMP certification, you should definitely go for it, wherever you are. Because every MNC is looking for candidates with a credential - it adds credibility, and above all, it transforms your life in a way you could have never imagined!