It's that time of the year when all the digital marketing minds attempt to predict future trends.
Before we dive in, it's important to note that rarely does a trend come out of nowhere and make an entrance at the start of a new year. Trends are typically a long time coming, and in the marketing world, they take more than a year to really pick up speed. The following three trends are a perfect example: they certainly aren't new concepts, but in 2018, they're more than just buzzwords. They're must-do strategies for digital marketing teams of all sizes.
1. Big Data Goes Small
Over the last few years, we have been inundated with talk of Big Data, with many of us assuming that only really big businesses have the resources to capitalize on customer analytics. Quite honestly, that is just not true. It's time for small businesses to step up and start taking advantage of the data tools available to them to begin making more data-driven decisions.
Data is at the heart of marketing. The more you know about your customers, the more you can adapt your messaging, products and services, and sales and customer support.
Businesses of all sizes have data about their customers, whether it comes from customer service queries, online lead forms, sales interactions or tracked online behavior. Even small mom and pop establishments have data they can use to get the most out of their customers.
In addition to traditional methods, free or low-cost online tools have made it even easier to collect and analyze said data. Over and over again, Google Analytics has proven to be invaluable in identifying your customers and their online behaviors and it's free! (at least up to a certain point).What's even more amazing is that you can now get demographic information as well as interest categories, all helping you to better define your customer.


There are plenty more tools available to extract detailed customer information, too. Want to know more about your customers? Create a survey. Need to know how they will react to a new product or service? Launch an email campaign that encourages trials and feedback. Curious about your competition? Spyfu and SEMrush are just some of the competitor-analysis tools that have free options. Marketing decisions are increasingly data-focused and data-driven. And it is our job to make sure we are capitalizing on every action by filling our data feeds through our campaigns and strategies, skillfully balancing the different inputs to create something truly useful.
Data may already be a staple in some marketing strategies today, but our dependence on it in the coming year will undoubtedly flourish. If you or your team needs to build a basic understanding of analytics, consider web analytics training.
2. Truly Personal Customer Personas
What's the point of collecting more intricate data if you can't use it to learn more about your customers? One of the best ways to create content and plan promotions that truly engage your target audience is by creating a customer/buyer persona for each audience segment. To put it simply, we need to know our customers as real people.
A customer/buyer persona is a profile that represents your ideal customer. By creating these personas, you'll gain the ability to tailor your marketing efforts, which will help you to connect with your target audience and meet their specific needs. Sending the right offer to the right person at the right time is what makes sales possible.
According to a study from Mark W. Schaefer, three to four buyer personas usually account for over 90 percent of a company's sales. After all, if you don't know who you're aiming your efforts at, how are you going to sell your products or services?
Customer/buyer personas example shown below: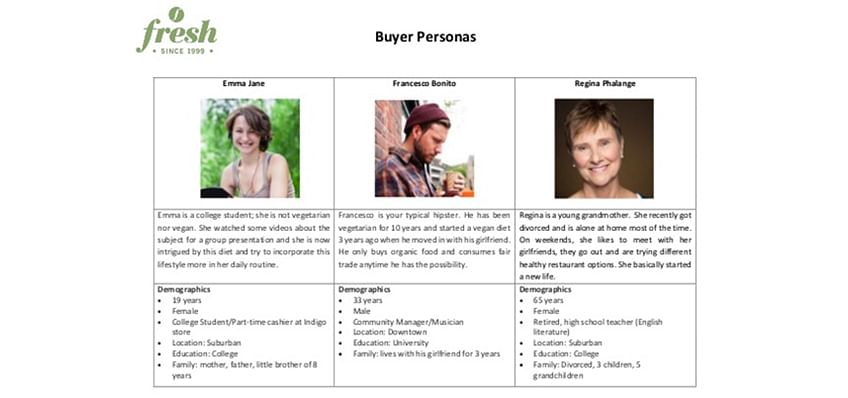 To create your own customer/buyer persona include the following:
Persona name: It is super important to give your persona a name. It brings them to life and makes discussions with your marketing and sales teams simpler. A picture is also recommended so that your team can visualize this persona and sync it with the name and qualities associated with it.
Job title with some details about their job role
Demographics: Age, gender
Salary or combined household income
Location: Are they from an urban, suburban or rural region?
Education
Family status and size
Goals
Needs
Challenges
Motivations
Be ahead of the curve in 2018 by creating strong customer/buyer personas. It is a crucial and often forgotten step towards successful marketing campaigns.
3. Video Marketing
Video marketing, much like Big Data, is far from new, but what makes it a future trend prediction is its potential in the marketing world as more teams seek to adopt video marketing strategies. What's changed? Accessibility; the ability to create high-quality videos with low budgets and small teams. Over the last 12 months, videos have gained serious momentum with no signs of slowing down. Social media giants like Facebook, Instagram and Twitter have continued to invest more time and money into improving their video capabilities.
Facebook CEO Mark Zuckerberg called video a "mega-trend' early last year as the company began discussing its long-term video strategy (which includes short, snackable video content.)
According to Forbes, Americans watch around 1.25 billion hours of TV—both live and recorded—each day. Other research indicates that viewers/visitors are up to 10 times more likely to engage, embed, share, and comment on a video versus other types of blog content or social media posts. Don't forget about the SEO benefits, as Google owns YouTube. And to top it off, a video can speak one universal language, engaging your customer's emotions like no other media.
From simple ads or DIY videos to high-end production commercials, videos provide visually-rich, interactive content while conveying your product's message. And thanks to today's smartphones, production of great video content has become much simpler, making video marketing accessible for everyone.
Not comfortable with the camera or editing software? YouTube and Video Marketing Training goes over all the basics.
The biggest trend of all is marketers understanding more than ever that it's all about listening to your customers. Whether it is through analytics, personas or video appeal, tending to your customer's needs is always the best trend to follow, and 2018 will bring even more ways to analyze and learn from your customers' behavior.