When it comes to digital marketing, why do people still trust emails? Do you think email marketing is valuable, or do you believe that this decade-old strategy is still an effective marketing technique? The answer to these questions is YES!
According to a SmartInsight 2018 report, email marketing is considered as one of the most important marketing channels, amongst SEM, SEO, affiliate marketing, and other marketing initiatives. And if you are a digital marketer, you will certainly not take any chance to ignore a tool as valuable as email marketing. 
What is Email Marketing?
It is a way of delivering effective messages to convert leads into sales by sending personalized emails to targeted customers. It also helps us to educate our target customers on the value of our product. 
Importance of Email Marketing
Costs lesser as compared to other marketing channels
Shows a higher ROI (return on investment)
Helps in attracting new customers 
Easier Integration with other communication channels
Assists in creating targeted and personalized messages
Helps higher-intent client to engage with your business
Helps reaching larger audiences and even smaller targeted lists
How to Practice Email Marketing?
Define Your Audience
Identify the target audience and create segments based on their geography, demographics, firmographics, past purchases, email engagement, etc.
Choose Suitable Email Marketing Platform
Next, choose a suitable email marketing service for your company. Then create campaigns and set an appropriate call to action.
Test Your Emails Before Sending
A/B test you emails with the following steps:
Optimize Basic Elements of Email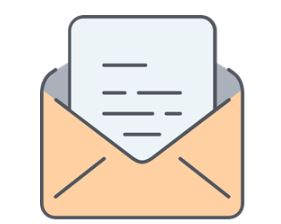 Emails elements - Email marketing
Attract the audience with a compelling subject line
Ensure to choose the preview text wisely
Offer relevant content to your audience
Place CTA in a visible place for your visitors
Add relevant images and ensure of creating visually appealing emails
Design mobile-friendly emails
Gain Your Audience's Trust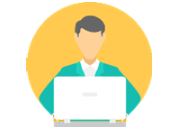 Audience
Build and segment an email list based on user behavior
Send campaigns immediately or schedule a time
Ensure to follow a consistent schedule to build trust with your audience

Measure Results
Optimize your subject lines, preheader text, email content, CTA, and landing pages through A/B tests
Measure performance (open rate, CTR rate, response, and rate)

A soft bounce means the email has reached the recipient's mail server but is bounced back undelivered
A hard bounce email occurs when the email has been permanently rejected

Open Rate: It is the percentage of the total number of recipients who opened an email campaign
Click-through Rate: It is the percentage of recipients that have clicked the CTA in your email message
Response Rate: It is the percentage of the number of people who completed the survey of your email by selecting the link of your email campaign and completed an action
Forward Rate: The forward rate refers to the rate at which your subscribers share your email campaigns with others
Bounce Rate - There are two types of bounces -- hard and soft. 
Below is an example of an optimized email that can help you bring a high open rate: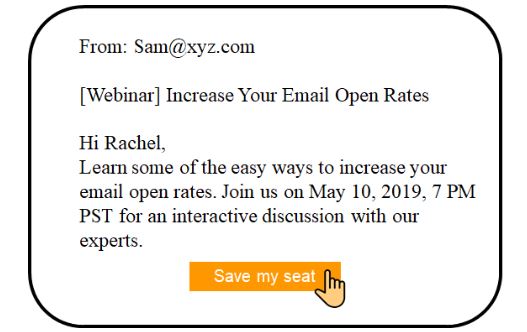 Optimized email
Types of Email Campaigns
There are a variety of email campaigns that can be used to interact with your target audience. And here's how you can optimize each type of email campaign:
Welcome emails
Newsletter
Promotional emails
Abandonment cart emails
Re-engagement campaign
Sponsorship Emails 
1. Welcome Emails
According to CampaignMonitor, a lot of recent studies have shown that welcome emails have an average read rate of 34%
Welcome mails encourage new subscribers to engage with your products and services
How to Optimize?
Send your welcome email immediately after the sign-up process of the user
It should be informative, clear and actionable
Optimize subject lines and email content
Keep messages short and clear
Use relevant CTA
An example  of an optimized welcome email is  shown below: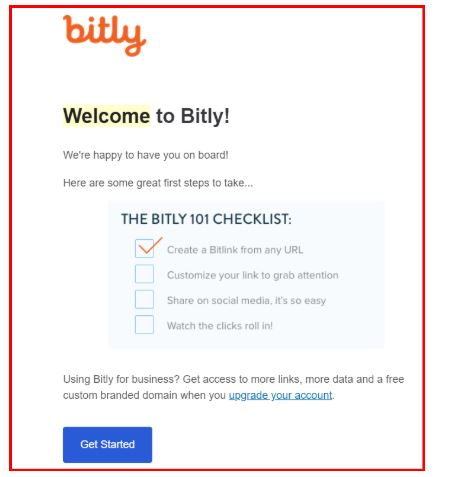 Welcome email - Email Marketing
2. Newsletters
With email newsletters, the audience are connected and informed about the product updates
This is a very significant way of educating your audience and prospects about your business
How to Optimize?
Try to reduce text and provide visually interesting campaigns 
Stack your email content and optimize CTA
Create an interesting header
Share a variety of content (like videos, articles, eBooks, podcasts, webinars) with your readers
Follow a consistent schedule for sending emails
Below is an example of a newsletter: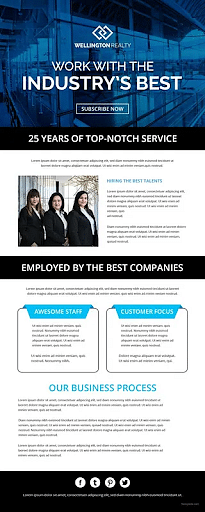 Newsletter - email marketing
3. Promotional Emails 
According to convince and convert, 68% of Millennials have confirmed that Promotional Emails have influenced their purchase decisions.
These emails drive revenue by sending special offers 
Its objective is to make a conversion
How to Optimize?
Ensure to personalize your campaigns
Engage your customers by including limited time offers
Send offer emails on holidays for high engagement rate
Below is an example of a promotional email: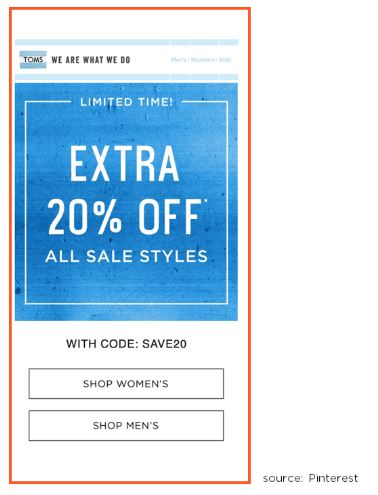 4. Abandonment Cart Emails
Abandonment emails are shared with clients who have kept products on their cart but did not complete the checkout process
It is an effective way to improve sales
How to Optimize?
Use a simple abandoned cart email template
Personalize your abandoned-cart recovery emails
Adding a product image in your email remainder can result in high click-through rate
Send a series of email reminders to your clients.
Below is an example of abandonment cart email: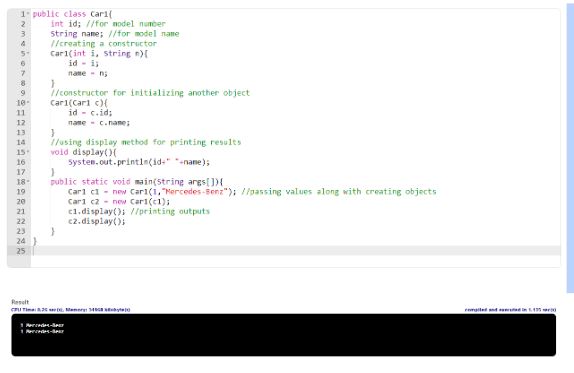 abandonment cart email - email marketing
5. Re-Engagement Campaign
It is a practice of sending series of emails to inactive email subscribers
It leads to high user engagement rate and maintains a high IPR (Inbox Placement Ratio)
How to Optimize?
Opt for gamification to win back inactive subscribers
Prefer subject lines like "We have been waiting for your response" or "We have got a special offer for you."
Conduct a poll or quiz to re-engage with your subscribers
Below is an example of a re-engagement campaign: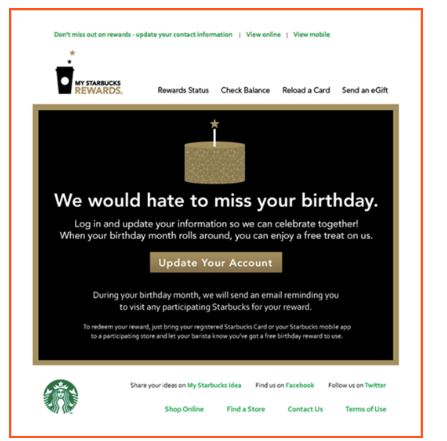 6. Sponsorship Emails
These emails let you advertise your copy in another vendor's newsletter
In simple terms, it is a way to reach a different audience and gain new leads through display ads via emails
How to Optimize?
Choose the right promotional partner
Use only one primary CTA whereas offering multiple deals to the audience can be confusing
Always clearly define your objectives
Leverage social media platforms in order to maximize the reach of your campaign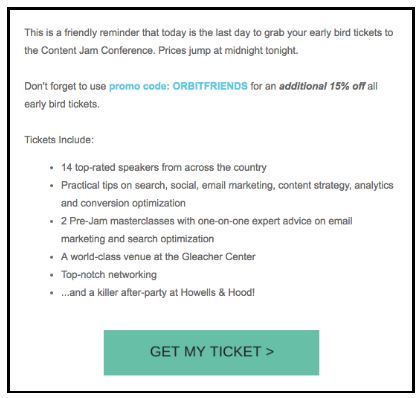 What is A/B testing?
A/B testing or split testing is a way to analyze which of the two email campaign strategies can result in high open rates and click rates.
1. Subject Line
It is the message that the recipient sees when the emails reach his/her inbox 
An interesting subject line can convince a reader to open your email and read further
How to Optimize?
Your chosen subject line should be relevant to your audience
Include a number in your subject line
Make sure the subject line isn't too lengthy (17-24 characters)
Prefer using actionable language, like "Final Hour," "download," "get your free," etc.
Opt for title case in subject lines
Below is an example of an optimized subject line: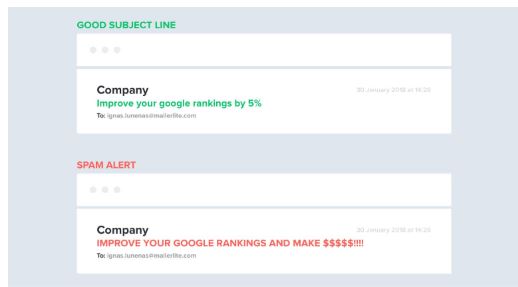 subject line
Based on research, Convince and Convert have confirmed that 82% of marketers opt for subject lines shorter than 60 characters.


Source: Convinceandconvert
2. Sender Name
It is a key element of your email message displayed in your recipient's' inboxes
An optimized sender name will boost your open rates and build trust with your target audience
How to Optimize?
Always have a clear sender name as it results in a high open-rate
It's always better to use an organization or brand name over an individual person's name
Consistency and familiarity of your sender name helps in building trust with your audience
Avoid no-reply address and always prefer using a valid email address
Below is an example of a Gmail account full of emails, where the first column contains the sender name, or "from" name


sender name
3. Personalization
It is a strategy of creating more engagement by targeting an email campaign to a specific audience
How to Optimize?
Address the email to the person's first name
Leverage the demographic and behavioral data you have about your readers 
Set up automated behavioral trigger emails for converting your readers to subscribers
Based on research, the campaign monitor says, studies show that personalized emails have 2.5 times higher click-through rates, and are six times more likely to drive a conversion.
4. CTA
It is an action incorporated in emails to encourage the audience for engagement
How to Optimize?
Keep your CTAs not more than three words (such as, "sign up now" or "Download now"
Personalize Your CTAs 
Always use responsive designs 
Opt for button format, as its more clickable
According to Crazy Egg, CTA with button designs have high converting rate:


Below are the top five A/B testing tools that can help in optimizing your email for high open rate:
HubSpot's A/B testing kit
Crazy egg
Omniconvert
Optimizely
VWO
How to Grow an Email Subscriber List?
If you're noticing an increase in unsubscribes or if you want to grow your subscriber number, opt for the following techniques:
Create remarkable email content for high engagement
Encourage your subscribers to forward the email as it can be a great way to find a target audience
Do not opt for longer-form content as it results in low conversion rate
Send content that meets your customer expectation
Prefer using bullet points to make the content readable and follow a logical structure in your email
Use compelling images for high open rates
Prefer to draft emails with responsive designs 
Quick Response code is an easier way to encourage readers to sign up for an email list even when they're offline
Reach out to the audience through the social network to increase your email sign up list at a quicker pace
Use recipient names and personalize emails for your readers
Add a clear CTA at the end
Test your subject lines, preheader, CTA, and email content
Segment your emails and provide an option for social sharing
How To Segment Email List For High Open and Click-Through-Rate?
Email list segmentation can be a very simple process if done in the right way. In case you're willing to put some effort, here's what you need to know:
Geographic segmentation - With this segmentation, you can target your audience based on geographical areas, such as by city, state, country, or continent
Demographic - Segment your audience by age, education, income, gender, occupation, nationality, and more
Behavioral segmentation - It segments target audience by their behaviors and decision-making patterns such as purchase, online activity, search history, and more
How To Automate Email Marketing With An AutoResponder?
There are basically two types of emails you can send to your readers:
Broadcasts
Autoresponders
Broadcast emails are one-time email campaigns which are delivered to a group of audience in your contact list and AutoResponder is a programming script where emails are sent at frequent intervals based on the behavior of subscribers.
A suitable example of AutoResponder is below: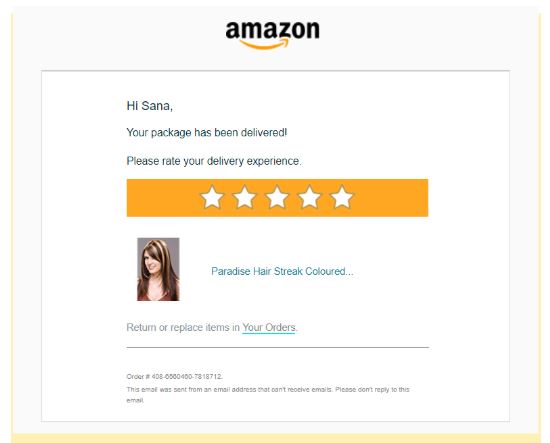 AutoResponder
To create an AutoResponder:
In the mail section, go to Menu>> AutoResponders
Click Create AutoResponder and write a message in the internal name.
Choose the list linked to the autoresponder
Assign the AutoResponder to a particular day
Select delay time, days of the week, you'd like for the message to go out on
Choose the from and reply-to addresses.
Write a compelling subject line
Choose Google Analytics as the source before sending the email
Finally, save and publish if you want the message to go live right away
Email Marketing Tools
Selecting the right tool for your email campaign is essential, as it will help grow your businesses.
With the tool, it's easier to identify the right templates for your emails. Selecting the right tool can help to share engaging emails such as welcoming a new subscriber, notifying clients of a sale, etc. These are some of the most widely used tools to ensure you hit the mark every time:
Mailchimp
Marketo
ConvertKit
Sendinblue
Mailchimp
It is a reliable and feature-packed tool that helps grow businesses
Offers basic analytics that are helpful for inbound campaigns
It helps in boosting lead tracking and conversions
It is a cost-efficient tool for businesses having less than 2,000 subscribers
Marketo
It has various pricing options that can fit into different companies' budgets
It is suitable for medium-sized organizations and provides services which can be focused on lead management, email marketing, and mobile marketing
It's easy to learn and set up. And you pay only for the options that you use
Convertkit
Easy understanding of autoresponder sequence and enables us to create segments of the target audience
Helps to grow businesses through attractive forms, dynamic emails, trackable data, and simple automation feature
New features are regularly updated for better usage 
SendinBlue
Automation workflow speeds ups the task and enhances the user experience
Optimizes open and click-through rates by scheduling time and date for delivering emails 
Easy to create a professional newsletter with its advanced features
Win Your Email Marketing Game!
Email platforms and strategies are evolving day by day, and so should your business's email marketing strategy and knowledge about platforms. You can also enroll in our Professional Certificate Program in Digital Marketing course that will help you master marketing techniques and strategies like email marketing. 
Do you have any questions? Please feel free to put it in the comments section of this tutorial; our experts will get back to you at the earliest.