PMP® – Resource Management Maturity Model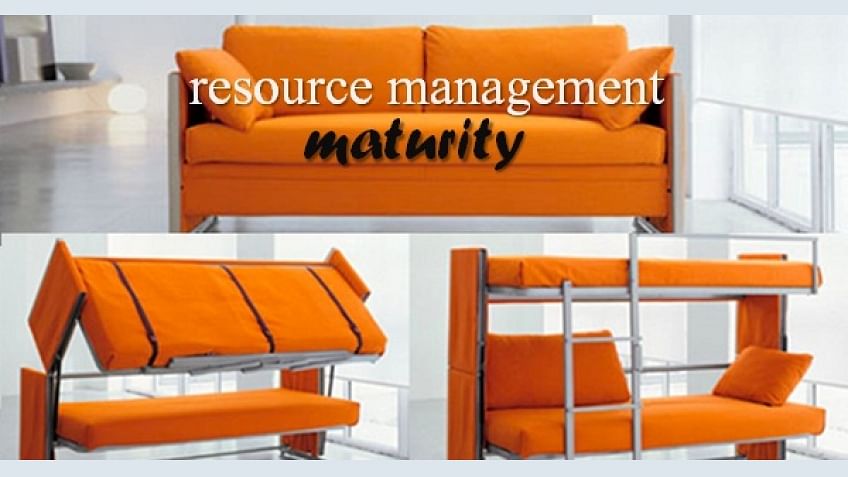 The article below presents general knowledge on topic of Resource Management Maturity Model
The resource maturity model is a progressive resource and capability management process aimed at enabling organizations to optimally allocate & utilize the scarce resources available.  The RMMM measures the resource management processes of an organization at 5 different levels, explained below.
Organizations can use the RMMM to ensure they can manage project resources and capacity at the "just right" level of granularity for their business.  Effective resource management is vital for most organizations because resources represent a major, if not the primary, cost of doing business.
Level 0
No formal process:  Resources are allocated at an ad hoc basis, providing no consistency or pattern.  This model is considered to be counterproductive & risky as it does little to ease concerns about effective utilization of resources.
Level 1
Work Visibility: Organizations have visibility to who is working on what. However, resources are assigned to work without any control or oversight.
Level 2
Controlled assignment:  A formal resource assignment approval process is introduced. However, approvals are informed only by resource availability information.  At Level 2, the resource manager can decline resource allocation due to overworking of resources.
Level 3
Governed capacity:  The focus shifts to capacity management and the introduction of project priority considerations requiring more structured governance.  At Level 3, the resource manager becomes a part of project governance structure or committee, a kind of mechanism where the governance committee can make a decision on the choice of projects itself, for example, if enough resources are not available for a project or a project cannot be approved at all.   This reduces risk in project execution by value utilization of scarce resources.
Level 4
Schedule driven availability: The resource assignment approval and capacity management processes are driven by project schedules at the phase level.
Level 5
Granular management: Full task-level project schedule details are used to drive the resource assignment and capacity management processes.
Maturity Level Dimensions*
At each level, there are 7 dimensions which are essentially characteristics of that level.  These are uniform however differ in scope for each level.
Assignment Granularity
This is the level of detail at which resources are assigned to work. The duration may be driven by dates at the project-, phase- or task-level.
Project Roles
This refers to any standardized and distinct roles played by a resource or group of resources on a given project, such as project manager.
Resource Cost
This is the labor cost of a resource that results from a work assignment. Resource cost may refer to planned cost or to actual cost.
Resource Approval
This is the process of approving the assignment of a resource to work at the particular level of assignment granularity
Capacity Planning
This is the strategic portfolio-level planning process aimed at ensuring that the most important projects are resourced and that resource utilization is optimized within the constraint of aggregate resource capacity.
Governance
This is the decision-making process and organizational body that oversees the resource approval, portfolio prioritization, demand management and capacity planning business processes for project management.
Business Value
This is the key business value that organizations can expect to realize at a given level of maturity.
Image courtesy: dadka.net and Instantis, Inc.

Happy learning! 
Find our PMP® Certification Online Classroom training classes in top cities:
---