Ever since its inception, the whole point of Google has been searching and finding. In its earliest days, even before it was Google, the search engine set out to crawl web pages and index content. As both the search engine and World Wide Web evolved and the Internet became a place of commerce, people recognized the importance of having their own web pages discoverable and indexed, and so Search Engine Optimization (SEO) was born.
As defined by Search Engine Land, SEO is "…the process of getting traffic from the free, organic, editorial, or natural search results on search engines." In other words, SEO means ensuring your website or webpage is more likely to be found by someone using a search engine, whether it's Google, Bing, Yahoo, or any other.
SEO has changed a lot over the past 20 years, and is now adapted to better serve searchers, enable advertising, fight abusers, and is current with technologies like smartphones. But SEO has never ceased to be a critical component of every digital marketer's strategy, and keywords remain essential to it.
How Keywords Help SEO
As a digital marketer or someone with a website that you'd like to be discovered by potential customers, you want your website to show up in search results when your website is a good fit for the search words or phrases submitted via the search engine. Choosing your keywords, however, is not an easy task. Just because you sell blue armchairs does not mean using "blue armchairs" as a keyword will get you a number one spot on the search results page (SERP). You must dig a little deeper to find keywords that will help you get found, and for that, you must understand user intent and keyword competitiveness.
Understanding Why People Search
It's important to remember that people use search engines because they are trying to solve a problem. That problem might be that the lint screen on their dryer broke and they need a replacement, or they're having behavior issues with a teenager and are looking for advice, or they're planning a trip to Kauai and want to find an affordable hotel. They go to a search engine to look for answers, with a certain intent.
When you're looking at potential keywords, try to understand the goal of the person typing that query into a search bar, and make sure the answers you offer are a good fit. When you understand why someone is searching—meaning their intent—as well as if and how your website can provide solutions to their problems, you can better determine relevant keywords and ignore irrelevant ones—even those that might seem relevant at first glance. This will become more clear later when we look at examples.
Understanding Competitiveness
In addition to understanding intent, you must understand competitiveness. When you choose a keyword for SEO, it's because you want to "win" a search for that keyword. That means you want your webpage to rank well in Google's search results, preferably on the first page because 75 percent of searchers won't look past the first page.
To win, however, you must beat out the competition for that spot. Just as only one person wins in a race, only one webpage can have the top spot. You are competing to win a top spot among those search results, and that's why you must choose keywords that make you more likely to win by looking at the competitiveness of keywords.
No matter what tool you use for doing your keyword research, you're going to discover that some keywords are much more popular than others. You might say that there are three types of keywords if you consider them from the standpoint of competitiveness:
Keyword phrases with a high search volume that are highly competitive.
Keyword phrases with a medium search volume that might or might not be highly competitive.
Keyword phrases with a low search volume that are not usually competitive.
This is important to know because the more the competition for a keyword, the harder it will be for you to achieve first page results, no matter how many searches it gets. When choosing keywords, you must balance search volume against competition.
Here is a video which shows how SEO helps in the process of improving the visibility of a website/webpages:
Let's use kitchen cabinets as an example to illustrate this. As you might guess, "kitchen cabinets" on its own is a very common—and therefore competitive—keyword, so the first thing we'll do is get a little more specific and choose shaker cabinets as our starting keyword.
If we use Google's AdWords Keyword Planner, we see that the keyword "shaker cabinets" gets tens of thousands of searches every single month, and is highly competitive. If we're selling kitchen cabinets, we probably don't want to try and win that search, so we will look for more specific keywords. Below are just a few of the hundreds of results: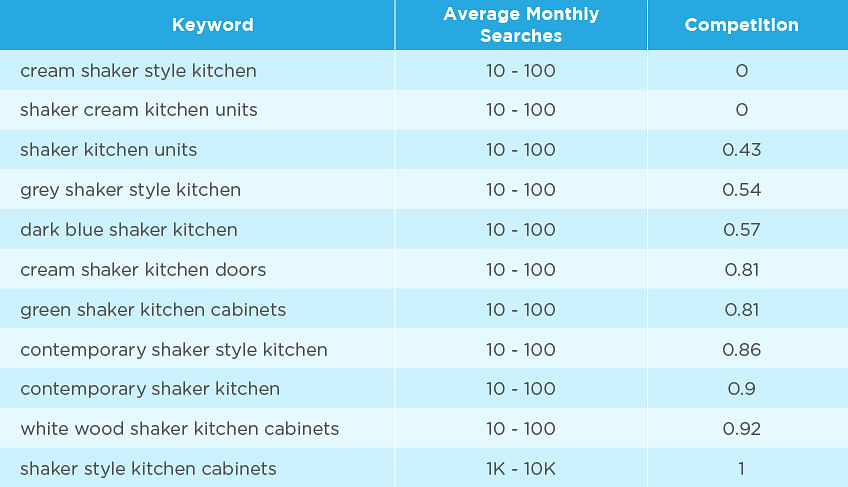 Note: The competition is based on advertising, but it's a useful guide for those doing SEO.
You can see that "cream shaker style kitchen" gets very few searches in a month and has zero competition. At first glance, you might think it's not worth optimizing for because of the low search volume but think again. If only 10 people use that keyword in a month, but your webpage shows up in the search results for that keyword, that increases your chances of being found by those 10 searchers—10 searchers with a very specific need. That's a good thing!
On the other hand, "cream shaker kitchen doors" gets minimal search volume in the same range, but it is a somewhat competitive keyword. You'll probably have a harder time winning search results with that keyword, so you need to weigh that against the low search volume. At the other end of the spectrum, "shaker style kitchen cabinets" gets thousands of searches per month, but is highly competitive so harder to win, and that makes "cream shaker kitchen doors" a more appealing choice.
Should you leave out a keyword because it's highly competitive? No, not if it's easy to optimize for, which "shaker style kitchen cabinets" probably would be if you sell kitchen cabinets in that style. Your main SEO effort, however, should go into the less competitive keywords.
We need to address intent again while looking at this list. Someone searching for "dark blue shaker kitchen" is probably looking for pictures, not actual cabinets. They are likely in the researching stage, not the buying stage, wanting to check out pictures to see if they even like how a dark blue shaker kitchen looks. On the other hand, someone searching for "green shaker kitchen cabinets" is probably in the buying stage because that's a more relevant and specific keyword.
If we go back to the cream-related keywords and apply the same logic, we might determine people looking for "cream shaker style kitchen" are looking for images while those searching for "cream shaker kitchen doors" are probably ready to buy, and that would influence our decision about which keyword we should focus on. You can't know for sure at this early stage, although looking at analytics later can give you some indication of intent and help you refine your SEO efforts.
SEO Requires Commitment, but the Effort Is Worth It
SEO is not a quick fix. It takes time for the search engines to index and rank your websites, and they look at more than simple keyword usage. SEO also involves commitment, because it requires quality content and ongoing attention to what is (and is not) working. That said, it's a straightforward task and well worth the effort, because Google isn't going away and neither is the role of the keyword in helping Google determine whether or not it's your website it should suggest to a user.