The Super Bowl is probably the greatest moment in the advertising calendar every year. It's that time when everyone comes together and pays attention to one spectacular event. It's an advertiser's big day as well. Statista just announced that this year's advertising spends during Super Bowl have touched $385 million. But, there's another space that's been gaining importance during Super Bowl events – Social Media.
According to a report by Tech Crunch, Facebook counted 64 million people who posted close to 240 million interactions on Super Bowl night. And Twitter said that there were over 27.6 million people tweeting about #SB51 during the game. Instagram was buzzing with 150 million interactions during the game.
Fans that we are, of Super Bowl, we couldn't stop ourselves from sitting down with a magnifying glass and putting together these social media moments that made Super Bowl 51 really special for us.
Facebook:
Something interesting happened on Facebook this year! The NFL streamed live video content on Facebook. The 11-minute pre-game video had 260,000 views and 1,149 shares.
But it's the final moments before lifting the cup got the NFL 3,355,884 views.
Twitter:
Actor Bryan Cranston's tweet about Lady Gaga covering more field than the patriots had twitteratis talking about how the actor probably spoke too soon. But of course, the tweet got 20, 428 re-tweets and 47,311 likes.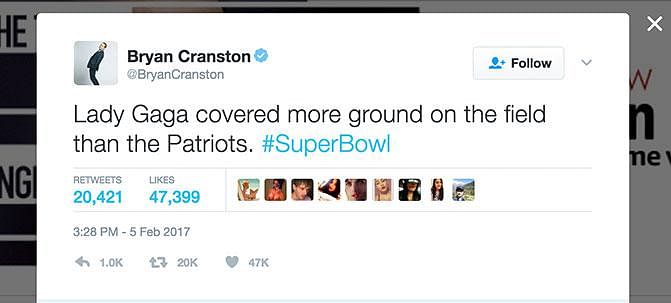 There was this fan tweet by Hilary Clinton among others.

But this tweet really took twitter by storm. Check out the 20, 512 retweets and the 82, 769 likes!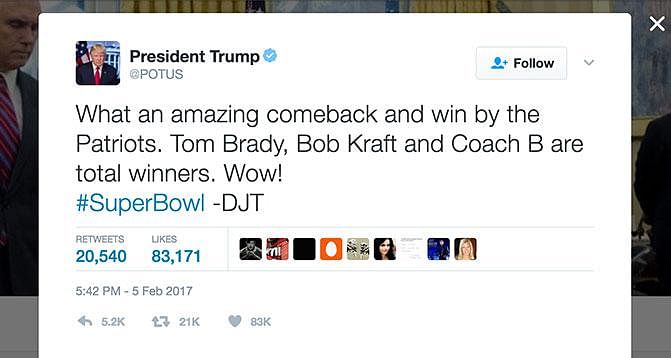 Instagram was buzzing with posts as well.
An excited Lady Gaga before she left everyone SUPER-BOWLED!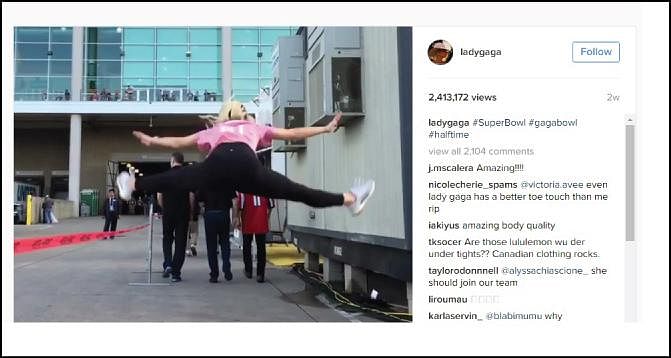 When the Patriots lifted the cup they got 704,451 views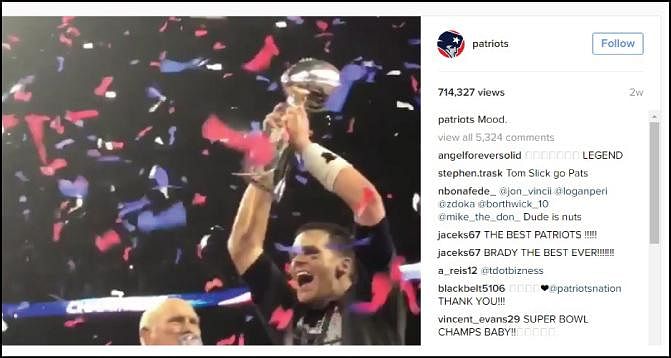 Or this one by Tom Brady after the win.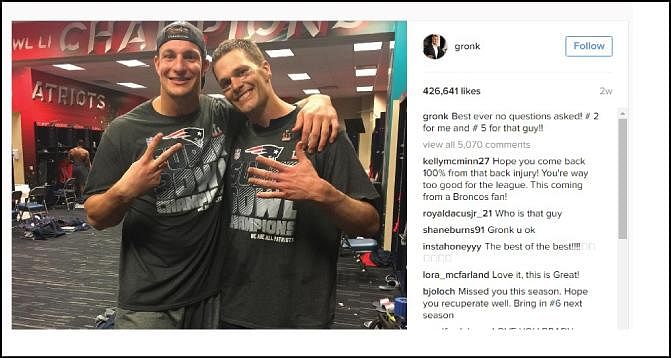 With the Super Bowl magic still fresh in our hearts, we got back to our work desks and there were 3 important take-aways for Digital Marketers during Super Bowl 2017:
Mobile, mobile and mobile: If you are engaging and growing your audiences, mobile is where you must focus on. Users are not going to be satisfied with interrupted conversations on email and websites. Seamless conversations that they allow them to engage at anytime and anywhere is something that you must invest in.
Videos will live on: Video consumption has grown over the years significantly. And events like these, re-iterate the fact that brands like yours must put together a detailed video-engagement strategy.
Platform-specific conversations: During Super Bowl 51, we couldn't help noticing that users went to Twitter for opinions, Instagram for behind-the-scene information and Facebook for conversations.