Stakeholder Analysis And Stakeholder Management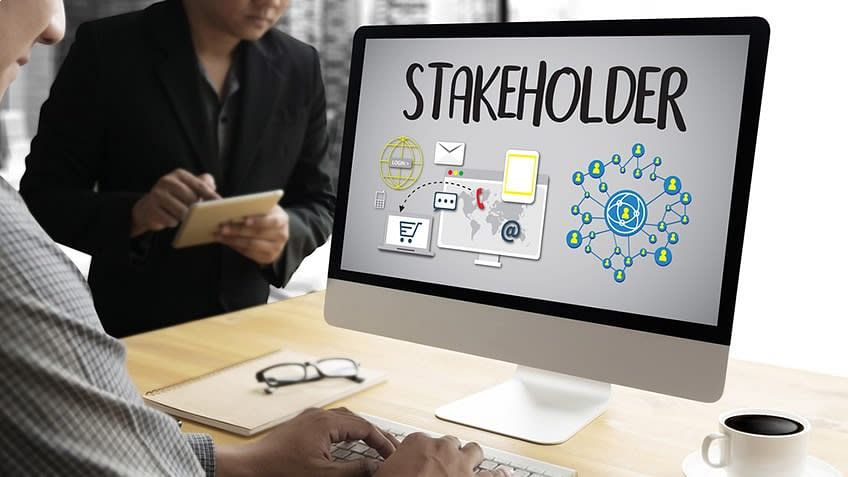 The role of stakeholders is very important now-a-days to achieve project success. Who are these stakeholders? Why are they so important? Stakeholders are the individuals or organizations who can positively or negatively impact the project objectives. In other words, stakeholders are the individuals through whom project can be impacted positively or negatively. So, there are two meanings for stakeholders:
 
First, they can impact the project positively or negatively.
Second, the project could be impacted positively or negatively in the absence of their inputs.
 
Stakeholders play a vital role in project success … keeping this in mind, PMI (Project Management Institute) included one more knowledge area, Stakeholder Management, in the recently published fifth edition of PMBOK . So, you can understand how important they are for the success of your project.
 
Why Is Stakeholder's Intervention Required?
 
As a project manager you cannot do everything. At project working platform you need a lot of help from other people. First, you need a project management team which helps you in preparing different templates and other supporting documents. For working in your assigned project, you need a group of project team. For clearing the payments of the associated team members of the project, you need account manager to sign on the related documents. You need the support of other higher management people as well to kick off the project in action. So, if you see everywhere in the organization, you will realize how important they are and it is almost impossible to run a project without stakeholder's consent.
 
Who Else Could Be A Stakeholder For Your Project?
 
This is a very important question that could arise in your mind. Below are some examples for stakeholders in your project:
 
Performing Organization
Government
Project Sponsor
Customer
Functional Manager
Operation Manager
Other Higher Management
Project Management Team
Project Team
Suppliers and Vendors
Account Department
End-users of the Product
 
Now it is imperative for a project manager to categorize the above mentioned stakeholders based on their influence and impact on the project. There might be chances that some stakeholder's influences could be high or in some cases it could be low. So, for a project manager it is very important to know and understand the same. Project stakeholders may have differing ideas as to which factors are the most important, creating a greater challenge for a project manager.
 
How To Identify The Stakeholders?

While working on the project charter itself you can get some stakeholders such as customer name, project sponsor, pre-assigned team members or pre assigned SMEs. They are the readymade stakeholders and initially you should consider their consent positively. Don't ignore anyone's thoughts at this stage as it could cost you more if you realize the same at a later stage of the project life cycle.
 
You need to have a discussion with the customer and project sponsor at the initial stage of the planning in order to decide on moving forward. Take their views and include those in the action list for your project. Your overall target should be how to meet the project objectives through their involvement. As work progresses you will be getting more stakeholders for your project and you need to document their requirement pertaining to the project goal. It is a huge task and could take a lot of time.
 
Important Strategies For Maintaining Stakeholder' Expectations
 
There are so many effective ways to manage the expectations of the stakeholders. Again, it could differ from one project manager to another. It depends on your project governance system – how will you manage the project? How will you involve your stakeholders? Below are some standard processes through which you can manage the expectations of the stakeholders effectively:
 
Involve them in understanding the project requirement: You should invite each and every stakeholder to put their thoughts on the actual requirement of the project. You should discuss with everyone on how to accomplish the project goals. What would be their role and what would be their requirement to accomplish that goal and so on. If you involve your stakeholders in this way, it definitely works.
 
Invite all in kick-off meeting: Invite everyone in the project kick off meeting and try to address every issue of the project in a transparent manner. Express that you need everyone's support to make this project a success. Try to make everyone on the single page so that everyone feels that the project goal is achievable.
 
Effectively work on the communication system: How frequently you will be communicating with your stakeholder? Discuss everything with your stakeholders such as the format used for sending the status report, trend report and more. How frequently you will be updating them. It is imperative now-a-days to decide and plan on those.
 
Conclusion
 
Stakeholders decide the fate of the project. You need to work very closely with each and every identified stakeholder throughout the project life cycle. You should also keep a track of stakeholders who could create a problem very often and involve him/her at the earliest. This is the way to manage such stakeholders.
Find our PMP® Certification Online Classroom training classes in top cities:
---