The high-cost of a college education has made news headlines in recent years as the rising burden of student loan debt takes center stage. At the same time, fewer high school graduates are headed off to four-year universities, opting for community college or vocational schools instead—or simply heading straight into the workforce.
Working professionals also struggle to make the four-year approach work when they find themselves in need of additional education or training in order to stay competitive in their careers. Many are turning to certificate programs instead, because these programs tend to be more targeted, cost-effective, faster and flexible.
So where does the traditional university fit into this new equation? As discussed in a recent webinar with Duke University Continuing Studies, partnering with a digital industry partner to provide learning and certifications might be a possible path for the educator—and the preferred one for the adult learner.
College Degree Vs. Certification Programs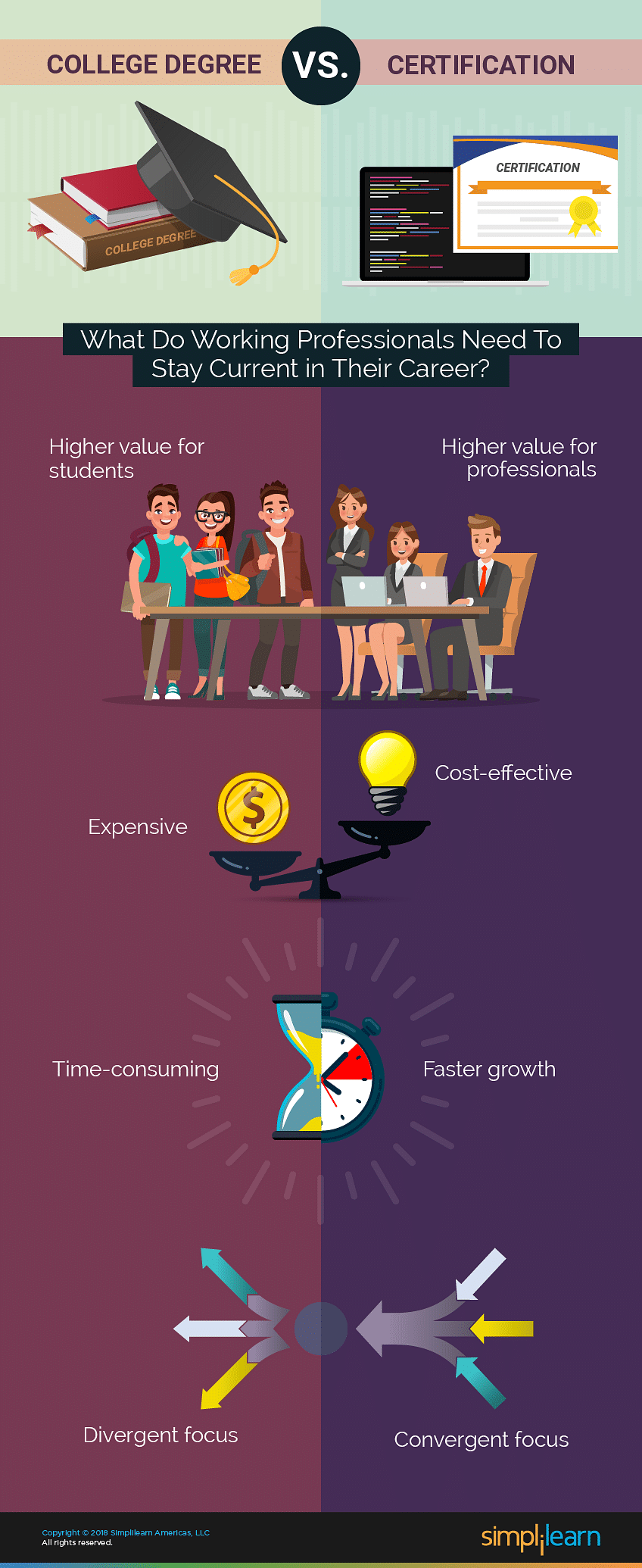 What Are Working Professionals Looking For?
For universities that are exploring partnerships with e-learning providers, it's critical to choose one based on the criteria of the working adult. Their life stage differs dramatically from that of the typical full-time college student, meaning they're evaluating a program through a very different lens. Below are the typical concerns and questions of someone seeking continuing education or certification through a university channel: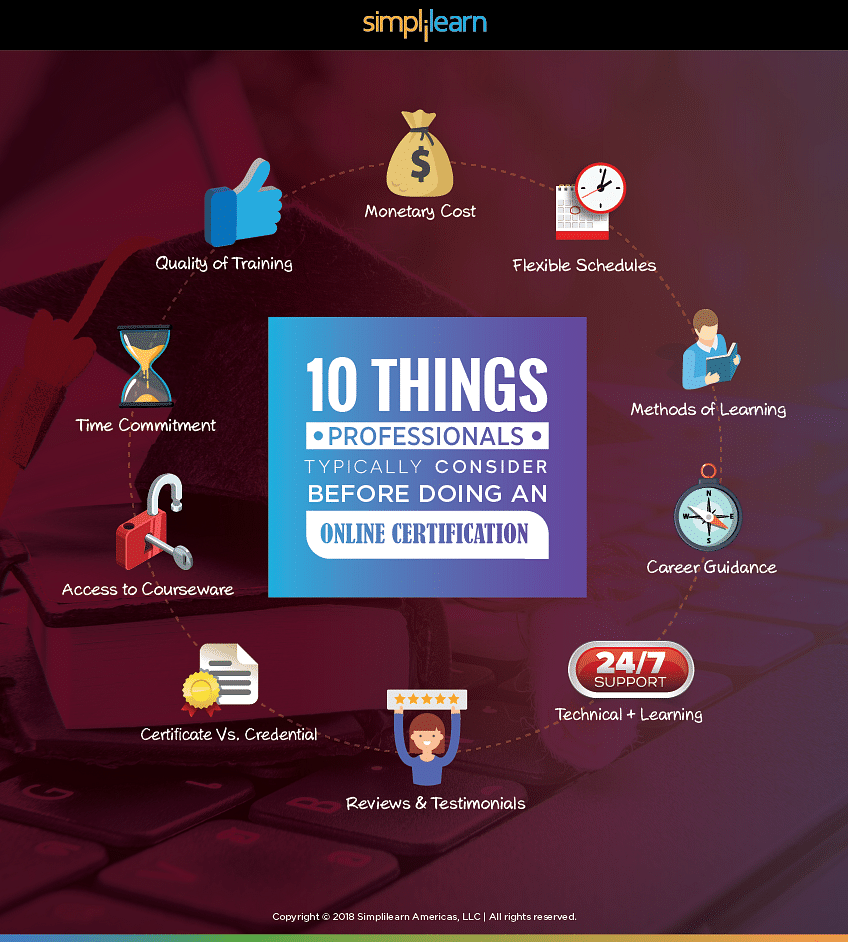 Although it might sound like a burden to add certification programs to an already comprehensive course catalog, especially when viewed through criteria like that listed above, universities can partner with an industry partner to offer digital learning options. This enables the institution to provide the training working professionals need without adding faculty or increasing costs. In addition, partnering with a vendor means offering content that is current and relevant both to the needs of the students and their employers.
Simplilearn is one such partner. Simplilearn bridges the gap for universities by offering relevant content that keeps pace with constantly changing technologies, while also offering flexible e-learning options that fit with a working student's schedule. Over the years, Simplilearn has regularly worked in close association with institutions like The University of Georgia, Bryant Stratton and Concordia University, introducing the benefits of partnered digital training, and helping these universities offer online courses to their students. Duke Continuing Studies is the latest in this long line of collaborations that Simplilearn has undertaken.
Duke Continuing Studies Partnership with Simplilearn
Duke Continuing Studies has partnered with Simplilearn to achieve these goals, as discussed in the webinar referenced above and in the article How to Build #1-ranked Digital Transformation Programs With Duke Continuing Studies. Partnering with Simplilearn has enabled Duke Continuing Studies to meet working professionals where they are while helping the business community to close the critical skills gap that is a result of our current digital transformation. Learn more about the partnership here.
This partnership has also enabled Duke Continuing Studies courses to add real value to its students, helping close critical skill gaps across domains and earn the top place in the list of 'Top 30 Best Value Digital Marketing Certificate Programs of 2017' published by Value Colleges.
As the global economy has changed and technology has evolved, so too has the role of the four-year university, and their continuing studies and executive education arms. People must keep learning well beyond college in order to keep pace with the changes and stay competitive in their careers. Those universities that can recognize this need for continuous learning, and are open to collaborative working solutions, are well positioned to partner with a digital industry partner to become the educator of choice for working Professionals.
Intrigued at how this symbiotic partnership works? Explore similar opportunities here.