Why Cloud Computing is Essential to Your Organization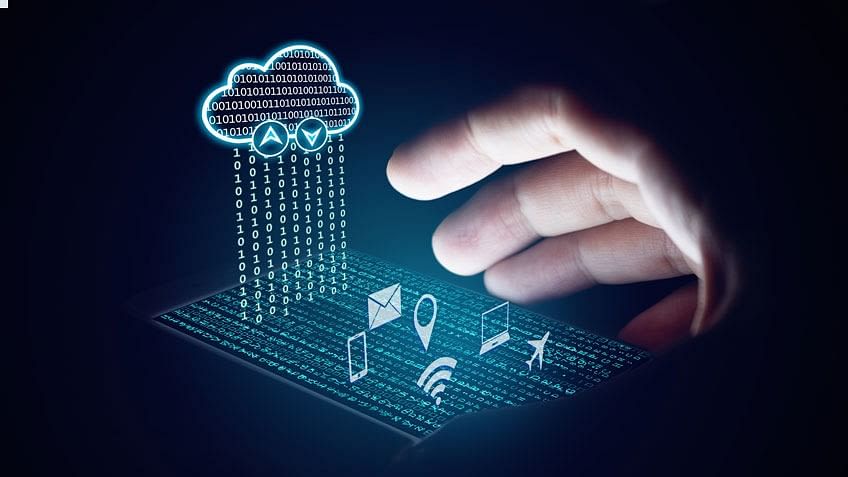 With the increased importance of Cloud Computing, qualified Cloud solutions architects and engineers are in great demand. Organizations have moved to cloud platforms for better scalability, mobility, and security. Cloud solutions architects are among the highest paid professionals in the IT industry. IDG found that by mid-2018 nearly one-third of all organizations will be relying on private clouds as part of their IT infrastructure. A report by Cisco found that more than four-fifths of all data center traffic — 83 percent — will be based in the cloud within the next three years.
IDC report that while IT employment worldwide will grow about four percent every year from 2015-2020 – all of that growth will come in cloud-related positions. By 2020, more than one in three IT positions will be cloud-related.
With the cloud market set to grow more than ever before the need for IT staff with the appropriate technical and business skills has never been greater.
The must-have Cloud Computing skills
In order for businesses to successfully execute Cloud Computing strategies they need to recruit, hire and train people with the right skills.
The future holds great promise. Cloud Computing is one of the hottest fields in the world today, with plenty of high-paying jobs available for skilled candidates. The migration to the cloud brings with it new opportunities for those with the right skills to make it happen. The pace of change is accelerating. Both individuals and managers need to continually review and assess their Cloud Computing expertise. It's safe to say that the cloud is still in its infancy. A lot will change over the next few years.
The impact of these changes on employment means new blends of skills are required to successfully manage today's cloud environments.
Candidates for cloud engineering jobs should possess strong technical skills, the ability to think through business use cases and the curiosity and aptitude to learn new tools and technology. Technical staff need a mix of operations, software and architecture abilities. Manpower reports that the list of commodity Cloud Computing providers includes Amazon Web Services, Microsoft Azure, IBM Cloud, Google Compute and HP's Converged Infrastructure with OpenStack. A familiarity with one or more of these platforms is a requirement for technical candidates.
In addition to technical positions there will be plenty of jobs for those with relevant business skills. When organizations adopt their IT from third-party providers, there is a critical need for people who know what services to pick, who can negotiate service level agreements, and can integrate those off-site offerings with on-site data and operations.
Hiring managers must evaluate the blend of technical and business skills, of specific and generalist abilities, they need in order to implement cloud solutions successfully.
The Cloud Computing skills gap
Research conducted by Robert Half Technology based on interviews with more than 100 CIOs and IT executives across the UK, revealed that three-quarters of the CIOs and IT directors polled admitted they frequently encountered IT professionals who were not up to the task. A 2016 Gartner survey asked the IT professionals to identify the skills gaps that their organizations were trying to fill in relation to information, technology or digital business. Cloud led the list.
A 2017 UK survey by Microsoft found that almost a third of respondents had actively sought to recruit team members with cloud skills within the last year. A significant number found difficulty in recruiting the right people. They predict that over 3,500 organizations in the UK alone could be hampered by a lack of qualified staff. Employees and candidates with the right qualifications will be welcomed by these companies.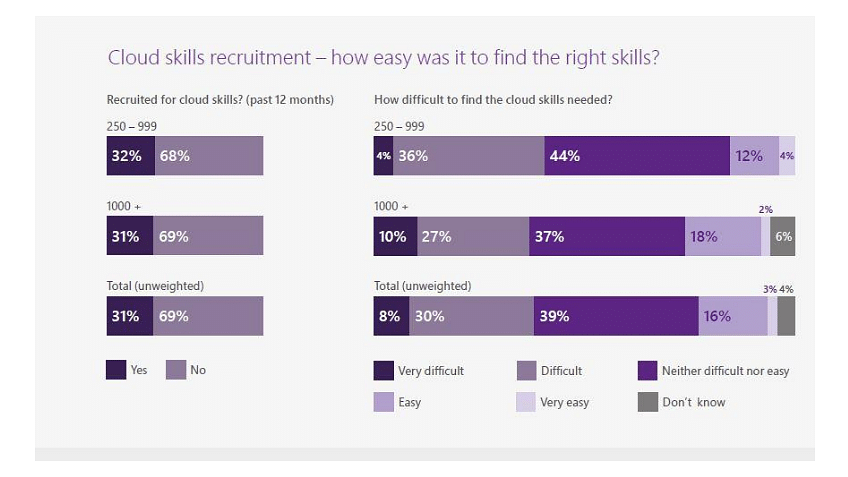 Source: Microsoft Cloud Skills Report
How to bridge the Cloud Computing skills gap
For job seekers with a desire to land a Cloud computing job, a clear understanding of where they might have a shortfall, and what skills they need to backfill, is an essential first step.
Candidates should decide if they want to acquire technical skills, business skills, or a blend of the two.
Companies require skilled professionals in every area of Cloud Computing.  They require people with the skills to design and plan cloud solution architecture, manage and provision infrastructure, analyze and optimize technical and business processes, manage implementation and ensure solution and operations reliability.
Many of the jobs that are the most difficult to fill didn't even exist when many people were going through college. Continued education and investment in building the skills of the current workforce to meet the demands Cloud Computing will reduce the skills gap.
Microsoft found that a majority of organizations look to training to meet their cloud skills needs.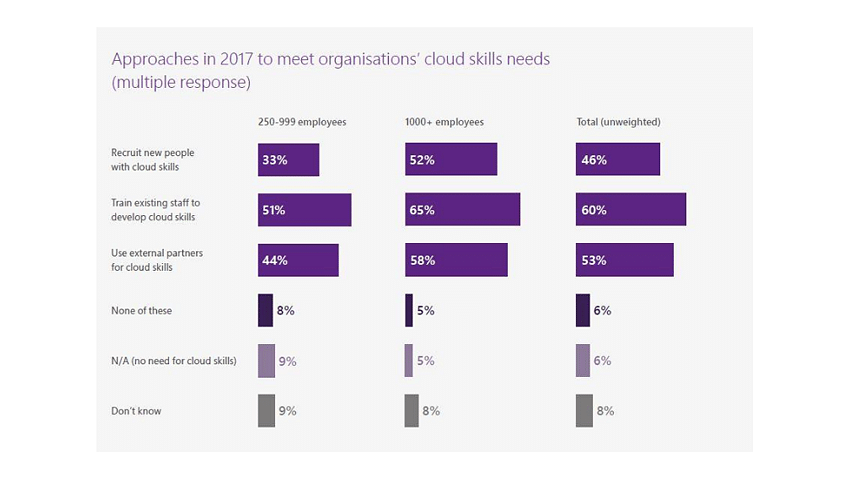 Source: Microsoft Cloud Skills Report
There are a growing number of training opportunities available for employees to acquire the appropriate skills.
While no single training delivery model works best for every learner, a learner centric model must be utilized. We've found that a "blended learning delivery model" coupled with 24x7 access to teaching assistants in combination with project based learning opportunities and quizzes/assessments increases competencies and proficiency.
Designed by expert authors, our Cloud Computing courses offer high-quality training in both technical and business skills to ensure professional success.
Find our AWS Solution Architect Online Classroom training classes in top cities:
Recommended articles for you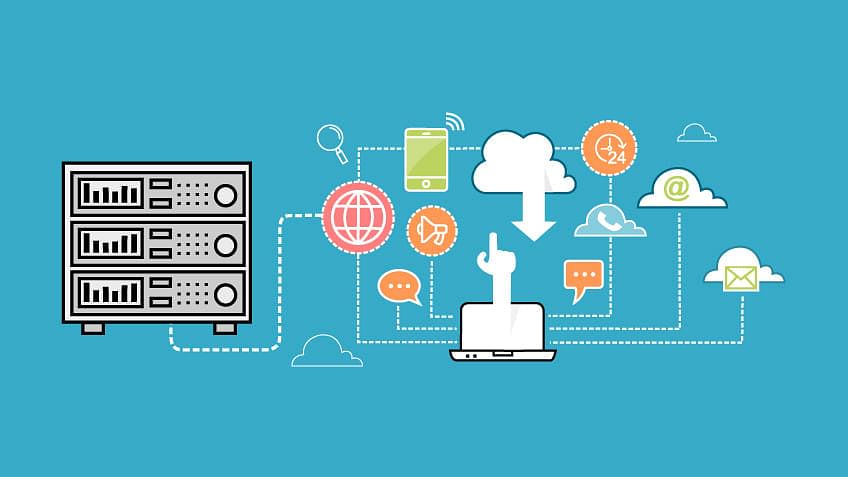 Cloud Computing Architecture
Article

A Synopsis of the Exin Cloud Computing Certification
Article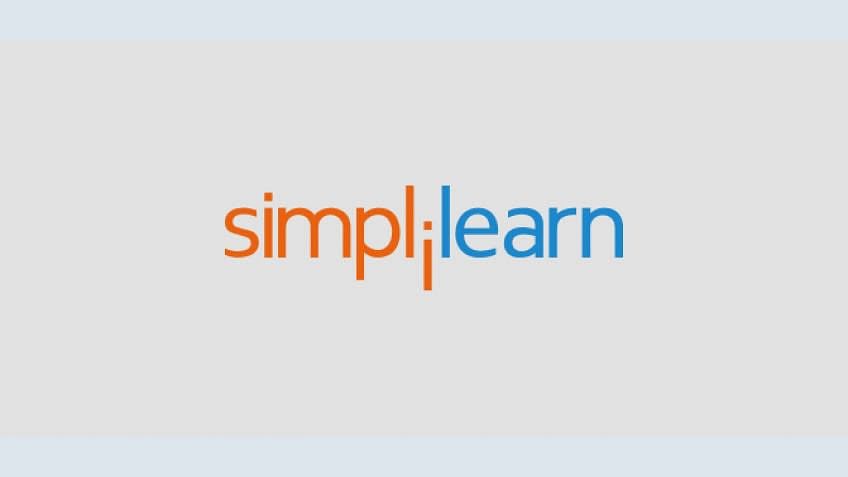 Cloud computing for testing requirements
Article
---