Blueprint of Digital Transformation
Introduction
This is a Digital Transformation tutorial offered by Simplilearn. The tutorial is part of the Digital Transformation course and will help understand the framework of Digital Transformation with examples and learn the importance of adopting it in your business.
Objective
At the end of this lesson, you will be able to:
Explain the digital transformation framework

Discuss how to reimagine your value chain by applying digital processes to your operational and customer journeys

Describe how to build digital capability across the company
Digital Framework Preview
It is rightly said that "Strategy, Not Technology, Drives Digital Transformation."
The adoption of upgraded technology does not ensure digital success. As per the 2015 Digital Business Global Executive Study and Research Project by MIT Sloan Management Review and Deloitte, strategy is the key driver in the digital arena.
Being digitally fluent doesn't refer to being a master in technologies. It actually calls for the ability to articulate the value of digital technologies to the organization's future.
Digital Transformation is about transforming how a company operates and engages with customers by leveraging technology and data. Companies today need to continuously find new sources for customer value. Earlier, value proposition was defined by the company. Today, value proposition is being defined by changing customer needs as the customer is now at the center of any business decision.
Major Areas Involved in Digital Transformation
The major transformation occurs in areas of:
Business models
Organizations need to reorient their strategy to transform their business model, technology, data infrastructure, processes, as well as culture and mindset, all geared toward constantly finding new sources of customer value.
Technology and Processes
Increasing digital adoption among tech-savvy customers is changing how they discover, evaluate, and purchase products and services. This is changing how we engage with customers and create value by leveraging the latest techno-functional capabilities and redefining the value chain for serving customers.
Competition
Companies are now competing not just with other companies from within the industry but also with companies from outside the incumbent industry. They may find themselves competing fiercely with a long-standing rival in one area while partnering with the same company in another.
Culture and Mindset
Digital is transforming how businesses innovate. It has enabled continuous testing and experimentation. Prototypes can be built quickly and tested with user communities, allowing constant learning and rapid iteration before full-fledged launch.
A digital strategy or a digital framework aligning all these areas is crucial for any organization to prepare for the change and reap the benefits of digital transformation.
Let's look at an example where having a digital framework has resulted in a successful transformation.
Example:
Schools are transforming digitally to enhance teaching, learning, and assessment in the adaptation of the UNESCO ICT Competency Framework.
Having a framework provides a common reference of digital competence for teachers and school leaders. It promotes innovative pedagogical approaches that embed the use of digital technologies.
Eager to know more about Digital Transformation Framework? Click here!
What is a Digital Transformation Framework?
A digital transformation framework is a blueprint for an organization to move through a period of significant change caused by evolving business conditions.
However, there is no framework that fits all! Companies have their own business transformation framework suited to their digital transformation strategy, customers, and employees.
Some examples of companies that have adopted a digital framework are:
Cognizant

Deloitte

Audi

Mendix and many more.
But why is a framework so important?
Need for a Digital Transformation Framework
The objective of any business is to continuously improve its products and services to meet the changing needs of its customers. This requires businesses to rethink their work to continuously improve margins and decrease costs through a Digital Business Transformation.
Adoption of a digital framework not only equips an organization to improve its operations but also accepts and executes innovative and disruptive strategies.
These strategies enable the company to compete in the rapidly changing market conditions that are highly influenced by changing customer expectations, technologies, and new commercial models. The digital framework provides an appropriate strategy and roadmap that allows organizations of different sizes to grow and succeed rapidly in the changing market conditions.
Let's look at an example where Digital Transformation Strategy plays a major role.
Example
Shown here is the Digital Framework adopted by SAP. Sensors and the Internet of things are playing a major role here. For SAP, the intelligence lies within the applications. What is important is the input – loads of data – and the ability to provide and deliver models that can be trained to support specific business processes – machine learning.
This is the framework that worked best for SAP based on its business model and strategy for the transformation. Although the framework is industry-specific, there are a few core elements that form a base in the framework strategy and can be incorporated into almost all of the industries.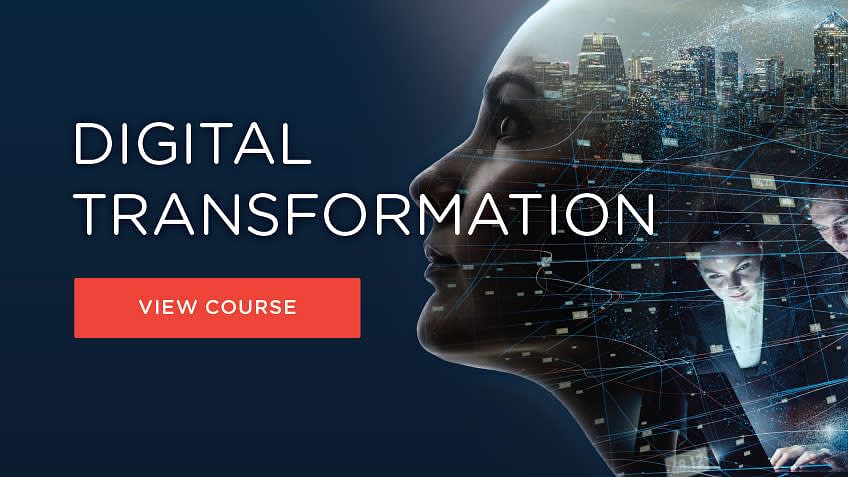 Core Elements of Digital Transformation Framework
To ensure transformation at scale, it is advisable to include the three core elements:
People

Process

Technology
Let's look at these core elements of Digital Transformation Framework in detail.
People
Digital transformation calls for a greater focus on people, not just technology. Digital transformation requires people who:
Are creative

Have complex problem-solving capabilities

Are lateral thinkers

Have both flexibility and agility

Drive Collaboration across an ecosystem
Process
The process involved in this digital transformation framework includes:
Researching the implications of transformation: This stage is aimed at analyzing the necessities for adopting the change and its implication to organization health. This helps in deciding whether to adopt Digital Transformation or not, with the required supporting documentation.

Analyzing Internal business environment: This involves an in-depth analysis of what organizations can do to improve the current business processes. It helps to fetch the information regarding the key improvement areas of your business to increase the sales, performance, and customer experience.

Analyzing the range of transformation: This helps the organization to identify the changes in the processes/business that need to be made. These changes would include processes, list of activities, and business model changes.

Process Prioritization: The fourth step is all about prioritizing the process to gain maximum returns. This helps to fetch a clear roadmap for the identified changes.

Publicizing the transformation: This stage involves publicizing the changes that an organization is trying to bring in the digital transformation front.

Implementing the change: This stage involves implementing the changes that are planned and analyzing the impact. This helps to form a trained team that is capable of handling a digitally transformed business in the future.

Production usage: The final step in the framework is about making the new system available for production usage. The helps in creating a clear roll-out plan with clearly identified roles, responsibilities, and timelines.
Technology
Organizations are focusing on their technology infrastructure to transform how they operate and engage with customers. They are adopting various digital technologies such as:
Cloud

Big Data and Analytics

IoT

Artificial Intelligence

Robotics and Automation

Blockchain
The adoption is based on the need of the organization to transform its internal capabilities to deliver superior customer experience. The organizations also need to set up dynamic business models using these technologies, which is done using the digital value chain.
Want to have a Digital Strategy about your Business? Click to know more about the Digital Strategy setup!
Digital Value Chain
Digital Value Chain enables organizations to step up dynamic business models by identifying and implementing new value-creating activities and processes using digital technologies. It provides an approach to explore new opportunities for digital transformation in how businesses operate and serve their customers.
The Value Chain separates business activities into primary and supporting activities.
Digitally transformed value chain requires change both at operational and customer level.
Operational-level change involves automating the entire process, right from inbound logistics to services that ensure accuracy, speed, and transparency in the process.
Customer-level change involves radically transforming the approach for engaging with customers by using various digital levers across functions such as product development, operations, sales, and customer services. It transforms customer engagement across different touchpoints by making it faster, quicker, and cheaper.
Let's now look at the key aspects to build a digital capability across a company.
Building Digital Capability Across a Company
Building digital capability requires capability development around three key dimensions:
Digital Leadership: It involves building strategic depth and business acumen to lead digital transformation for clients.

Digital Techno-functional: It involves building deep expertise in latest technologies, tools, and approaches focused on seamless execution for driving business outcomes and superior customer experience.

Digital Culture and Mindset: It involves creating the digital culture (DNA) required to sustain performance in a world of technology, business, and workforce disruption.
The technologies and approaches for the three dimensions are listed in the table.
In this lesson, you have analyzed why a digital framework is so important to prepare for the big change. You will continue to understand this further in the next lesson.
Now, let's summarize what you have learned.
Key Takeaways
Lets quickly run through what you have learned so far.
A digital transformation framework is a blueprint for an organization to move through a period of significant change caused by evolving business conditions.

The framework provides the strategy and roadmap that allows organizations of all sizes to evolve and succeed in the rapidly changing market conditions that now exist.

Digital Value Chain provides a framework to explore new opportunities for digital transformation in a business.

Digital transformed value chain requires change both at operational and customer level.
Conclusion
With this, we come to an end about this Digital Transformation framework tutorial. In the next chapter, we will discuss Driving a digital mindset and its impact on business.