ITIL® Intermediate SS Introductory Tutorial
This is the introductory lesson of the ITIL Intermediate tutorial, which is part of the ITIL® Intermediate SS Certification Training. This tutorial will give you an overview of the course, its prerequisites, and the value it will offer to you.
ITIL SS Tutorial Description
The ITIL Intermediate Qualification: Service Strategy Certificate is a free-standing qualification but is also part of the ITIL intermediate lifecycle stream, and one of the modules that leads to the ITIL Expert Certificate in IT Service Management.
The purpose of this training module and the associated exam and certificate is, respectively, to impart, test, and validate the knowledge on industry practices in service management and strategy as documented in the ITIL Service Strategy publication.
Let's understand the objectives of this tutorial in the next section.
Objectives
Candidates can expect to gain competencies in the following upon successful completion of the education and examination components related to this tutorial:
Introduction to service strategy

Service strategy principles

Service strategy processes

Governance

Organizing for service strategy

Technology considerations

Implementing service strategy

Challenges, critical success factors, and risks
This qualification provides a complete overview of service strategy including all its related activities: how to design, develop, and implement service management not only as an organizational capability but also as a strategic asset.
Let us now look at the target audience in the next section.
Target Audience
The main target candidate for the ITIL Intermediate Qualification: Service Strategy Certificate includes, but is not restricted to:
Chief information officers (CIOs)

Chief technology officers (CTOs)

Managers

Supervisory staff

Team leaders

Service designers

IT architects

IT planners

IT consultants

IT audit managers

IT security managers
Apart from the candidates mentioned in the previous slide, the ITIL SS tutorial is also relevant for the following candidates:
ITSM trainers involved in the ongoing management, coordination, and integration of strategizing activities within the service lifecycle

Individuals who require a deeper understanding of the ITIL service strategy stage of the ITIL service lifecycle and how activities in it may be implemented to enhance the quality of IT service management within an organization

IT professionals working in roles associated with strategic planning, execution, and control within a service-based business model, seeking an understanding of the concepts, processes, functions, and activities involved in service strategy

Individuals who have attained the ITIL Foundation Certificate in IT Service Management and wish to advance to higher level ITIL certifications

Individuals seeking the ITIL Expert Certification in IT Service Management for which this qualification can be one of the prerequisite modules

Individuals seeking progress toward the ITIL Master Certificate in IT Service Management for which the ITIL Expert is a prerequisite.
Let us now look at the exam prerequisites for this tutorial in the next section.
Exam Prerequisites
To be eligible for the ITIL Intermediate Qualification: Service Strategy examination, candidates must have fulfilled the following requirements:
At least 21 contact hours (hours of instruction, excluding breaks, with an Accredited Training Organization (ATO) or an accredited e-learning solution) for this syllabus, as part of a formal approved training course/scheme

A basic IT literacy and around 2 years IT experience are highly desirable

Hold the ITIL Foundation Certificate in IT Service Management (or other appropriate earlier ITIL and bridge qualifications

It is also recommended that candidates should complete at least 21 hours of personal study by reviewing the syllabus and the ITIL Service Strategy publication in preparation for the examination, specifically Chapter 2: Service management as a practice.
In the next section, we will discuss Service Strategy exam format.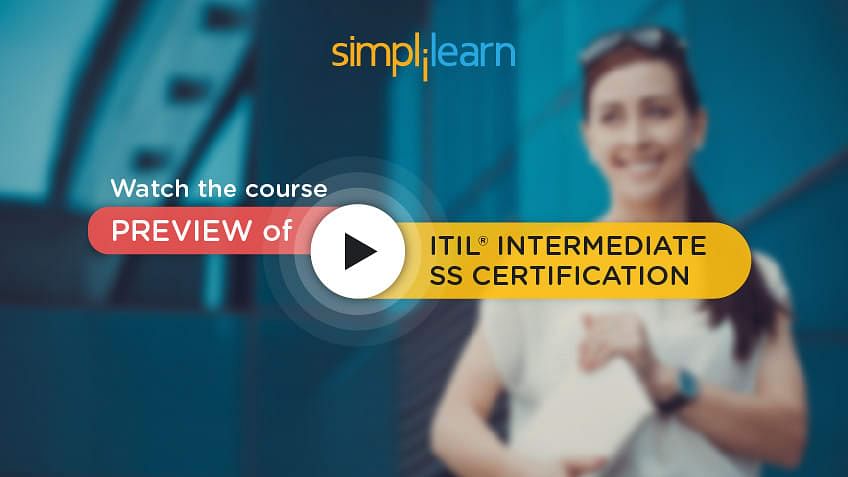 ITIL® 2011 SS Exam Format
ITIL 2011 SS Exam consists of Eight (8) Multiple Choice Questions, which will be Scenario-based, gradient scored questions. Each question will have 4 possible answer options, one of which is worth 5 marks, one which is worth 3 marks, one which is worth 1 mark and one which is a distracter and achieves no marks.
The duration of the exam is 90 Minutes. As a Prerequisite, you need to have an ITIL 2011 Foundation Certificate OR ITIL V2 Foundation Certificate plus Bridge Certificate AND Completion of an accredited course from an ITIL Accredited Training Provider. It is a supervised exam and closed book. You need to acquire a minimum Pass Score of 28 right answers out of 40 questions or score 70% in the exam.
Let us explore the lessons covered in ITIL SS Tutorial in the next section.
Lessons Covered in this ITIL SS Tutorial
There are nine lessons covered in this tutorial. Take a look at the lesson names that are listed below.
Lesson No

Chapter Name

What You'll Learn

Lesson 1

In this chapter, you'll be able to:

Cover the purpose and objectives of service strategy

Cover the scope of service strategy

Learn the value of the business and the context of service strategy

Lesson 2

The objective of this lesson is to educate you on:

Details of Key concepts such as Services, Value Creation, and Assets, etc.

The description of various stakeholders in Service Management

Process and Process Model

Concepts of Process Integration across Service life cycle

The importance of Specialization and Coordination across the Lifecycle

Lesson 3

The topics in this lesson will help you to:

Understand Fundamental Aspects of Strategy

Understand and describe 4 P's of Strategy

Understand the Customer Perceptions of Value

Understand the Value Added to Value Realized

Learn about the Strategies for Customer Satisfaction

Learn the Kano Model

Understand ROI - Different Considerations and the Sourcing Strategies

Lesson 4

This lesson will help us to understand about:

Purpose, Objectives, and Value of the SS Process

Process Flow For Strategy Management

Steps for Strategic Assessments

Concepts of Strategy Generation, Strategy Execution

Measurement and Evaluation of the SS Process

Lesson 5

Service Strategy, Governance, Architecture and ITSM Implementation Strategies

This lesson will help us to:

Understand the concept of Governance, Management, IT Governance

Learn How does Service Strategy relate to Governance

Learn the 3 Main Activities in Strategy Policy - Evaluate, Direct, Monitor

Learn How organization will be Using Strategy to achieve balance

Learn various Types of Service Management Implementations

Identify the Service Management Assessment, its Variables for the implementation.

Learn the Contents of Project Charter

Lesson 6

This lesson will help us to learn about:

5 Stages of Organizational Development

Deciding on an SS structure

Organizational Design Steps

Generic Roles- Service Owner, Process Owner, etc

Competence and skills for Service Management

Service Management Attributes

RACI Model

Lesson 7

This lesson will help you to learn about:

Service Automation

Benefits of Service Automation

Instrumentation Techniques

Characteristics of Good Service Interfaces

Commonly used sets of tools useful for decision making in service strategy

Lesson 8

This lesson will help us to learn about:

Implementation through the Lifecycle Implementation Activities

Designing Service Strategy

Transitioning Service Strategy

Operating and Continual Improvement Activities

Lesson 9

ITIL® Intermediate SS Challenges, Critical Success Factors and Risks Tutorial

This learning lesson will help us to learn about:

Challenges involved in intermediate SS

Risks involved in intermediate SS

Critical Success Factors in intermediate SS
Conclusion
With this, we come to an end about what this ITIL SS tutorial includes. In the next chapter, we will discuss the Introduction to Service Strategy Tutorial.