Ed-tech firm Simplilearn Solutions Pvt. Ltd has won the News Corp VCCircle education company of the year award for 2017 for the business innovation it has demonstrated and the progress it has made on the global expansion front. 
The eminent jury, chaired by Arun Duggal, chairman of ratings agency ICRA, unanimously acknowledged the San Francisco-based company's stellar show over the past year.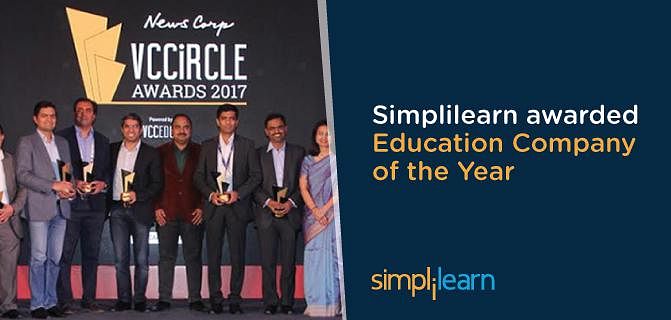 Simplilearn outshone the other nominees, EuroKids International Pvt. Ltd, CL Educate Ltd (Career Launcher), S Chand and Company Ltd and Resonance Eduventures Pvt. Ltd, to bag the award.
The company, which started off as an online, short-term certification course provider for management and technology professionals, has made some strategic moves in the last two years that have helped it expand its presence in advanced markets such as the US and Europe, apart from winning large corporate clients. It acquired US-based digital marketing training firm Market Motive in mid-2015, and has since built an enterprise business around courses for employees of big corporations.
Enterprise focus
Apart from thousands of professionals individually enrolling for Simplilearn's 400-odd courses, several enterprise clients, including Fortune 500 companies and large Indian IT companies, have partnered it to upskill their workforce. According to the company's founder Krishna Kumar, the newly launched enterprise business already accounts for 30% of its total revenue, and it is likely to surpass that from individual accounts soon.  
Despite doing away with offline classes, which accounted for a third of its revenue, Simplilearn's revenue surged 43% to Rs 132 crore in the fiscal ended March 2016. Kumar believes the company will post 50% revenue growth in the current financial year, and report operational profit for the current quarter. It has already improved its gross margin from 40% to 70% following the scrapping of the offline business. 
Kumar started Simplilearn as a blog in 2010, during a break after selling the IT services firm he co-founded with three others. He ended up giving free online training through video and blog posts to 3,000 people, which paved the way for his second venture. 
Way forward
Simplilearn has hired corporate veterans to build business in the promising US market, and is looking for acquisitions in target markets such as Australia and the UK. Besides geographical expansion, it wants to add more advanced courses, particularly in areas like artificial intelligence and social selling.  
This article was originally published on VCCircle.