As documented by Himanshi Sharma
As a busy high school student and a native of India, I set some amazing goals set for my future. After taking courses with Simplilearn, I was able to gain clarity on those goals, and even gain admission into a top collegiate mathematics and computer science program in the United States. 
I have many interests and passions in my personal and collegiate life. I'm an avid environmentalist, working with Reap India Benefit Foundation to conserve water and electricity in addition to attending many leadership and wildlife camps focused on sustainability. I also enjoy debate and public speaking and am active with the Model United Nations. In spite of my busy schedule, I make it a priority to work with underprivileged schools as a teacher, supplying students with books and stationery and helping to improve sanitation. Currently, I work on a project to transfer old laptops from corporations to these schools so that technology can be incorporated into their curriculum.
Even with all of these all of these passions and activities, mathematics is still my primary passion. Simplilearn helped me further my passion for the subject as well as my desire to work in the field of data and analytics.
Passion for Mathematics Leads to Data Science Career Choice
My studies consisted of the usual subjects as a 12th grader at my local high school, but my favorite subject is mathematics. When I decided to take up mathematics as my major, I began to wonder how I could effectively apply it to real-world scenarios and contribute to a field that is constantly evolving.
As a high school student, I discovered there weren't a lot of opportunities available to pursue this passion and learn more about the field. So, I looked to Simplilearn.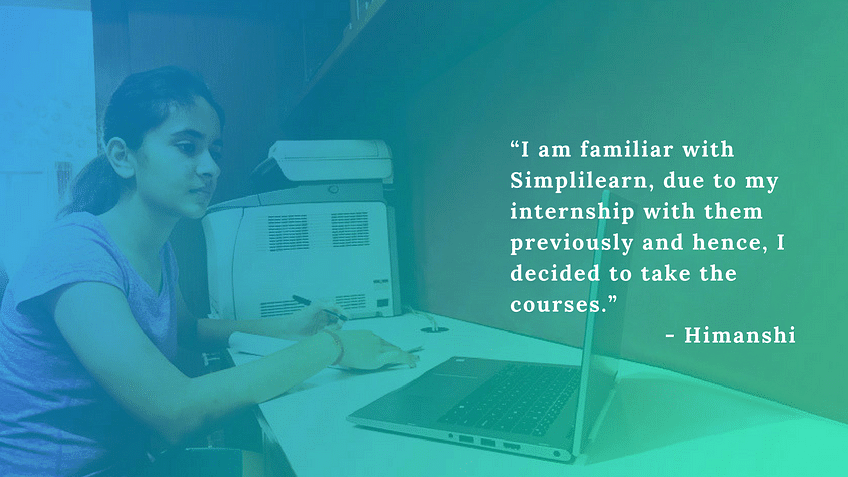 I've taken three Simplilearn courses: Business Analytics with Excel, Python for Beginners, and Data Science with Python. The first course was an easy introduction for me because I was familiar with Microsoft Excel. But I didn't know Python, so I decided to took the free Python for Beginners from Simplilearn before taking the Data Science class.  
I had experience with Java and HTML but not with Python. This is why I took the Python for Beginners course first, to become comfortable with the language. Then I took the Data Science with Python course.
Taking courses through Simplilearn has helped me understand the real-world application of mathematics. After seeing the practical applications, where passion met with my career goals, I realized that I wanted to deep-dive into data science and analytics.
In hindsight, I believe it's helped confirm my interests in these fields and has helped me demonstrate my passion for mathematics to colleges in the U.S. where my application would be viewed more holistically.
Getting Accepted into a Top U.S. Program
When I graduate from high school, I plan to pursue an undergraduate degree in mathematics and computer science,  after which, I intend to embark on a career in data science.  I'm well on my way to achieving my goals and have been accepted into the Mathematics and Computer Science Program at the University of Illinois (UIC).  UIC holds the 5th highest-ranking computer program in the United States.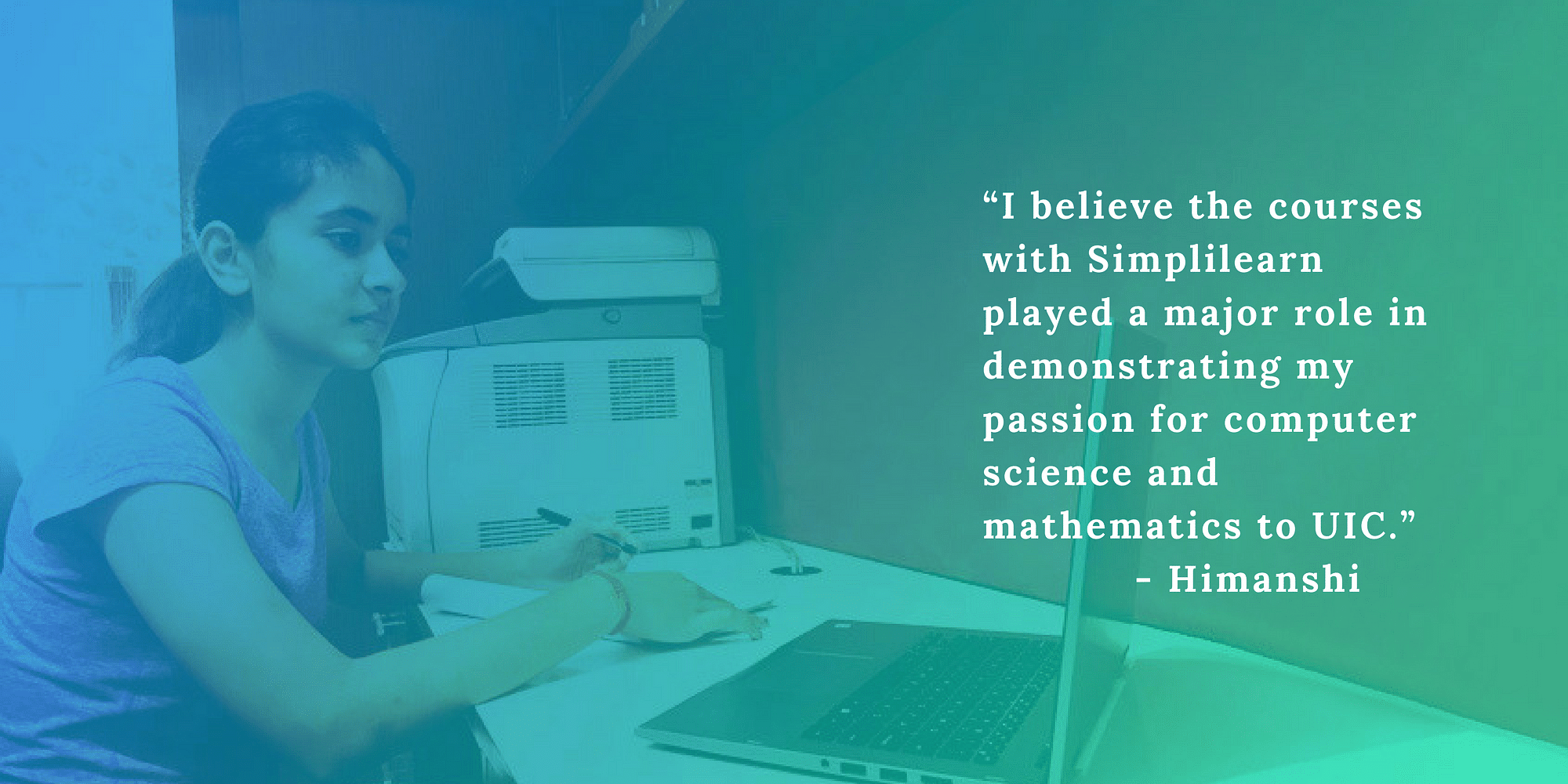 While my next step is college and learning more about data science, I see the value in the courses offered by Simplilearn, and hope to take more of them in the future. I plan to explore my interests in college, and, perhaps take a few more courses such as Simplilearn's course on Big Data.
Laying a Strong Foundation for the Future
Taking courses with Simplilearn helped me lay the foundation for my knowledge in business analytics and data science. I was able to learn more about real-world applications of mathematics, and gain exposure to Python and data science, helping me decide for certain that my future lies in the data science field. In addition, I learned skills I can apply in college. The courses helped me get into a top mathematics and computer science program, a path I recommend to others with similar interests and goals. 
I definitely recommend taking courses from Simplilearn, whether you're a student or a working professional. It's a good source of knowledge and skill development that also provides opportunities to apply what you learn with a project at the end of the course. I believe the best learning comes from a combination of theory and application. Simplilearn provides just that.