The world we live in today is a highly digital place, but that wasn't the case until a few years ago. Before the advent of the Internet and social media, promoting your products or brand wasn't as easy as it is today. Now, with social media, everyone's lives have become a lot easier, from the business to the marketer, to the consumer. Everyone also includes your competitors, so let's dig into how to start social media marketing and rise above the rest.
What is Social Media Marketing?
Social Media Marketing includes increasing website traffic, engagement, brand awareness, and other marketing goals by designing various types of content for different social media platforms. The content can be in the form of videos, blogs, infographics, or any other forms that have the potential to go viral.
If it's done right, social media marketing can be beneficial to you in several ways:
Increase brand awareness 
Boost conversions rates 
Improve search engine ratings
Build top-funnel traffic
Lower marketing campaign costs
While Facebook, Instagram, LinkedIn, YouTube, and Twitter are the most popular platforms, there are hundreds of others out there. They come in many flavors, like — microblogging, B2B networking, video sharing, content sharing, bookmarking, Q&A, and so on. Let's dig in a little deeper.
Digital Marketing Specialist Master's Program
Advance Your Career as a Digital Marketer
EXPLORE COURSE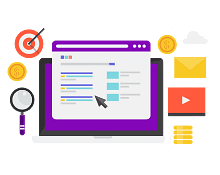 Facebook Marketing
By far, Facebook is the largest social networking site in the world, and arguably, the most popular social media platform. It allows users with common interests to build online communities. Facebook can also be used to improve brand awareness. If you have a business, you should create a separate Facebook page from your profile. Create original or share engaging content with a little self-promotion here and there. If you look at Coca-Cola's Facebook page, for instance, they don't necessarily use their Facebook page to push their products on people. Instead,  the company publishes a variety of posts about things like recycling and community involvement to build brand awareness. Companies can also leverage user-generated content to promote their brand by sharing how much other customers love their products or services.
What's extra helpful for businesses and marketers is Facebook Insights. Updated weekly, these give you insight into how people are interacting with your posts, or how successful your campaign is. Metrics include page views, engagement, likes, shares of your posts, and more. It's worth noting that data is only accessible for the last two years, and demographic data like age, gender, and location, are only available once there are at least 100 users.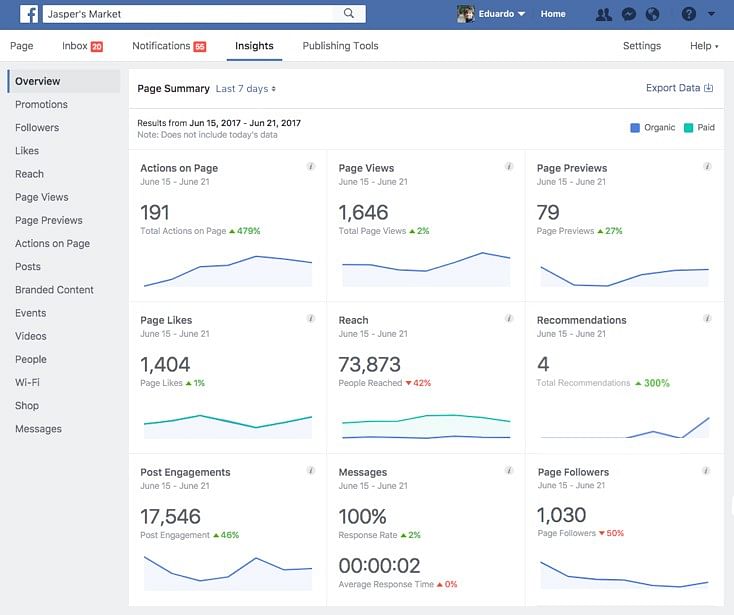 Source: Clickz
Tips for getting the most out of Facebook
Understand your target audience and create personalized content
Schedule content to be posted in advance of when you plan to publish
Advertise your posts using different types of Facebook ads (single image ads, carousel ads, etc.)
Advertise on Facebook Messenger and Instagram
Instagram Marketing
Instagram, which is owned by Facebook, enables you to promote your brand or products through photos and videos. It has over 1 billion monthly users. Instagram's popularity is primarily due to its simplicity — all you need is a mobile phone to upload a photo or video.  You can also post ads on Instagram, and since Facebook owns it, you can run Facebook ads alongside Instagram ads to boost your posts. Facebook Ads Manager allows you to choose to also advertise on Instagram, and you can also decide whether to post the ad as a story or feed. Instagram is not limited to any industry, but it's used most often in beauty, food and beverage, and eCommerce. With eCommerce, for instance, customers can purchase products through the platform.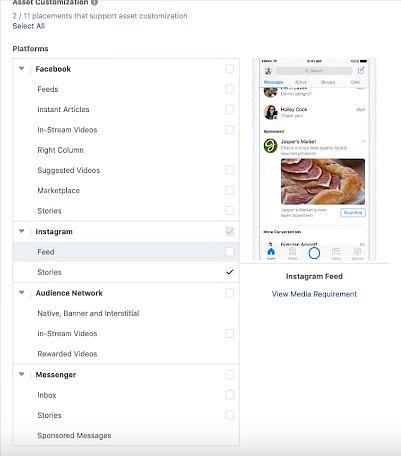 Tips for getting the most out of Instagram
Write a compelling description and add a profile picture in your bio
Add a link to your landing page in your bio
Follow relevant accounts in your industry
Make use of both images and videos
Connect with influencers and get shoutouts from them
Update stories and your feed regularly
Run contests to boost engagement
LinkedIn Marketing
In the B2B arena, LinkedIn reigns. LinkedIn is a powerful B2B platform that also serves as a sort of online resume for a person or a business. For lead generation, LinkedIn should be the first platform to consider as it is 277% more effective at generating leads than other social media platforms.  You can create an engaging business profile for your LinkedIn page by giving information about the products and services you offer, a history of the business, accolades, and so on. 
Like Facebook and Instagram, you can also advertise on LinkedIn. Images, videos, and slideshow presentations perform well. You can also "pin" updates on your page to promote specific content and use LinkedIn metrics to determine the success of your ad campaigns. So, LinkedIn marketing is crucial for professionals who are studying how to start social media marketing.
Tips for getting the most out of LinkedIn
Create a separate company page for your business
Boost the most relevant content
Create and share SlideShare presentations
Optimize SEO on your company page
Use LinkedIn Ads campaigns
Interested to know more about social media marketing strategies? Check out the Advanced Social Media Marketing Training. Enroll now
YouTube Marketing
YouTube, which is owned by Google, is a video sharing platform with over 1.9 billion monthly active users worldwide. Given the level of engagement that videos get, it's no surprise that if it were a search engine, it would be the second most popular, after Google. Like Facebook and Instagram, the YouTube mobile app is top-rated — 70 percent of videos are viewed from mobile phones. A ton of industries and some of the world's most successful brands are on YouTube, so if you are a business, you want to be on YouTube.
Tips for getting the most out of YouTube
Optimize your channel and videos for SEO
Upload videos based on a fixed schedule
Organize your videos into a playlist
Provide translations for your video
Leverage various advertising options like skippable and non-skippable ads, bumper ads, display ads, etc.
Collaborate with industry influencers
Twitter Marketing
Your knowledge on 'How to start social media marketing' is incomplete without knowing about Twitter Marketing. Twitter is a microblogging platform where users create short messages (tweets) with links to other content. It is particularly popular with millennials and has over 326 million monthly active users. Many people around the world use Twitter to get instant news, media, and entertainment. Videos work well on Twitter, and as we keep pointing out, drive more engagement. Another way to help people find your content is by using hashtags in your tweets. Born in a tweet in 2007, hashtags are now widely used across many platforms. They are like a metadata tag, which helps users find specific content.
Because of the 280 character limit, we also recommend using Twitter Cards for social media marketing. Twitter Cards allow you to attach vibrant photos or videos and different media experiences to Tweets, helping to drive traffic to and engagement on your website. 
Tips for getting the most out of Twitter
Leverage Twitter Cards
Connect and engage with relevant industry influencers
Build a large following of targeted customers
Use hashtags to increase relevance and engagement 
Arrange Tweet Chats to create awareness with the appropriate audience and influencers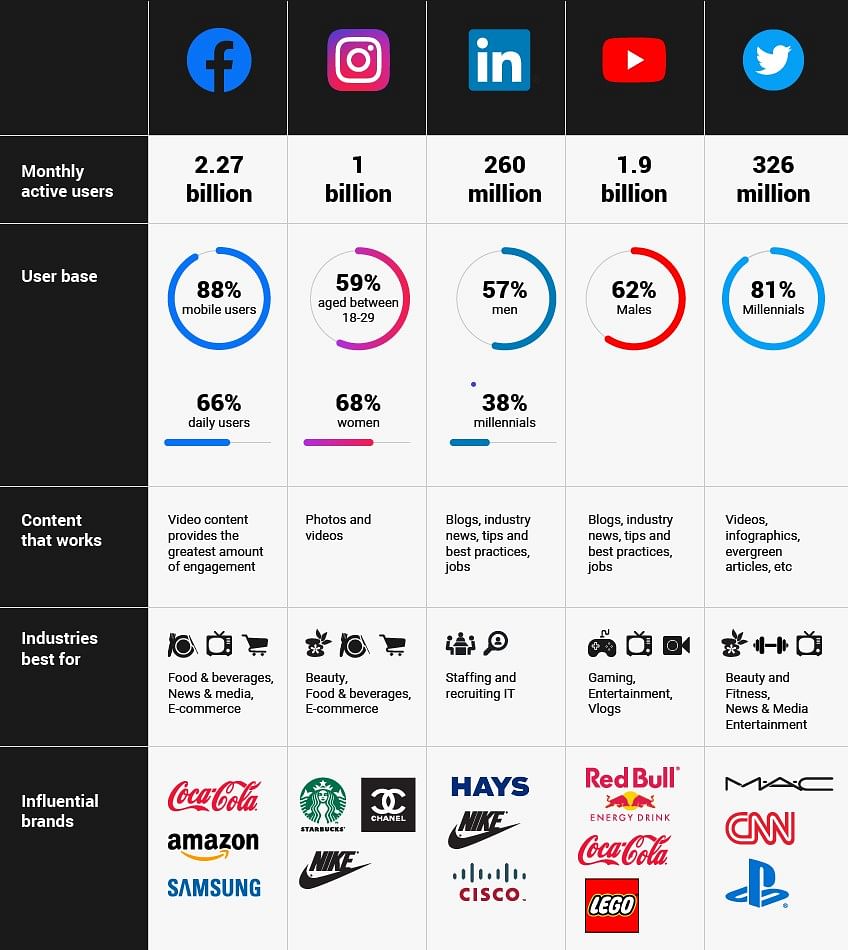 Tools for Social Media Marketing
When you start posting more and leveraging multiple platforms, it can become a challenge to manage the process or monitor the success of your efforts in social media marketing. There are several powerful social media management platforms available to automate and keep track of many of the tasks in your campaigns. These include:
HootSuite
Buffer
Sprout social 
BuzzSumo
MeetEdgar
Meltwater
IFTTT
Some of these tools have free trial versions or low monthly subscription rates. Regardless of whether you're using a free or paid version of one of these tools, they are worth looking. No matter how many social media platforms you are using. Social media management tools not only help you schedule and organize your content, but they can also help you:
Measure the engagement of your posts 
Find ideas for the new and relevant content
Analyze the effectiveness of your campaigns
Use insights to improve your campaigns
Monitor and analyze how your brand is performing through social listening
Interested to know more about social media marketing strategies? Check out the Advanced Social Media Marketing Training.
Conclusion
In the end, social media marketing is an essential business function in today's always-on world. Billions of people engage with it every day for various purposes. For the marketer, it enables you to make personalized connections with a larger, yet more targeted audience, if you do it right. It's arguably less expensive than traditional marketing and advertising techniques. Further, many powerful tools make it quick and easy to track and analyze trends and performance to improve your business engagement. Now that you know how to start social media marketing, you can also up your marketing game in today's hyper-competitive world with Simplearn's Advanced Social Media Training Certification Course.
Ready to become a Digital Marketing Certified Professional? Learn how Simplearn's comprehensive training program can get you there.